my newest project a 12" stretched fiero using a N* with 5spd porsche tranaxle and new body configuration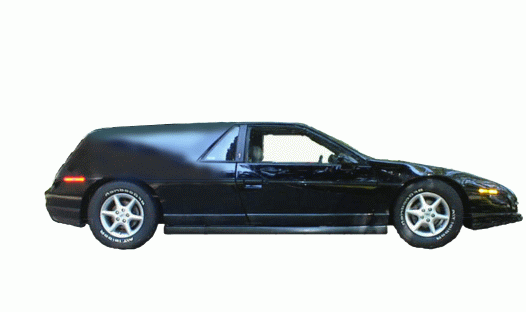 Building a Newest Project thread table of contents for myself due to the length.
Then I thought I should share with everyone, so here's the Table of Contents:
Page
1 12 inch stretch wagon concept with N* / Porsche transaxle / Webber fuel system
2 Stripped down and stretch welded together / Dellorto carbs / 2001 Northstar
3 Hinged Fiberglass wagon roof / Modified stretched side scoops
4 Original carb spacers installed on Northstar
5 Kammback wagons / Belt driven distributor idea
6 Transadapter plate / Cost effectiveness / Diff rotation direction
7 Stock shifter cable / Custom fabricated headers / Oil cooler / Exhaust with Supertraps / 12 inch 1985 Corvette front brakes (adapter and concentric ring)
8 Specs & drawings on brake adapters / 1972-1980 Corvette master cylinder / Link to more Bubbajoexxx pictures on his site
9 Steps of 12" 88 Corvette rotors front brake swap with link / Corvair hubs for larger bearings and 5x4-3/4 bolt pattern / Rear Corvette brake adapter brackets 84-87 and 88-96
10 Diamond plate engine bay / Northstar lowered into stretched engine bay / HPV1 stand alone ignition system
11 Rear caliper adapter bracket drawings / Link to audio clip of first fire up of Northstar
12 Guages converted to V8 / Firebird dash swap with LCD TV / 94 Firebird console / Porsche 356 intake runners mod with link
13 Carpeted firewall to match console and dash / Link to frame stretch steps with pics / Dual radiator setup in side scoops / Poll on wagon vs. notchback vs. fastback vs. hatchback
14 The member brainstorming continues with photoshops of the front runner idea of a clear hatch glass over the engine
15 Firebird wrap around rear spoiler idea / Shots of the contents where trunk used to be / Bubbajoexxx goes ahead with 3rd Gen Camaro glass hatch
16 Steps with pics of the rear hatch installation using sheet metal molds and fiberglass / Photoshop in tangerine orange / Bubbajoe's trademark black satin roof treatment
17 More pics of the hatch install with forum member brainstorming on scoops on the b-pillar or roof / Search for rear wing / Carb setup to change to velocity stacks
18 88 Daytona wraparound spoiler chosen / Details and pics of the Fiero rear decklid being bonded to the Camaro decklid / Rear defroster on hatchglass
19 Rear Fiero latch to be used with custom hook / Cliff Pennock makes backup of thread / Corvette C5 17/18" rims / Front Corvair hub upgrade for larger bearings and correct bolt pattern for rims
20 Details on upgrading the rear with modified S10 - Blazer or S15 - Jimmy uprights to fit Corvette C4 brake upgrade and new Corvette C5 rim bolt pattern
21 Buildup of adjustable rear coilover struts / Suggestion to send completed pics to Pontiac Enthusiast, Hot Rod, and GM High Performance magazines
22 Roof section reinstalled to match slope of rear hatch using SMC bonding agent / Fiberglass work to finish shape / Rear 89 Daytona wraparound wing modifications and installation
23 Indy Fiero hood emblem restored and customized / Cliff's notes version of build to date / Idea to customize Fiero rear tailights
24 Upgrade to C5 Corvette rear suspension - buildup with pics / This car was a 100% Indy saved from being parted out
25 New custom fabrication of engine cradle to upgrade with the C5 rear suspension arms
26 Lambo Muira was to be Bubba's next build / Audi TT 5 speed short throw shifter upgrade / Aluminum cradle bushings but rubber transaxle and engine mounts / DVD and LCD monitor
27 Audi TT gas cap mod / Link to Factory Five's GTM / New 4-channel remote for accessories
28 Audi TT shifter is installed into Firebird console / Replaced the GT aero nose with an 87 Formula style and rear bumper upgrade begins
29 Old cradle removed with engine suspended on stand so new rear suspension can be installed / Rear bearing and knuckle mods sizes with pics / Rear strut towers removed
30 Hub and bearing discussion with GM part numbers and pictures (S10 Blazer and C5 Corvette)
31 Bubba's Fiero Computer chair / Removal of rear body panels for frame upgrade now that shock towers are removed / Winter in Canada!
32 Front trunk compartment and weight distribution discussion / Driver's side of new rear frame progress / Corvette rear brake upgrade questions
33 Passenger side frame upgrade progress / New rear frame section built to suit the Corvette suspension / Splicing the frame together
34 The rear cli[p and hatch are reassembled / Next evolution of carburator intakes to clear hatch
35 Flare of rear fenders utilizing old notchie clip to widen 2 inches with step by step instructions and detailed pics / Pictures of the complete car back on the ground / Photoshop updates
36 Discussion on removing bodyside mouldings / Fabricating and fitting new rear inner fender flares with pictures
37 Corvette vertical grills with idea of using as replacement side scoops / Photoshop ideas on scoops and removing Sail Panels
38 Discussion on Norm's Fiberglass front end / Bubba explains his limitations physically / Lots of pictures showing finish work on the rear fenders and scoops
39 Louvers or no louvers - forum members vote their opinions / Discussions on what parts would be used for a custom front suspension build up
40 Headliner and sun visors redone / Forum members photoshop and make suggestions on custom side skirts
41 Photoshop brainstorming for a new custom rear end to match side skirts and involves new exhaust and possibly new tailights
42 More development on a new look for the rear of the project / Bubbajoe builds a model replica of his car's frame
43 Shots of the front of the engine showing the pickup for the HPV1 and clearance to the firewall / Dellorto carb info
44 Side skirts go on - contest to guess what they came off of (Caravan) / Hood is refinished / BMW Mini side indicators in front fenders / Front air dam project begins
45 Tons of pictures of the overall car in primer after the front air dam was completed and bolted on / Many compliments from forum members
46 Work begins making a custom rear valance using a bumper cover as a starting mold / Builds attachment brackets to make yet another bolt on part / Work on a barge board for the rear diffuser
47 Rear valance grill to allow hot air to escape out the back / A louvered plate is built to smooth the underside of the car and connects to the side skirts / Custom all red
sequential tailight are made
48 Rear deck upgrade bonded SMC so no metal to rust / New exhaust setup with vertical muffler and four tips under the license plate / Details on spark plug wires custom made
49 Old Fiero front suspension is picked up so that Bubba can design an 84-87 coilover upgrade / New custom machined billet aluminum intakes are made and installed for the carbs
50 Pictures of the installed custom made driveaxles / Fuel lines upgrades / Portable garage / Hatch to roof hinge pics / Fan assisted oil cooler / youtube links to engine sound / 240Z Breathers
51 Hatch strut info / Spark plug wire details / Northstar spark plug covers / Rear decklid intake vents / Electric vacuum brakes buildup / Bubbajoe advises of his car accident / Desktop computer pics
52 Torque discussion on the Porsche 902 transaxle used from the 914 vs. other Porsche units / Radiator intake scoop upgrade
53 Pontiac G6 6-speed HP/Torque rating vs. Porsche 902 unit / Link to Porsche transaxle information / On April 11th, Bubbajoe explains that he is selling the project due to health reasons
54 $10K in the project plus labour but only asking $2K / He wants the project to live on and get to a new home not scraped / Kind words from many forum members / Fiero2m8 is the new owner!
55 Table of Contents / Shift linkage and ride height adjustment / Carburator cleaning / Video of sequential tail lights wired up and functional
56 Dash panel finish work / new slave cylinder and oil pressure sensor / 4 wheel alignment / New windshield installed / Pictures from 25th Fiero show in Pontiac & MIS / Glass hatch window tinting
57 Niagara Wine Route cruise pics / Bubbajoe gets a ride with Fiero2m8 in the newest project / Corvette hood swap / Fiero room is built / rear window shatters
58 88 suspension picked up in TN from late forum member Skoon / Indy seats are refurbished with Mr. Mikes / Pontiac delete from headlight panel / Custom rear window build at glass shop
59 Headlight motor swap / inner dew wipes replaced / DVD monitor, speakers, amps and Subwoofer / Sunroof leaking mod / pics of custom cradle / Decision on full restoration after body removed
60 80-85 Cadillac Seville hub bearings / Porsche transaxle rebuilt / custom pressure plate and kevlar clutch / Northstar dismantled and removed / Space frame painting / panels in primer
61 Transaxle paint / Northstar rebuild / Suspension powdercoating / parts painting / paint order / Air filters, condenser and fan arrive / Ceramic coated headers / 88 cross member install underway
62 Bubbajoe completes Caddy hub bearing upgrade / Silver Indy decals custom made / 88 suspension mounts fabricated / C5 rear suspension powder coated / Mercedes daily driver repair
63 Bearing strength discussion / first pics of painted body panels / buildup of 88 front suspension swap / modded poly bushings for 88 sway bar / front trunk fabrication / pcv manifold
64 Electric vacuum pump for power brakes relocated / front of rebuilt Northstar is dressed with crank sensor, pulleys and serpentine belt / engine cradle reinstalled / C5 rear suspension reassembly
65 Discussion on flywheel bolt torque / #1 cylinder location / Z06 rear sway bar install / stainless brake flex hoses / coolant system, water pump drive and spark plug wire assembly / vacuum tube plumbing
66 Fuel filter install / cross drilling of rear rotors / First startup of 2011 video / new starter install / Optima yellow top / fixing fuel system leaks / finishing of brake system with chrome MC and EBC red stuff pads
67 Throttle linkage repair / stainless rad hose install / copy of of Table of Contents now on page 1, post 1 / rebalance carburator with bent throttle shaft / further discussion on hub bearing upgrade
68 Finishing cooling system / playing around with Cadillac intake cover / worked on wiring new LED reverse lights and tidying up harness with wiring loom / worked on redesign of throttle linkage setup
69 Retuned shifter linkage / painted underside of some body panels / tinted rear tailights / started reassembly of body panels at rear of Fiero / repaired sequential lights and finished rear wiring / reinstalled sunroof panel, fenders, hood, decklid, spoiler, front bumper cover, apron and sideskirts / new decklid vent
70 Smooth door handles / LED clear indicator lens / Door panel assembly, fit and adjustment / ride height adjust / interior door panel reassembly / LED dome lights / Headlight install / headliner recovering / wiring loom upgrade to cool tube / Test drive for photos / found that 4th 5th not working so transaxle removed again
71 Transaxle fixed, painted and re-installed / Transaxle removed again for clutch and pressure plate upgrade / finished building trunk in front compartment / finished with indoor-outdoor carpet / upgraded tailights to LED and reinstalled sequential controls / installed chrome coolant tubing / bought spare transaxle from Bubbajoe / waterproofed roof with new hardware
72 Upholster of headliner and rear window trim panel / new sunroof tracks and seal installation / new slave cylinder install on spare powdercoated Porsche 914 transaxle / reinstall and adjustment of clutch and transaxle / inner dew wipe install / transaxle seal replaced to fix leak
73 Adjusting front ride height by swapping coil insulator with a 3/4" rubber spacer / Flowmaster mufflers installation / List of steps to remove Fiero body panels / Carb rejetting / Repair of broken CV joint / doublec4 HID headlamps build up / GM Powertrain show 2012 pics / Chassis dyno video and results
[This message has been edited by bubbajoexxx (edited 08-25-2012).]