I am far from the first to install an LS4 into a Fiero and have used the following threads for reference material:
//www.fiero.nl/forum/Forum3/HTML/000087.html
//www.fiero.nl/forum/Forum3/HTML/000114.html
//www.fiero.nl/forum/Forum3/HTML/000115.html
//www.fiero.nl/forum/Forum2/HTML/095910.html
All the completed LS4 swaps to date have been installed in a mostly stock configuration with the 4T65E-HD automatic transmission. For my swap the LS4 engine will have several performance upgrades and use the F40 6 speed manual transmission.
It all starts with a donor engine, so in late May/Early June 2010, I found a LS4 drivetrain from a 2007 Impala SS with 18K miles listed on LS1tech… a couple days later my wallet is $1000 lighter and this was taking up space in the garage: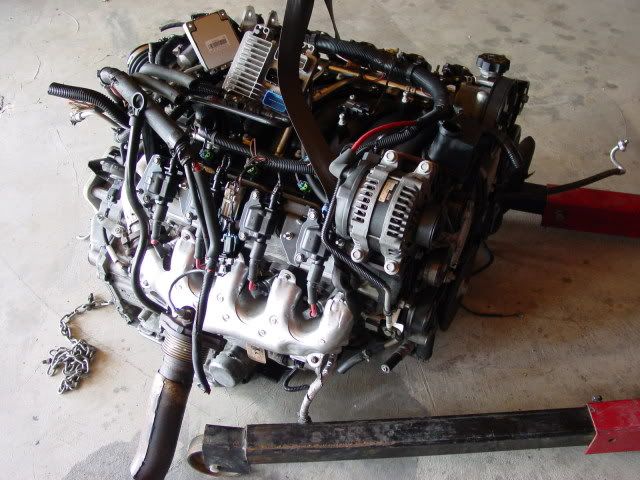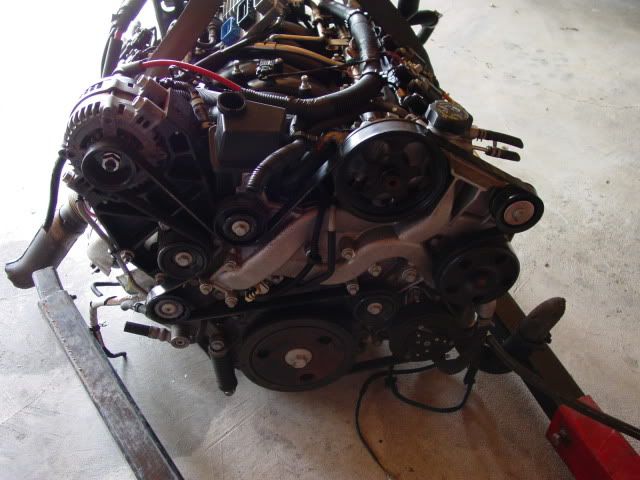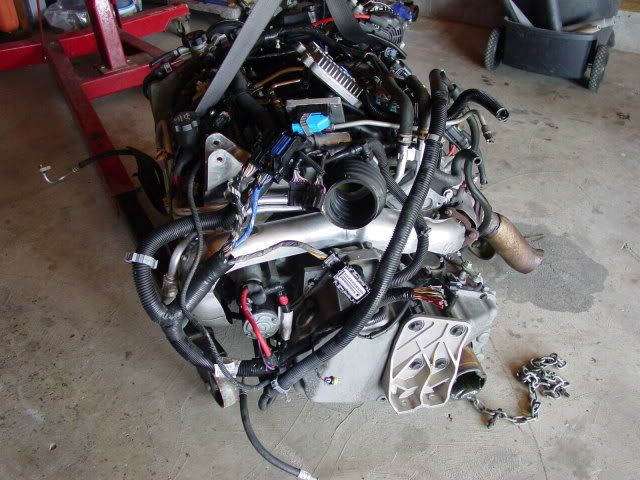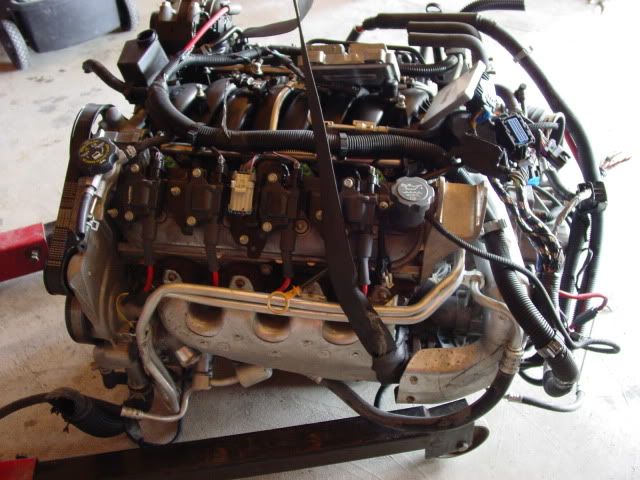 During the research phase, I quickly realized that while 303hp in stock form isn't a slouch, it seemed GM outfitted the LS4 with good heads and compression but with smaller/more restrictive intake and exhaust components than the other RWD LS(x) applications. If it made 303 hp with all these restrictions, I was curious to see what would happen when all these restrictive components are removed/upgraded.
So I spend some time figuring out what was different on the LS4 vs. the RWD LS(x) engines going component by component and compiled the following list of planned performance upgrades:
**LS4 78mm MAF upgraded to 85mm MAF
**LS4 76mm DBW throttle body upgrade to 90mm LS2 DBW throttle body
**LS4 76mm Intake manifold upgraded to 90mm LS2 Intake manifold and matching LS2 fuel rail
**LS4 28lb injectors upgrade to 34lb LS2 injectors (came with the fuel rail)
**LS4 stock camshaft (197/197 .286/.286 @ 114LSA upgraded to a 224/231 .332/.338 @ 113 lsa (some will say this is too big…)
**LS4 stock exhaust manifolds upgraded to LS7 hydro formed exhaust manifolds
These upgrades should do wonders to help the LS4 pump some air and make some power. All these upgrade components except the camshaft were purchased used off LS1tech.com or Ebay to help keep the upgrade costs down, but in total they were still higher than the initial engine purchase. Here are some pictures between the stock and upgraded hardware….
LS4 78mm MAF on the left and the 85mm MAF on the right. Both are 5 wire MAFs, but use different connectors.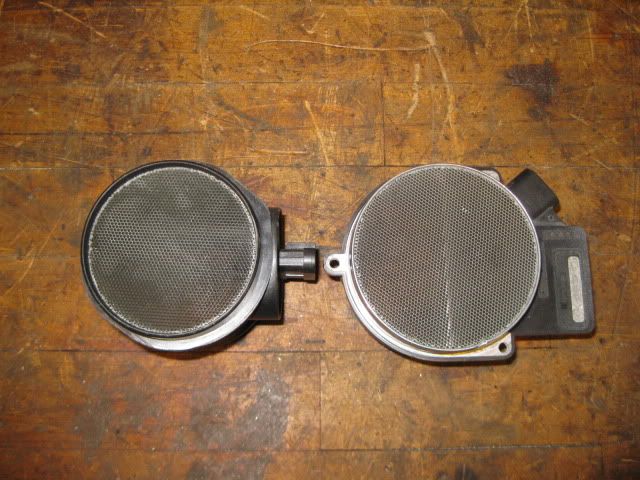 LS4 76mm DBW throttle body on the left and the 90mm LS2 DBW throttle body on the right. The LS4 throttle body is an 8 wire setup whereas the LS2 is a 6 wire connector.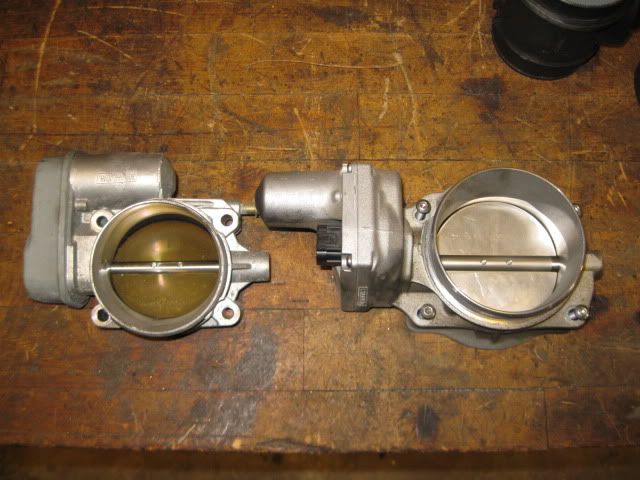 LS4 Intake manifold on the left and the LS2 Intake manifold and matching LS2 fuel rail on the right. Now some will say I should have used the LS6 intake because it flows better than the LS2, but the LS2 is a great improvement over the LS4, is cheaper than the LS6, and is better "looking" than the LS6 intake...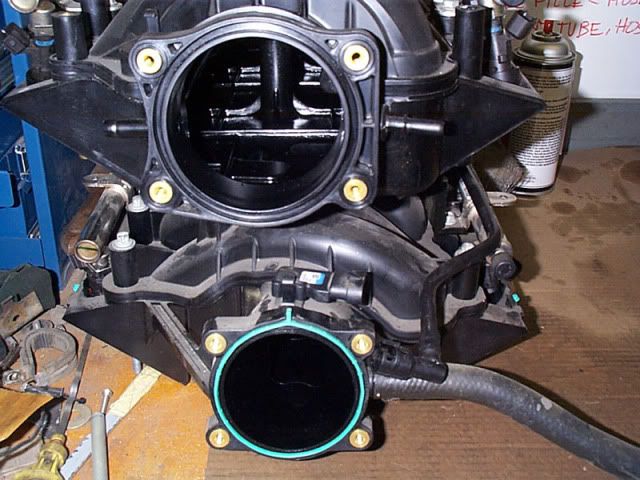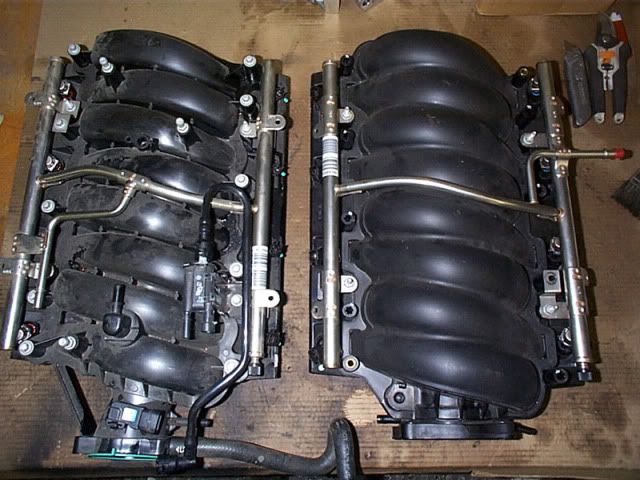 LS4 cast iron exhaust manifolds upgraded to LS7 hydro formed exhaust manifolds. What can I say, the LS7 manifolds are very nice looking, come factory on a 505hp engine, are hydro formed stainless steel with integrated heat shields and can be had for about $125… I just had to try them. They may cost me some low end torque (as well as the cam), but that is something most V8 Fieros have in excess anyway.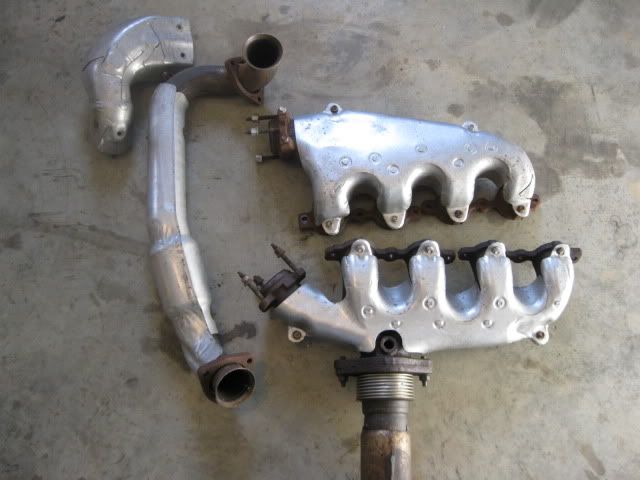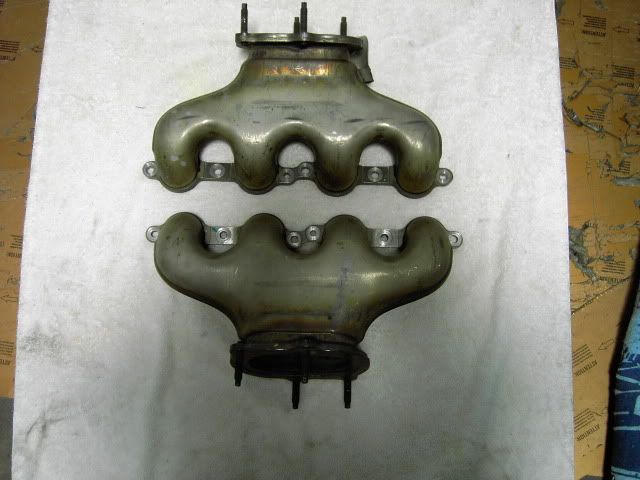 In addition to the focus on improving performance, the overall look of this install will be of paramount importance. I have never been a fan of engine or coil covers… so this install will not have any of those… just a simple, clean LS4/F40 install.
LS4/F40 Build Thread Table of Contents:
Pg1: Start Mount, flywheel discussion, mods for LS2 intake swap, coil relocation bracket, test fit in engine bay, DoD camshaft swap, cradle crossmember replacement, engine/transmission mounts and water pump modifications, fuel filter/regulator.
Pg2: Alternator and A/C relocation, belt tensioner, fabricating front engine/accessory mount, second test fit with water pump mods and air intake tube.
Pg3: Mock up of Saab intermediate shaft and exhaust manifolds, mounting tabs for engine/transmission mounts on the cradle – all drivetrain mounts fabricated, mock up turned down LS1 flywheel (could use for Getrag or F23 LS4 swap), experiment with 9 7/8" clutch from 3000GT-VR4, pictures of button head madness, modified SBC aluminum flywheel for LS4 application and 3000GT-VR4 clutch.
Pg4: Modified flywheel and 3000GT-VR4 clutch interfered with the differential bulge – aborted that part of the project, modified the LS7 exhaust manifolds and started fabricating the exhaust, started looking at another 9 7/8" clutch from a 4.0L Ford Ranger, purchased chunk of 6061 aluminum for custom flywheel, relocated factory frame notch on the driver side rail ¾" to the rear, modify cradle/crossmembers for better muffler clearance.
Pg5: Purchased a Spec Stage 4+ clutch for a 4.0L Ford Ranger, another test fit in the chassis for the exhaust, custom flywheel turned, milled, and assembled, disassembled harness LS4 harness.
Pg 6: Mockup of a RWD LS water pump, fabricated exhaust support brackets, fabricated brackets to use 88 front springs in the 88 rear suspension, rough measurements of flywheel/clutch combo shared, continued work on accessory/front engine mount, SF964F clutch arrived, accessory drive comparison stock vs. new setup, oil pressure sender, 3 wire temp sender, started looming some of the harness starting with the engine sensors, axle length mockup and discussion, started modifying the Saab intermediate shaft.
Pg 7: Continued work on intermediate shaft lengthening, decklid hinge box removal and hinge modification, swap ends on DS G6 axle for use on PS, test fit modified tripod and Corsica axle for the DS axle, 4 speed shifter mod for the F40 conversion and fabricate shifter bracket on transmission, welded and smoothed DS frame rail notch relocation, smooth firewall panel fabrication and installation, intermediate shaft bearing support.
Pg 8: Mockup coolant hoses, tear down for painting of fabricated parts, sanding/smoothing of engine bay, clean up garage for customer car, clutch comparison fiero Spec Stage 3+ to Ranger Spec Stage 4+, some pictures of the SBC/Getrag customer swap, discussion about DoD, pictures of 4.3 swap I was working on as well.
Pg 9: SBC/Getrag startup video, pictures of LS4 oil pan and discussion about DoD delete, R&D 13" brake kit for the 88 Fieros.
Pg 10: Back working on LS4, installed new timing chain tensioner, assembled painted parts, mock up of modified SBC water pump (from 4.3 swap) on the LS4, SBC harmonic balancer comparison, pictures of 13" brake kit brackets and rings and rotors, longer flywheel bolts, flywheel installation with some overall dimensions, Spec Stage 4+ clutch installation, corner weights for the engine/transmission on the cradle.
Pg 11: Cut up a parts car, mock up some coilovers for the 88 front suspension, wheel fitment measurements, 4 ¾" rear wheel bearing modification, rod end lateral link upgrade, lateral link relocation bracket development.
Pg 12: Switched from the blue 88 GT Clone chassis to the 88 Black/Yellow Notchie, drill 88 front wheel bearings for 5 x 4 ¾" pattern, lateral link relocation kit launched, mockup some 17/18 corvette wheels and verify clearance issues, pull rear suspension in 1 5/8" to fit a 18 x 10.5 wheel under the stock body panels, relocate the top of the strut 1" inboard, clean up engine bay on new chassis and move frame notch and install modified decklid hinges, pickup another 88 GT clone for a DD, buy a house and move everything, drawing for LS4 to LS2 throttle body adapter, mount ECM, start harness work again, fab up A/C lines, mockup plug wires.
Pg 13: Work on MAF, muffler heat shield, plug wires, plastic air intake, more harness work, heat shield for A/C lines, catch can installation, PCV routing, wiring diagrams for 88 Fiero w/ LS4/F40 and E67 ECM, DBW pedal installation, 500 connector harness relocation, fuel tank vent mod, fuel filter installation, HTOB connector to fiero line, F40 factory transmission fluid.
Pg 14: 4" cold air intake fabrication, A/C hose ferrules, interior harness wiring, Dyna-BATT battery relocation, fabricate hard coolant lines and rubber hose routing, Champion radiator installation.
Pg 15: Champion radiator installation, battery relocation, coil air intake coating, heater hose connection to water pump, smooth firewall panel mockup, coolant hose mockup, smooth/sand engine bay, paint engine bay and smooth firewall panel and hinges, reinstall drivetrain (last time).
Pg 16: rework coolant hard lines, power up ecm and work on base tune, debug DBW issue, first start of LS4/F40, work on Range selector codes.
Pg 17: Install clutch switch, install C4 vette seats, fabricate laptop stand, modify rear struts for coil overs, paint rear suspension parts, install front hood support for rear decklid support, modify calipers to fit 13" rotors under 16" wheels, install 13" brake kit, trim front bump stops, install front Koni shocks, move car out of garage under its own power, fixed Tach issue, debug belt squealing issue – replaced water pump and rebuilt alternator.
Pg 18: Work on electric fan settings, calibrated speedo, changed belts and eliminated the belt squeal, video of driving the car, replaced burnt plug wire (boot was not properly seated), installed the stock LS4 injectors and fuel rail, more work on the Range Switch code, continue tuning the car.
Pg 19: Cleaned the tank of rust, installed new fuel pump and filter/regulator, couple more videos of revving the engine and driving the car, decibel readings for the car, invisible hood vent modification.
Pg 20: Upgraded to larger air filter and installed LS7 MAF, installed VW 6 speed shifter knob, plasti-dipped over the yellow paint, swapped to a non-sunroof panel and painted it black.
Pg 21: Installed sound deadening material to doors, firewall and roof, fixed mirrors and door panels, installed smooth sail panels, broke belt tensioner, installed FJF springs up front, installed lateral link relocation brackets, pulled down 29.3 mpg on first interstate trip.
Pg 22: Corner weighed the car, dyno'd the car, customer's SBC/F23 car arrived for rework, plans for new garage.
Pg 23: Mounted fire extinguisher, Took the car to LS Fest and ran ¼ mile, autocross & 3S with it, video of autocross, broke shift cable, pictures of F40 shifter assembly removed from transmission.
Pg 24:
[This message has been edited by fieroguru (edited 03-21-2014).]