UPDATE: INFOTAINMENT CENTER...as my normal self...given enough time I keep looking for a better and less expensive solution.
Well when it comes to this piece I want it to be as flexible as possible so I decided to not go with the Car-joy 2 din unit...don't get me wrong...awesome unit, but its hardware is proprietary...locked in!
I really like the MIMO HP, but the price tag is pretty high, so I kept looking, but nothing that seem reasonable.
But earlier today while searching for a piece of electronic hardware (computer) I knew existed from a friend of mine..."converts steering wheel controls into USB keyboard and HID remote controller"
Hardware feature
- Converts resistance-output steering wheel remote controller into USB HID keyboard and HID remote controller.
- Works same as standard USB HID keyboard and HID remote controller by hardware.
- 24V tolerant 4 channel resistance input.
- Supports 28 physical buttons, 52 programmable logical buttons.
- 2 logical button for one physical button, up to 5 simultaneous key strokes by one button.
- 2 programmable LED port.
- Remote wake-up(resume PC from sleep with steering wheel remote controller).
- Temperature range : -40 ~ +85°C
JoyCon Explorer aided feature
- Preset change by Preset up and down buttons.
- Speech and OSD when preset is changed.
- Application link(application launches and popup with preset changing).
- Speech when application launches and a button is pressed.
- User definable Button Speech
- Automatic Button Detection
- Online firmware update.
- No external power or driver installation needs.
- Available OS : Windows 7, Vista, XP, 2003
(JoyCon Explorer supports Windows XP and the later version. JoyCon Explorer does not support Linux. But CarPC JoyCon EX works on Linux and Mac after it is configured at Windows.)
App Link enables to launch application with steering wheel remote control's button and switch application when preset is changed.
Connect two wires of CarPC JoyCon EX's input channel to the remote controls, and connect USB.
This is the typical resistance-output steering wheel remote controller's circuit.
You can put additional buttons like green box below by DIY, if you want.
You can control two external LED.
You can use typical USB cam as rearview camera with CarPC JoyCon EX.
Any USB camera or video capture device can be rearview camera.
Rearveiws popups when Channel C detects reversing light,
ex Cam shows when reversing light is detected.
Any video capture device can be rearview camera.
Horizontal and Vertical Mirror is supported.
AND THEN A LINK FROM THAT SITE LEAD ME DOWN THIS PATH:
Multi Touch Capacitive Double DIN High Bright Lilliput 669GL-70NP/C/T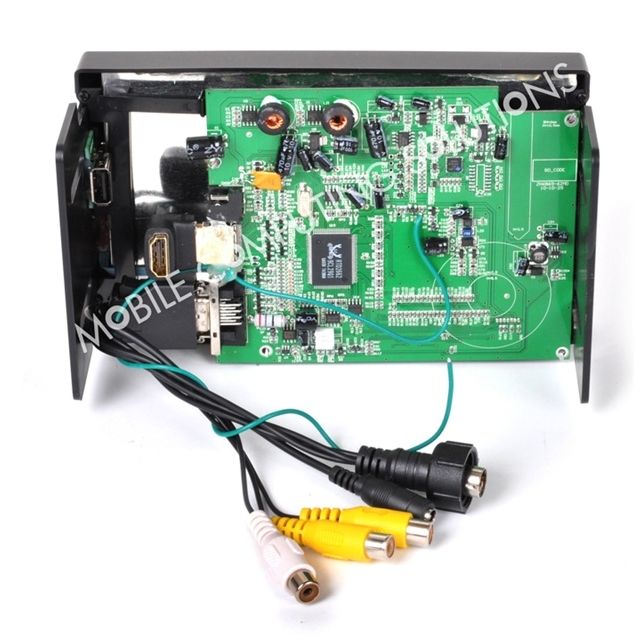 Double DIN Multi Touch Capacitive Lilliput high bright monitor is an ideal choice for in dash installations.
The multi touch capacitive panel is ultra clear works with Windows XP and Windows 7 native drivers to allow features like pinch to zoom and flicks.
The double DIN foot print makes it ideal for in dash installations.
The monitor also features RCA, VGA, DVI, and HDMI input as well as all of the other bells and whistles, like auto power on and auto switching, that you have come to expect.
Features
Ultra Clear Multi Touch Capacitive Panel
HDMI, DVI, VGA, and RCA Video inputs
450 Nit High Bright LCD Panel
Double DIN Footprint will replace existing head units
7" TFT LCD Color Car Monitor 5 way adjustable LED backlighting
High Resolution, Wide Viewing Angle, with native 15:9 screen ratio
Menu Language Options: Chinese/English/French/Russian/German
Auxiliary RCA Audio and 2x RCA Video Inputs for Rear View Camera and Gaming Systems
Compatible with Windows 7 and XP
Auto power on
500:1 contrast ratio
1 year warranty
&
Black Box Mobile Case for Mini ITX Based Car PC's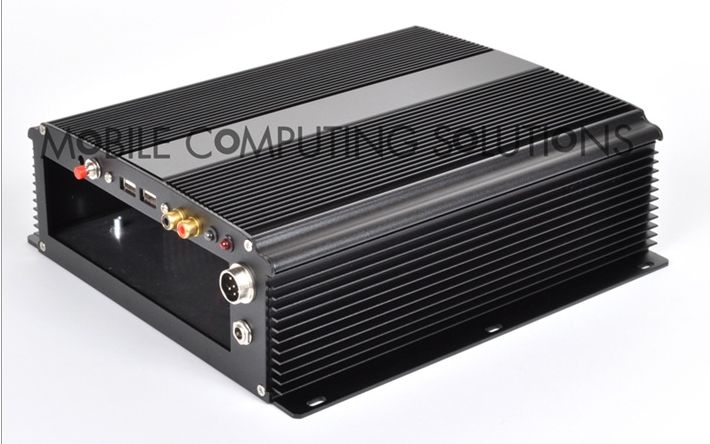 We are pleased to release our new Black Box Mobile Mini ITX case. We have kept the features that make our case unique, like universal motherboard support, multiple power supply mounting options, and LCD monitor power output while making significant improvements including 5v output for powered USB devices or a hub, improved ventilation for higher power CPU's and RCA line output jacks for easy audio integration. We are also the first in the car PC industry to adopt a locking metal power input harness.
Features
Every Black Box Mobile includes the following accessories:
16 AWG 6 pin metal locking male and female wiring harness
2 End caps
LCD power connector (for touch screen monitor power)
4m/14' 18 AWG LCD power line set
2 port USB panel
RCA Jacks
Hard drive and system power LED lights
Reset switch
Hardware mounting screws, wire ties, and quick connects
Isolation bushings for the hard drive and motherboard
Hardware mounting plate
50mm high speed fan
&
OBDLink Scan Tool Universal OBD II Interface
OBDLink is our latest, most advanced PC-based scan tool that supports all OBD-2 compliant vehicles, including CAN based systems. Use it to convert your laptop, netbook, or mobile PC into a sophisticated, easy to use diagnostic system — for a small fraction of the cost of comparable standalone units! The package includes everything you need to diagnose your vehicle's problems. The free feature-packed OBDwiz diagnostic software included with the scan tool allows you to:
Turn off check engine light, and erase stored diagnostic information
Read and erase stored, pending, and permanent trouble codes (both generic and manufacturer specific)
Access freeze frame information
Display, graph, and log 90+ real-time parameters
Create custom digital dashboards
Measure and display fuel economy
And much more!
Premium diagnostic software, such as ScanXL and ScanMaster, offers a myriad of additional features, including access to proprietary systems such as ABS, and thousands of enhanced manufacturer-specific parameters.
The firmware inside the OBDLink unit is upgradeable, which means you can enjoy the latest features by downloading a free update.
Compatibility
OBDLink is compatible with all model year 1996-2010 cars and light trucks sold in the United States, including all American, European, and Asian vehicles. OBD legislation varies from country to country, therefore if you reside outside the United States, make sure that your vehicle is OBD-2 compliant before purchasing this product
Features
3 Year Warranty
USB interface Baud rates from 9600 up to 2M baud
Supports all legislated OBD protocols:
ISO15765-4 (CAN)
ISO14230-4 (Keyword Protocol 2000)
ISO9141-2 (Asian, European, Chrysler vehicles)
J1850 VPW (GM vehicles)
J1850 PWM (Ford vehicles)
Compatible with more diagnostic software than any other scan tool
Compatible with Centrafuse 2.x or later
Extended command set allows the tool to perform enhanced diagnostics not possible with ELM327-based scan tool
User upgradeable via free downloads
Can be powered from OBD or USB, for even easier firmware updates
Improved automatic protocol detection algorithm
Smart keep-alive algorithm helps ensure a stable connection on ISO and KWP vehicles
Large CAN memory buffer allows the scan tool to receive large amounts of data
Greatly increased data throughput delivers faster screen updates and more graph points
Drive it all with:
Centrafuse Auto 4
Automotive Infotainment
We are proud to introduce the all new Centrafuse Auto, the ultimate In-vehicle infotainment & telematics interface.
Built on the powerful new Centrafuse 4.0 runtime environment, Centrafuse Auto is a complete automotive infotainment software suite, designed specifically for Windows-based PC systems.
Features
Centrafuse offers an unparalleled feature set, empowering & simplifying driver-control over a wide range of functions, including:
MEDIA PLAYER
SAT HD RADIO
AM/FM RADIO
BUILT-IN APP MARKET
FULL MIXER CONTROL
BUILT-IN UPDATER
BLUETOOTH HANDSFREE
GPS NAVIGATION *
WEB BROWSER
WEATHER
EMAIL CLIENT
VOICE CONTROL
TEXT-TO-SPEECH
DVD PLAYER
OBD-II DIAGNOSTICS
MP3 PLAYER SUPPORT
SYNC PHONE CONTACTS **
A2DP SUPPORT **
UNLIMITED SCREENS ***
REAR CAMERA
[This message has been edited by TXOPIE (edited 03-10-2013).]