You may recall from the last update that we dropped the cradle (using my spiffy skid and the spiffy lift point Mike made) so we could work on the accessory location and bracket(s). And by we, I mean Mike. But hey, I'm always there for moral support, and to take pictures. And gofer. And now and then I have a good idea.
This time out, while Mike started working on the brackets, I cleared out what was left of the old nasty insulation in the Fiero engine compartment.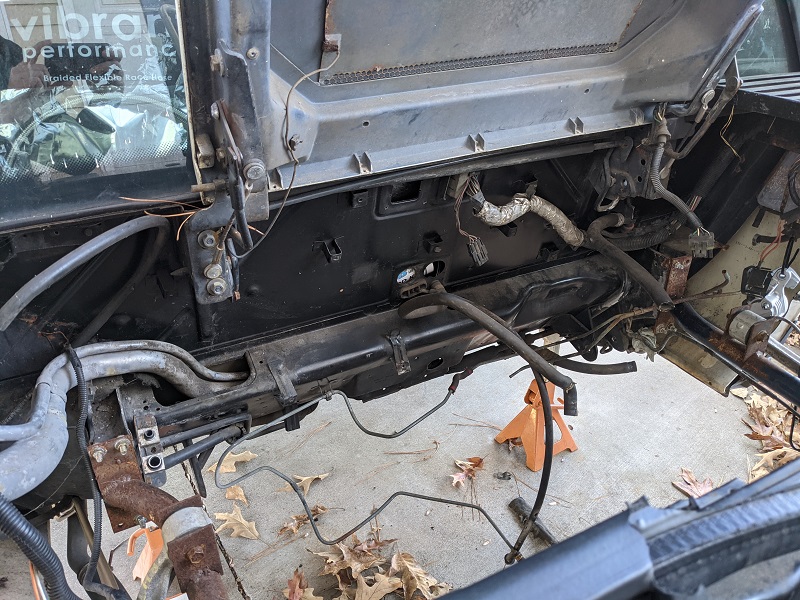 I will be replacing it with Thermo-Tec insulation, part 13590. I emailed them describing where it was going to be used, and this is what they suggested, so, we'll give it a shot! We'll also be putting back in the super-awesome Decklid brackets that FieroGuru made for my last Fiero, which will require us to fabricate the spreader bar that went in above the 'lip' (there are square holes cut out in there already) to help offer support. I'm going to go back in this thread and find that section to make sure I have the information handy for Mike. We'll also be reinstalling the super nice heatshield/smoothplate he made, which means I'll be taking off all those little stands off the bulkhead.
I also have some TechFlex SRF28.0SV material that we'll be using in other temp critical places, like on the manifold shields (definitely the inside of them). This stuff is crazy expensive, but that's partially because you can normally only get it in giant rolls. Thankfully a seller on eBay sells it in 2" cuts. I think this stuff is literally something used by NASA. If it's good enough for things being
shot into space
, it's good enough for me!
Mike wanted to create a second bracket that would also wrap down to give the A/C Compressor some additional rigidity. This bracket means he has to rework one of the arms on the cradle a little, you can see where he cut through the spot weld, and the arm is kind of dangling there. Yes, the cradle has held the drivetrain for well over a year with just spot welds. Including while the car was bouncing along on a trailer to PA, and us lowering lifting it, rocking and rolling it. Crazy!
He also trimmed a bit of the 'lip' off the belt tensioner pulley. It wasn't coming into contact with the crank pulley, but it was so close that you'd be lucky if a piece of paper could slip between the space. Mike felt trimming of a bit of the lip was better than worrying about the lip scraping the pulley during movement with vibration.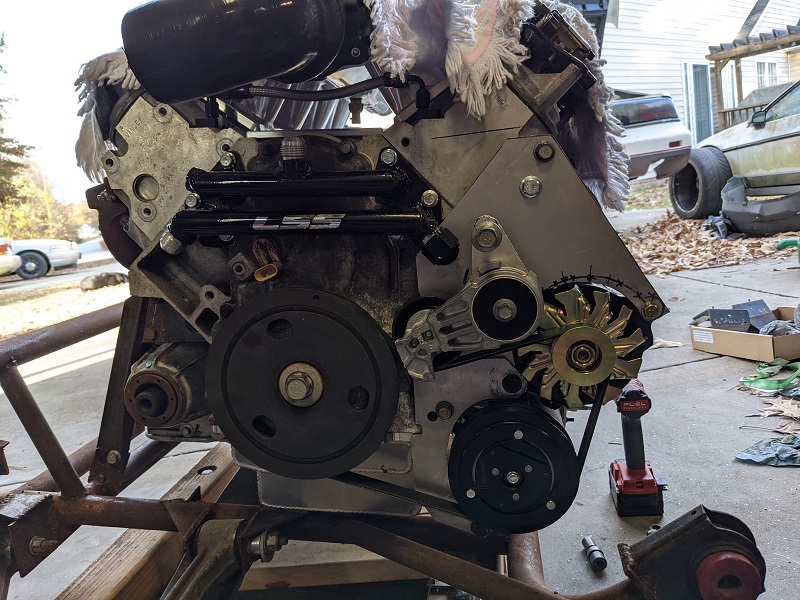 He also rigged up some extra brackets for the back of the alternator and the compressor. On the compressor there is this little 'U'. So you can see that tab in a mock up position that will weld to the upright support on the cradle, and the bolt will fit snugly into that U. There is also more clearance between the alternator and the manifold that that angle would make you think.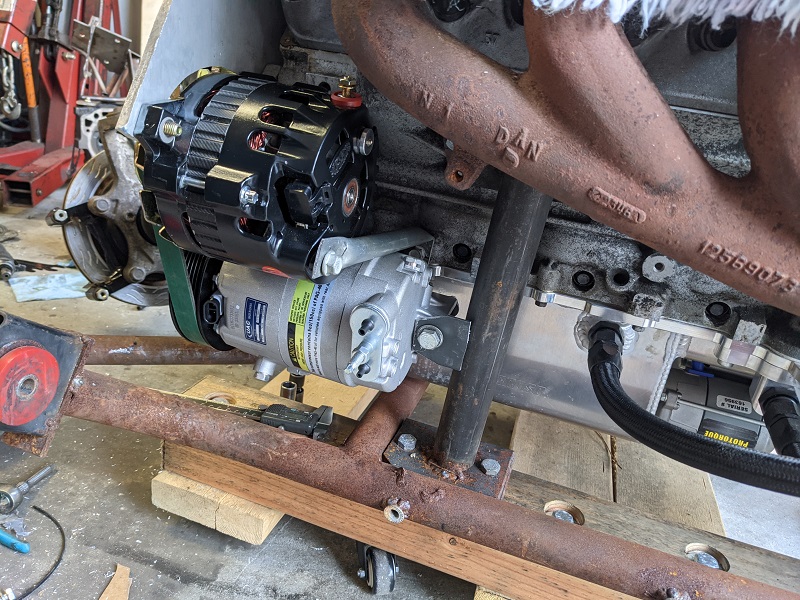 So I had to buy a bunch of proper length bolts to put all this together, along with some sensors and other adapters for the transmission (ICT Billet makes coolant fittings for this transmission that go directly to AN, versus whatever the factory connection is, eliminating a potential leak point).
I also bought heavier-duty casters for my Skid. What I didn't consider, and which did happen, is what happens when the drivetrain does not come down onto the skid evenly? Well, then it's likely a wheel's load rating will be exceeded. That happened, so one of the wheels acts a little wonky now. Fixed that by getting casters that are each rated in excess of the drive trains weight.
I scored a pristine, no cracks, center console skeleton from the junkyard. Mike got the tail lights (notchie), we picked up some other odds and ends. But I won't be using that. Instead, I'll be using one of the fantastic 3D printed units from PFF's very own mmeyer86gt/gtp!
It showed up in a very compact box, very well packaged (each piece was wrapped in bubble wrap). Looks pretty spiffy!!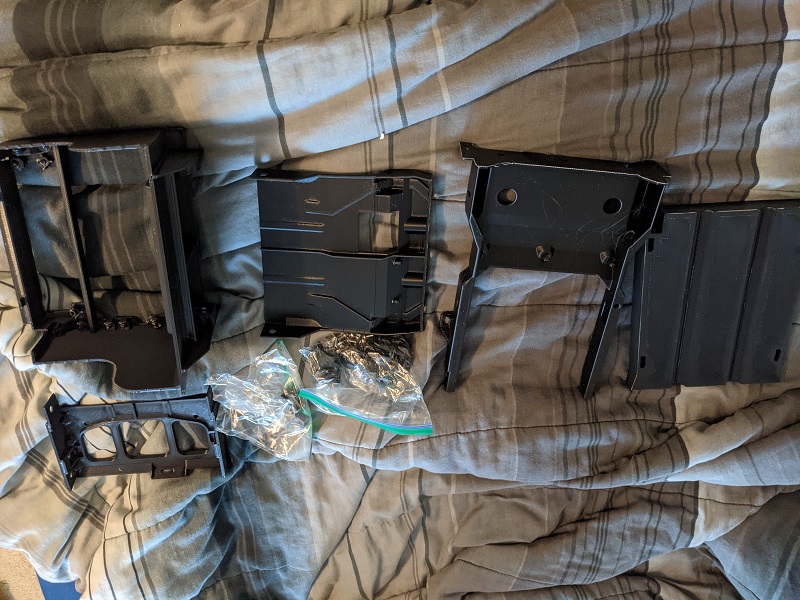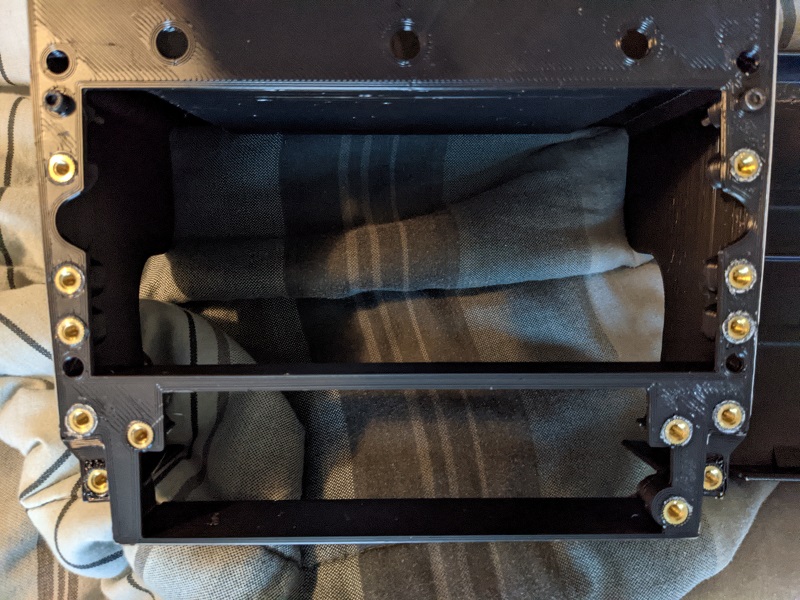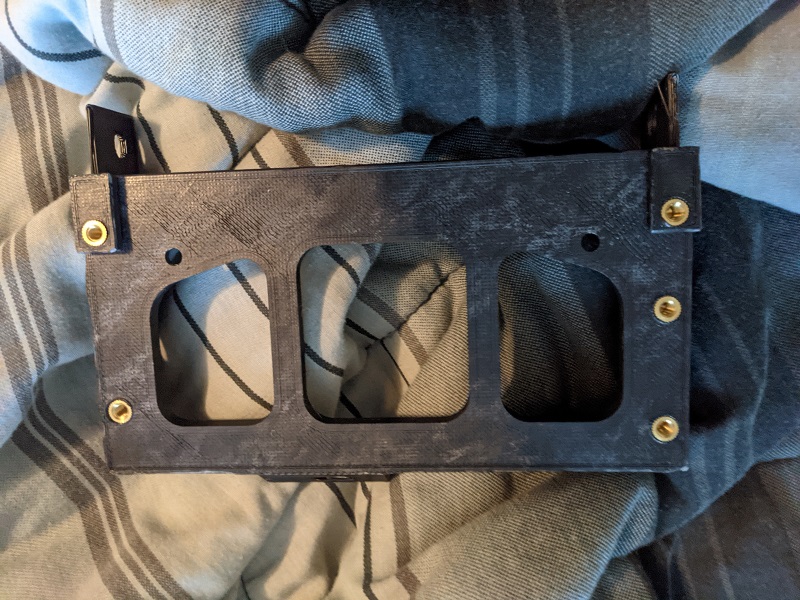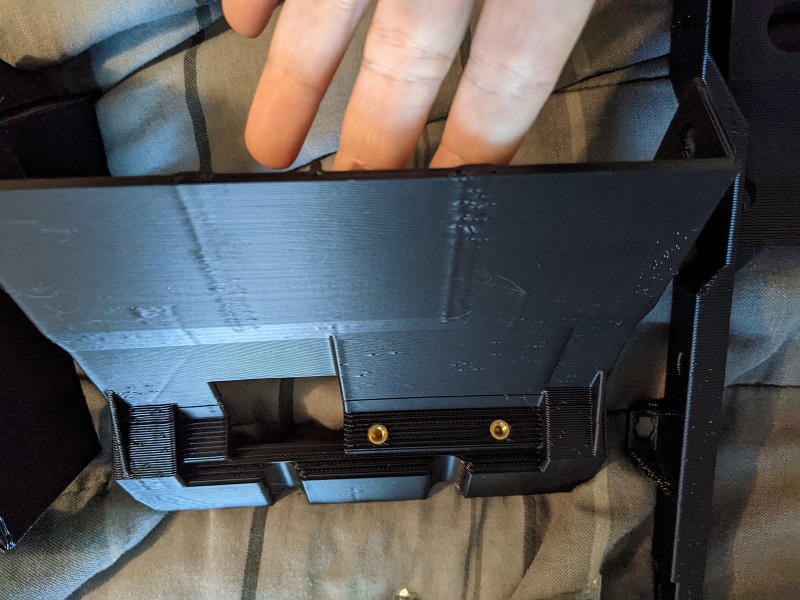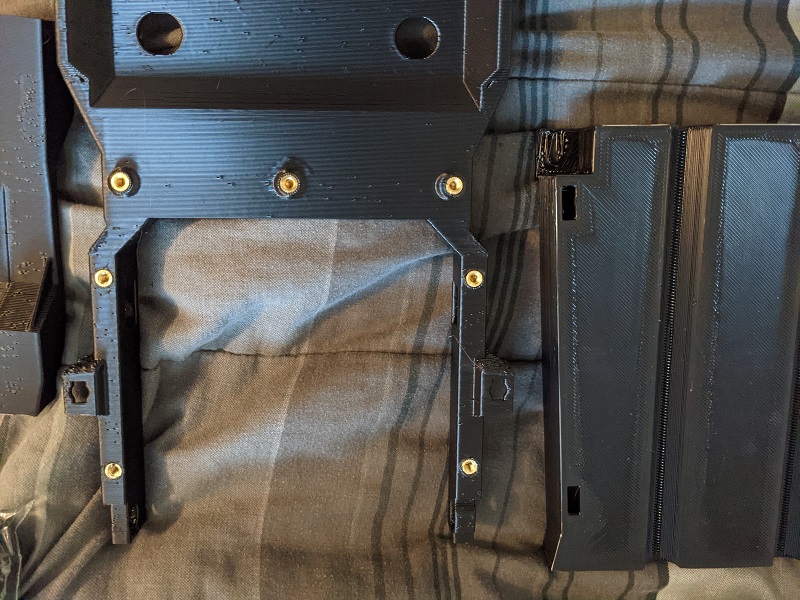 I also took advantage of the Discount Tire black Friday sale and bought new tires for the stock coupe Corvette wheels I have on there, so those will go on this Saturday. The tires that are on there now are pretty well cracked, and these have the same ratio number, so the car will have a very slight rake and the rear tire will fill up the wheel well a little better. I'll post up pictures of those once the wheels are back on the car. Fronts are 255/40 R17, and the back are 275/40 R18. With the discounts, I effectively got a free tire.