Since I have been a big fan of the show on the Discovery Channel, and there isn't a season 2 coming out, I decided to make our next swap more interesting.
Here is the deal:
The car:
1987 GT 5 speed
Two technicians/fabricators
Five days to build the car. January 31st to February 4th
A little history:
This car sat at Loyde's Fast Fieros in Texas from July 17, 2007 to December 3, 2010 untouched and waiting for the mods we are about to do. Charles (the owner) has been without his baby for a long time and I wanted to show him how the Guru's team can get this done promptly and accurately.
The build:
Remove the existing stock 3800s/c to turn it into a show quality high horsepower car
The mods:
RD poly mounts
RD upgraded slave cylinder
RD dog bone
4" cold air intake
Guru ported blower case and lower intake manifold
Guru custom pcm tune
Guru custom a/c hose
Guru low mount alternator and dog bone….the existing dog bone mount has been cut out, so we will weld a new one into the Fiero
ZZP 3.25" supercharger pulley
ZZP short stack intercooler using G12 coolant instead of Dexcool….G12 is Volkswagen red coolant. Custom intercooler fill using a Volkswagen coolant reservoir
ZZP front mount water to air heat exchanger
42.5 Lucas injectors
Northstar throttle body
NGK TR6 spark plugs
XP Hot cam with 105lb springs and timing chain
Vens Autosports 304 stainless steel headers….fabricated by Ryan who works for me full time. These headers are custom made for the 3800 into the Fiero. They flow better than the aftermarket ones that are not designed for the Fiero chassis. We can make them either drop to the front or back depending on your preference. They use 1 5/8" primary pipe into a 2.5" collector to the Y-pipe. The Y-pipe has a 3" outlet. The complete exhaust will be stainless steel…..a Magnaflow stainless steel muffler and ending with Corvette C6 exhaust tips. To get my approval for these headers, they not only had to flow, the spark plugs had to be easy to service....which is by biggest problem with aftermarket headers.
Headers are ceramic coated and will be fiberglass wrapped and silicone coated then baked with the wrap
Relocate battery to the front trunk with our custom battery low mount battery tray.
Custom engine cooling system fill point with low temp thermostat
Spec stage 3 clutch…..say what you want about Spec, but I have had zero issues with their clutches. I follow the break in procedure to the T.
Wiring harness modifications and tuck
Low mount ignition coil with hidden wires
ZZP return less Billet fuel logs with hidden fuel pressure regulator and AN braided hose
Engine and transmission to be painted
Remove firewall insulation and paint engine bay satin black
Oil service with 5w40 synthetic oil and a Bosch oil filter
Transmission fluid service with Synchromesh
Suspension and chassis mods:
Shortened trunk
Held Motorsports bump steer kit
Koni shocks and struts
Rear coil overs
New front hubs and repack wheel bearings
RD solid cradle bushings
Front lowering springs
New rims and tires
Four wheel alignment
Other mods:
I need to rebuild the passenger side axle with new CV joints
New a/c hard lines from the rear to the front because the last one to work on the car cut and hacked them up.
New passenger side coolant pipe….our initial evaluation showed that it was crushed sometime during it's life.
Front radiator hoses to be replaced
The fuel:
Two cases of Arizona RX Energy herbal tonic
Sleep MD
Our shop's gym to pump some iron when we hit the wall
Joey's homemade chili with some ghost pepper hot sauce
8oz of Boswell's "Christmas Cookie" pipe tobacco for Dave and "Maple Leaf" for Ryan (Canadian's love their maple, eh)
A few cases of dark beer for the evenings
The prep: (this is what was done prior to the five day period)
Order every single part down to the nut and bolt to get this swap completed.
Fabricate the stainless steel headers and cross over pipe. Ceramic coat the headers.
Fabricate the low mount alternator bracket for the Grand Prix alternator
Fabricate the thermostat housing
That is about it. Everything else will be done in the week. I have all the shop's phone calls forwarded to voicemail and the doors will be locked. Tons of pics and videos will be posted.
Here are a few to start this off: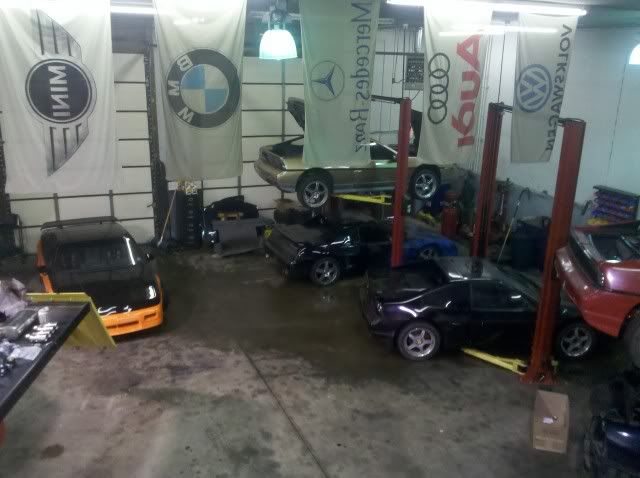 The parts list....yes, that is our gym and kitchen in the background.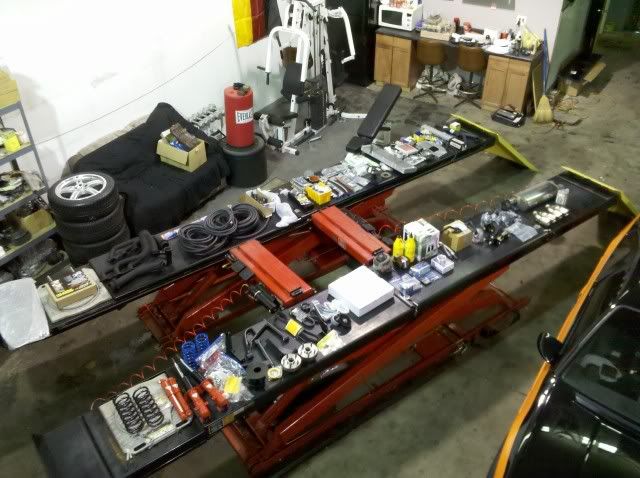 The fuel.....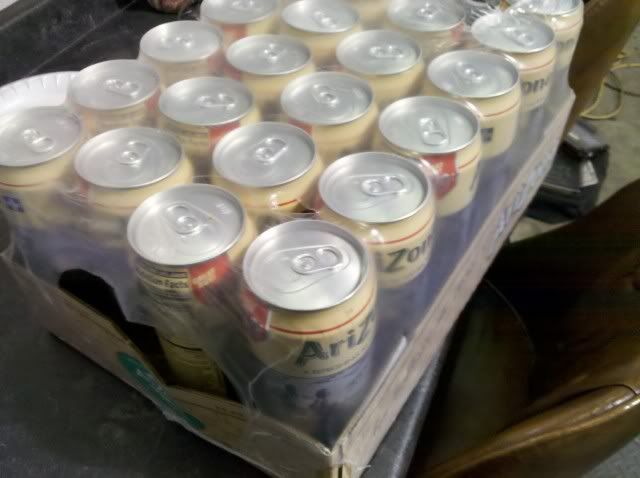 our thermostat housing....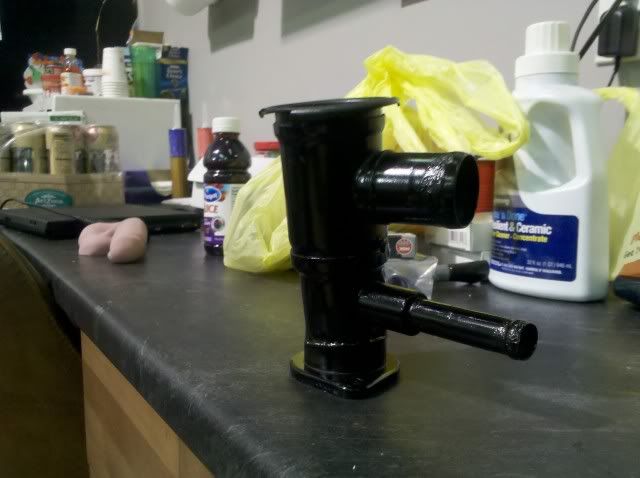 Ryan TIG welding the headers....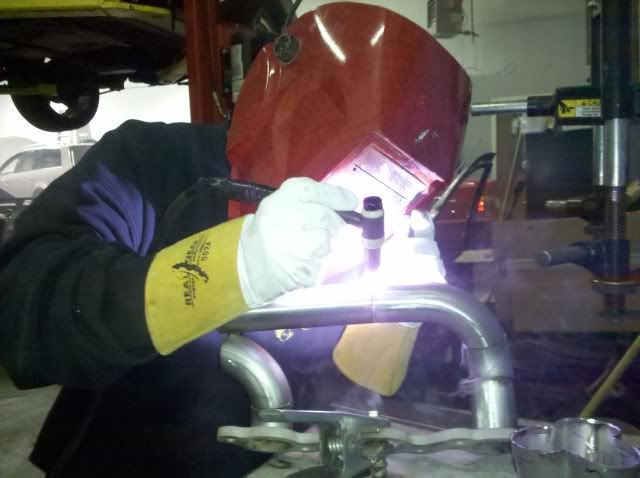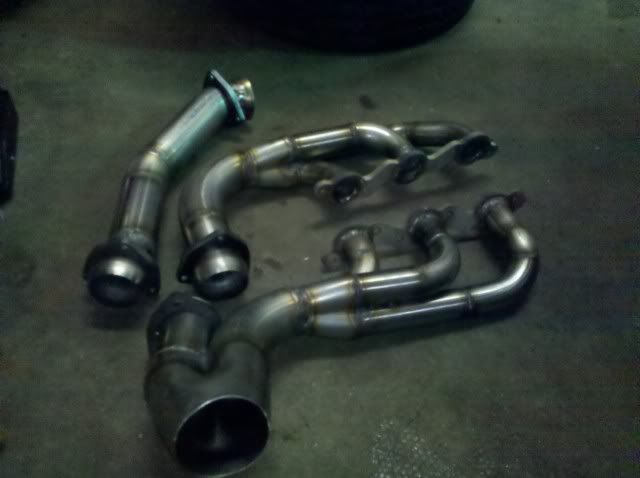 Guru low mount alternator bracket....powdercoated too.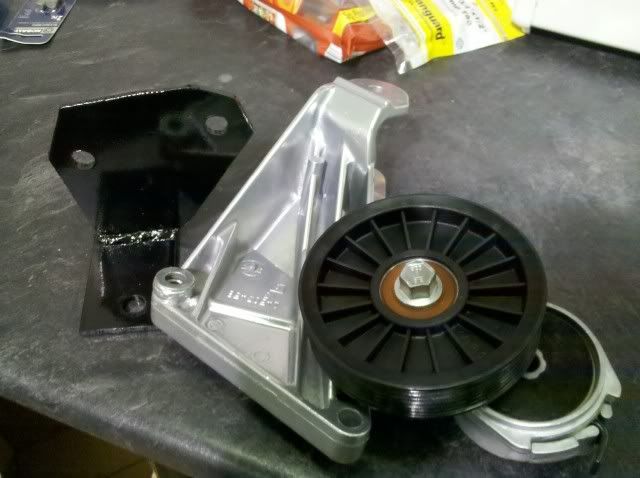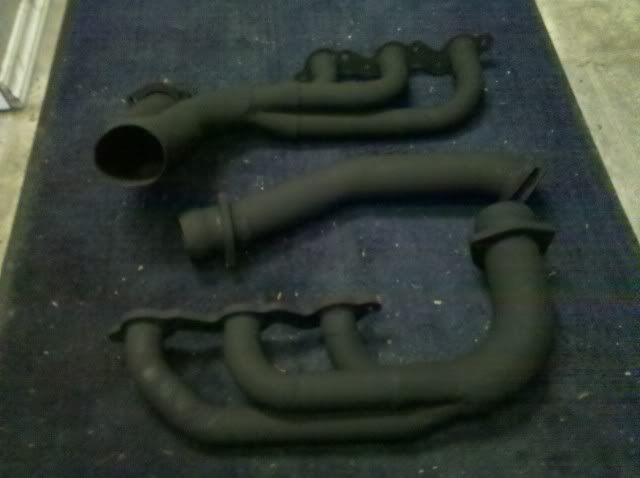 Much more to come.......
------------------

www.hausofguru.com
[This message has been edited by bmwguru (edited 01-29-2011).]