Bought an 87 Coupe on 4/15/05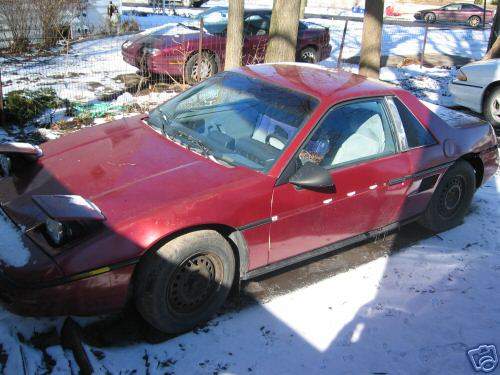 (Ebay photo from Michigan) for less than a grand w/3800 Series 1 V6, 4t60 & Grand Am brake conversions 2 months ago. 70K on engine, 74 k on car.

Car has been hit in front and rear and "repaired" by a previous owner.

Fixed
Realigned front trunk lid
Increased spring tension on front trunk lid latch to permit interior release lever to function properly.
Bodywork on fan/trunk wall to provide clearance to permit driver's side headlight to go fully down.
Lower part of front bumper fascia properly fastened in place.
Bought spare tire, jack & lug wrench.
Sandblasted painted & lubed jack from 84 coupe.
Repaired circuit board for pulse wipers.
Bought & installed windshield washer reservoir w/ pump.
Bought & installed tube for A/C orifice.
Bought tube to go from orifice tube to condenser (has high-pressure fitting).
Bought & installed new front brake pads on passenger's side (driver's side had new pads).
Cleaned front brake calipers.
Bought & installed driver's door side molding w/ new clips
Bought & installed L & R rear side marker molding.
Removed worn upholstery from driver's seat & installed seat cover.
Bought & installed factory radio wiring harness connector.
Bought & installed late model radio wiring harness adapter.
Bought & installed Pontiac factory AM/FM/CD player.
Bought & installed trim plate for radio.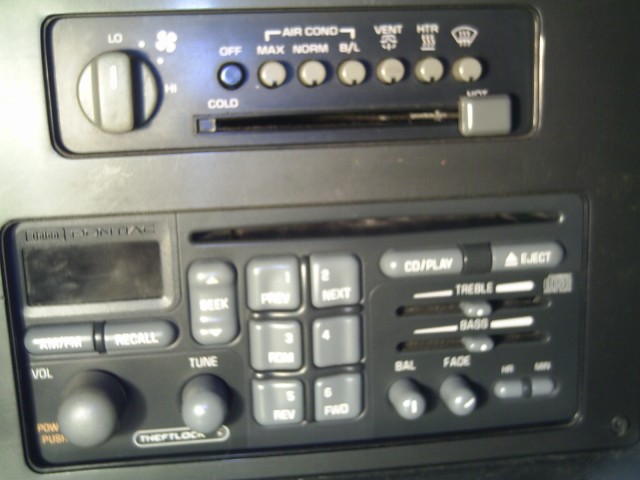 Repaired loose connection in oil pressure gauge.
Swapped oil pressure senders.
Bought & installed faceplate for aux. Gages.

Tie wrapped ECM wiring.
Bought & installed gray console.
Hammered dent out of passenger floorboard.
Removed cut engine lid torque rods.
Bought & installed torque rod for engine lid (prop stick no longer required).
Slotted engine mount brackets & moved mounts back.
Moved engine back from firewall.
Removed power steering pump.
Reworked idler pulley arm stop.
Bought a grooved pulley to replace smooth idler pulley.
Bought & installed a shorter serpentine belt.
Cut off power steering support arm.
Cleaned alternator & it's mounting bracket.
Fabricated handle to replace missing one from oil dipstick.
Cleaned intake manifold.
Painted rusty EGR valve housing.
Moved DIS coil pack from over valve cover to battery side of engine.
Rerouted engine wiring.
Bought & installed new battery lug bolts.
Installed battery hold down clamp.
Installed battery shield.
Replaced 3 spark plug wires.
Rerouted spark plug wires.
Bought & installed new drive for starter.
Cleaned & painted starter.
Drained 8 quarts of oil!
Removed oil pan, cleaned & painted.
Cleaned rear sub-frame.
Repaired oil level sender in oil pan.
Bought new gaskets & installed oil pan.
Hammered dent out of rear trunk.
Bought rear bumper beam (bent 84)
Straightened, cleaned, primed & painted rear bumper beam.
Bought & installed egg crate on beam (required reshaping, wrong model).
Bought & installed rear upper and lower fascia support brackets.
Bought 20 chrome tuner style lug nuts.
Installed black GT wheels.
Bought & cleaned A/C compressor to body hoses.
Sanded & painted B pillars.
Straightened, sanded & painted passenger's side mirror.
Bought & installed a taillight screw cap.
Cleaned & repainted 2 B pillar emblems.
Straightened and painted antenna.
Changed fan relay input from grounded to low speed signal from ECM.
Bought & replaced broken left headlight frame casting.
Bought & installed L & R headlight fairings.
Replaced R broken headlight.
Rewired headlight motors.
When the car was delivered, the owner had broken the only door key off in the driver's door.

The rear deck lid took a different key. Had a locksmith make a key for the passenger's door. Then I removed the deck lid lock & had him set the cylinder to match the door key. Next, I took the driver's side lock apart and re-keyed it using some spare cylinder plates I had obtained. After I got all 3 lock to operate on the same key, I had duplicates made.

To do
Seat upholstery X
Buy & install A/C condenser, accumulator & compressor. X
Flush lines & charge. X
Buy & install speedo adapter. X
Get Temp gauge to function. X
Get headlights to go up & down w/ hood closed. X
Wire oil level sender to pushbutton and shift light in IP.
Install A/F gage. X
[This message has been edited by 30+mpg (edited 04-28-2010).]