i received my dew wipes from Silver 85 sc and they are of good quality, and they include an extra flap for the 84 due to the way the outer skin fits on the frame, different than the other years. Rich was kind enuf to send the USPS so i wouldn't be raped at the door by FedEx or UPS here in Canada. Thanks Rich.
However, i don't know what was worse - replacing the fuel pump, rebuilding the steering column or replacing the dew wipe on the passenger side - i still have to do the drivers side. i just did the passenger side because my door handle broke. Same handles as on my S10 - Charlie - i've broken three of those and now one on Freya. Whats wrong with GM anyway? The junkyard handle had a rusted out spring, so i used the spring from my broken handle - i have no rust on my car - and JB welded it in place. Looks like its gonna work fine.
But meanwhile i have a lot of other things to do with Freya. i bot a 3800 SC motor from ol Betsy, a 2002 40th Anniversary GTP, and the sellers had 4 Fieroz (one to drive, one to restore and two parts cars) so i also picked up a headlight harness WITH the module. Yeah buddy. Now i've gotta install that bugger, and i think i will have to remove the brake booster cuz i installed the Sonoma booster (one of the best mods i've ever done) and it interferes with removing and replacing the bolt. In addition, how on earth do you snake the harness in front of the radiator?
It took me and a friend, not on PFF, who drives a Formula 9 hours to pull the motor, with all the wiring in front of the firewall - i didn't get the OBD2 port tho - and get it onto the truck. This summer i will prep and paint the motor - its going stock into Freya - was gonna do some porting on the exhaust manifold but the rusted condition makes me pause.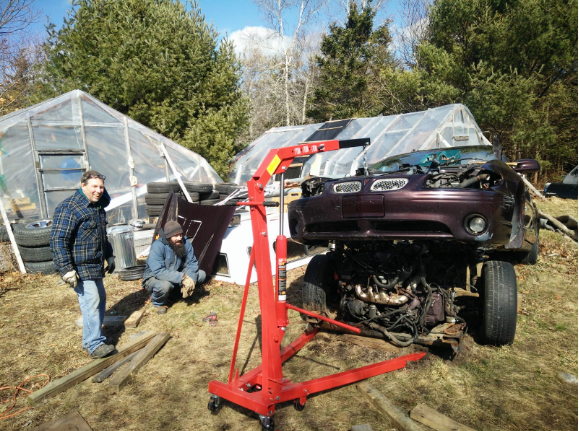 i'm thinking of silver motor and tranny, black pulleys, red supercharger, dunno about the valve covers, and i want to put a touch of gold somewhere - maybe the gas lines. Question: what kinda paint do i use?
jon
------------------
Astronomy says we will find a coded signal from outer space. Then we'll KNOW that life exists there, for coded signals aren't by chance.

Biology says there are coded genetic signals in every cell, but we KNOW that no intelligence created life.

I'm the original owner of a white ' 84 2M4 purchased Dec 10, 1983 from Pontiac. Always garaged, no rust, 4-wheel drifts are fun!