Fiero Argento Signora = Proud Silver Lady
A little history on the car.
It is an 85GT 2.8 4 speed with approx 150,000 miles on her. She came with a rebuildable 88 motor with a spun rod bearing. Its never been hit that we can tell. Silver with grey ground effects, headlight conversion (110w H4), alpine deck with infinity rear speakers in the firewall, cut springs (and clamped

) and the ugliest 1990 grand am wheels you've ever seen. Everything else is stock. It only has power windows, tilt steering, and decklid release. No AC, cruise or any other features. It is a pretty light fiero to begin with. Here is a pic of how she looked when I first got her. It will be a good "before" picture. Cost - $200 dollars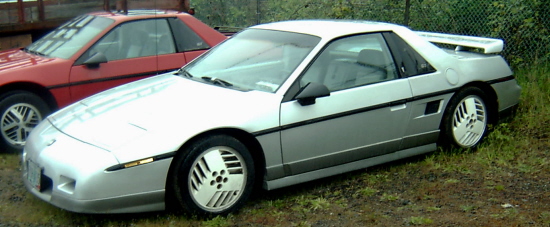 List of the mods being done to this car as the build continues. (updated occasionally) We will do all the work ourselves using available fiero parts when possible.
-Rebuilt 4.9 cadillac engine, ported with Delta 480 lift cam - Cost ~$800 (done)
4.9 Rebuild thread
-SPEC 3 clutch ~$225 (done) EDIT: SPEC never held. Installed new Clutchnet clutch 7-09 ~$450. Installed with LSC performanced flywheel 7-09. ~$260
-Homebrew exhaust ~$305 (done)
-Homebrew decklid intake ~$12 (done)
-Wired as a 91 deville with single O2 sensor and fastchip programing. Homebrew harness, $0 part of engine price. $65 for chip, (done) $50 for delco sensor. (done)
-Poly motor mounts with fieroaddiction front mount bracket, homebrew side mount. (done) $100
-New engine bay insulation (done) $110
-88 isuzu trans with Rodney competiton short throw shifter, isuzu select arm rebuild kit. (done) $50 for tranny, ~$80 shifter, $15 select arm kit. EDIT: Isuzu broke. Re-installed original muncie 4 speed 7-09 $0 dollars. Found getrag ($140 pullout). Installed 11-09. Currently pulling back out to open and fix.

-88 cradle swap with poly suspenison bushings using Held adapters (done) $50 cradle, $60 poly, $100 held adapters
-85 front suspension with poly bushings and new Rodney front ball joints, upper adjustable and lower. (done) $50 for poly $100 for ball joints (done)
-New KYB all around, gas adjust front, GR2 rear. (done) ~$250
-WCF lowering springs front 400lb, coilovers rear 350 lb. (done) ~$125
-Rodney Dickman poly trans mounts (done) $130
-12" corvette rotors, 88 fiero calipers (X4 rebuilt by us), and Russell stainless braded lines all around + fieroaddiction adapters/rings , front hubs (new bearings/seals), and rotors ~$650 total (done)
-87-88 gas tank conversion. $35 (done)
-Fastback conversion ~$150 amazing junk yard deal including tailights but no quarter windows and one broken vent (done) EDIT: Vents replaced. Another junk yard deal $13 (done) Quarter windows purchased ~$120 with Arrowheads.
-Hood vent $?? (pending)
-Front mount battery tray and goodies (done) $100 total
-86-87 GT cluster with aux gauges $75 (done)
-Dynamat sound deadened interior (done) $130 for 36 sq ft.
-16x7 ASA AR1 wheels ~$552 delivered
-General Altimax HP tires. 215/55-16 front, 225/55-16 rear. ~$450 delivered
-Mr Mikes seats. $525
EDIT: I give up. Way too many to list now.

--------------------------------------------------------------------------------------------
Running Total: Oops! Lost track and afraid to look at the receipts

..... 7k+
****************************************** The beginning ~ 9/1/08-9/3/08 ****************************
I got the car stripped this weekend and, hopefully, will be installing the motor, cradle and tranny next weekend.
First thing I started on was the new cradle.
The old suspension busings were removed and new poly bushings were installed along with the poly tranny mounts.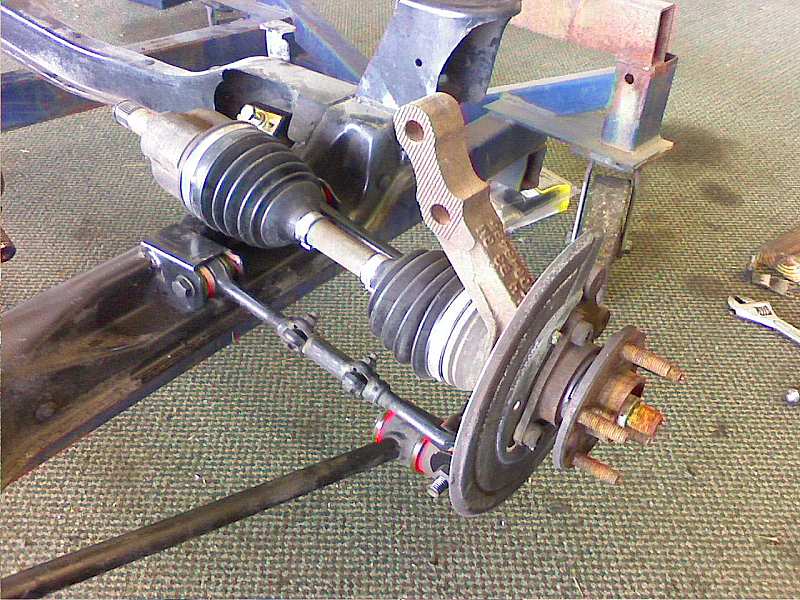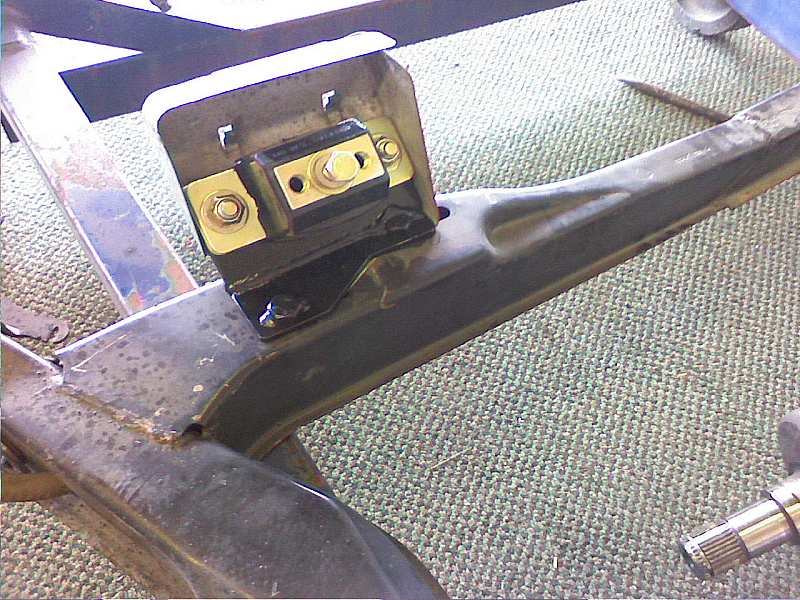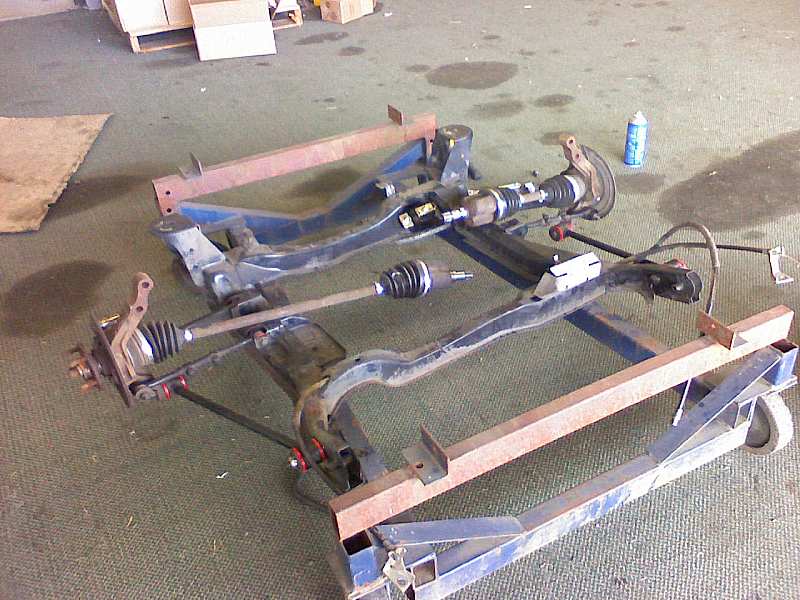 With the cradle ready to go I got started on the teardown of the car.
First we had to drag it out of the blackberry bushes that had started to overtake it. We drug it out using a fork lift since it was handy.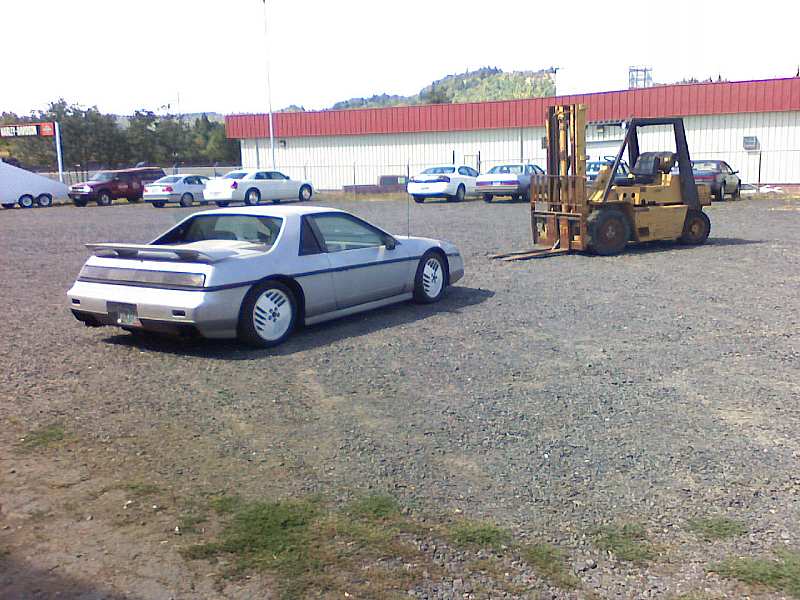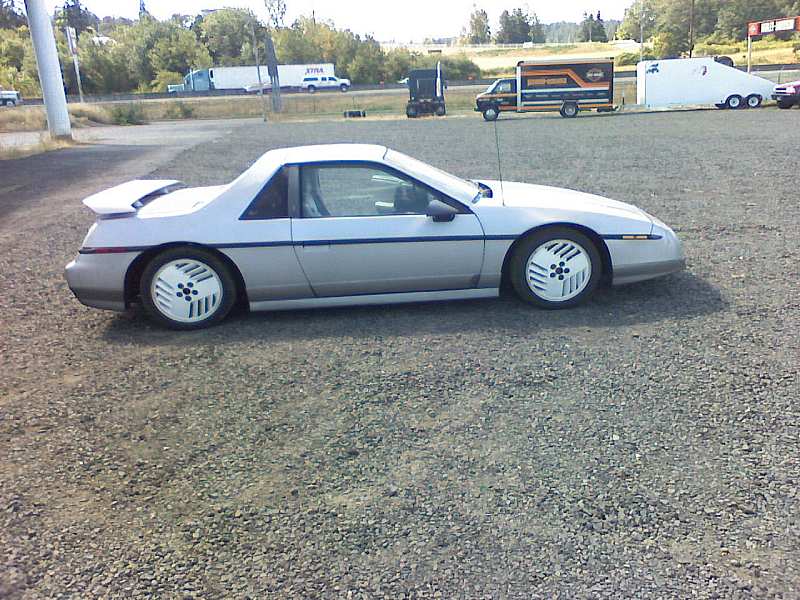 You have to laugh at the wheels. They are the wrong offset (16x6+47mm) and sit way too far in. Also they are all exactly the same. This means that the drivers side actually helps keep the brakes cool by forcing air in while the passenger side vents out creating a cross draft inder the car. We were laughing about it for a while. One side sucks while the other side blows.


I immediately started disconecting the motor and anything else attaching to the car. Meanwhile, Dad went to get the 4.9 and rest of the parts we have so far from next door.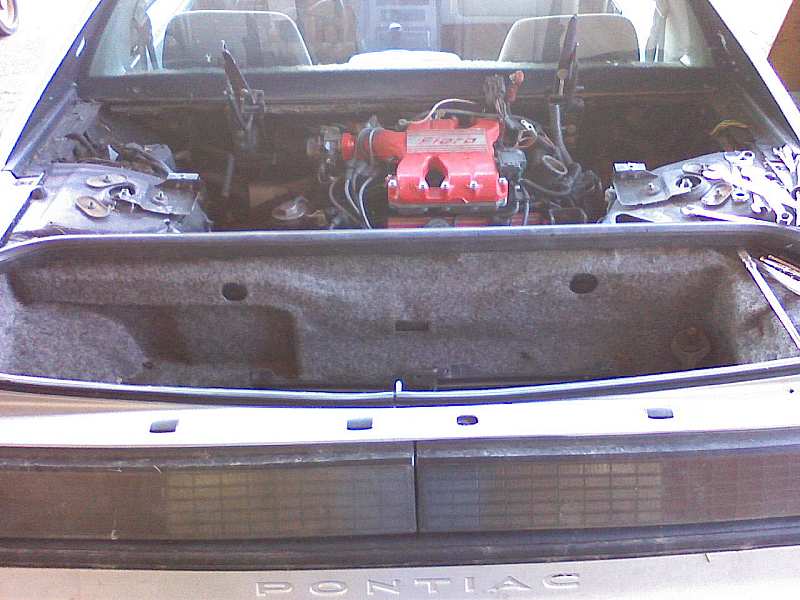 Dad showed up a few minutes later with the engine complete with stand and pretty much ready to go in.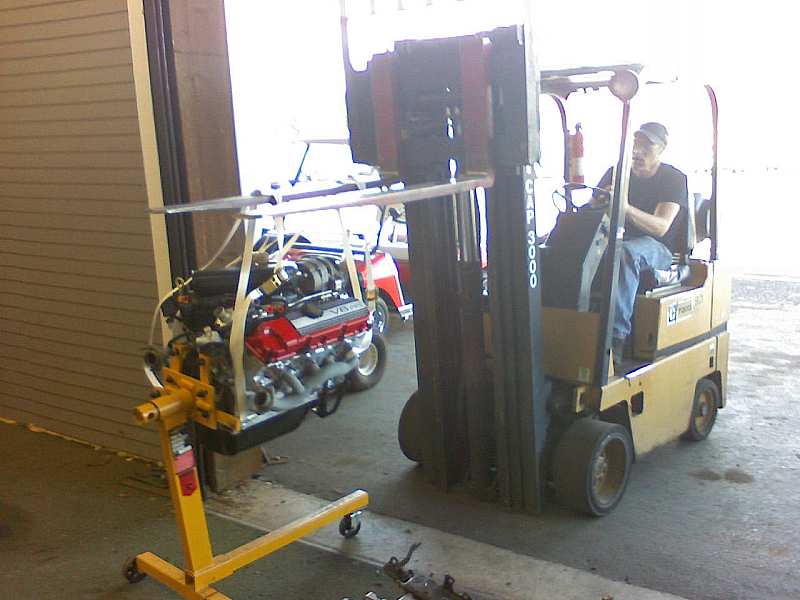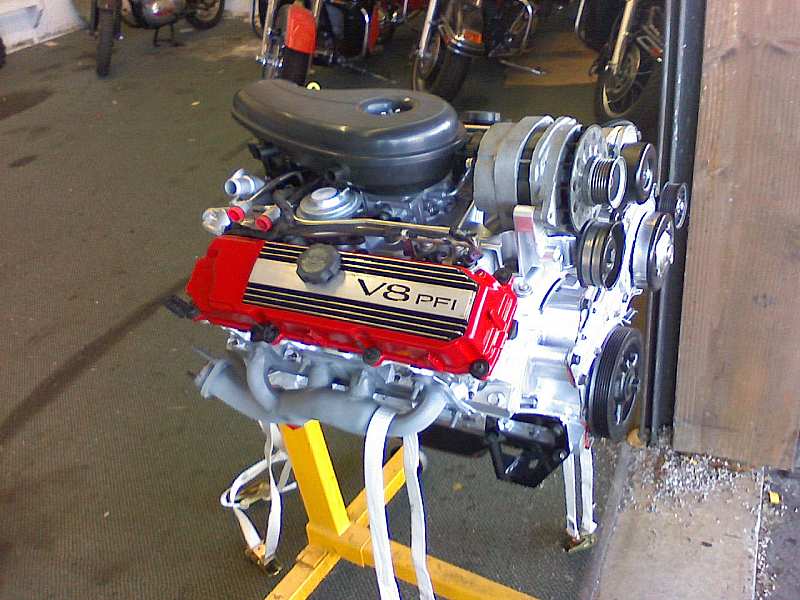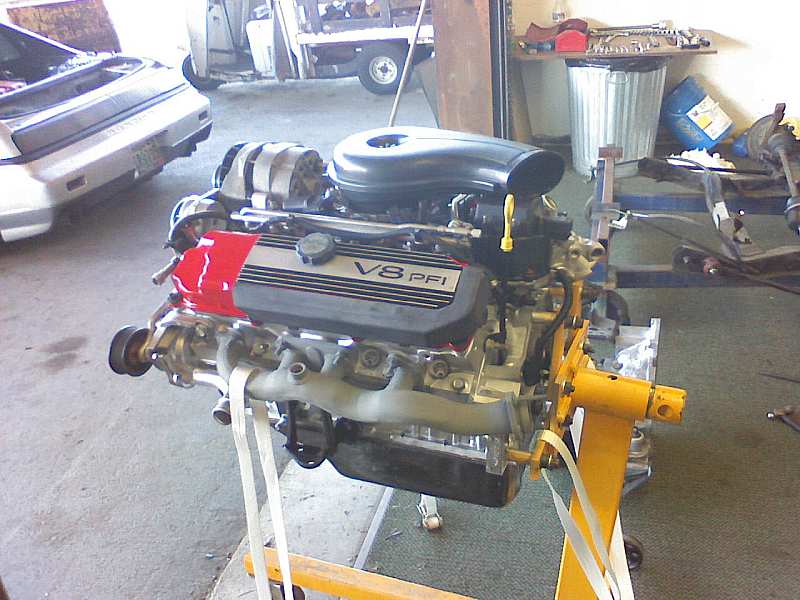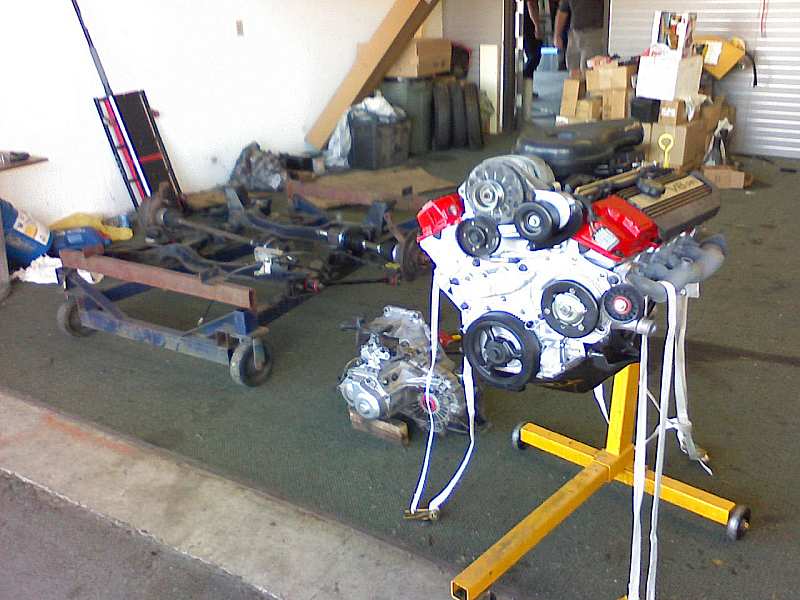 Time to pull the old cradle and motor out. This is our prefered method and if you want details PM me.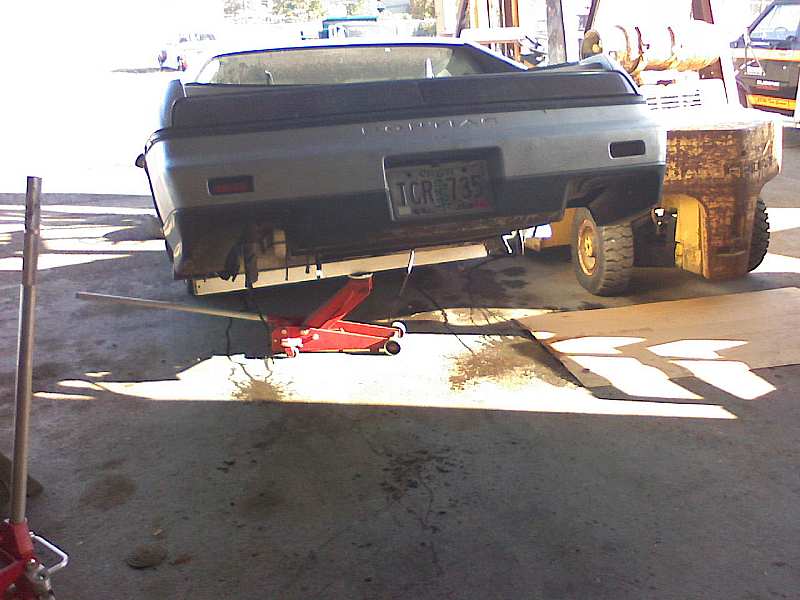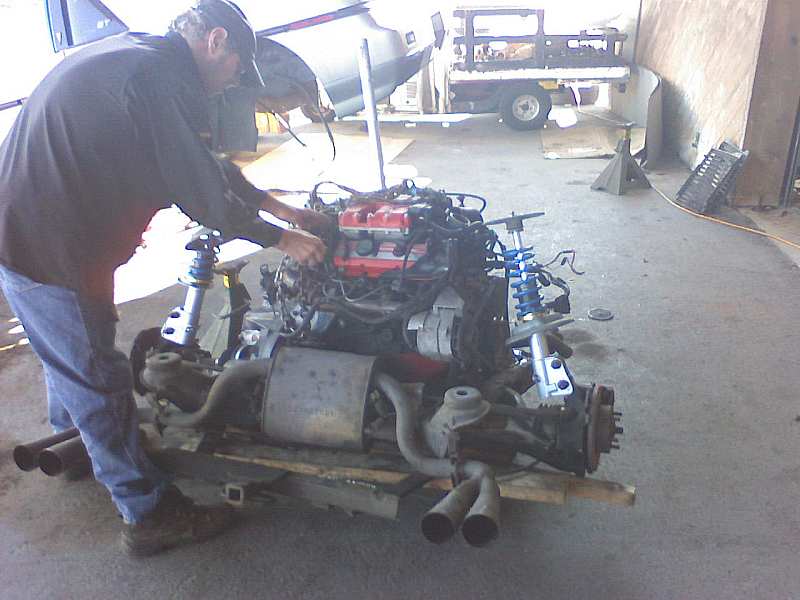 We measured up the stock 84-87 cradle, the 88 cradle and the car to see if there was a difference in mounting except for the strut towers. It looks to fit perfectly but we'll find out for sure later. I measure center to center and got the same measurment on all three.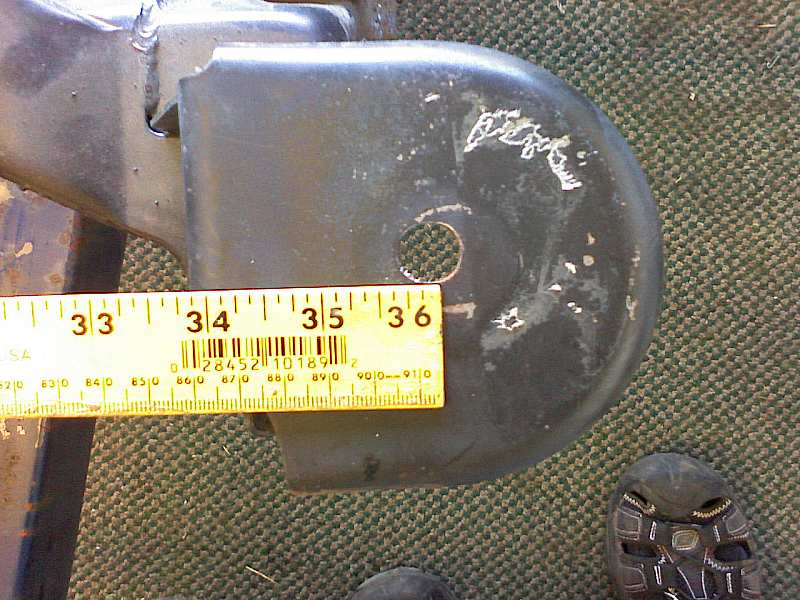 Next up I started tearing apart the interior. Almost everything had to go. There is no headliner so I will eventually need one. Nice, this car is pretty much rust free!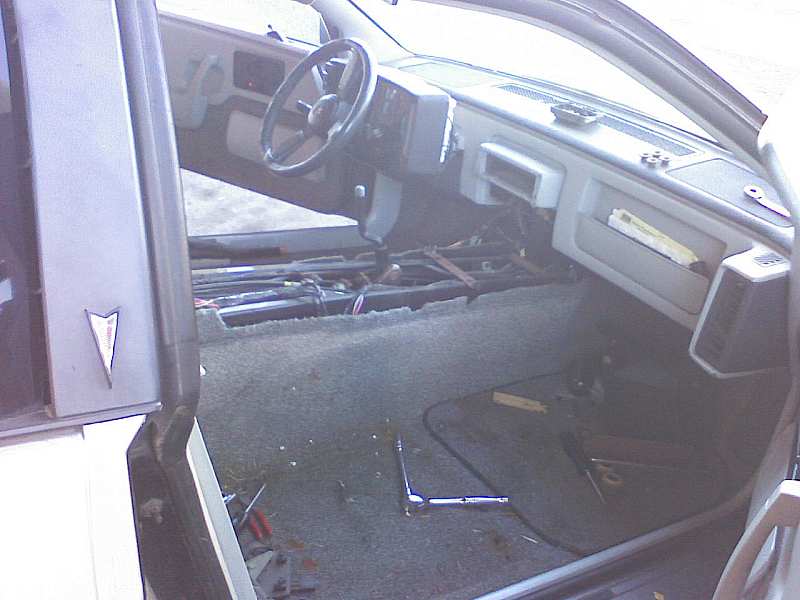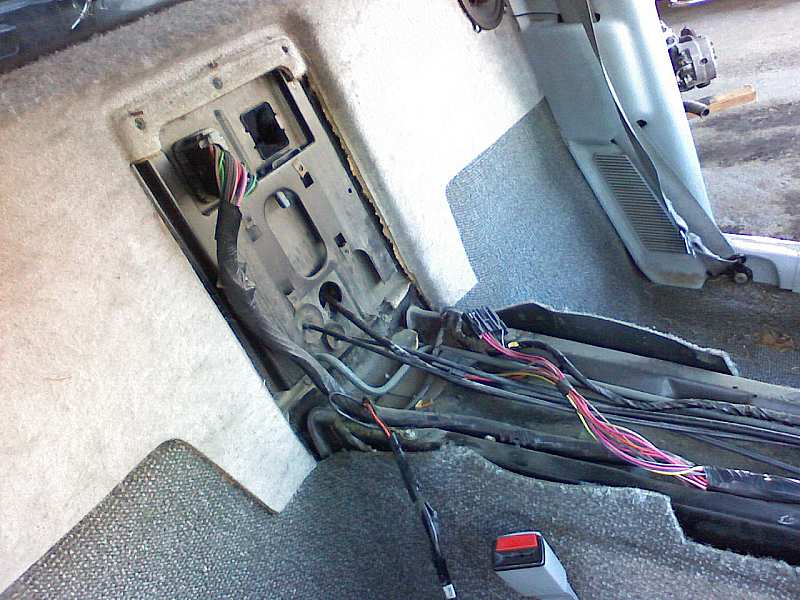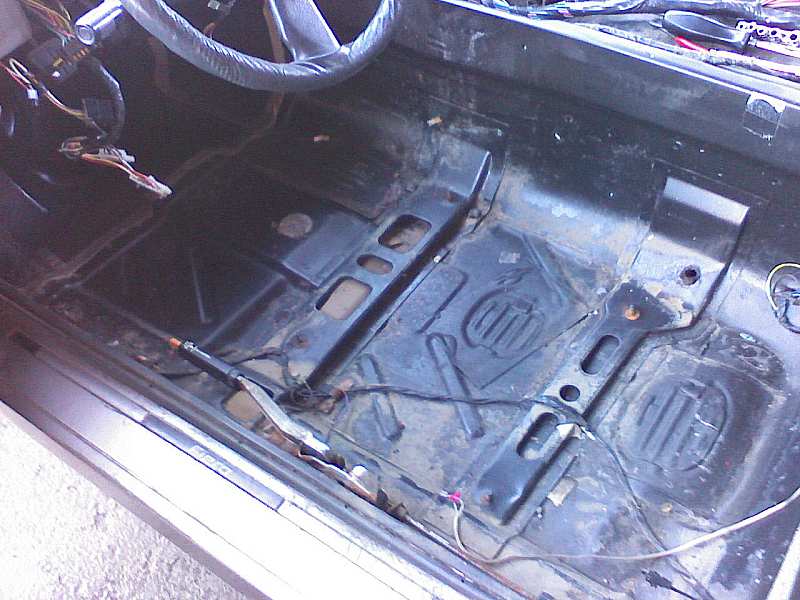 I thought the speakers in the firewall looked OK at first glance...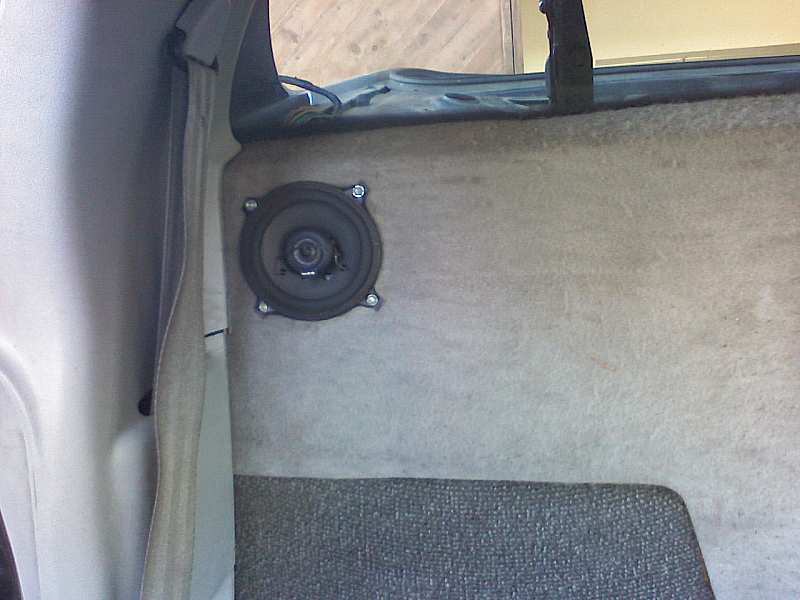 but they did a horrible job installing the stereo equipment. Wiring under dash and at seat speaker plug all hacked up along with the firewall. They even cut out the mount for the relays in the engine bay. This is what you call a complete "Hack Job". I think they used a chisel.

I will fix the holes and replace the factory connectors and use an adapter for the stereo plug.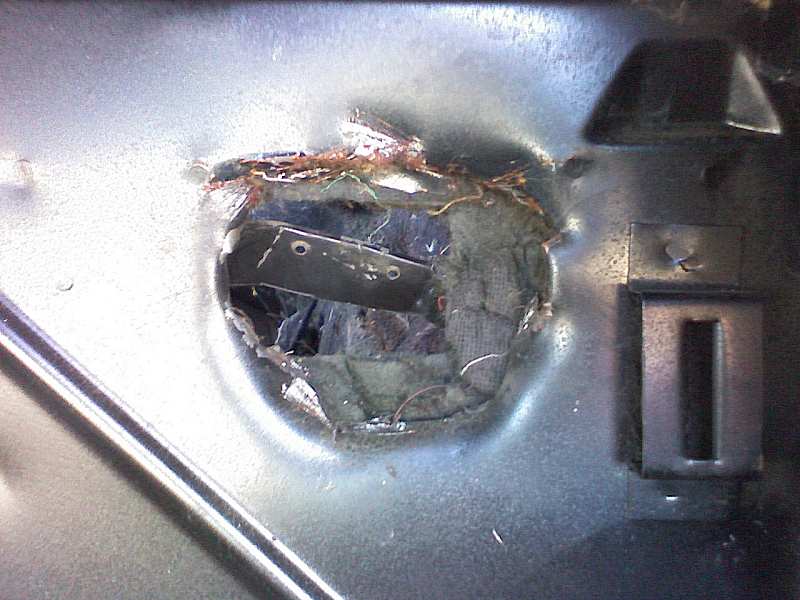 Everything was piled up for sorting later. Some pieces will have to be replaced but not many.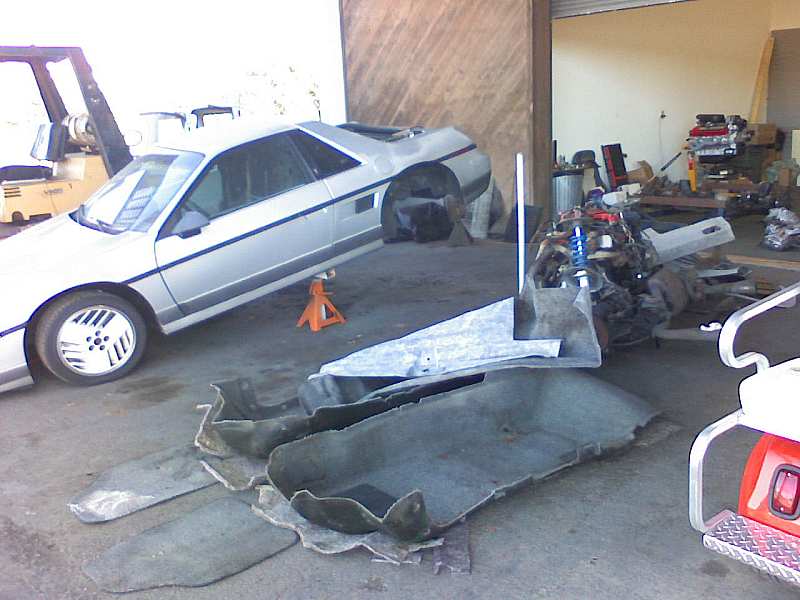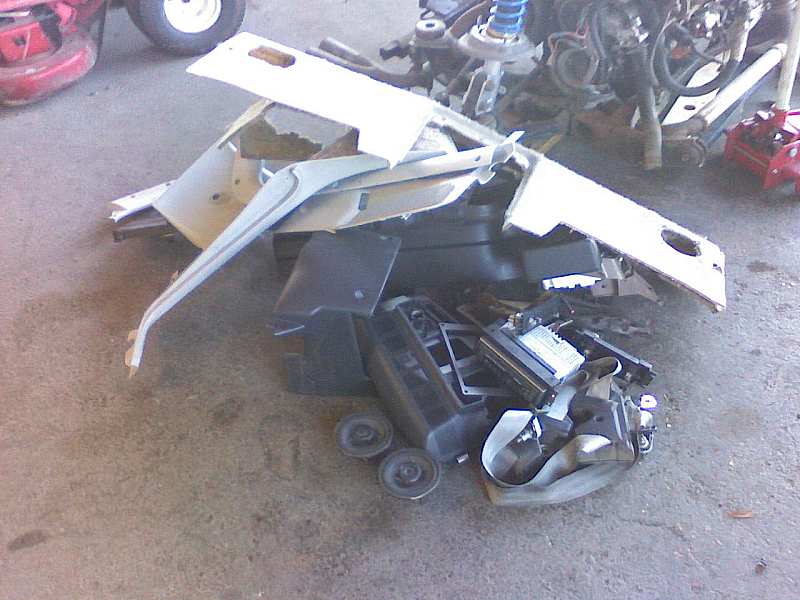 I finished removing everything from the engine bay and trunk. I am going to replace the truck carpet with some out of an early coupe. I removed the blower and tubing from the trunk, insulation, and pretty much everything except the slave cylinder and coolant tubes. Not much rust here either except for the battery tray and thats coming out anyway.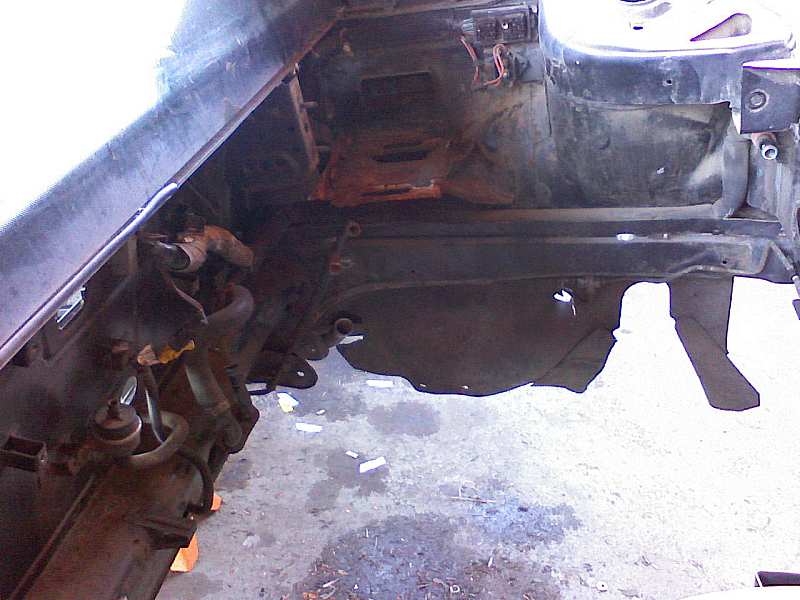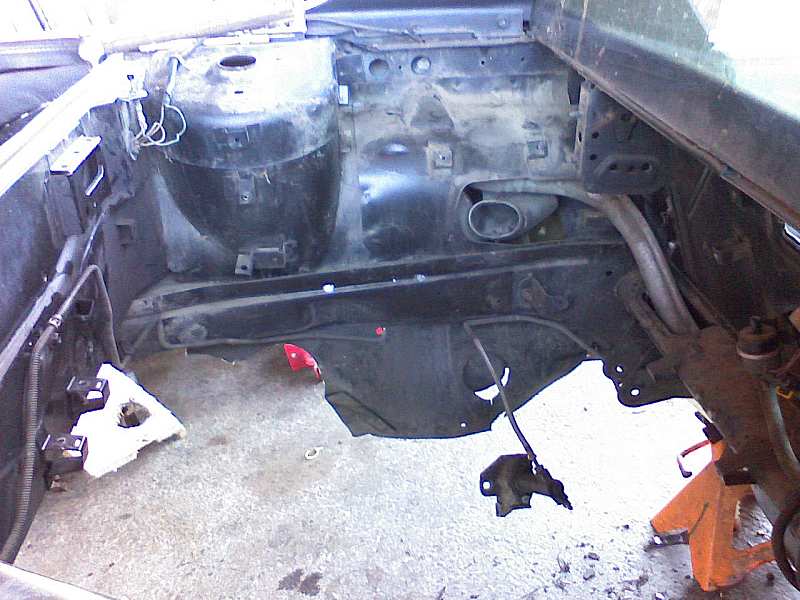 Dad pressure washed the engine bay and seatbelts to make them look good again. I re-did it later to actually get it clean.

Marla took care of the mats for us. The passenger side mat looks to be bleached so I'll be on the lookout for a new one eventually. Her car is coming up next.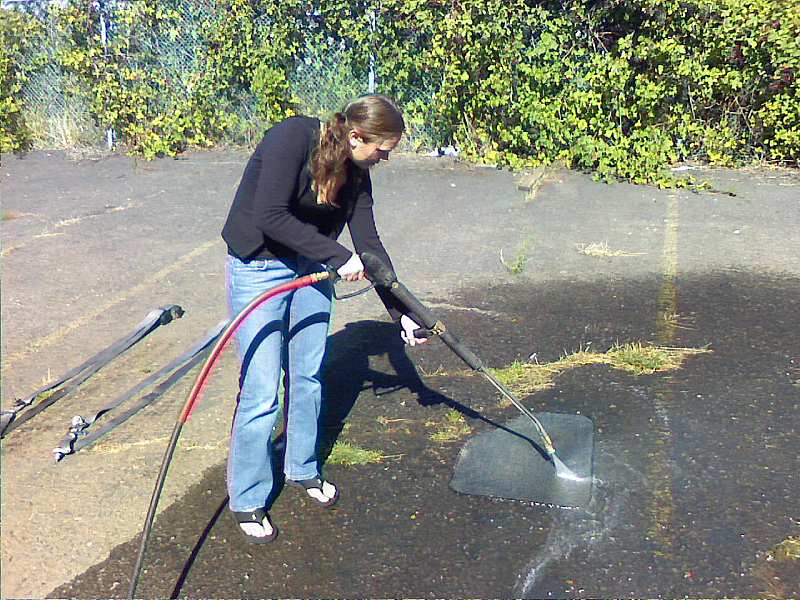 Here is a good before and after shot of the seatbelts. A little scrubbing bubbles and a pressure washer or wand style carwash can do wonders.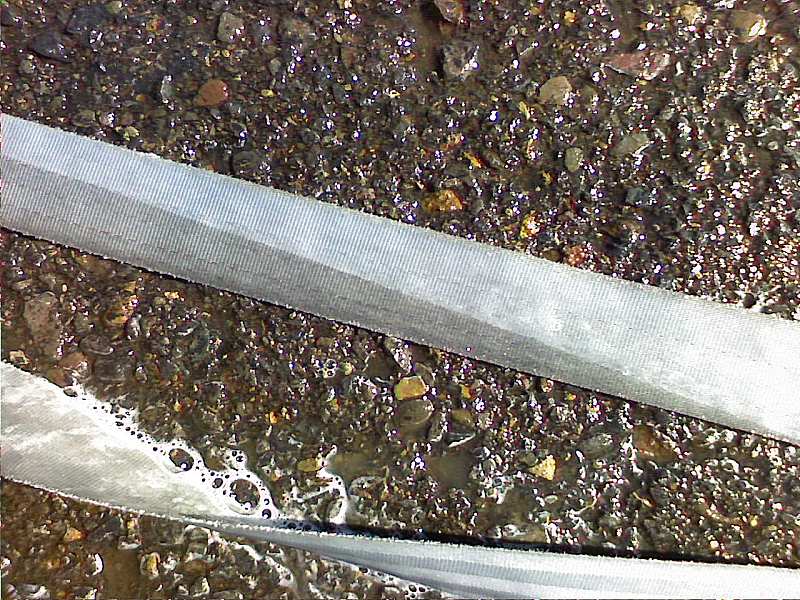 We sorted the piles and organized everyting for make it easier for next weekend.
Next we started getting the struts and strut towers ready for the 88 cradle. I am using the Held adapters for this.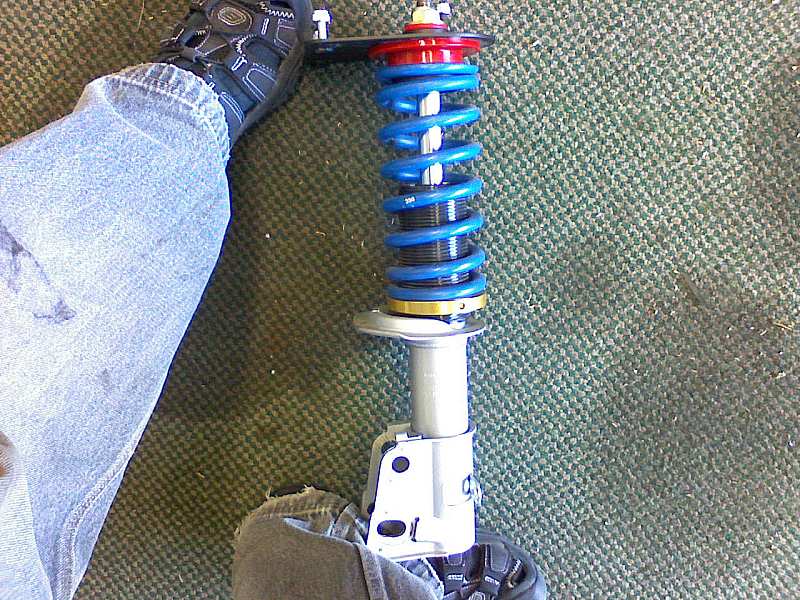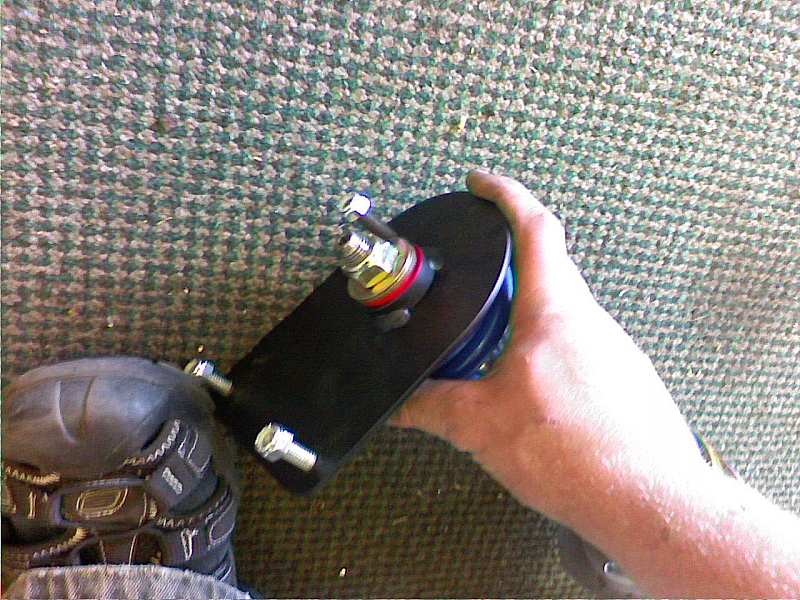 The drivers side was pretty easy. The two adapter bolts nearest the fender were put in to give us a center for the hole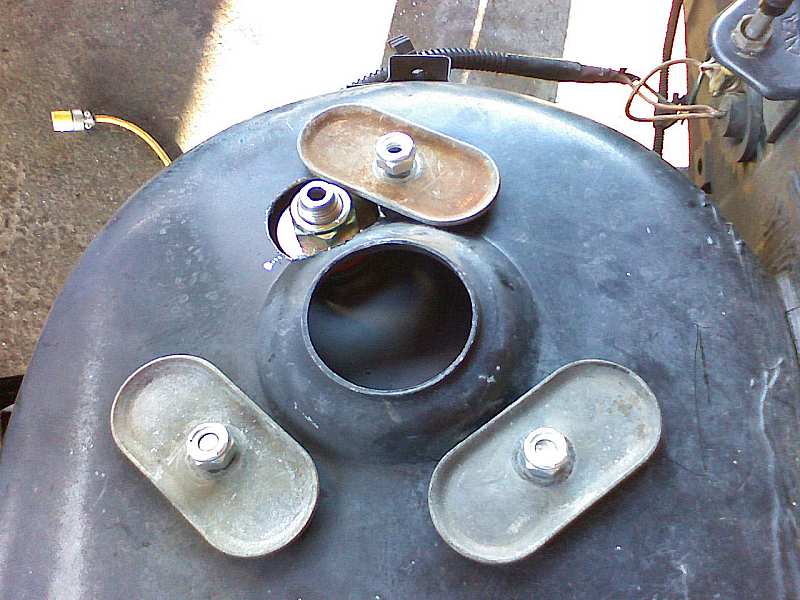 The passenger side required more work to get it started. We used a die grinder with a milling bit to remove the spot welds from the dogbone mounting bracket so we could remove enough to drill the hole. We will probably take it all out later since it is not needed for this install.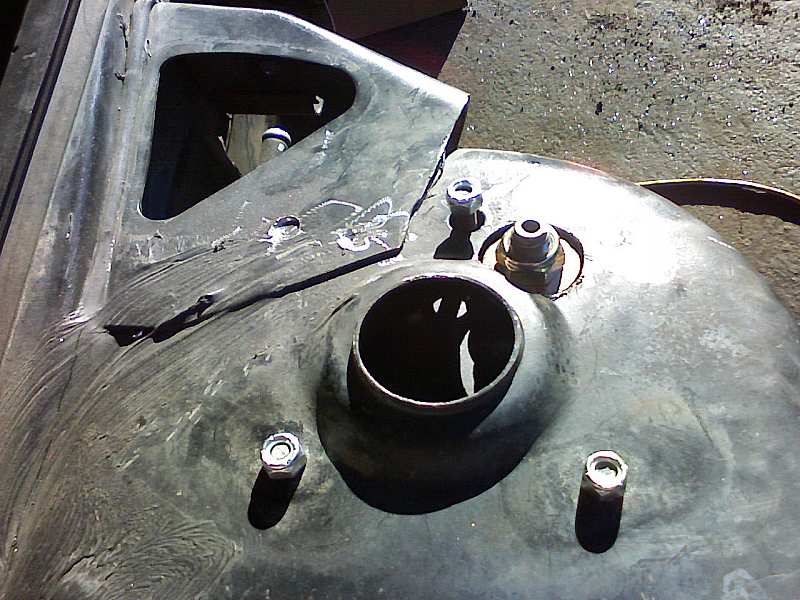 We did not have time to complete either hole but dad will finish this over this next week so the car is ready for the install next weekend.
That was all we had time for this weekend. I will be playing with many different ideas so if you have something you think I should try let me know. Questions or comments are always welcome. More to come. This project has been a long time coming for me and I am happy to be able to share it with so many good people.

[This message has been edited by Fieroseverywhere (edited 04-02-2010).]