Items and repairs done and upgrades.
01. Clutch is not disengaging. (Replace the master cylinder)
02. Replace clutch with FieroStore HD 9.75 clutch
03. Lower driver door molding piece missing replace with new.
04. Rear coilovers for wider rear tires 18s
05. Spyn Wheels (225/40R18 Front & 255/35R18 Rear)
06. Side markers broken and brittle replace with My LED kit.
07. Center console Armrest has a big tear replaced.
08. Passenger side door striker door doesn't open replaced
09. Winshield replaced
10. Install Power Mirrors
11. Install Power Door locks with Remote
12. Convertible Roof Fasteners and Lock pins repaired
13. Convertible Top New material to recover.
14. Replace A and B pillar covers broken tabs (Modify their attachements and caps)
15. Replace seat levers broken driverside
16. Seat Covers (Mr. Mikes on order)
17. 13 inch Big Brakes AND Stainless Steel Brake hoses (OEM Disks were warped)
18. Installed GM Big brake booster
19. Modified Performance Sound Overhead switch
20. LED Interior Lighting (Done)
21. Install Fiero Logo Projectors
22. Remove Front Sunroof Glass Holder (Removed the 2 lips)
23. Front wiring harness replaced (mice attacked)
24. Headlight Door Module needs replaced driver side not going up.
25. Installed my Low Profile 60mm Hella Headlights
26. Upgrade to GT Steering Wheel (Dont like paddles)
27. Installed Mecham Side scoops
28. Installed Rear Hood Extractor (79 Mustang)
29. Antenna Delete
30. Front hood Extractor
31. Installed Automoda LED logo door sills
32. Fit the overhead convertible roof faceplate
33. Checked and Redone all the needed wiring (They looked chewed by mice some were bare)
34. Installed New Front Badge
35. Replaced Rear links kit (They were rotted off completely)
36. Replace the Shift and Select cables (Were very hard to shift as rust entered the cables)
37. Fabrication of front LED DRL
38. Upgrade dash to Amida's G1 and with matching door bottoms and console.
39. Replace windshield washer tank (Broken Tabs)
40. Din2 with Apple Car Play Radio
and for late 2021 a New Paint .... COLOR TO BE ANNOUNCED but for now these items are in process of installation..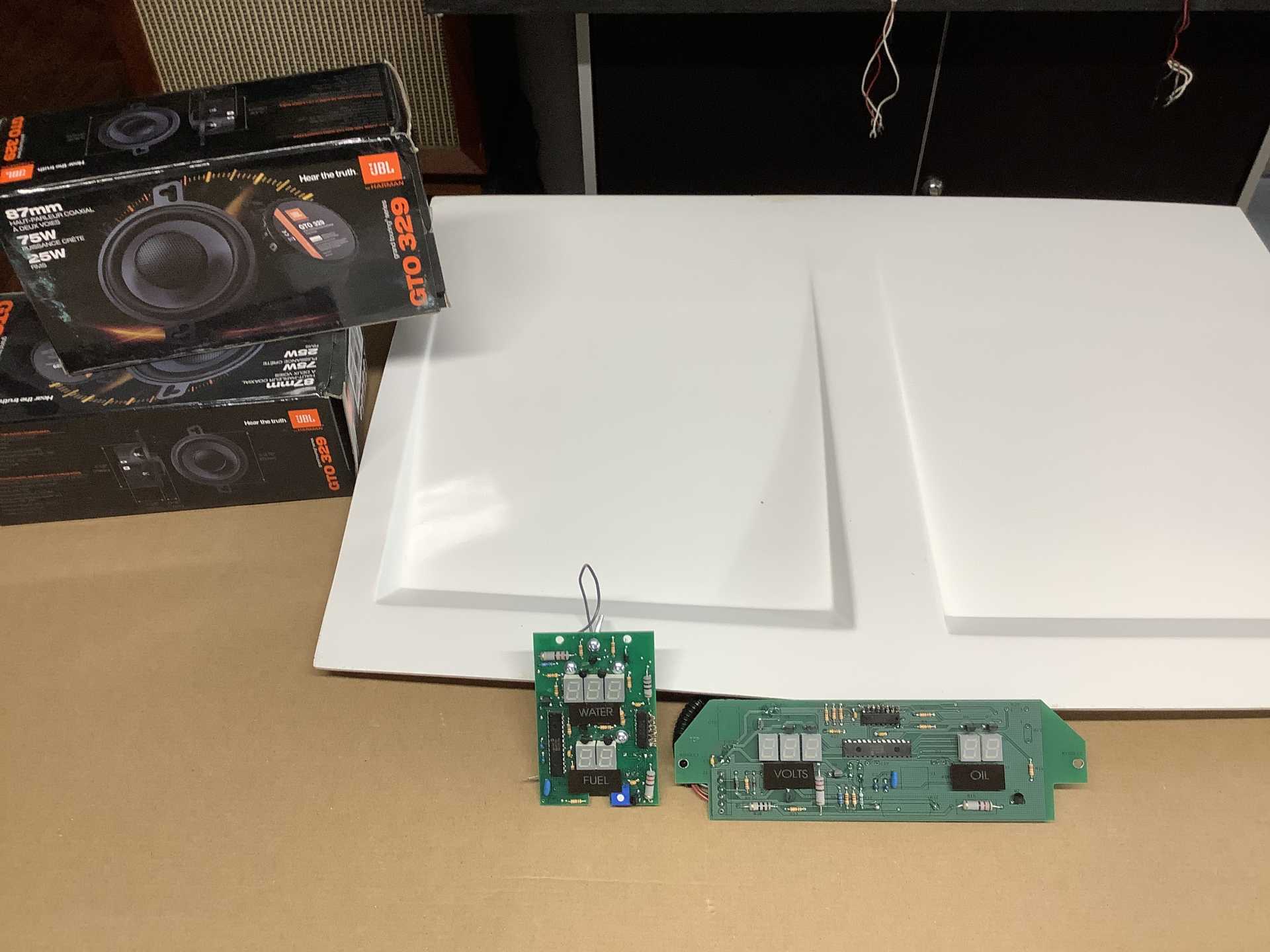 Hood extractor ,Tom's Electronic Gauges and New JBL HeadRest Speakers for my newly bought 84 back seats with proper holes.