What do Sean Spicer (Trump's original White House press briefer), Senator Tom Cotton and Congressman Madison Cawthorn all have in common, aside from being Republicans?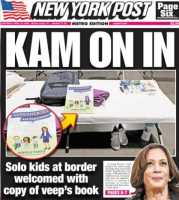 CLICK FOR FULL SIZE
They all went on Twitter to take umbrage with the Biden administration for gifting migrant children at a shelter in Long Beach with copies of Vice President Kamala Harris's 2019 children's book "Superheroes Are Everywhere."
They were all
snookered
by a misleading report that lit up the cover of the New York Post, a news-like entity pulled into a highly eccentric orbit by the gravitational field that surrounds News Corp and Fox News media mogul Rupert Murdoch.
quote

The New York Post temporarily deleted, and then edited and republished, a debunked article that falsely claimed that copies of Vice President Kamala Harris' book were being included in "welcome kits" given to migrant children at a shelter in Long Beach, California.

The reporter who wrote the article, Laura Italiano, tweeted late Tuesday afternoon that she had resigned from the newspaper. Italiano tweeted: "The Kamala Harris story -- an incorrect story I was ordered to write and which I failed to push back hard enough against -- was my breaking point." . . .

The Post's Tuesday changes to the article, which was originally published on Friday, followed a Washington Post fact check in which a Long Beach spokesman explained that a community member had donated a single copy of the Harris children's book, "Superheroes Are Everywhere," as part of a book drive -- and that the book would not be handed out in welcome kits.

The spokesman, Kevin Lee, told the Washington Post and later CNN that neither the federal government nor the city government had purchased copies of the Harris book. Lee told CNN in an email that books will be made available at the shelter in an informal library, not pre-selected for each child's welcome package. . . .

The New York Post's claim that copies of the Harris book were being placed in shelter "welcome kits" was repeated or shared by multiple Republican elected officials, echoed by other right-wing news outlets, and used as the basis of a Fox News reporter's question at Monday's White House press briefing. . . .
"New York Post temporarily deletes, then edits false story that claimed Harris' book was given out in migrant 'welcome kits'"
Daniel Dale for CNN; April 27, 2021.
https://www.cnn.com/2021/04...-migrants/index.html
MSNBC's "11th Hour" anchor Brian Williams had a good time with this at the end of Tuesday night's broadcast.
YouTube video content (3 minutes)
https://youtu.be/JGSxx9B3iKo
[This message has been edited by rinselberg (edited 04-28-2021).]