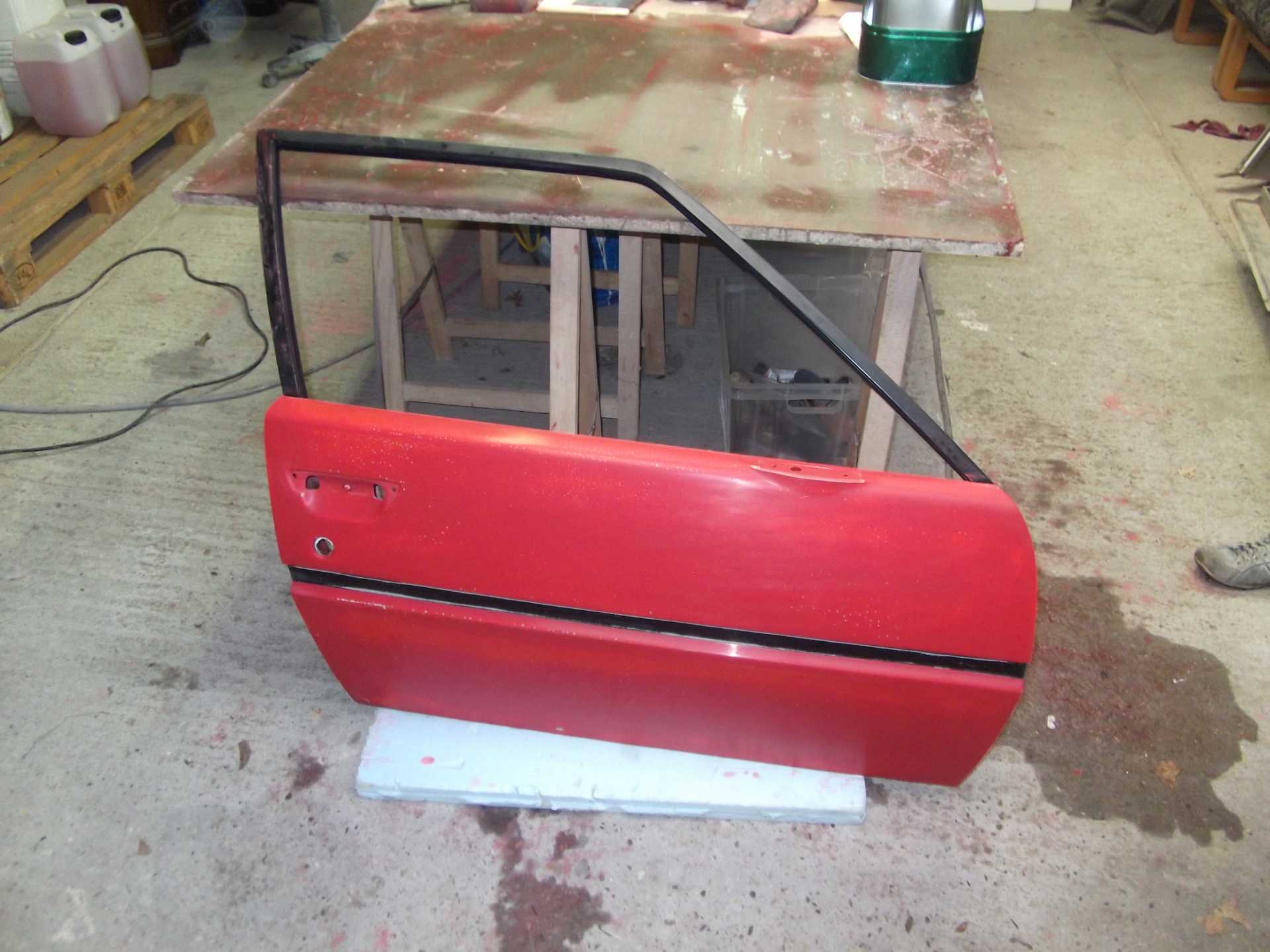 ! BMW M1 factory door.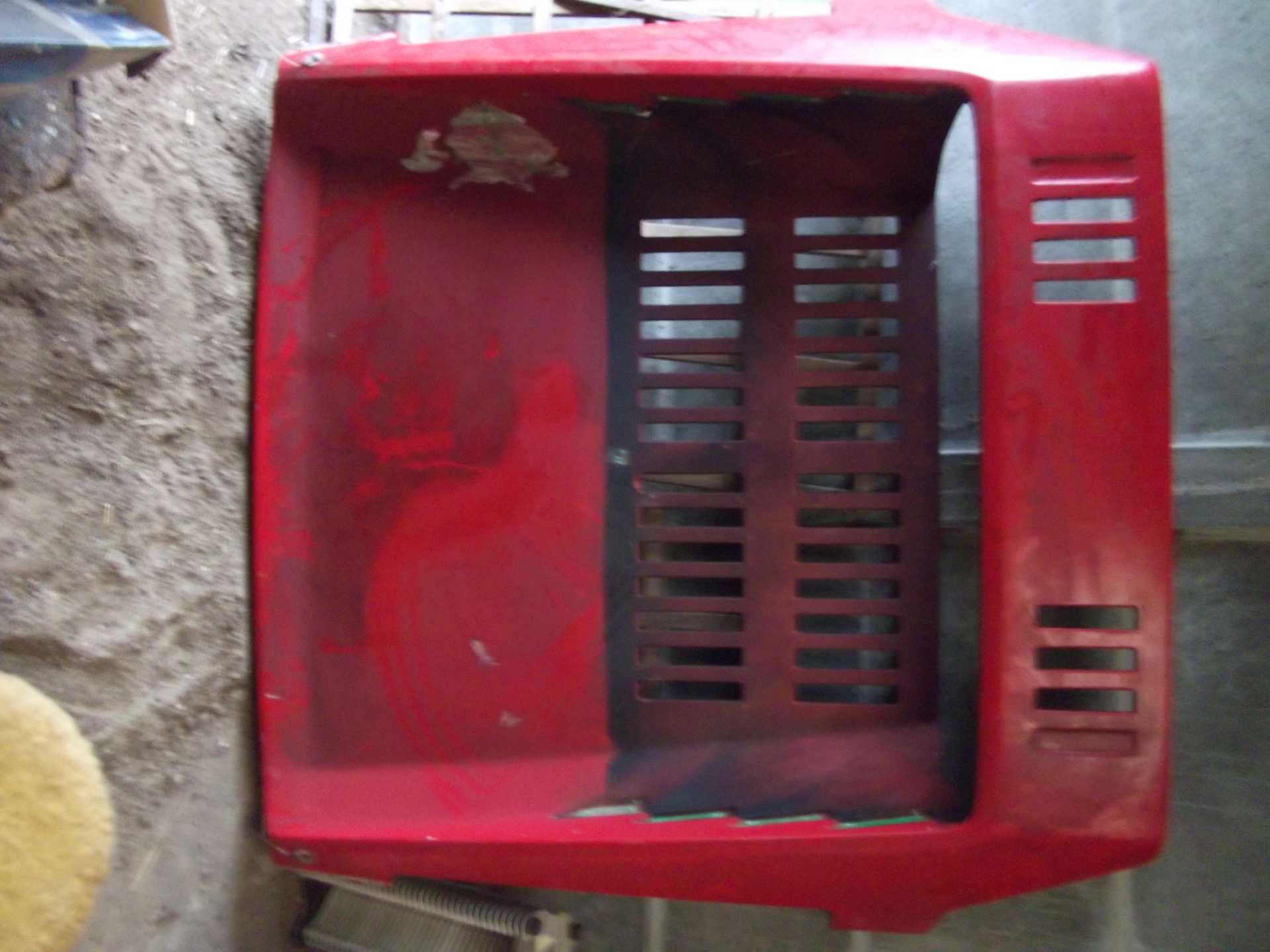 ! BMW M1 factory rear hatch.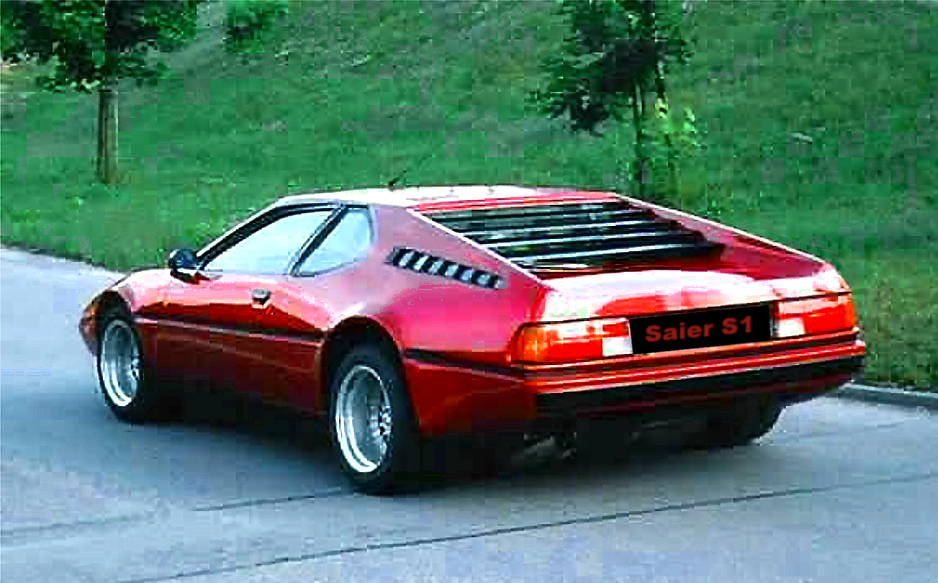 Low resolution potato camera photo that still pops.
!
!
Deutsche Auto
! Many BMW M1.
!
BarnFinds.
MAR 8, 2018 • FOR SALE • 27 COMMENTS
Build-A-Beast: BMW M1 Replica Kit Car
Jeff Lavery
The world of replicas, or replicars, is vast and curious. How many legendary sports cars have ended up with a fiberglass mold made of it, built on the chassis of mundane vehicles like old Beetles and Fieros? Some of them are impressive while others are laughably bad; however, I've not ever seen a replica of BMW's limited-production supercar, the M1. This example popped up here on eBay-kleinanzeigen.de, and it appears to be a fairly sympathetic homage to the original. I can find very little information about it, but there's some evidence that this kit never made it to large-scale production.
Although it is a true exotic worth significant money, the design of the M1 was not necessarily what you'd call complex. There aren't a lot of scoops and wings and flares; in fact, at the time, I believe there was some blowback from consumers that it wasn't exotic enough. Even the powerplant was typical BMW, with a buttery inline-six mounted midship. The mid-engined layout was a major curveball from BMW, which had primarily relied on front-engined, rear-wheel drive cars up to this point. With only 453 built, you needed to have deep pockets then and deeper pockets now if you wished to own one; to this day, they rarely appear for sale.
From what I can find, a German company began making the replica kits but was forced to stop when BMW's lawyers got involved. And you can potentially see why – they even have the cut-outs for the original's dual rear roundels on the back hatch! Mounting this body with a modern chassis and a turbocharged BMW V8 seems like an awful lot of fun, and it looks like there may have been a cage installed in this particular car at one point. Owners of the original M1 that took their cars to the track found turbocharging the M88 made for an absolutely bonkers performer, and it seems fitting to build a similar powerplant for this kit.
Underneath, the replica M1 looks quite solid. I found one YouTube clip of a rolling example (man, does it look good) and this website which seems to be that of a German company that builds M1 kits (or at least did at one time). I have no aversion to kit cars, especially of something as rare as an M1 where owning the genuine article is impossible for most of us. Buying a kit of a model you could buy with a modest outlay of cash? Different story. While it's doubtful this M1 replica will ever make its way to the U.S., a fiberglass body like this one would certainly be possible to ship via ocean liner.
!___________________________
bmwmtechnike24
Registered
Joined Oct 15, 2012
162 Posts
Discussion Starter · #1 · Mar 10, 2013 (Edited)
Hello Everybody
I have waited to tell this on the board.but now its time.
I am a very big fan of bmw.
the ultimate car was for me the m1(but the coast of that car is to much)
so I bought a old six serie(almost same engine and tail lights) and later a 8 serie(this car is designed on the m1(noise)
but after a long time looking and a lot of luck,I found a man that haves for 15 years stored the complete bodypanels of a original procar.
I have picked up that,and I am now restoring the panels and taking new moulds from them.
(nose frontfender frontwindowframe and roof is one piece)rear engine hood,procar front spoiler,rear spoiler,side skirts,inner panels,procar rear wing arms.procar wheel arches...
the man where I get this from was very kind to me,to make my dream come true.
he have even gives me all the other panels from a originel street version m1(that was there for a complete restoration)so I can make a complete streetversion in complete procar look.
I am now making moulds of all these parts,even parts that are not to order anymore from bmw.(and there are a lot of them)
even for people with a real m1,after a accident they have a very very big problem.
I am dealing with this project for over a 6 months,I have every detail parts of the m1 of the outside,I have even made silicone moulds for the front signal lights,bmw is not making them anymore.
I have moulds of the doors,trunk,rear window frames,all the grills,front light housings,lights frame,signal lights,just everypart.
all those parts are comming on a frame(based on a m1) with a m88 engine and a audi 200 turbo (not quattro) with limited slip.
with all the other parts of bmw e24 635csi(wireloom,pedals)brakes from a e31,brake booster from a e32 750.
there are no good kitkar body panels of the m1.only one from saier,based on a matra murena.but not like the real one.
when somebody haves the same dream like me.
I can deliver,everypart you need to make a rear m1(street version or procar version)not home made,just like the original panels.
you will see no difference
so you can build youre dream.
in my opnion,the m1 shares parts with the e24,with using more e24 parts and other better brakes from a other bmw.
this is no replica,this is a real bmw,only build with other bmw parts.and when using the same m88 engine this is for me the closed I can get to the real deal.
I have no money to buy a real one,I have to do this on this way.
I will post every week more pics.of the moulds and of the building proces.
when you have the same dream,and you want to build it.I can deliver the parts you need.
best regards
ruben block
____________________________________________0
bmwmtechnike24
Registered
Joined Oct 15, 2012
162 Posts
Discussion Starter · #9 · May 27, 2015
bmw m1 bodywork frame
the small parts are ready,the big parts are ready to start.
now a wooden frame is build for the front and rear of the body.
Attachments
Vehicle Car Coupé Classic car
2015-05-23 16.59.32.jpg
1.1 MBViews: 292
Like Reactions:Fiftytwoeighty
Save
Share
Reply
iRideBikes07
Registered
Joined Apr 23, 2015
187 Posts
#10 · May 28, 2015
Super cool! Good luck with everything!
Save
Share
Reply
bmwmtechnike24
Registered
Joined Oct 15, 2012
162 Posts
Discussion Starter · #11 · Aug 17, 2015
Hello Everybody
a Update after a bad periode,I lost my father.last month.
but thats life,I will never forgot him.you must go on.
I am very glad I have a good hobby,so i can put my mind on something else.
I want to tell you this there is a company in polland that is making 2 types of adapters for people that building a rear engine kit car.
transaxle solution.
so you can connect the bmw m60,m62,s62 or the m30,m88,s38 engine to audi gearbox.
a lsd is under the way to.
the company is
https://www.facebook.com/pmcmotorsportcom
there are making more special parts like adapters for connect a v8 manual gearbox to a m70 and many more special things.check them out.
i will use them in my m1 procar kitkar.
the last work on the big pieces is started.
I post more pics soon.
best regards
ruben
_______________________________________00
_____________________________000
bmwmtechnike24
Registered
Joined Oct 15, 2012
162 Posts
Discussion Starter · #6 · Feb 23, 2015
Hello Everybody
It is a long time ago that I posted some updates but they will come.(of the m1 procar and the 850csl with s62 engine)
here are the moulds of the rear m1 procar wing(a little sneak and peak)
more pics of moulds are coming,the complete body with be ready this summer.
best regards
______________________________0000
bmwmtechnike24
Registered
Joined Oct 15, 2012
162 Posts
Discussion Starter · #15 · Mar 22, 2016 (Edited)
Hello Richard
I a few months I have moulds of every part(outside of the m1 street and procar)
the first batch of front signals lights are allready made.
I work together with a man that is making vacuum products.
he makes them for me in a very special machine($$$).product A and B is going in the machine.
the moulds to,then everything will be place under vacuum.the temp in the machine is very hot.this is needed.
the moulds must be warmed up.then under vacuum the machine mixes the product and injected it in the moulds.
all under vacuum in the machine.the fixing is fast and the signals lights are very clear.
the product is made by jason of the company Klearz.com he is a specialist in making signal lights.
he made the perfect match of amber or orange that fit with the e24/e26 tail lights and the front e26 side signal light.
I will post a pic for you.i can make them as much that i want.
i want to drive with my m1 kitkar with out stress.every part I can make in my shop.
the doors I want to make with parts of the doors of the bmw e28.
I have allready the outside m1 shape.I will make a metal box and re use as much as possible other bmw parts.
the doors will be not exact on the inside like the m1.but on the outside it will be correct.
waite please a few more months.you will see all the moulds and the first m1 procar body build from it.
send me youre email address,i send you a video of the m1 signal light mould
best regards
Ruben
______________________________00000
bmwmtechnike24
Registered
Joined Oct 15, 2012
162 Posts
Discussion Starter · #16 · Sep 2, 2016
signal lights bmw e26 m1
Hello Everybody
I am starting back full time on the projects.there where other things that needed my attention.
family first,and second place is the hobby.
I post some pics of the new made signal lights of the e26 m1.the only thing they need is a little cleaning for making them(remove mould oil) and there are good to place.bmw is not making them any more for a long time.so I was forced to make my own.build from uv proof epoxy.
without the signal light you have no m1 front.
the hoodlovers are ready to.there are made of a special strong plastic.not like aluminium like the originals.
I am working on the last big moulds of the m1 procar and then I can start making parts.
I will keep you updated.
best regards
ruben
---------------------------------------------------6
bmwmtechnike24
Registered
Joined Oct 15, 2012
162 Posts
Discussion Starter · #18 · Sep 4, 2016 (Edited)
Hello Richard
I will send you a pm.I can make as much as I want.I have my own moulds.
I remember the email i sended to bmw munchen many years ago(mobile tradition I believe)
I have used a real m1 chasis number and told them that my front signal lights where broken with a accident.and needed new signal lights.they just answered me that they can not help me anymore.
no more parts now and in the future.
for the other owners of a e26 m1.iff I can help with some parts.
feel free to contact me.I have every mould outside the car.
I have no money to buy a real one.but I can make a kitcar that is looking very hard on the real deal.
it a same that bmw is not having parts for some models(because to old)
for some owners its a big risk to drive on the road with there car.
knowing that when they have a accident you can not build him back.
so there are not much old m1s on the road.
for that reason I have made moulds of the mtechnic bodykit of my e24.
I can always build him back.I have spare new headlights and other parts,allready bought and in stock.for the future.
I want to drive my kitcar with out any stress.
and when the parts is not there any more,I make a new part.
just for helping out.when somebody haves a dream part to be made,with cnc.in any material.
I have good contacts.I used them for many moulds and special parts.
just email or pm me
best regards
Ruben
_____________________________________7
Molds exist, in Belgium.

[This message has been edited by Valkrie9 (edited 12-29-2021).]