quote

Originally posted by jaredmurray88:
In all honesty you would drag on almost every incline decline and speed bump with a 2 inch drop. That being said forewards is bad mojo but if for some reason you wouuld have to back up over something like that bye bye bumper...
Even Speed Humps/Bumps built to State's or Fed standards are tough on any lower vehicle. 1" including.
"Speed Humps" are wider 10-15 feet and 3 - 4" high, the "Standard" for roads in most places in the US. Some variations but the Shape is design to last and not tear out by snow plows.
"Speed Bumps" are not standardize and at 1-3 feet wide and 2 - 6" high can break the car. Still used in parking lots and other private own areas.
I have Many of both types near me and even at normal height the "Bumps" can slam most vehicles if moving more then 1-5mph. "Humps" are less aggressive to many but even stiff suspension cars at stock clearance can rattle your teeth.
Then add driveways etc that can have problems too. Many places driveways have Curbs, Curb Cuts, etc, and raises them above public road level to cross them to enter/exit the driveway. My driveway is higher charge between levels and short distance then Speed Humps near by on the road.
Just 1 Common Example: Road crown/profile lower road at edges and curb and driveway apron must reach sidewalk level... Is like driving across a small ditch and curb to enter the driveway and often happens < ~5-6 feet. Sidewalk level is same or higher the Speed Hump at center of road.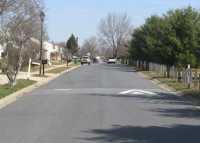 CLICK FOR FULL SIZE
And that's ignoring is illegal to lower a car in many places. Insurance Cops etc often will ignore this until you wreck.
------------------
Dr. Ian Malcolm: Yeah, but your scientists were so preoccupied with whether or not they could, they didn't stop to think if they should.
(Jurassic Park)

The Ogre's Fiero Cave