quote

Originally posted by E.Furgal:


ya an internal amp with no cap's to feed the needs in the peaks of the music signal will be better than an external amp with the proper cap's to follow the music signal demands..
you clearly have zero clue, or mistaken.. either way you're wrong..
The caps are not what makes the difference between some internal and external amps. Most, not all, internal amps use a IC amp where as most, again not all, external amps use transistors in pairs driven by a circuit if class A/B. Basically, most headunits use something like this:
That's an Integrated Circuit Amplifier. It's "mostly" all contained in one chip. You need a few external components to complete it's function but most of the operation happens in that chip.
On the other hand, external amplifiers that are class A/B use: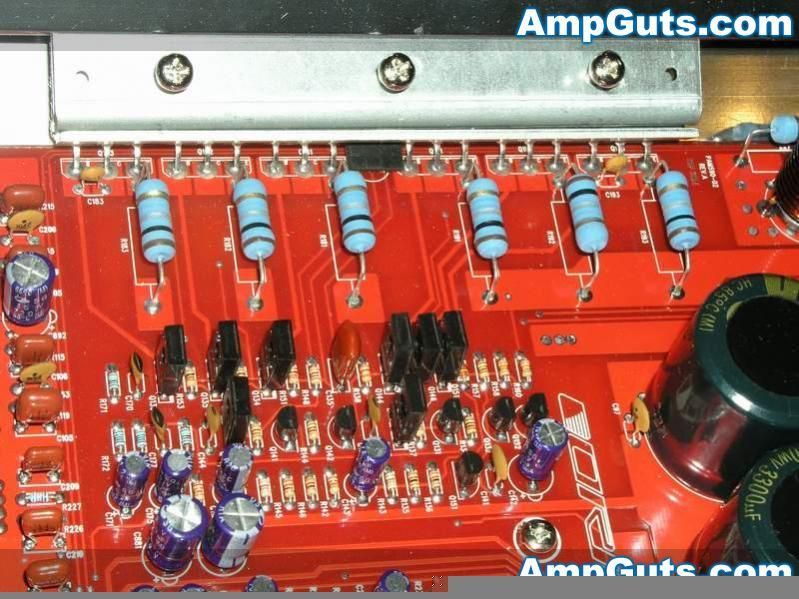 Basically, everything contained in the chip above built out in a larger circuit.
Class D is similar except if I remember correctly it doesn't use a NPN/PNP pair, rather a single NPN(?) array used to run the signal both up and down.
The difference is usually a greater amount of distortion from the IC Amp, which can approach 10% (at least it did back when I first got into car audio) , verses the A/B which usually runs well under .5%. Now, not all internal amps are of the IC style so some will be better than others. I have also opened up external amplifiers and found this:
The IC Amp used in an external amp. As you can see the vast majority of the components in a non IC Amp are missing in the IC Amp. An IC Amp has most of the circuitry and components for the amp contained in that single case. I'm sure the IC Amp has improved over the years just as other tech has so the distortion may be less now. Still, the internal amplifier is sufficient for a lot of people and given the goals of the OP...
Me, I prefer using external amplification because I can use crossovers to dedicate certain sound groups to certain speakers and an equalizer to contour the sound the way I like it. Of all the people I know though, the vast majority aren't like me and just use the internal amplifier of their headunit to run their speakers.
Oh and I don't care how big of a capacitor you put on that IC Amp, it's still not going to help it.
[This message has been edited by Khw (edited 08-17-2015).]