Deitmar Style Side Scoops (Page 1/2)
| | | |
| --- | --- | --- |
| | Sage | MAR 29, 08:22 PM |
I have another set of quarter panels ready for a new home.

These are the Dietmar style panels that used to be sold by Fiero Fiberglass.

I bought the "other" set of molds from JimmyS.

I know most of you who wanted this style panel are buying from the outfit in Belgium, but I have the"other" set of molds to produce this style panel.

The molds I have produce the panels to fit the non-aero body. The molds the guys in Belgium have produce panels that have the thickness of the GFX strip incorporated into the panel, so you wouldn't have to use the factory GFX strip on those panels.

The ones that I have can be used for either an aero equipped body, or a non-aero body.

Just like all the other style panels I make, the GFX strip can be used, the same way it is on the factory panels, by drilling the holes to mount the original GFX strips and using the ones that came from your car.

If that's not clear enough, I can try to explain a different way,

At any rate....since I am not taking orders presently, I make what I can, when I can, and I just happened to be able to fit another set of these panels in between laying up the IMSA panels that I still have and am working to fill orders for.

They are not drilled for either aero or non aero body at the moment, that will be done when it's determined who gets them and what their application requires.

Also, there are no screens in them but those can be added if desired.

Selling for $325 + shipping. GFX holes or slots for stock rockers are included in the listed price. Screens installed will add another $25.

Here's a pic of the actual panels up for grabs: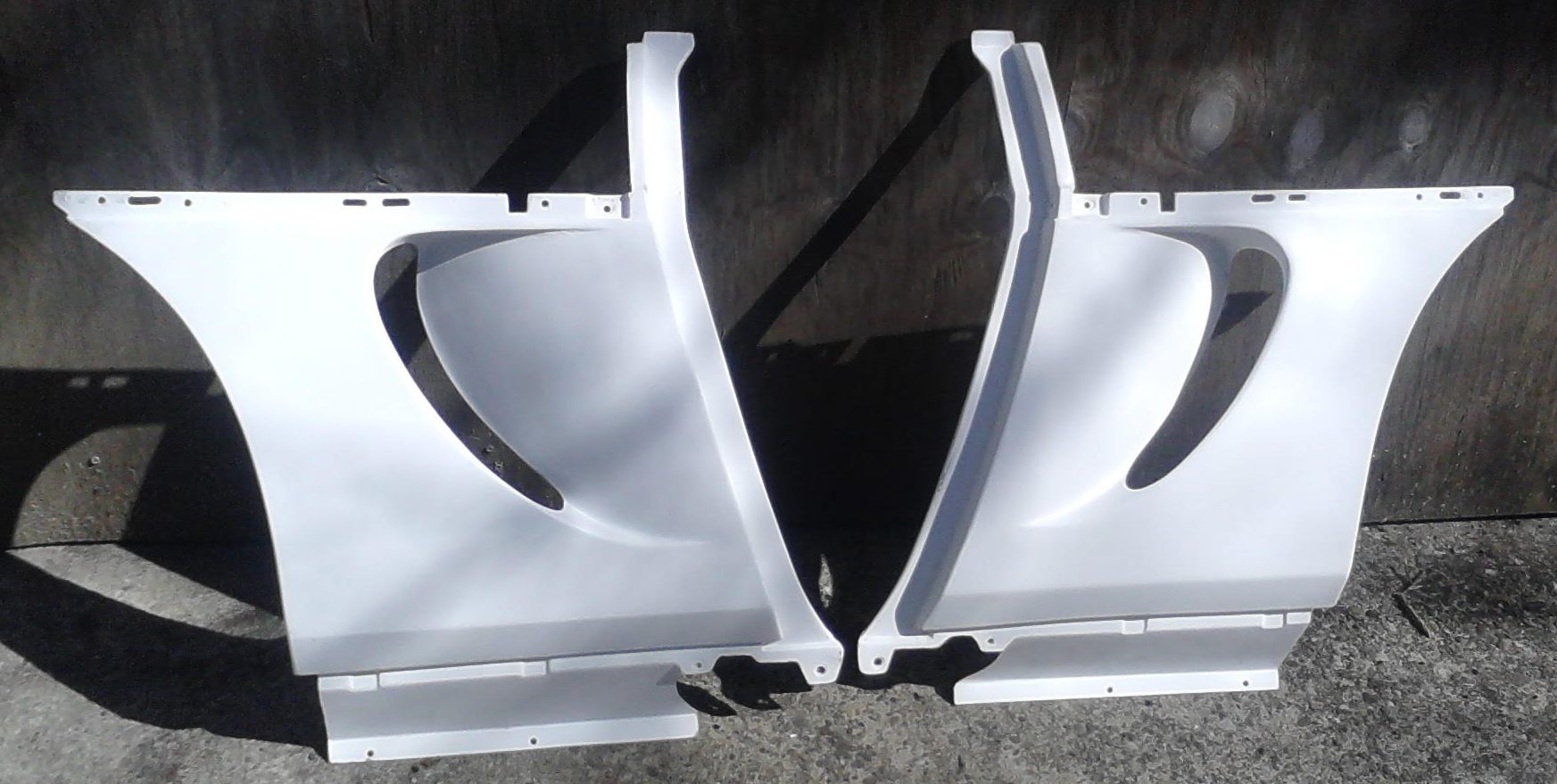 If sold here, 10% will be donated to Cliff as before.

Thanks for the space and for looking.

HAGO!

| | | |
| --- | --- | --- |
| | Yabadabwildo | MAR 30, 02:12 AM |
I'll take them! How much are we looking at with shipping?
| | | |
| --- | --- | --- |
| | Sage | MAR 30, 09:13 AM |
Yabadabwildo:

There was actually one bird earlier than you, and it looks like he wants them.

Just pending payment.

Should he change his mind, or something doesn't work out, you'll be next in line.

I will be making more at some point in the future.

Thanks for stepping up, hopefully, we'll do business at some point.

HAGO!

| | | |
| --- | --- | --- |
| | Sage | MAR 30, 09:05 PM |
This set is sold and will be shipped to the buyer this week.

$35 will be going to Cliff for maintaining this awesome site and giving us all a "Fiero" place to be.

Will be making more at some point in the future, in the meantime, you can order the from the Belgium supplier.

Thanks & HAGO!

| | | |
| --- | --- | --- |
| | exoticse | APR 03, 06:46 AM |
Sage you are a one of the Fiero community's best assets. Just putting that out there.
| | | |
| --- | --- | --- |
| | Sage | APR 03, 10:08 AM |
Thanks Tony...
Coming from you, that means a lot!

Hope everybody has a great Easter Sunday ---stay safe!

HAGO!

| | | |
| --- | --- | --- |
| | MulletproofMonk | APR 06, 11:14 AM |
| | | |
| --- | --- | --- |
| | Sage | APR 06, 11:31 AM |



quote

Originally posted by MulletproofMonk:

Let me know when you make another set Sage. I want them and like to support the locals!






Will do...just don't know exactly when it'll be.

Footnote:
The molds I have make panels that will work on either an aero body or non aero body.

To use on an aero body, holes have to be drilled in the bottom section of the panels, just like on the factory panels, so the GFX strip can be used.

The molds in Belgium make panels that will only "properly" work with the aero body and eliminate the GFX strip on the panel.

Hope that's clear enough.

Just another "headsup" to try to avoid confusion.



HAGO!

| | | |
| --- | --- | --- |
| | Mike in Sydney | APR 06, 07:02 PM |
Let me say this: I've got a set of Sage's quarter panels and they are worth every penny and more of what he's asking. Great quality and a great vendor. It may take time to get the panels because of other matters Sage has to deal with but if you are fortunate enough to get a set, you won't be disappointed. Can't wait to finish the body prep on my GT so it can be painted. I may even paint Sage's quarters panels in a complimentary color similar to the side panels on an Audi R8.

[This message has been edited by Mike in Sydney (edited 04-06-2021).]
| | | |
| --- | --- | --- |
| | MulletproofMonk | APR 12, 02:41 PM |