Cliff, This is great! Now folks can locate local clubs.
All,
This is where all the N.I.F.E. events and news will be posted. The website for the club is in the link of the signature below.
This year at our 6th Annual Fierorama on 9 September 2001, we are raffling off a 1988 GT with T-tops, 5-spd, loaded, and only 67,000 miles. We also have two other raffle prizes. They are:
A certificate to Mr. Mikes for a leather interior kit ($1400.00 value)
and
A certificate to the Fiero Store for $500.00.
Buying one of the only 600 tickets gives you a 1:200 chance of winning one of these great prizes. You do not need to be present to win. For more details go to:
http://home.xnet.com/~nife/NIFERaffle.htm
Only 600 tickets will be sold and are available now. (and going fast)
For the month of June, The next local show is:
June 24 2001
Illinois Pontiac/Oakland Club's 4th annual Trip To the Village All GM Car Show - Village Pontiac - Naperville, IL at the corner of Ogden Ave. and Aurora Ave. Two Fiero classes: Stock/Modified

If you have any questions or comments about the club, Just let us know.

------------------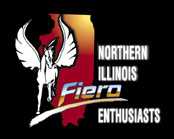 N.I.F.E. Website