Well, at least I think so. It most certainly is
very
unique because I haven't seen anything like it on any other forum, ever.

Anyway, it started this morning, when I wanted to implement a "printable" version of a thread. There are lots of good "How To" threads out there and I can imagine that people want to print those out - it's easier carrying a few pieces of paper with you than a computer when working on your Fiero.

So I did just that. If you look at the top left of a thread, you'll notice a link that hasn't been there before: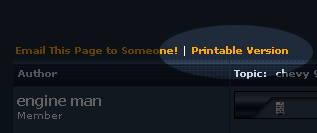 If you click that, the system will generate a printable page for you. It's in fact the entire thread stripped from unnecessary information (like member-info and signatures). Also, if the system finds images that won't fit the paper when printed, these images will be sized automatically.
This I thought was quite cool by itself, but it gave me an idea for something else. Something that wasn't as easy to implement, but is very, very cool. I dubbed it VBooks.

What is a VBook? A VBook is shorthand for "Virtual Book" and it's text embedded in a thread. What makes this text so special is that the software treats this text differently than any other text. You can actually tell the system to take all the embedded VBook's text, and print only that. Why is this so cool? Because it allows anyone who has started a thread to create a "virtual book" from his thread. This VBook only contains what the thread starter wants it to contain. This way you can create awesome build up threads, "How To"'s or "History Off" threads.
This is how it works:
To include text of a thread in your VBook, enclose your text in the [booktext] ... [/booktext] tags. Like this:
[booktext]This is text I want in my VBook[/booktext]
Of course, the tags will not be visible after you have submitted the text. Inside the [booktext] tag, you can specify a Chapter Header by enclosing it in the [chapter]...[/chapter] tags. Like this:
[booktext]
[chapter]1: The Beginning[/chapter]
In the beginning, there was void.
[/booktext]
You actually have three Chapter levels which only differ in size. Level 1 (the default level) is the largest, level 3 the smallest. You can specify the chapter level like this:
[booktext]
[chapter]1: The Beginning[/chapter]
In the beginning, there was void.
[chapter level=2]1.1: The Void[/chapter]
[/booktext]
You can also specify a page break with the [pagebreak] tag.
These are the VBook tags I've created so far. I will add more VBook tags later. Of course, you can use all the normal formatting tags as well.
Now you don't have to put all text for your VBook inside the first message. You can spread it over as many messages you want. This way, you can add to your VBook whenever you like, and actually discuss with others what to put in your VBook. [booktext] tags in messages from someone other than the thread's originator are ignored, so only the originator can add to his own VBook.
When the system detects an embedded VBook, it will add a new link to the top of the thread:

Click that, and the system will generate your VBook. It won't look like much in your browser but when you actually print it, it will actually look like a real book (you can hit "Print Preview" in your browser to have a peek how the printed version looks like)!

I have created a sample VBook in the TO/T section here.