A/C now working!
The time has come for me to gauge interest in my 88GT 3800SC. I originally purchased the car in 06 with 164k miles on it and it now has around 167k miles. I do not have a need to sell this car so I won't entertain "low-ball" offers. The car will be at the 30th Anniversary show in Indy (indoor show spot, towed inside enclosed trailer). Test drives at Indy will be limited to the access of taking the car out of the indoor show spot (may only be able to test drive Friday morning or Sunday morning at Indy). Below you'll find all the modifications I've done to it as well as a link to my build thread. If you have questions, feel free to ask.
Reason for offering it for sale: I am now in maintenance mode and am looking at getting a new project. I don't enjoy driving the car as much as I should because I know how much work I put into it and am paranoid about scratching the paint, breaking something, etc.
As you can tell, I don't drive it much. It has been reliable following my FWD Getrag conversion and I've put a few hundred miles on it since then without problems. It's a trailer-queen so buyer beware if you intend on an immediate cross-country trip.
Price
: $12.5k.
Build Thread
:
//www.fiero.nl/forum/Forum2/HTML/077891.html
Information
167k on odometer
Winner Best in Show 2012 Carlisle (MAFOA)
Winner Best Paint 2012 Carlisle (MAFOA)
2012 Fiero Store Calendar (December)
1st Place Winner in Highly modified class at 30th anniversary in Indianapolis
Winner John Callis top 10 award at 30th anniversary in Indiapolis
Engine
3800SC with approximately 2500 miles
Ported inlet and outlet by Triple Edge Performance
Northstar Throttle Body
3.25" ZZP Modular Pulley
1.9 Ratio ZZP Modified Rockers (stock rockers included)
ZZP Short Stack Intercooler (FloJet pump installed under right front headlight)
OBD1.5 ECM custom programmed by Darth Fiero, USB connector for use with TunerPro RT
"Returnless" fuel system (returns at FPR located at base of tank)
Walbro Fuel Pump installed (Gas tank cleaned and painted, new neck/fuel hoses installed)
Exhaust
The Other Guys Extreme exhaust headers
Custom exhaust with stainless steel catalytic converter and Magnaflow muffler
Cadillac Exhaust tips
Trunk cut to fit exhaust
Transmission/Clutch
Used FWD transmission with internal hydraulic throwout bearing (approximately 70k on trans)
Fiero Store Stainless Steel Clutch line
Mcleod Sintered Iron Clutch and Pressure Plate
Fiero Store short shifter
Rodney Dickman leather shifter boot
NOS stock leather shift knob
Dakota Digital Speedo converter installed
Fiero Store Clutch master cylinder
Rodney Dickman select and shift cables
Rodney Dickman Transmission mounts
Rodney Dickman ultimate Getrag shift kit
Suspension / Steering
Front and Rear suspension powder coated - to include subframes, knuckles, and sway bars
KYB front and rear shocks/struts installed
Rear coilover springs installed
Rodney dickmans 1" lowering ball joints and upper ball joints installed on front
Polyurethane bushings installed on front and rear
Rebuilt Steering Rack from the Fiero Store
Front and rear wheel bearings
All new suspension/cradle bolts used
Rodney Dickman front and rear zero lash end links
Brakes
Fiero Store Stainless Steel Brake Lines
All 4 calipers replaced with Fiero Store reman units
Calipers powder coated
12" Corvette brake rotors installed
New master brake cylinder
Interior
Carpet installed on floor and doors*
Mr. Mikes Leatherette/Cloth seat covers
Steering Wheel recovered by Dallas Custom Steering Wheel
Infiniti and Pioneer speakers installed
Sony CD player installed (Red Display - Have brand new head unit in the box as spare)
Custom trunk carpet made with CNC'd Fiero logo painted to match body
Fiero Store window switches, dimmer switches, trunk release, and mirror switches
Exterior
Panel-off custom paint job*
Underbody painted while panels were off
Fiero Store Rear GT Lenses
OEM GT Quarter Windows
Custom painted supercharger*
Custom CNC'd/anodized valve covers
Underbody and engine bay painted with bedliner
New front windshield installed
Fiero Store front turn signals, body moldings (painted gloss black)
Dietmar Side Scoops
Snapperhead productions hood/trunk mirrors installed
Headlights from Fiero Store
Antenna "shaved" - installed horizontally under right front fender
Custom magnetic front license plate holder
Rodney Dickman front hood gas strut installed
Rodney Dickman rear decklid gas strut installed*
Wheels & Tires
HP Design Split 5 18" wheels with Sumitomo Summer tires*
Other
Air Conditioning system flushed with custom 3800 compressor lines made (FastFieros), New Accumulator, R134a o-rings installed, new orafice tube installed, freon lines flushed
Battery moved to the front using West Coast Fieros Carbon Fiber battery box*
Quick battery disconnect installed
NOS outer and inner dew wipes installed
NOS trunk gasket installed
Fiero Store coolant overflow tank
Fiero Store window fluid resovoir
EVAP canister moved to behind right rear quarter panel
3 gauge A-Pillar (boost, fuel pressure, wideband O2 sensor)
Extras
Extra dot matrix dash panels
Extra carpet
Others (will update)
*Notes
Carpet: I replaced the driver's carpet this month to fix where I cut too much the first time but now have a small tear near floor trim by hand break. Not viewable with floor mats.
Paint: Excellent shape. Small scratches exist on top of driver's ground effects. Only visible with door open. Driver's door was chipped (< 1/4") being opened into a jack stand at a service station during safety inspection.
Supercharger: Paint is starting to bubble and crack in places. It was not blasted before paint this last time.
Rear Decklid strut: Bolt connecting to the decklid bracket has been stripped. I used JBWeld and retapped to get bolt to stay, but should probably be fixed. Also, small paint chip where supercharger clamp rubbed the decklid.
Wheels: Small chip on one front wheel near center cap.
Battery Box: My first battery quick connect sparked while driving and evidence of flame is visible on top of box.
Pictures
- I'll add more of suspension soon, more/larger available on request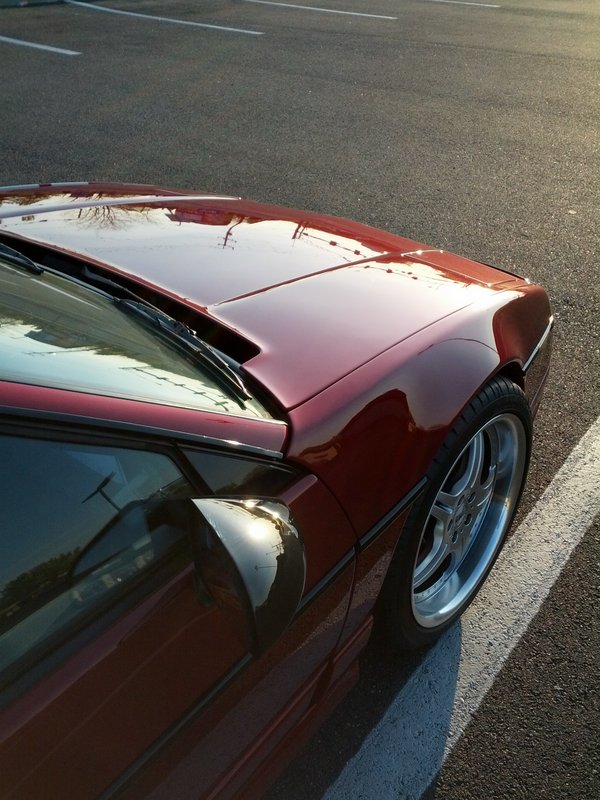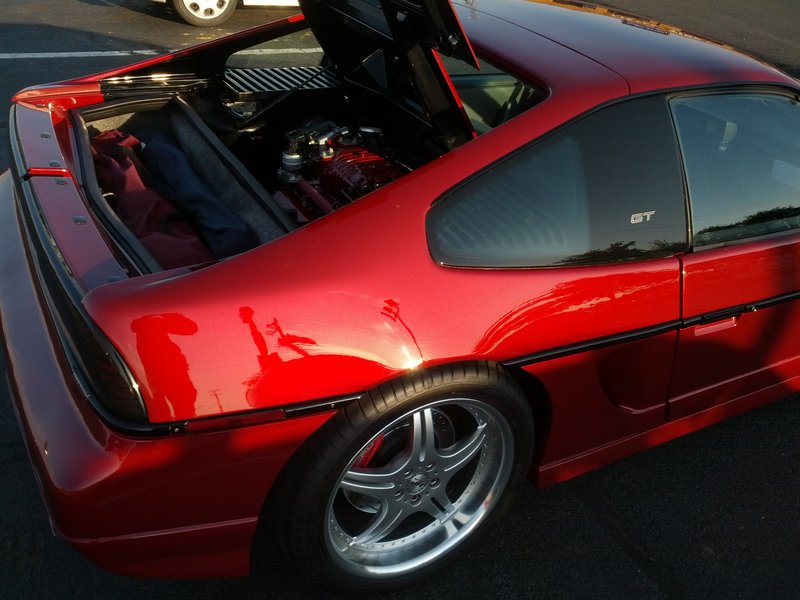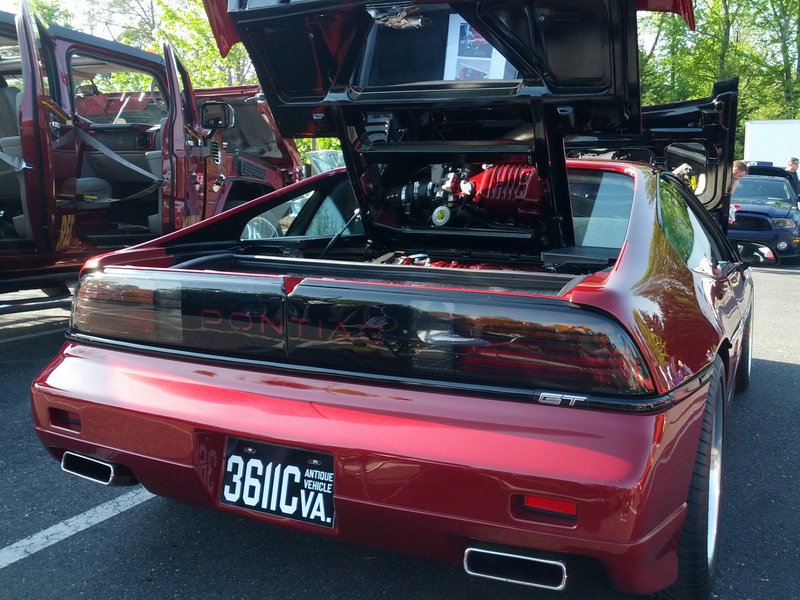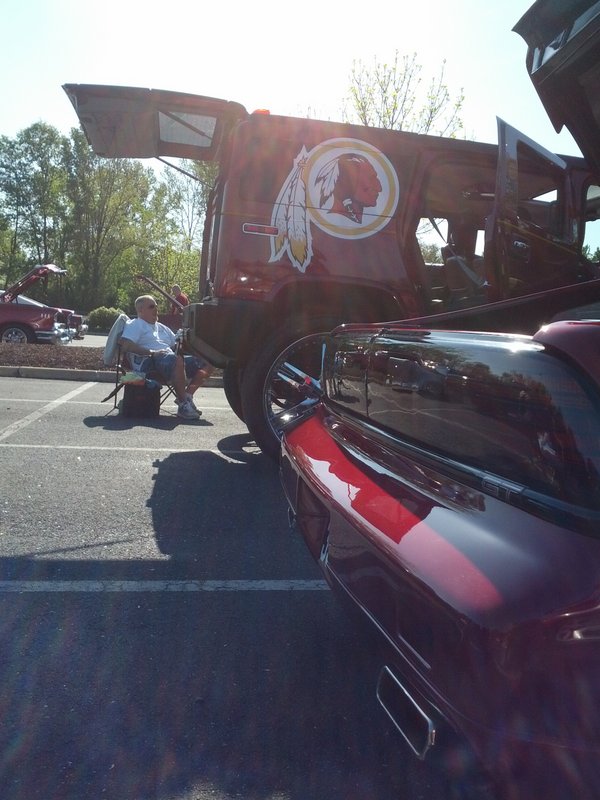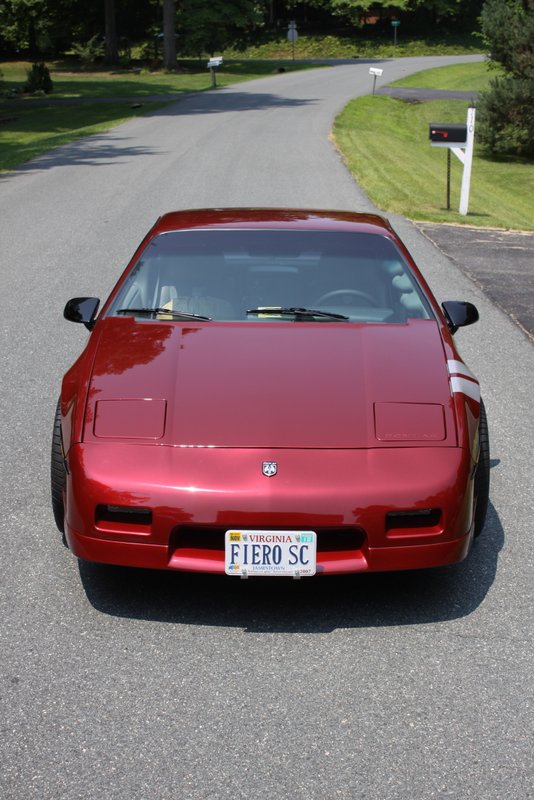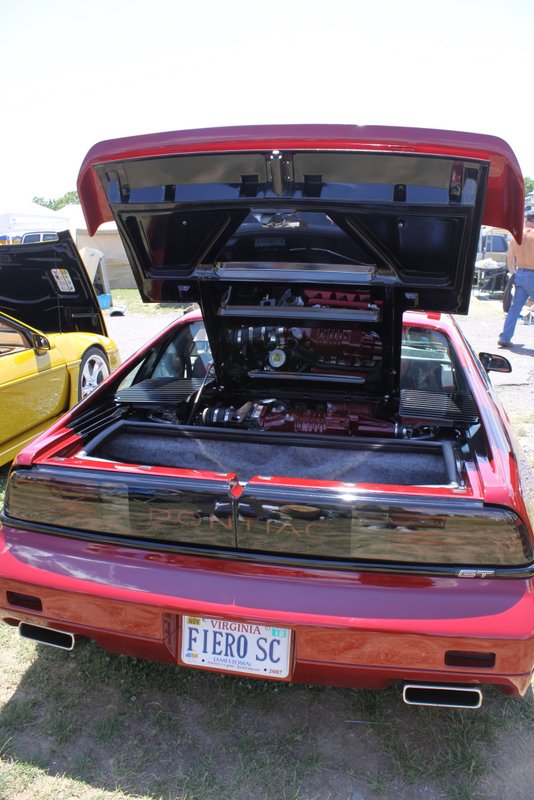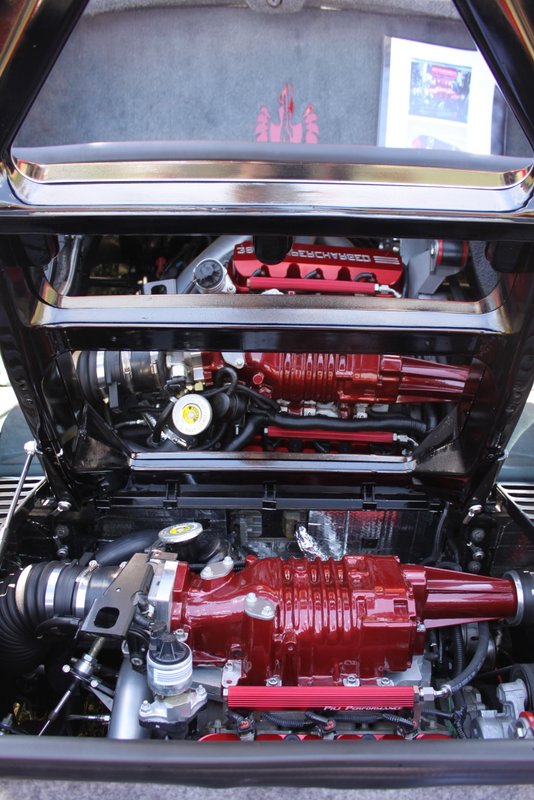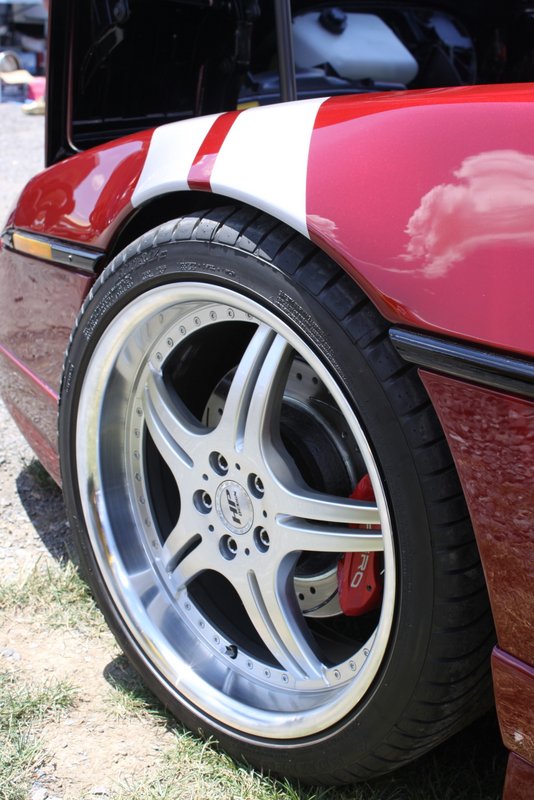 [This message has been edited by grsychckn (edited 07-25-2014).]