Got some engine time in this weekend.
I really enjoy the build process. I turn some music on, close up the shop and just do the thing. It's a pretty relaxing thing actually, unlike working on stuff in the pits or at camp.

I'm bad at remembering to take pictures, but here's some of the ones I got.
A couple head porting shots. I'm not trying to reshape these ports, just clean up casting flash. I'm no porting savant and these ports aren't terrible as they come. I use a carbide burr set I bought on Amazon and a cordless drill. Wrap a rag around the shaft of the burr so you can guide it with your non-drill hand. Finish with an 80 grit sanding roll.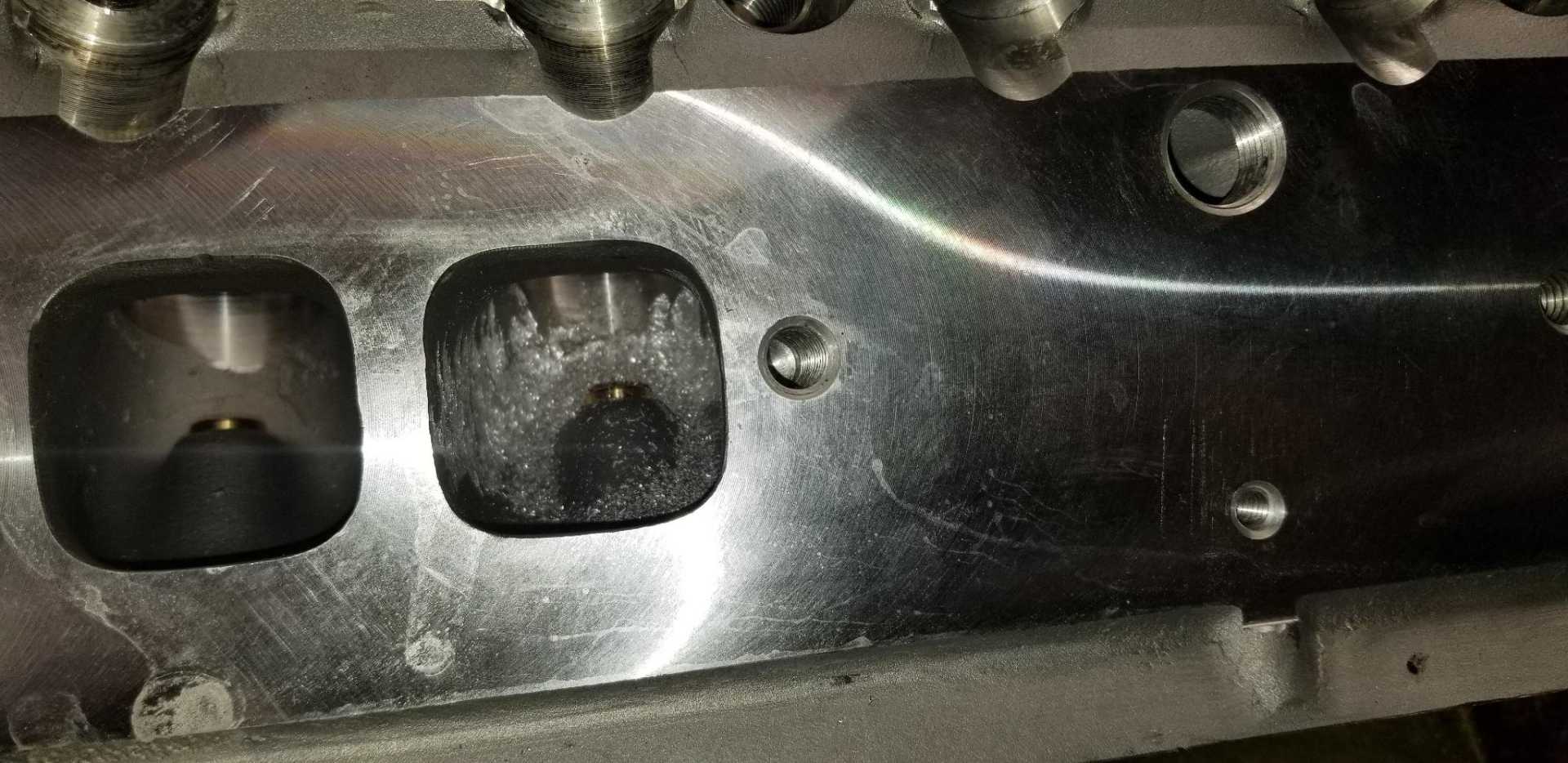 Vacuum out the shavings, hit it with compressed air and start assembly. Run a small bottle brush through the valve guides just in case.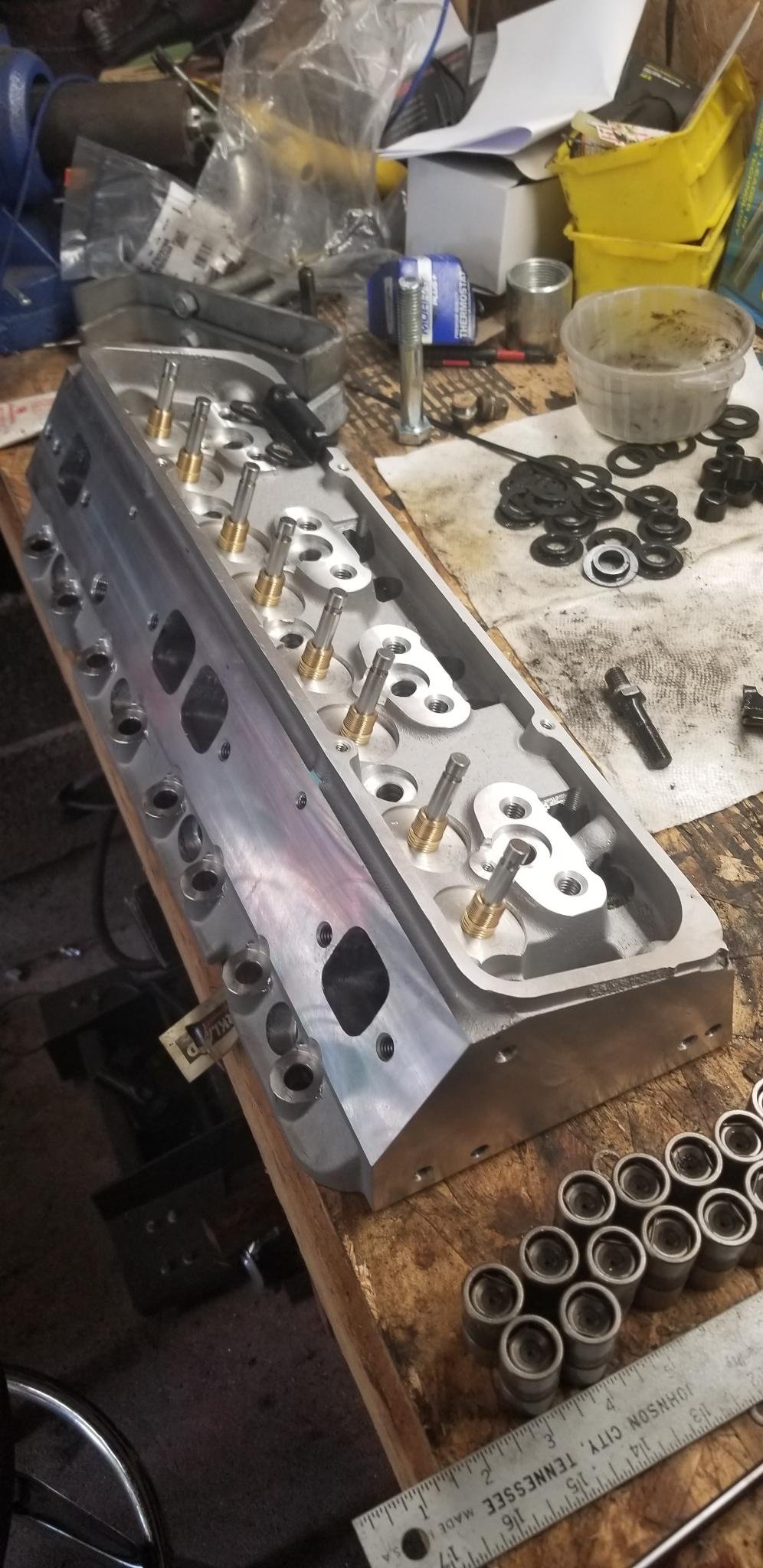 Already posted a shot of the other head assembled. You get the idea.
Forged pistons. We're fancy now.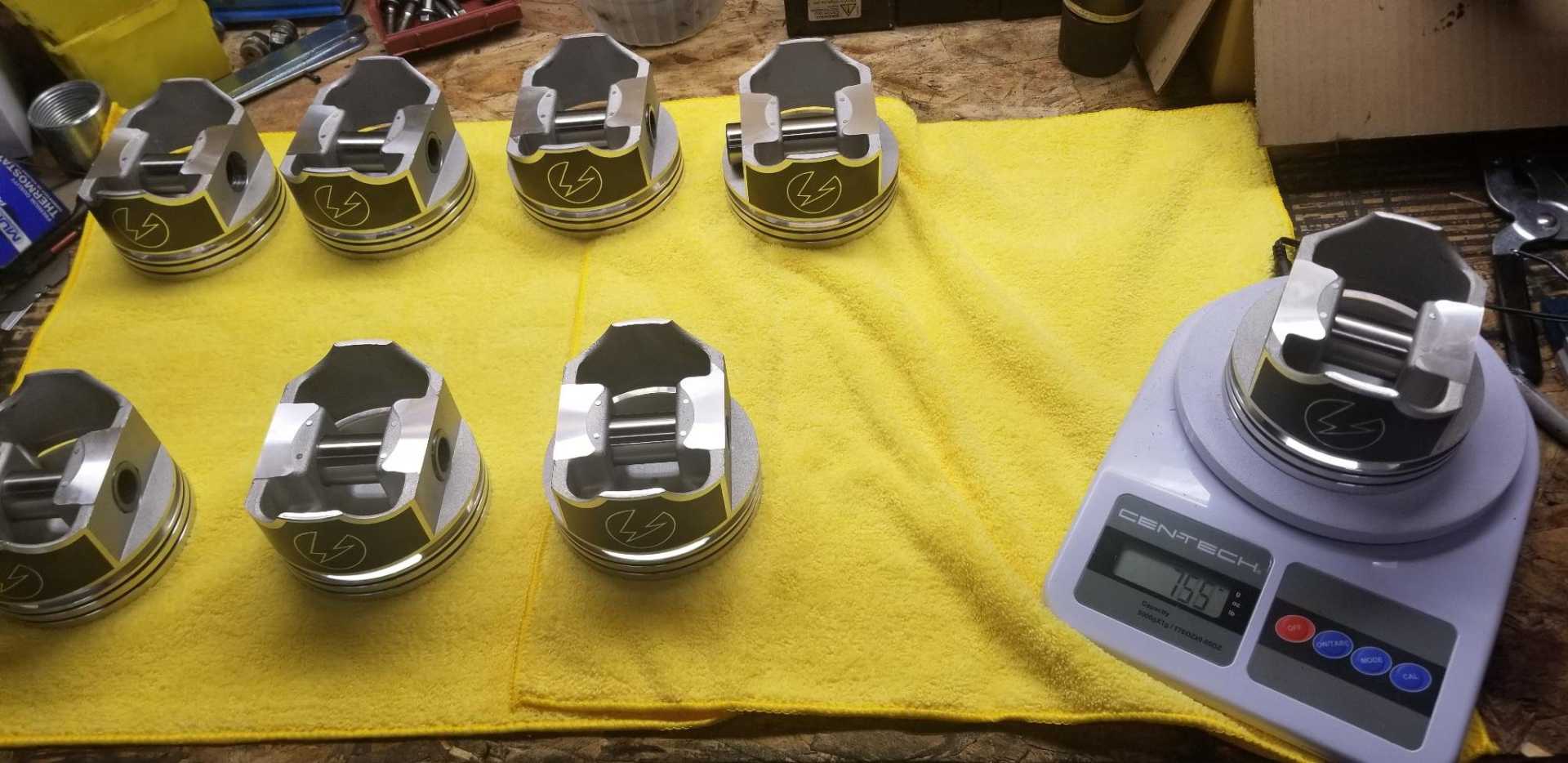 Gotta press the old pins out. Fortunately SBC pistons have flat side skirts, so you don't really need a round jig. (Yes, that's a spark plug socket)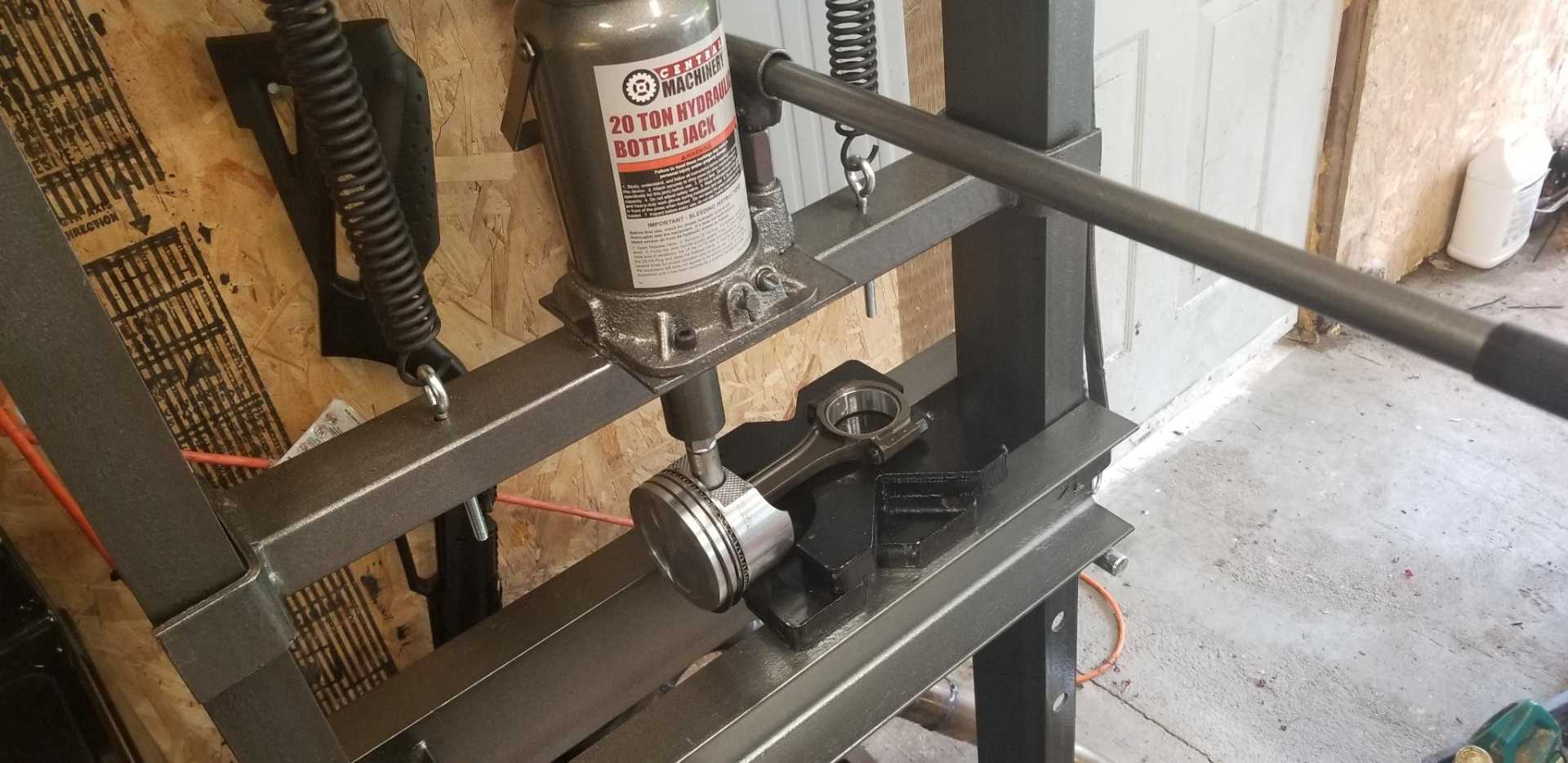 The best way to install press fit pistons it by heating the small end of the rod to expand the hole. Prelube the pin holes in the piston with assembly lube and start the pin on one side.
Make sure you have your rod/piston oriented correctly. I like to write on the caps with a sharpie while they are still installed.
Heat the metal until it turns a light tan color. If it turns blue you have too much heat in it. I find another easy way to tell on used rods is to watch the "dry" area where the oil cooks out of the metal. When it's about halfway down the skinny part of the rod you're ready to go. You can see it in this picture.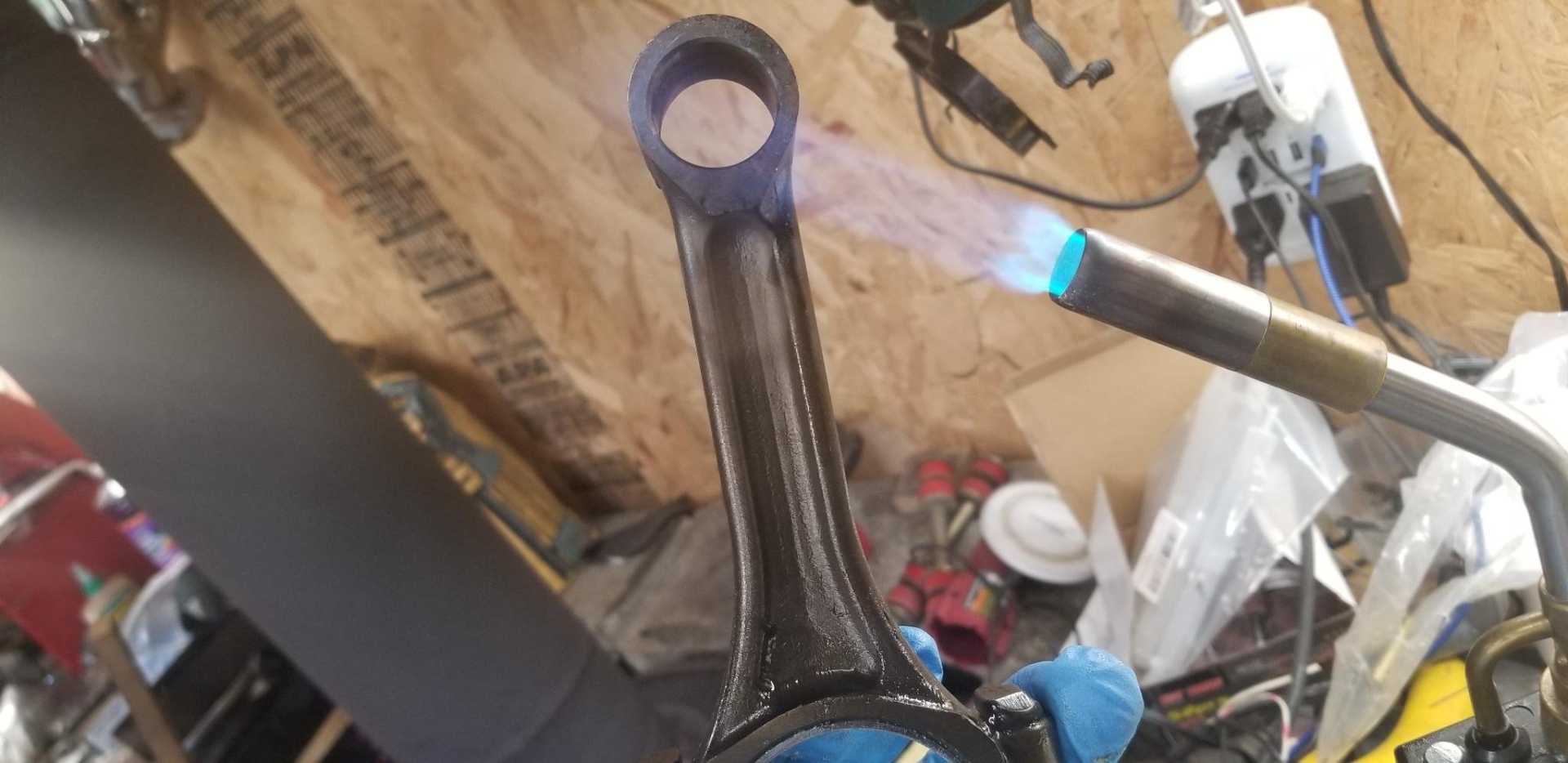 Double check your cap mark, stick the small end into the piston and press the pin through with your finger. You have about 2-3 seconds to do this before the pin locks into place. Some guys make a jig to do this so they don't go to far, but I've got a pretty good feel for it. If you mess up and have a press, you can make a adjustment once the rod cools. They don't have to be exact down to the thousands, you just want full engagement when the rod is centered.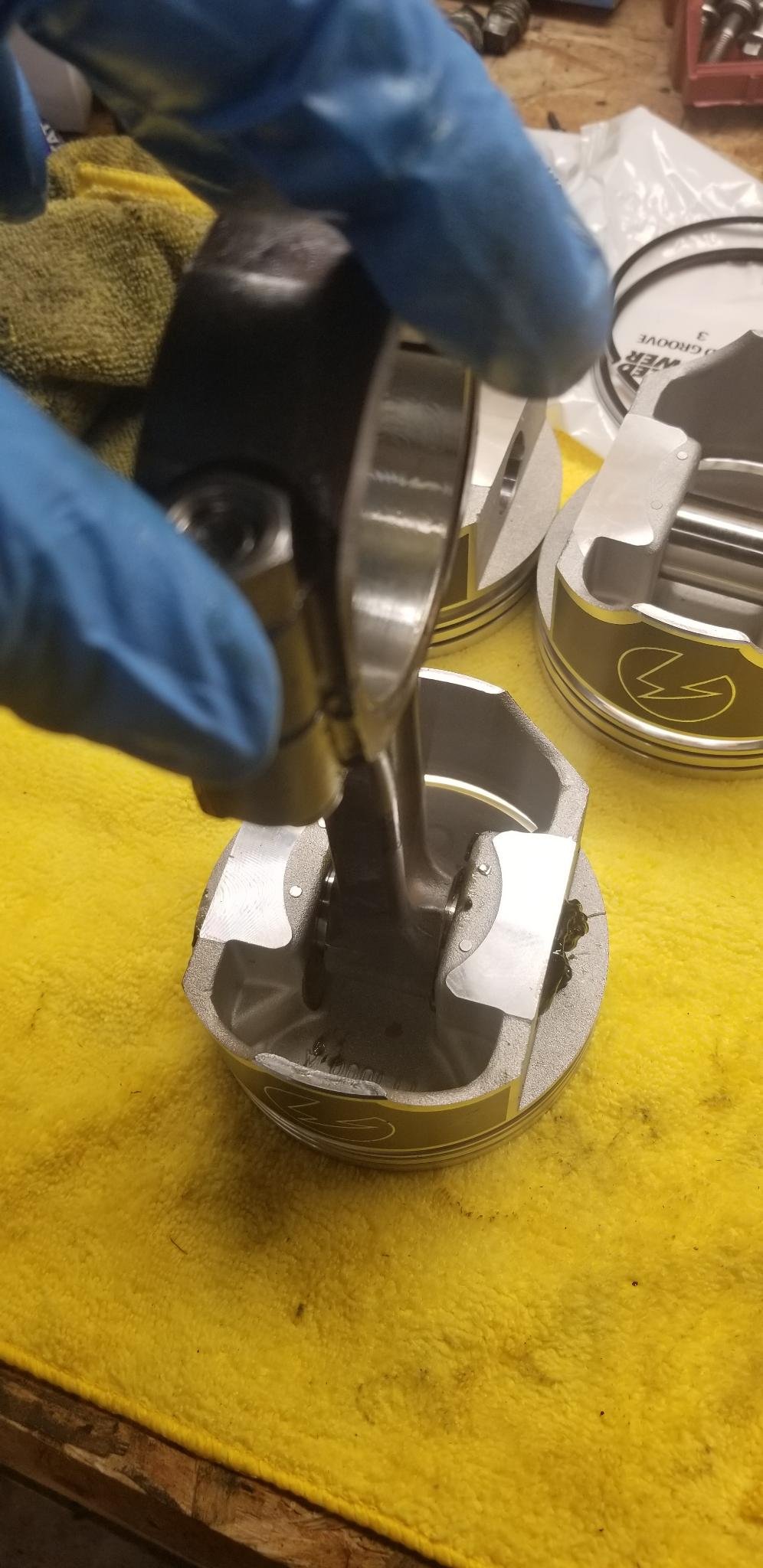 I recommend installing your oil control rings onto the pistons before installing the pins this way. All that heat is going to transfer into the piston and the rest of the rod. You generally put oil rings on by hand, and use an expander for compression rings. Putting oil rings onto a hot piston isn't much fun. The compression rings are easy.
While you wait for your piston to cool, check ring gap. Insert the ring into the bore.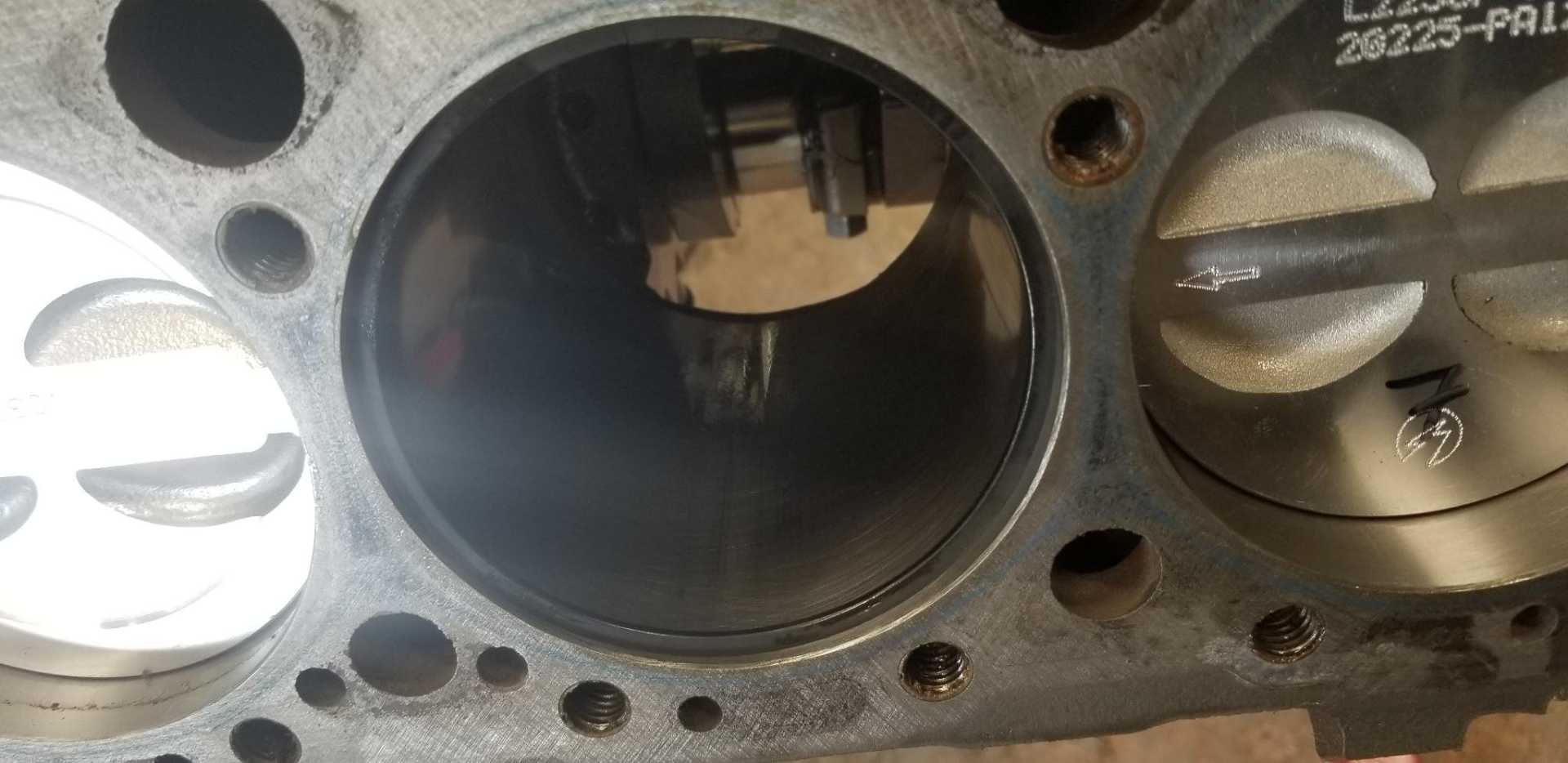 Use an old piston with just the oil rings on as a squaring tool. Push the ring down into the bore with the piston until it stops.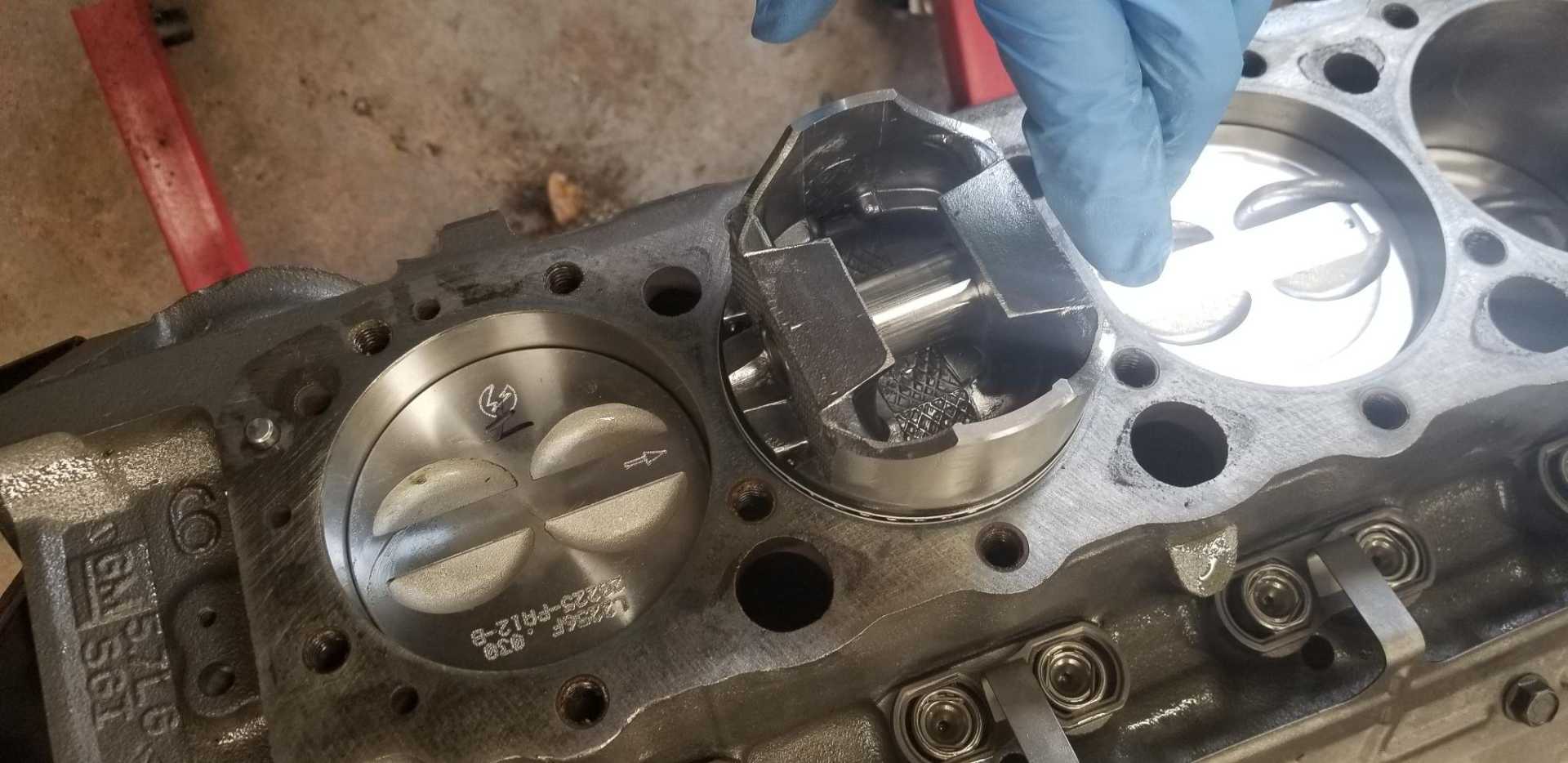 Now check your ring gap. I set mine a little loose (.022-.025) in case I decide to do silly boost things to this engine later. The ring set I bought was already close. I think I needed to file 2 of them.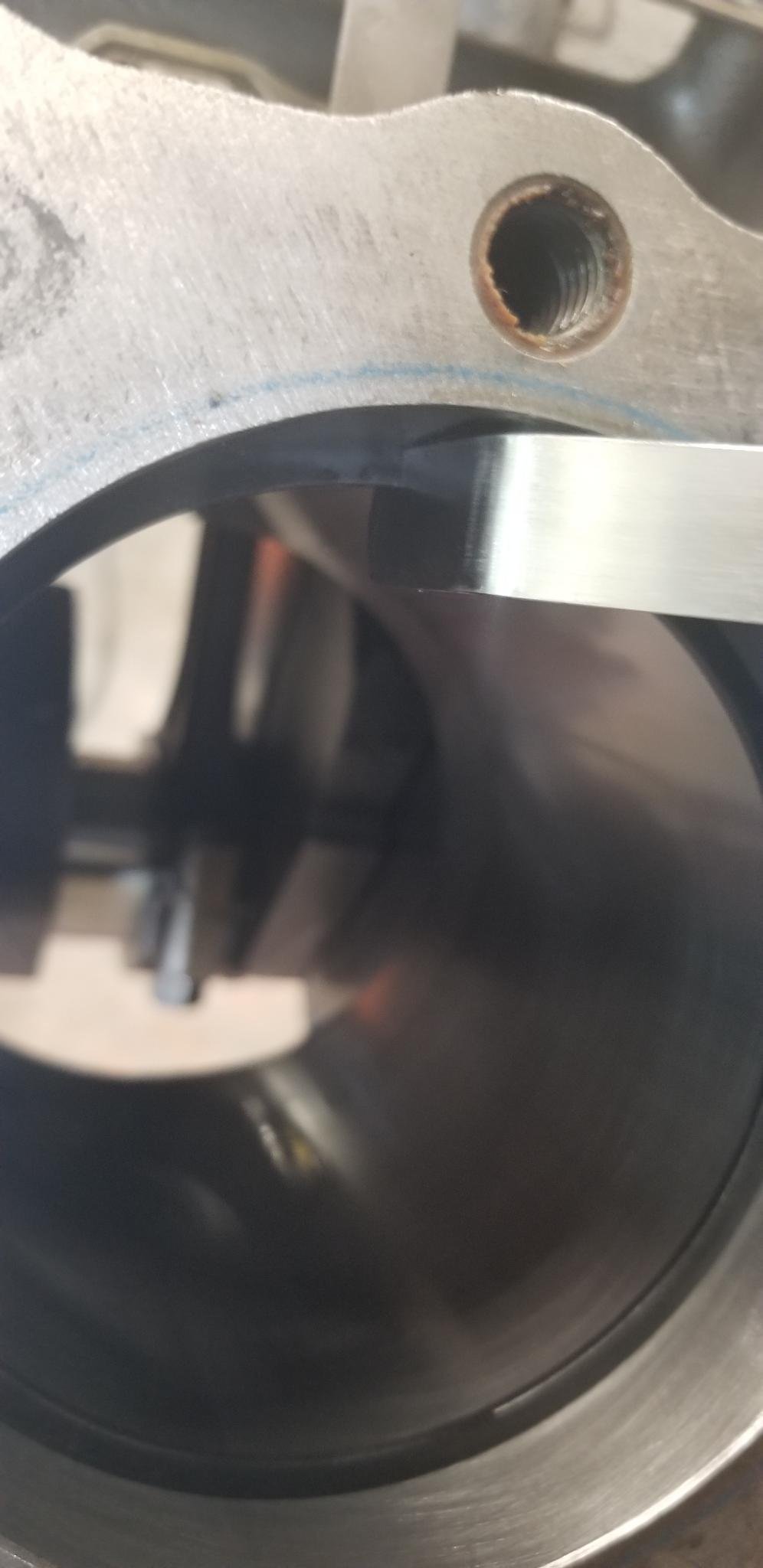 Install compression rings, put the piston into your install tool and tap it in.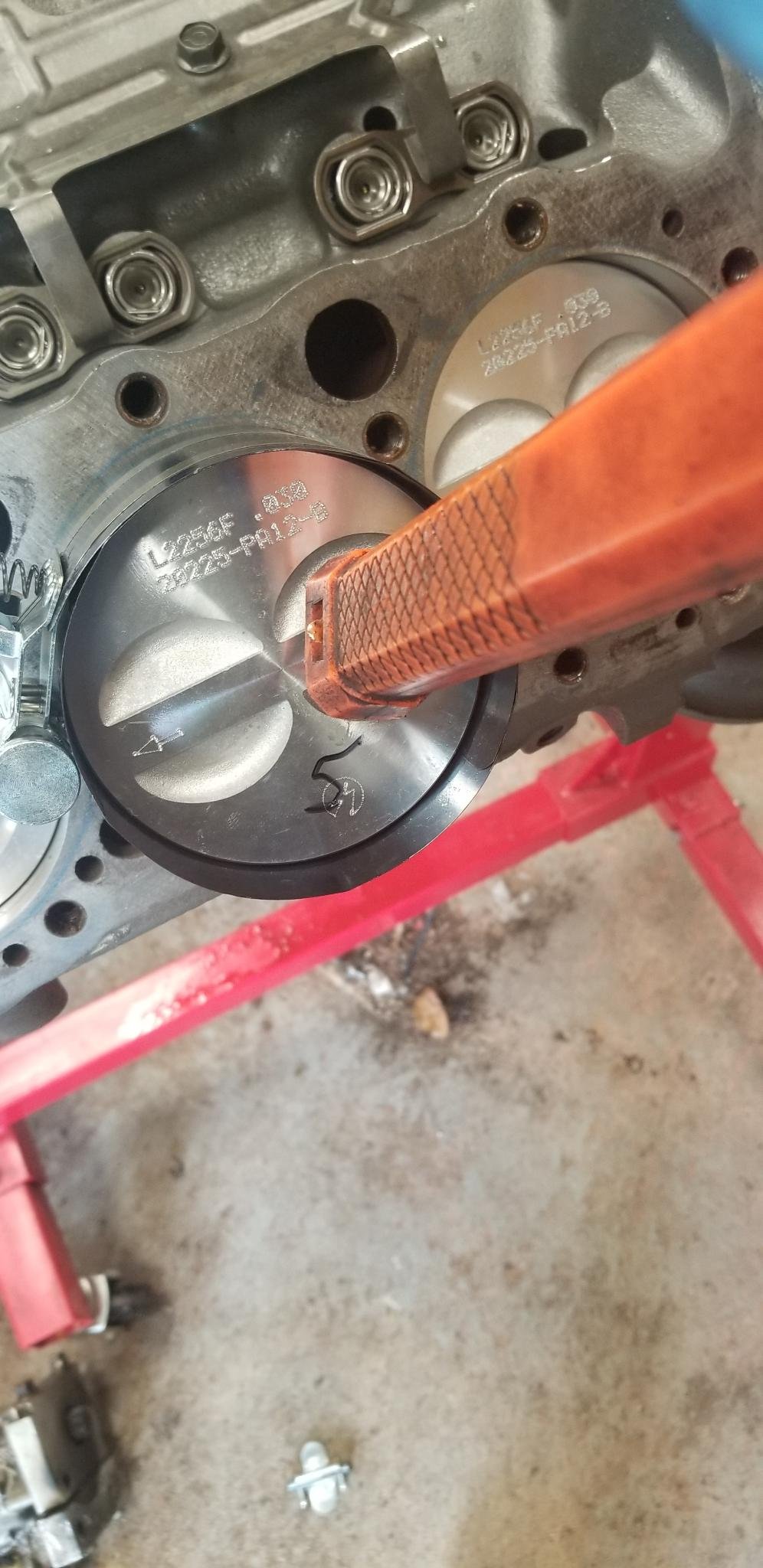 In case anyone was wondering, this is the weight of a piston/rod assembly as the engine came to me, including bearings and rings. With the forged pistons and rings each ended up at 1462 +- 0.5gram. About a 23g gain per cylinder. SHOULD I have had the crank rebalanced? Probably. But this is a street engine that isn't going to see 6000RPM much. We should be ok.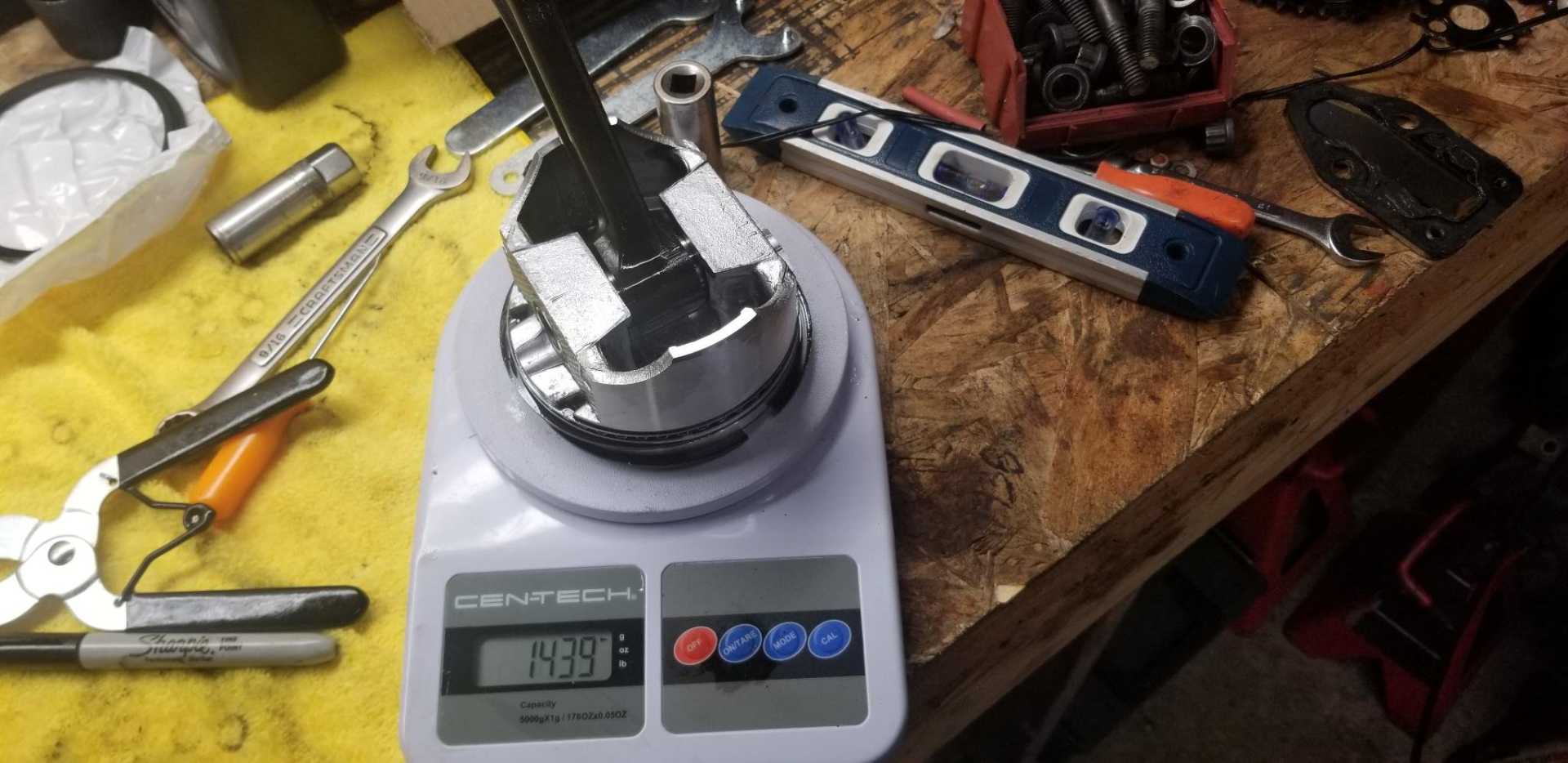 Let's yank out the stock cam and install our lumpy one.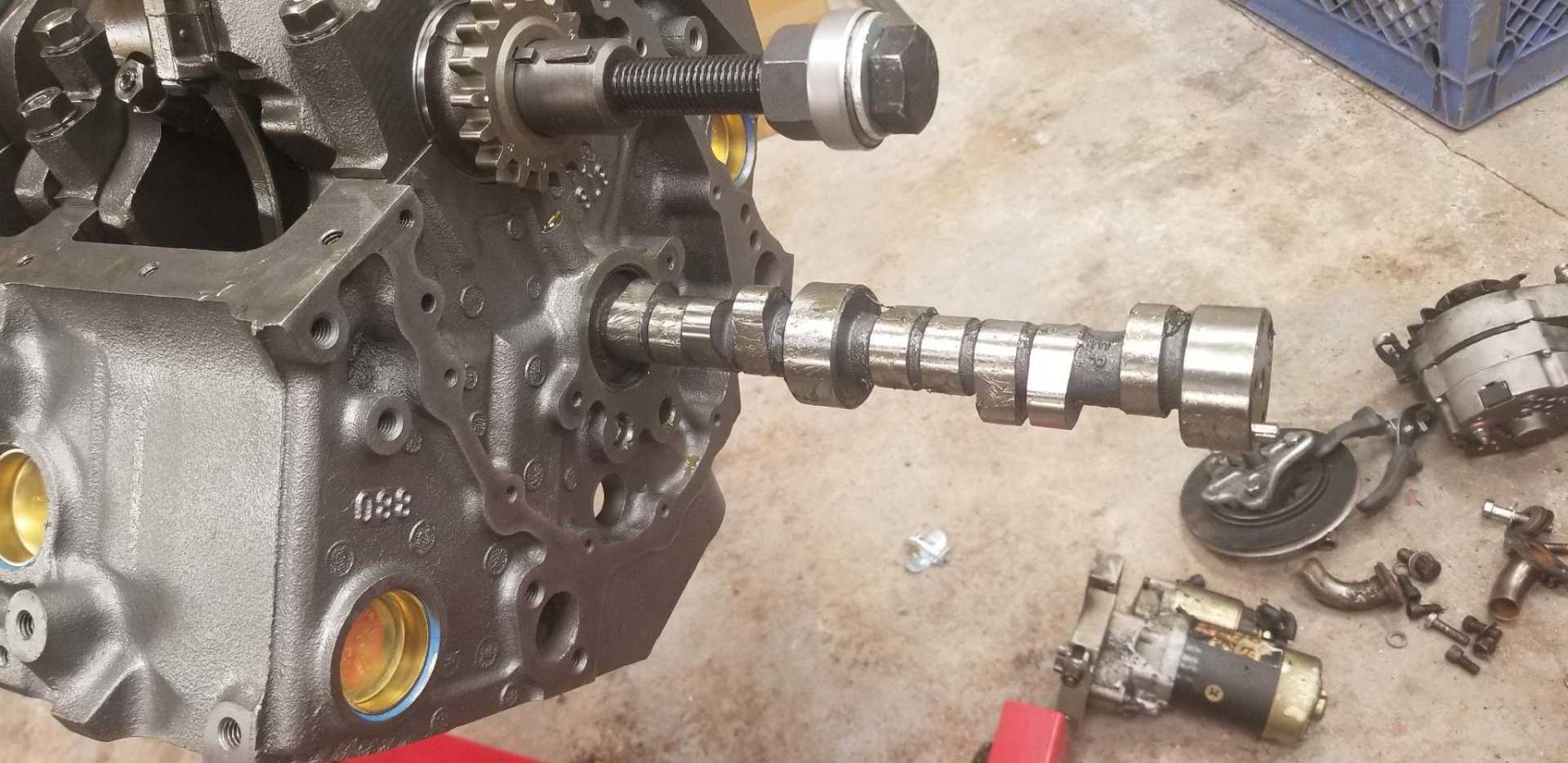 Converting to an older style double roller timing set. My 3 jaw pulled is apparently a 2 jaw puller now, but a split bearing puller fits.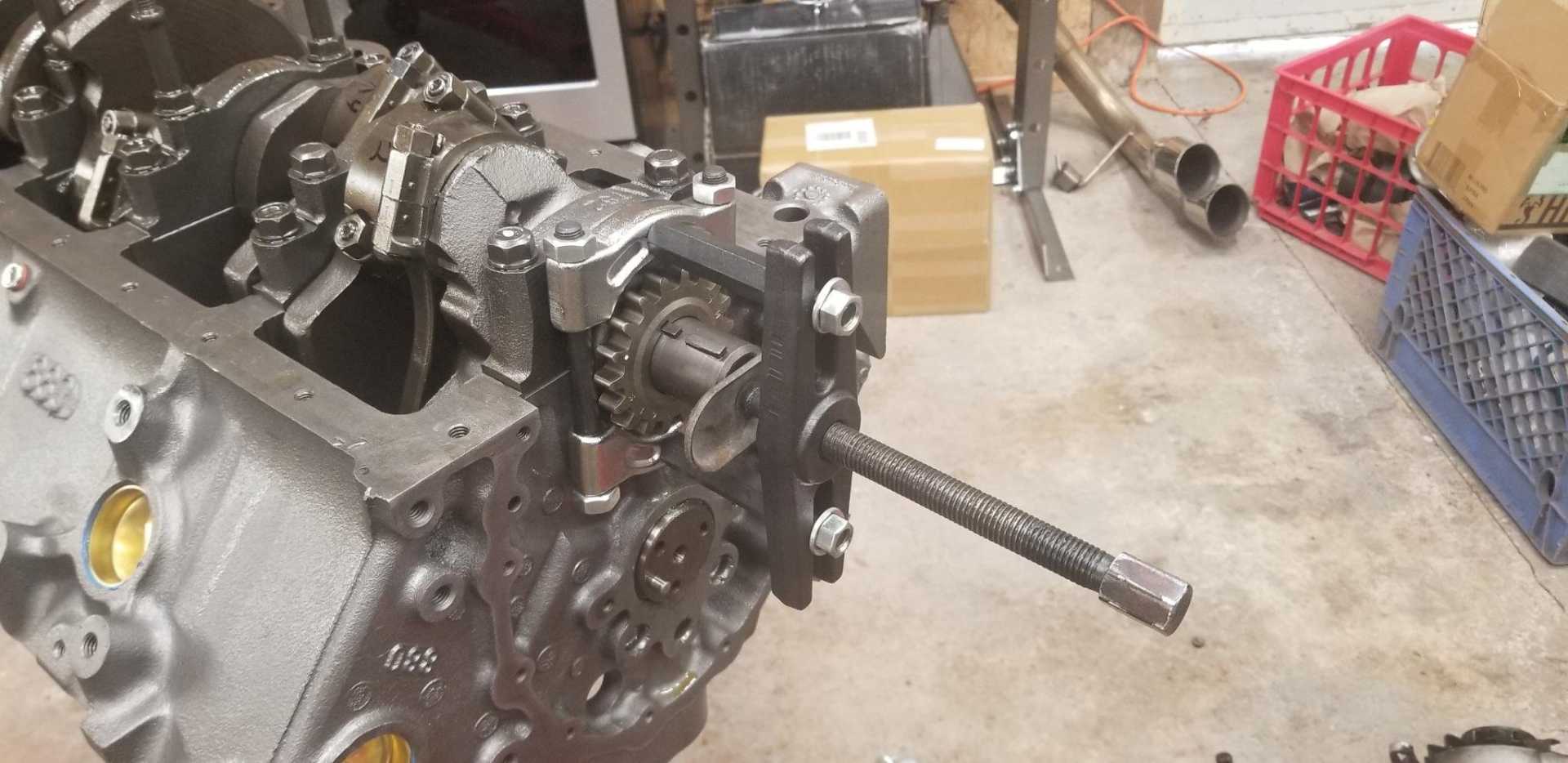 The new crank sprocket can be heated to install, or you can grease the crank snout with assembly lube and tap it on with a large socket and a deadblow hammer. It should go on most of the way by hand.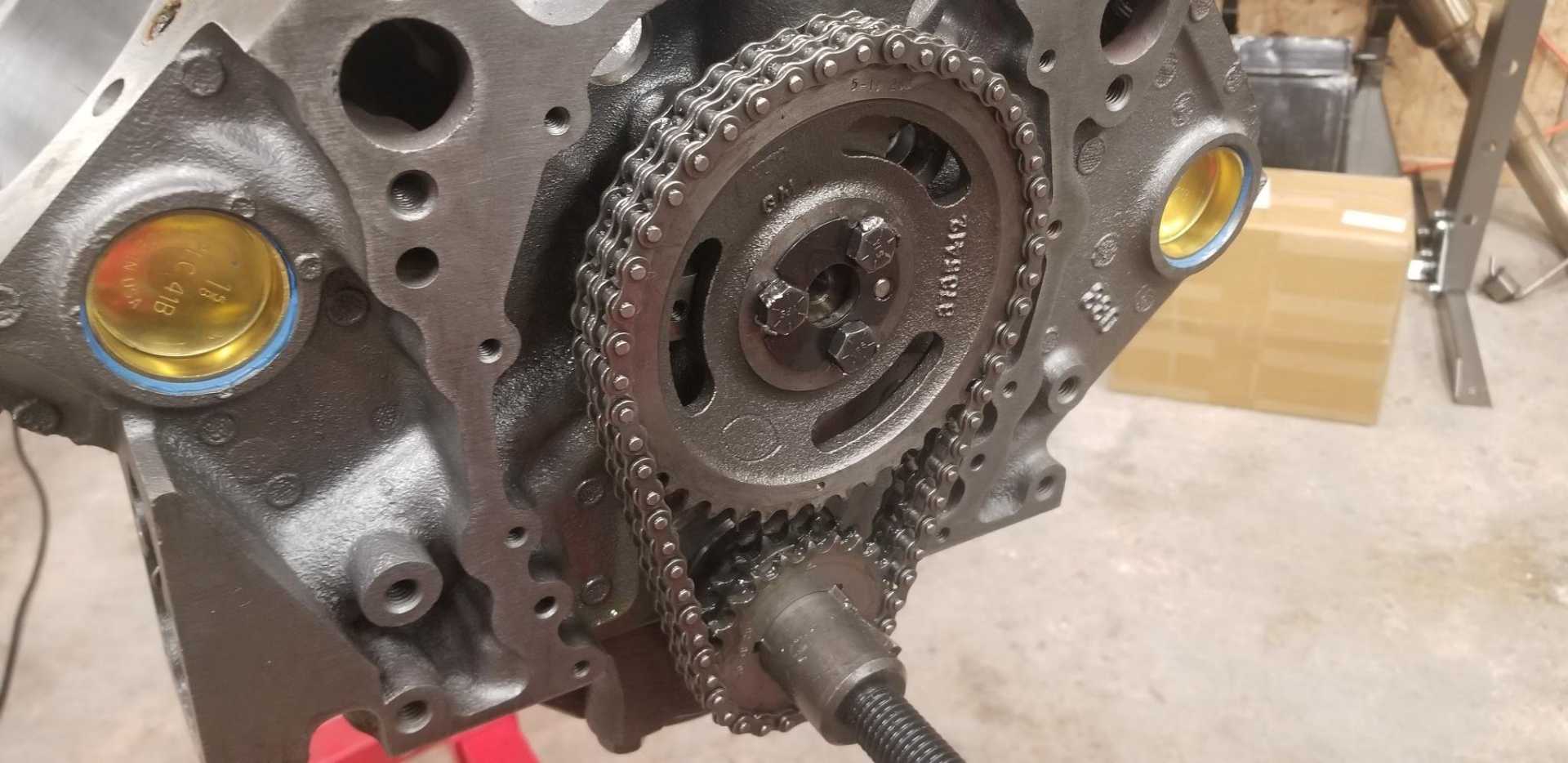 Since I'm converting the timing set, I have to check clearance to the top oil galley boss. Sometimes you have to grind a bit off here. Can't really get a feeler gauge in there, so I put some grease on it, then installed the came sprocket and gave it a few turns while pushing inwards on it. Afterwards I still had grease on the boss, so there's no contact.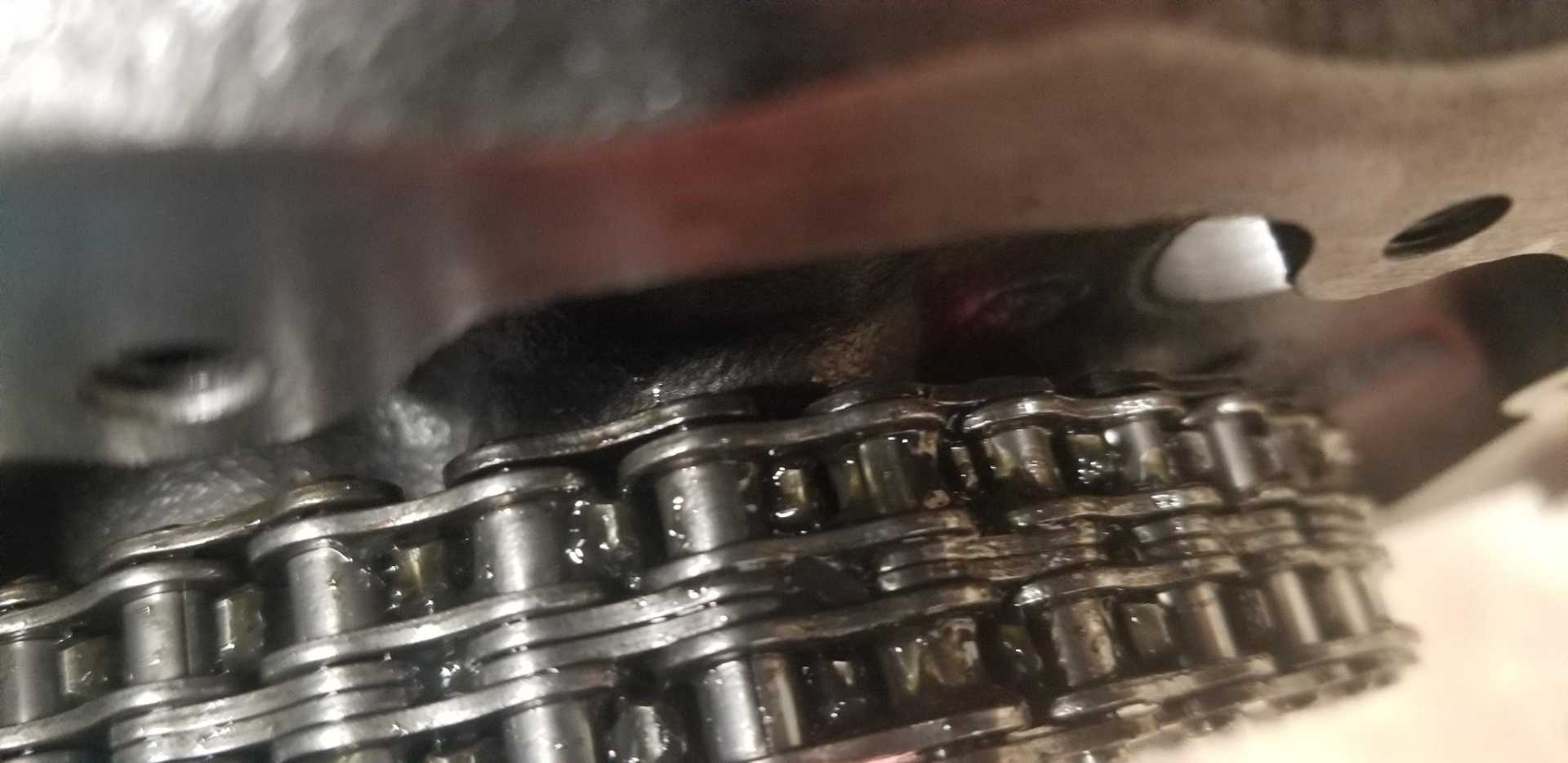 I'm running a remote electric water pump, so this hole needs to be tapped and plugged, or we'll have a coolant fountain. 7/16-14 threaded bolt does the trick. You could also drill and tap to 3/8 NPT for a plug, but I didn't have a tap for that and no one local had one.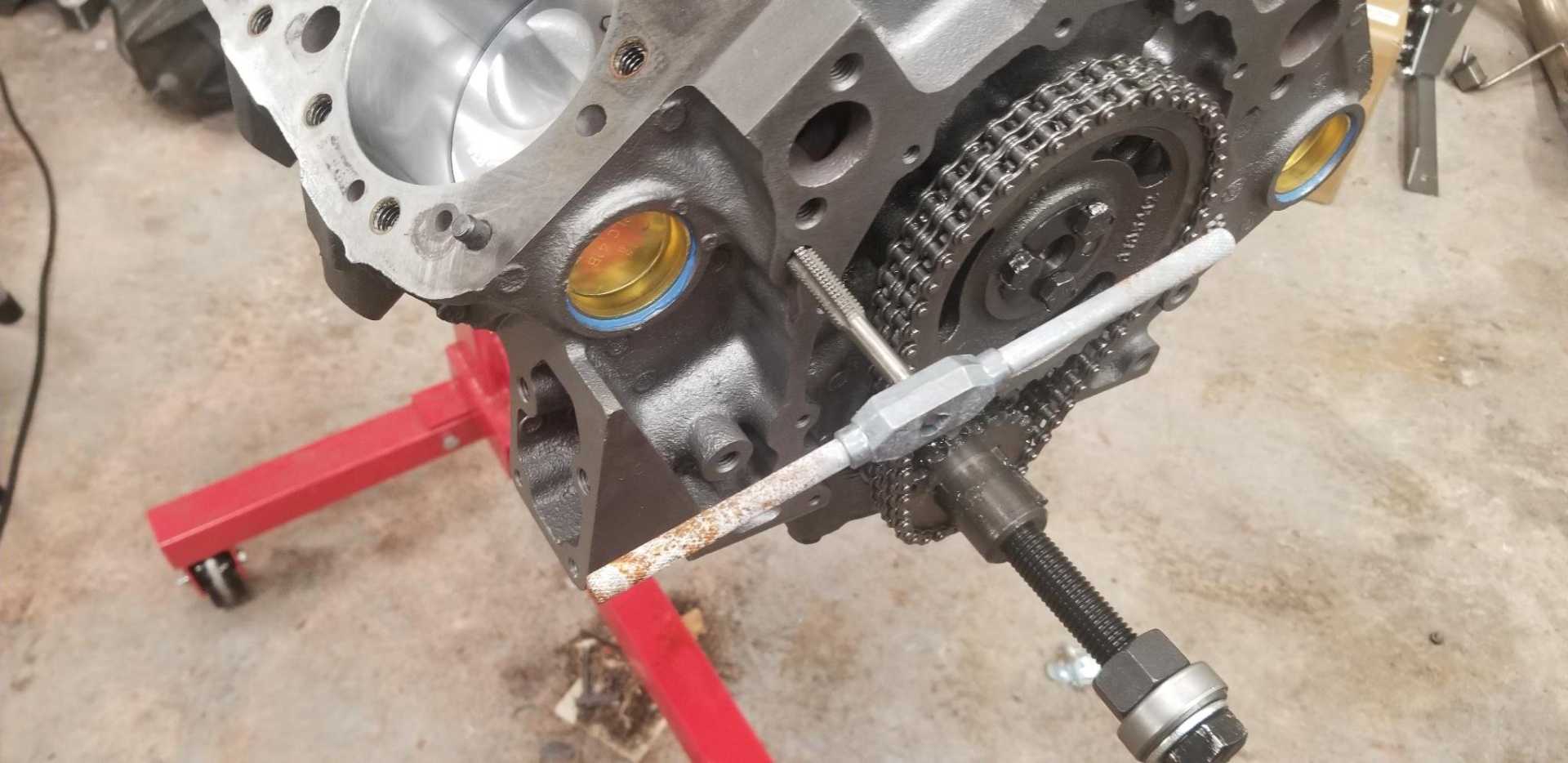 Dropped a head on with a gasket and a couple bolts snugged down. Checked valvetrain geometry and piston to valve clearance. Didn't get pics of the process because my hands were covered in home-made playdough and oil. Lots of internet reading on how to do this though. Note the centered wear marks on the valve tips (good geometry!). The second pic is my PTV clearance.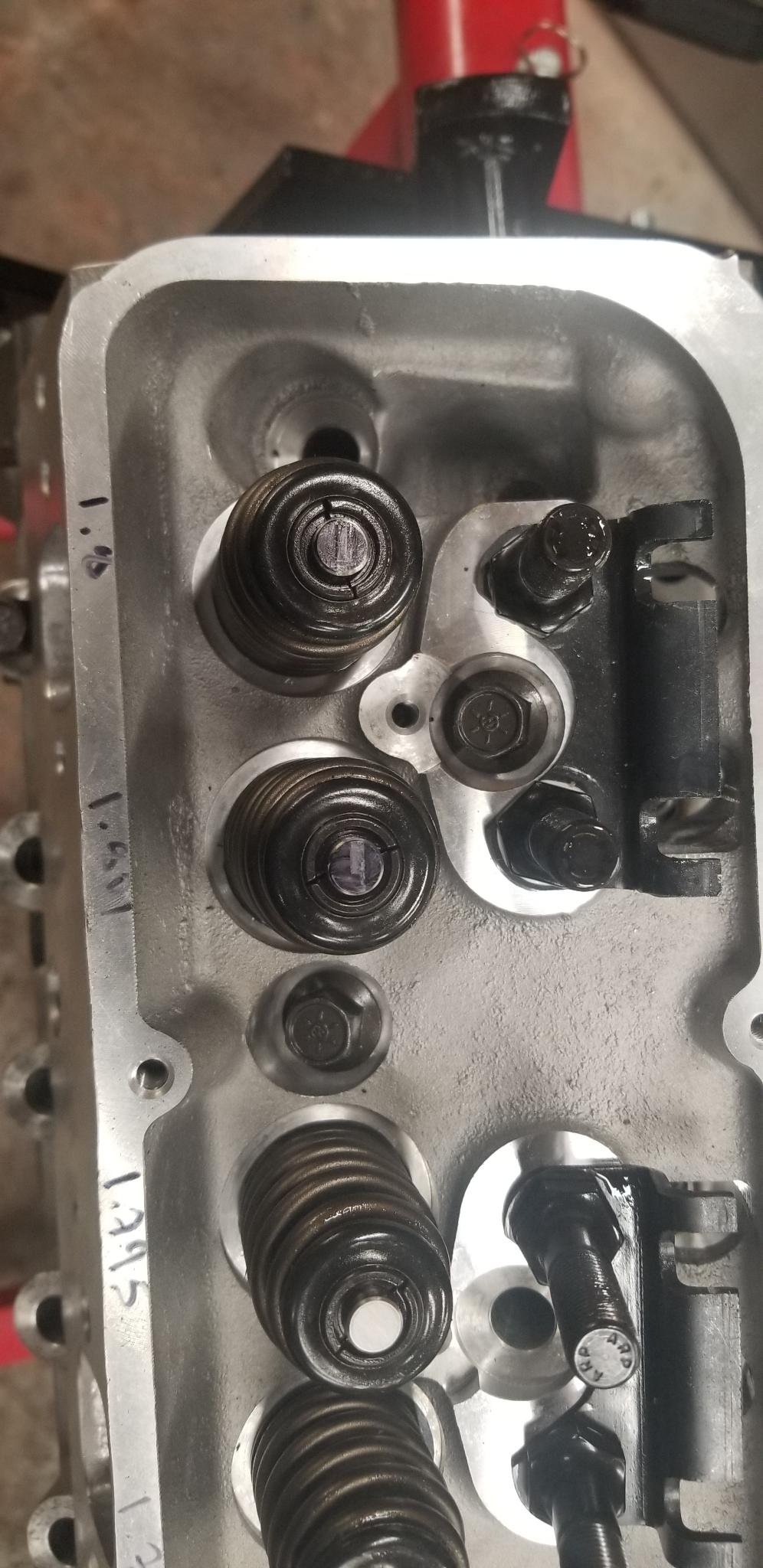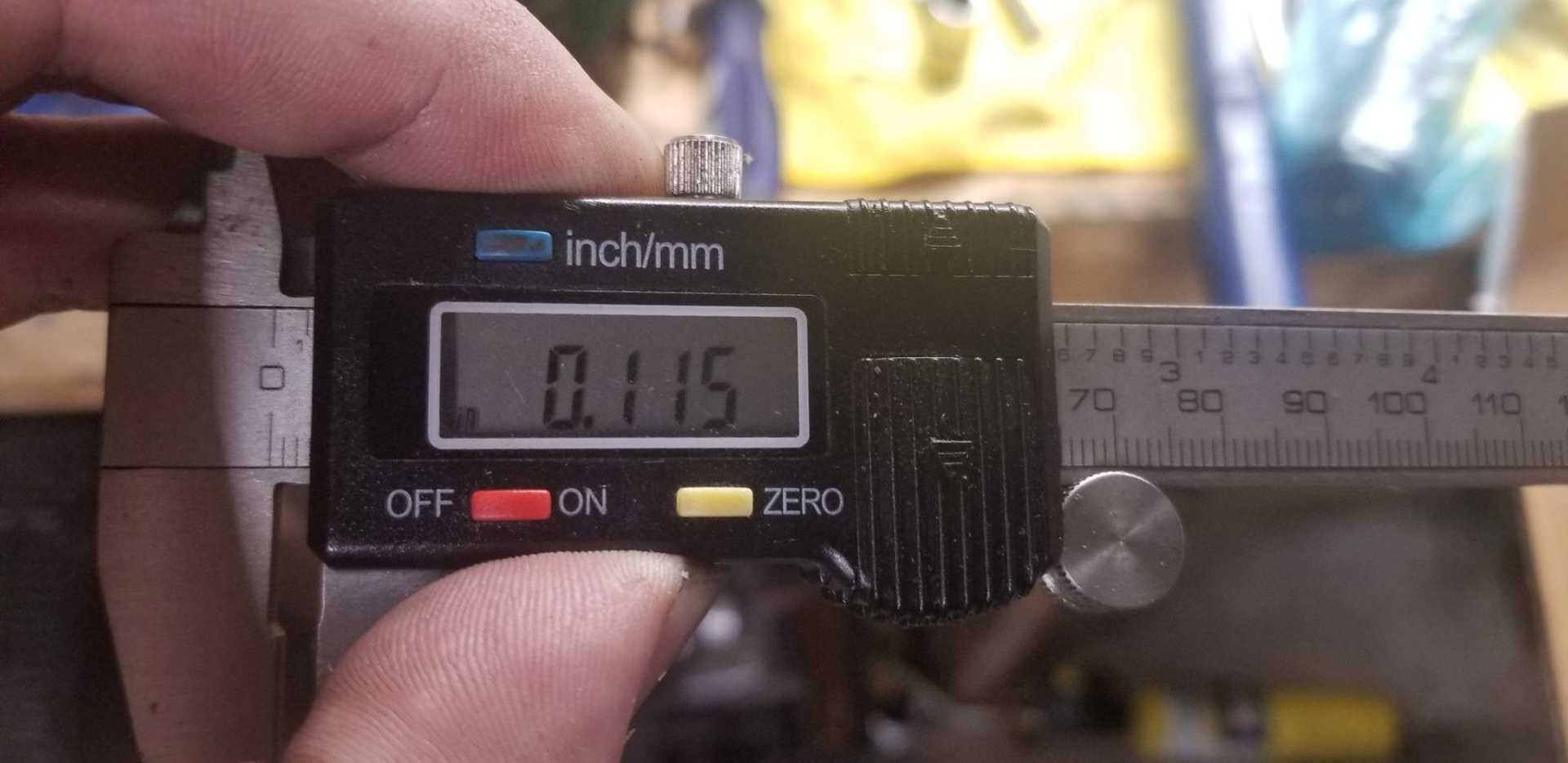 Real ARP studs this time...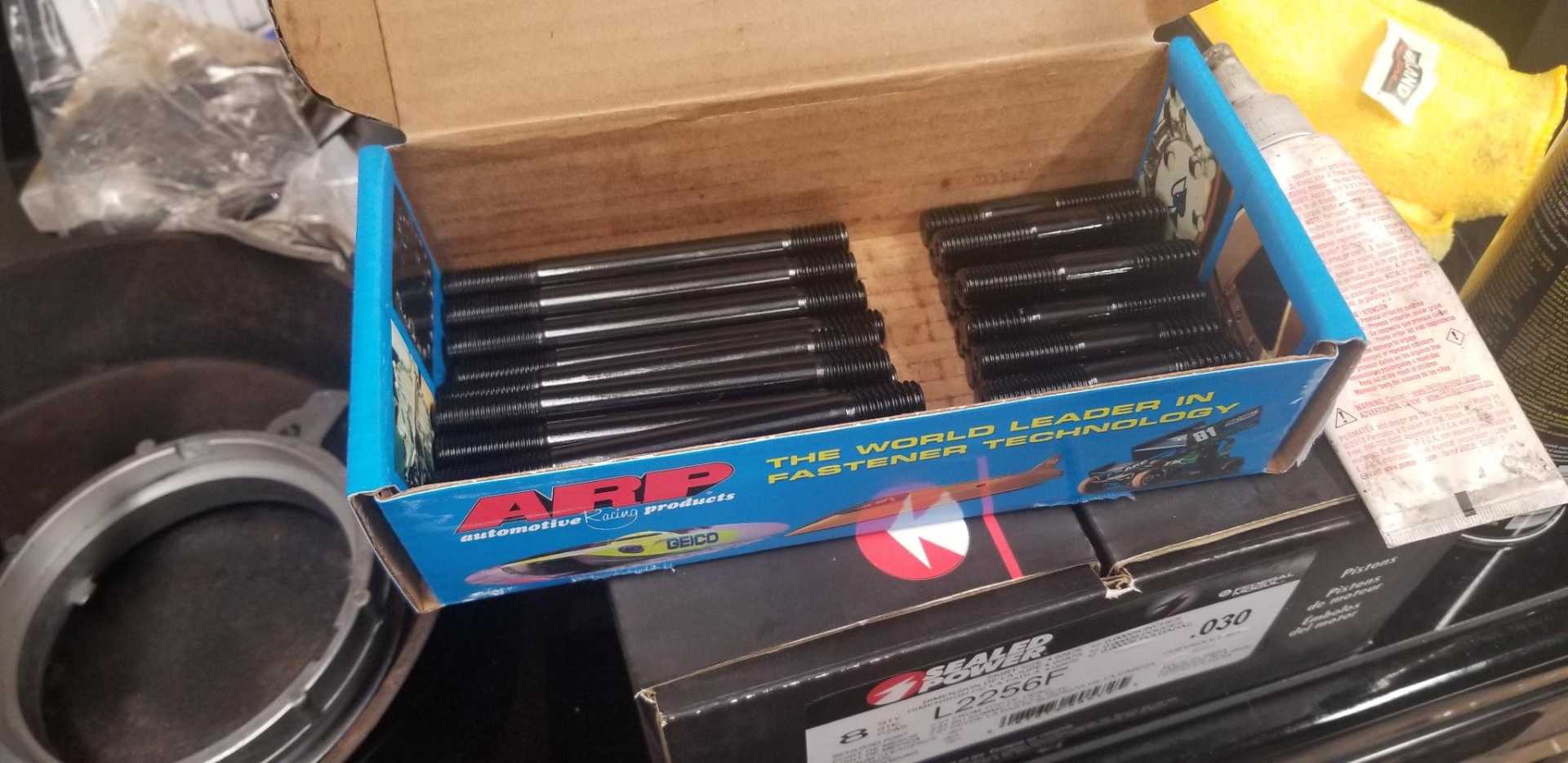 Buddy came by yesterday. An extra set of hands is always welcome.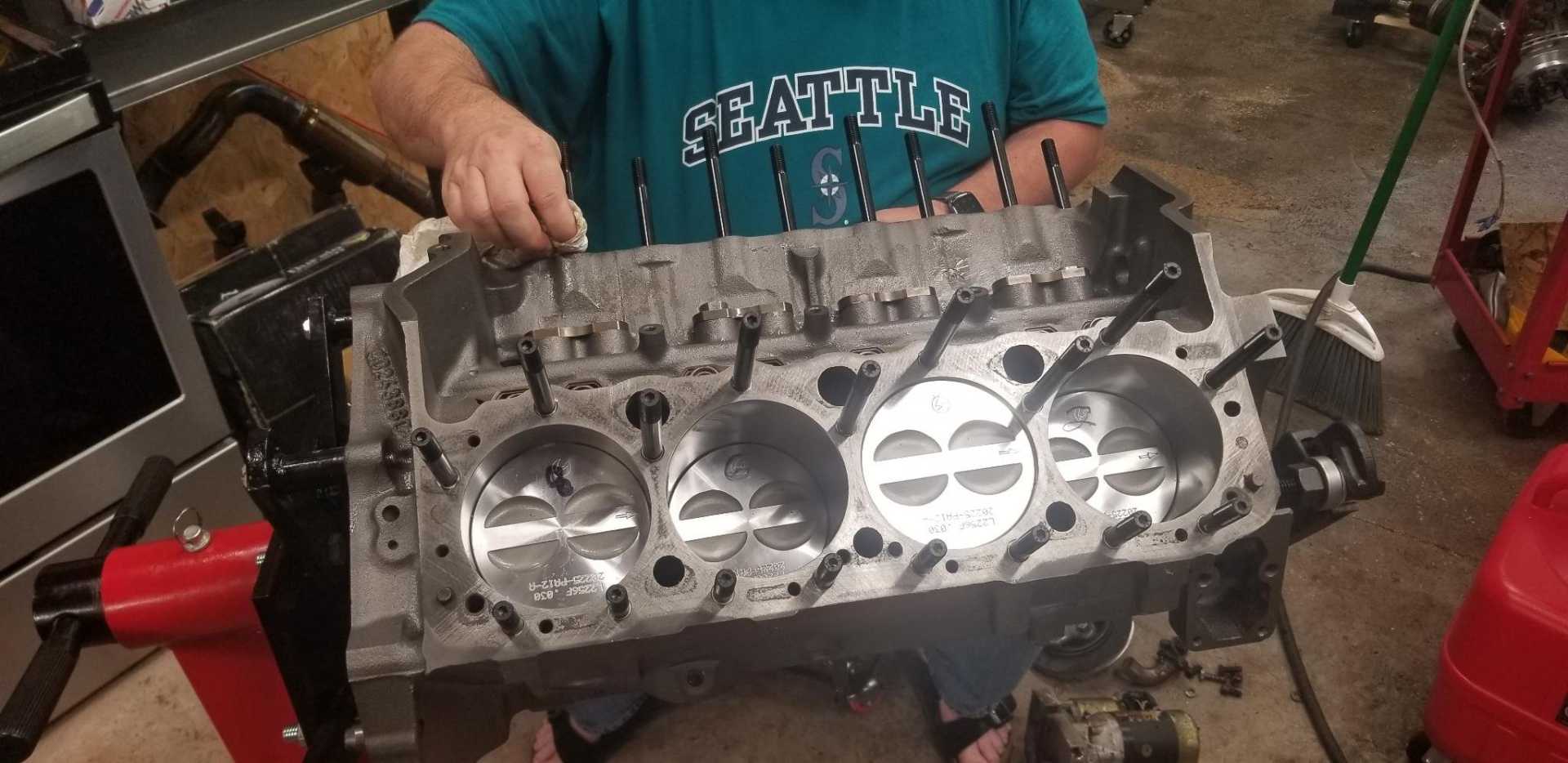 All torqued down.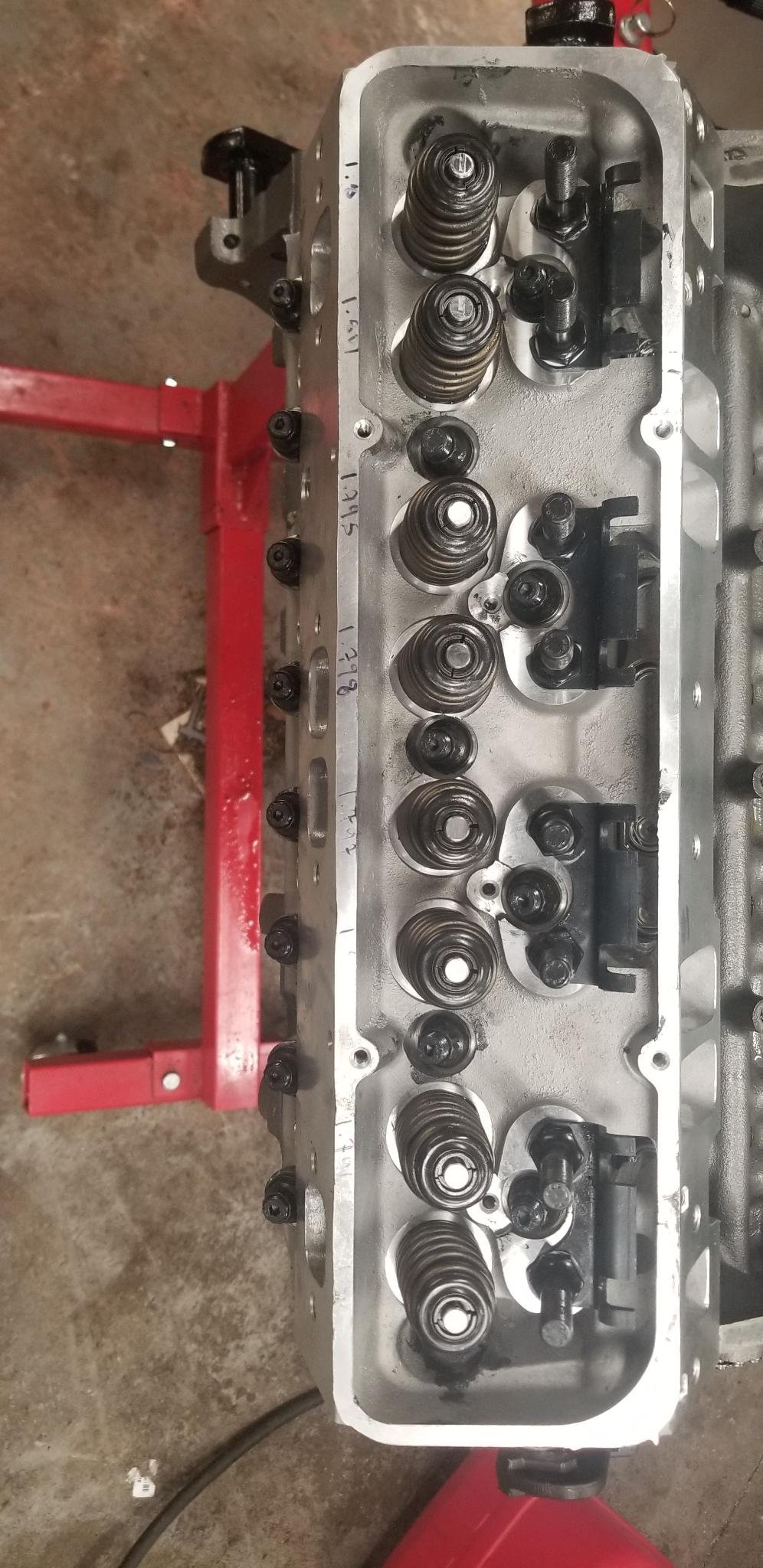 Put the rockers on and set lifter preload. That's where we left it yesterday. Need a couple parts to show up to finish it off.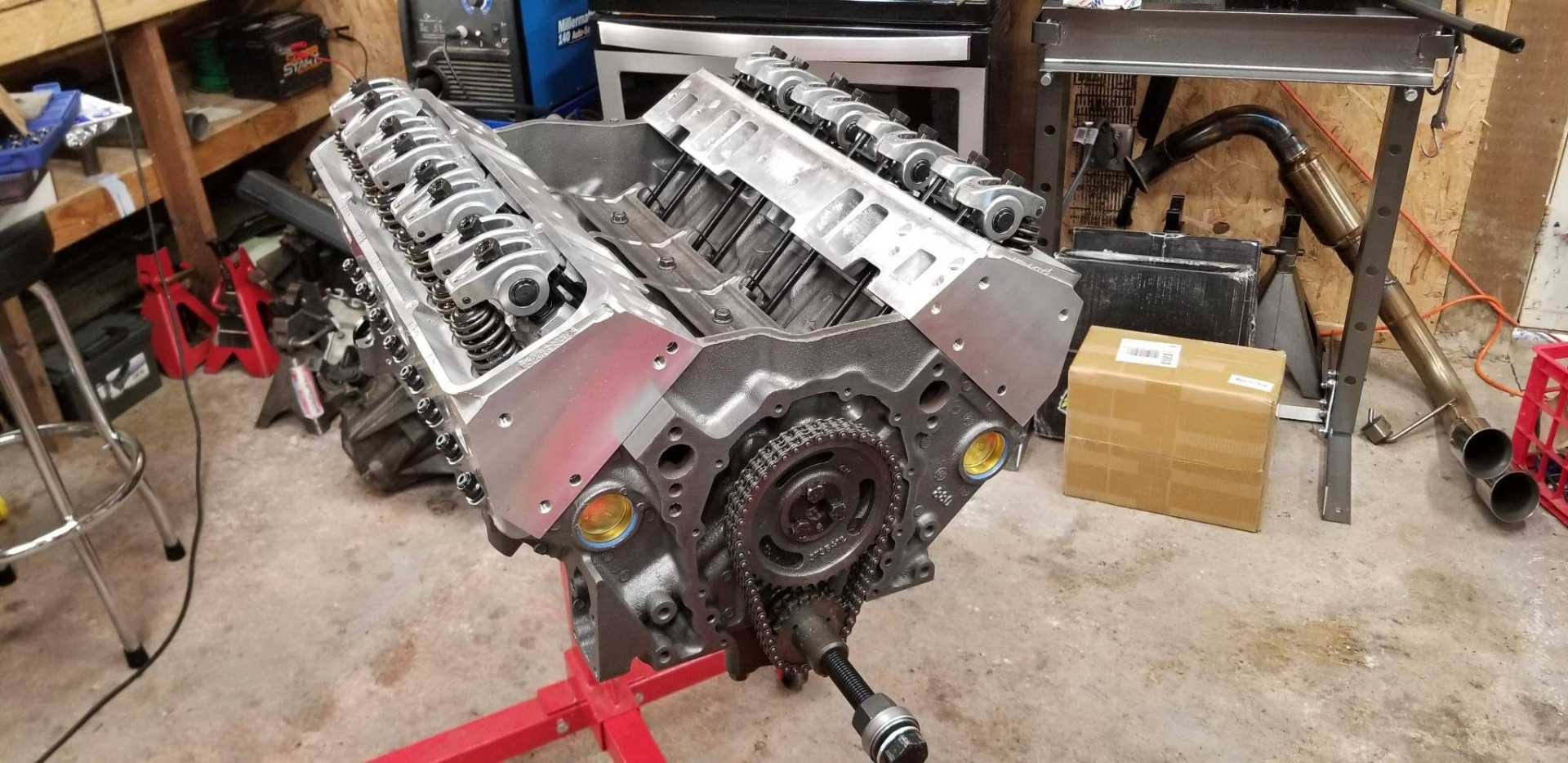 [This message has been edited by fishsticks (edited 06-14-2021).]