Update to add Gauge wiring for 85-88 w/ OP Gauge on Tach. This puts more Dash data/errata in one place...
⚠️ Warnings:
Gauges need "12v" Ground and 1 wire to resistor/sender that goes to ground too.
If a gauge gets power and no sender/resistor the meter will peg and maybe damage.
Temp gauge have 4 "terminals" but only 3 used to connect to car. Do Not use 4th "Terminal" to test the gauge.
Connect gauge terminals or dash wrong and likely wreck dash, tach, gauge or resistor on a gauge.
Don't bother w/ FSM and others because won't help "bench testing"
and is missing important data like has no mention of the resistors.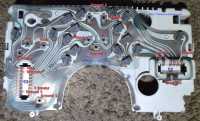 CLICK FOR FULL SIZE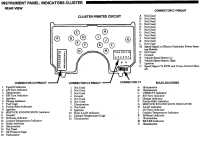 CLICK FOR FULL SIZE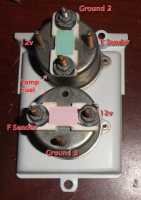 CLICK FOR FULL SIZE
The resistors change value when different batches were made. Note Color and what gauge(s) before removing.
If the stamped nuts get dirty etc. Carefully Loosen/tighten the nuts a few times may "clean" them. DO NOT tighten like "real" nuts or you likely wreck the resistor. Only need to tighten enough so just stays put.
Test Resistors to Emulate a Sender:
Note: Can use standard Fix Resistors close to listed value but Gauge may read a little high or low. Most Carbon resistors are 5% or more tolerance anyway. Don't need exact value just to test for working or not.
Oil and Fuel test w/ 0Ω = 0/Empty, 45Ω half scale, 90Ω full scale.
Temp gauge needs higher values. 55Ω = 260°F(127°C), 1365Ω = 100°F(38°C). Yes Anything in between will tell a gauge is even trying to work. (Temp Sender is NTC Thermistor ground thru threads.)
Important: Temp Sender is Not the Same as other Temp Sensors used but ECM/PCM. Most to all Temp vs Resistance Charts you see here and most other sites Does Not work for testing the Temp Gauge in the Dash or many think the Sender is "bad" when resistance never matches those charts.
[This message has been edited by theogre (edited 02-04-2021).]