Hey my local self service wrecking yards currently have no Fieros

I'm looking for 2 of each of these: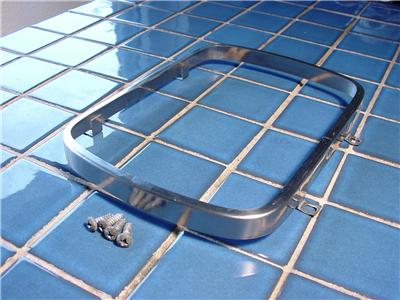 I found these pics on a google image search, they are not mine.
The larger metal bowl piece on mine is rusting to the point where it is pretty much garbage and the tabs on the chrome rings are almost all broken off.
Are these 2 parts pretty much the same on all 80s GM vehicles or are there elements of these parts specific to Fieros?
I am on a tight budget (unemployed) so would rather not pay $12 for a single chrome retainer ring at FS when I can get a decent one at the wrecking yard for a dollar.
When my income improves, I would like to replace my sealed beam headlights with (bear with me, not sure what they are called) the ones where the main body of the headlight remain in place and you only need replace the bulb part as in modern vehicles. This way I can avoid such an in depth dis-assembly in the future.
Thanks in advance for any names of alternate doner vehicles for these parts.