What you want to do is measure the voltage from the green wire to the black wire.-
You want to do it using back probing. Everything needs to still be connected up, both vacuum and electrical.
Two pins. One in the black, one in the green. When reading voltages on your meter make sure the voltages you are reading are in the .5v - 4.5v range. If the meter is saying mV, that is millivolt and that is way off. Most likely your pins are not touching the metal terminals inside the connector.
The voltages you should get are as such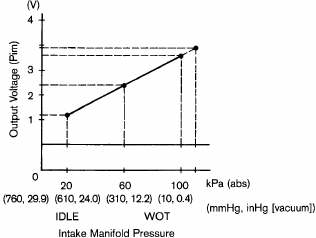 Start with the key on engine off - you should get about 4.3. Start the engine and it should drop to about 1v at idle. Pop the throttle open and the voltage will jump up, and then when you snap the throttle back it will drop to below the about 1v and then when the engine returns to idle the voltage will return to about 1.
If all this works correctly, you may want to do this same check back probing directly at the ECM.
[This message has been edited by phonedawgz (edited 07-30-2013).]