Unplug your IAC connector. Unscrew the IAC body a few turn. See if it starts and idles then. If not remove the IAC and see if it starts and idles fast. It should.
The IAC controls the idle speed. It seems to me that your IAC isn't working for whatever reason. They rarely fail. The IAC has a pintle that it inserts into the IAC passage. The farther the pintle is inserted into the IAC passage, the less air and thus a slower idle.
Your video looks like it has a new IAC motor on it. That doesn't mean it is working however. You could have a bad ECM or bad wiring. Before replacing anything let's find out if your IAC passage is clear and working.
If you get to where you fully remove the IAC, there is a vacuum line to the lower intake manifold. You should be able to stick your finger into the hole the IAC was in and control the idle by pressing your finger against the hole (right hand side of the IAC hole) to slow the idle and remove your finger to increase the idle.
So if the engine will idle (fast like 2000 rpm) with the IAC motor removed then you know the IAC passage out is good. If that 'fixes' your won't start problem then the next thing is to look at why the IAC motor isn't moving.
If however the engine still will start with your foot on the gas, but still won't run with your foot off of the gas, and there is no sucking of vacuum in that hole to the right, then you need to figure out why your IAC to lower intake manifold passage is blocked.
Tube that connects the throttle body IAC output passage to the lower intake manifold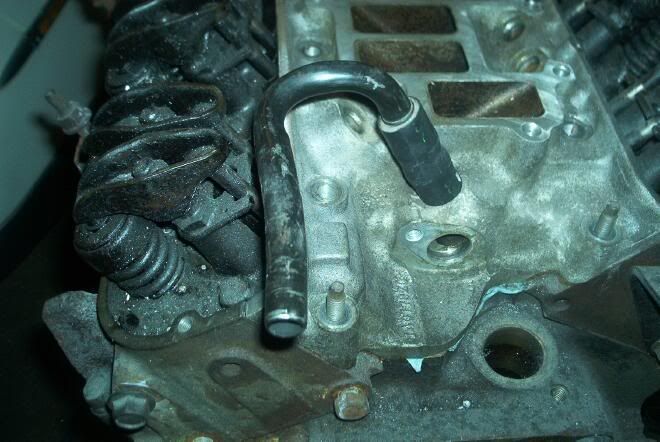 The input passage to the IAC valve, and the IAC valve itself. Note - the capped screw marked 'idle screw" is not an idle screw and
do not
uncap it and adjust it.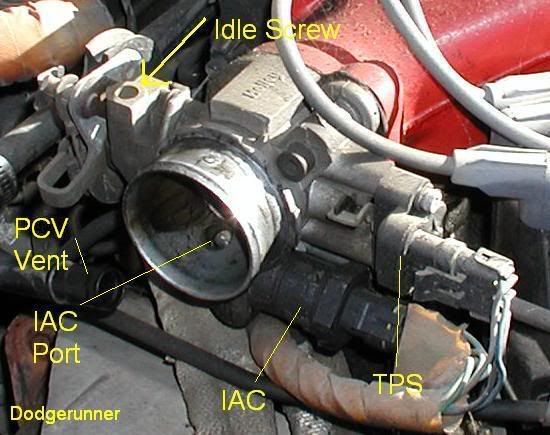 [This message has been edited by phonedawgz (edited 07-03-2013).]