Easiest way to bench test these is to put a small battery, say 9v w/ battery connector from dead whatever, tied to main + (A) and - (B).
Then connect light bulb or meter to motor's output and push a button for output tested.
Get cheap jumper wire kit will help a lot.
Still in the car then just back probe the connector w/ test light or meter.
Leave meter alone for each output, just make sure volt read same ignoring - sign.
Sometimes reverse switch setup has a crap contact and no or low volt for one direction.
(Fiero PM direction is basically a smaller switch for PW switch and can have same problem.)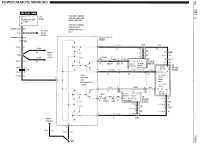 CLICK FOR FULL SIZE
------------------
Dr. Ian Malcolm: Yeah, but your scientists were so preoccupied with whether or not they could, they didn't stop to think if they should.
(Jurassic Park)

The Ogre's Fiero Cave