The easiest way to start would be with a scan tool. Look at the coolant temp sensor and see what it thinks the coolant temp is. If the ECM thinks it's cold, it will dump in a lot more fuel.
The IAT sensor is in the intake manifold. It will be harder to determine where it's supposed to read, since the air has already been heated by the intake.
You can also measure the temp sensor resistance with an ohm meter. This is a chart that I found online.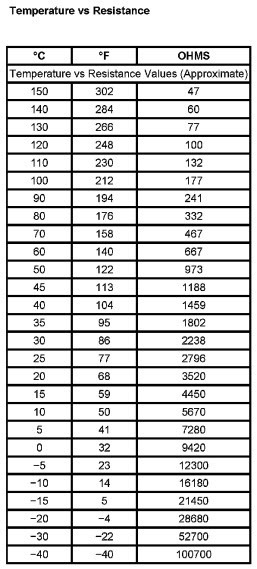 Also check to make sure that your O2 sensor isn't lying. I had one that read "full lean" (even though it wasn't) which caused my ECM to attempt to run "full rich".
Failed (miserably) an emissions test, and killed a catalyst because of it.
If you have a scan tool, the O2 sensor will read .445 volts when it's cold. As it warms up, it will switch back and forth between ~200 mV and 800 mV. This could/should happen several times per second, but even if it's slower, it should be okay. Just as long as it doesn't drop to around 200 mV and stay there.
[This message has been edited by Raydar (edited 08-11-2018).]