This has been going on a long time; 10 years now. My usual patience for a car project is a couple years. This one got interrupted by many other projects along the way, and I added more and more mods as time went on. I thought I should post about the current status since it is pretty much complete (as complete as a car project like this can ever be, there is always something more that can be done).
So, what this is. It started with a 4 cylinder 1984 Fiero. Modifications include:
Small block Chevy engine from a 1970 Vette; 350 cid L82, 4 bolt mains
4 speed overdrive automatic transmission from a GM 3.8L supercharged car (4T65E-HD)
CompuShift transmission controller
Electronic gear shift indication
FiTech fuel injection system
Battery relocated to rear trunk
Corvette rear view mirrors
Replica Ferrari Dino body with several modifications to give a more modern look:
- Vents in hood filled in
- Parking lights moved from upper front clip to below headlights (VW Beetle lights used)
- Front of door curved inwards to make brake vents
- Door handles removed and door "poppers" installed
- B-pillar vents removed and mold lines removed and filled in
- Rear fender lip extended 2" to fill in gap above wheels
- Some vents removed from trunk lid
- Trunk lid cut in half to make a trunk lid and an engine lid; electric poppers on both
- License plate area recessed for a more modern look
- Lip spoiler added to rear of trunk
Custom tail lights fabricated with the look of the originals but with LEDs
Miata dash and center console adapted
Custom shifter plate and shift knob fabricated (to simulate a manual tranny shifter)
Miata interior door handles adapted
Instruments from Speed Hut used
MrMikes seat upholstery
New headliner
Front and rear adjustable coilover suspension
Wheel spacers front and rear to fill fender width
New brake master cylinder, wheel cylinders, disks, booster, lines
New wheel bearings, shocks, springs
3D printed badges; the B pillar ones are small scoops leading into the engine compartment
I think that is about it, but I may have forgotten something. There really isn't much Fiero left on it. Overall it's been a fun project. It started out as just an engine swap, and grew from there. I put some miles on it around the neighborhood last year while sorting out a few things and it drives very nicely. If winter ever ends this year I'll be able drive it more and see what it is really like.
I did put some Ferrari prancing horse logos on it which I kind of regret now. I did borrow Ferrari's numbering system from their early cars, which explains the badges on the back. In most of the pictures the hood/trunk lids aren't closed and latched so it looks like the fit isn't great.
What is left to do:
Finish wheel center covers (working on some custom logo ones)
Add an engine lid prop (to replace my wooden stick!)
That's what I've been busy with for a while. When it is all done I'll likely put a few miles on it to make sure everything is sorted out and then sell it. That's what I do with my cars since I like the planning and working on cars. Once the project is done I have to find something else to do on it or move on to another one.
Rick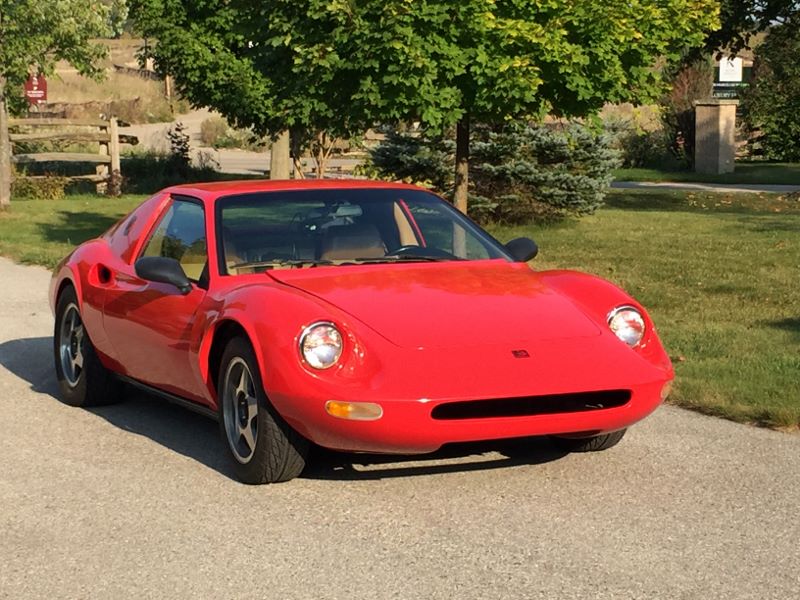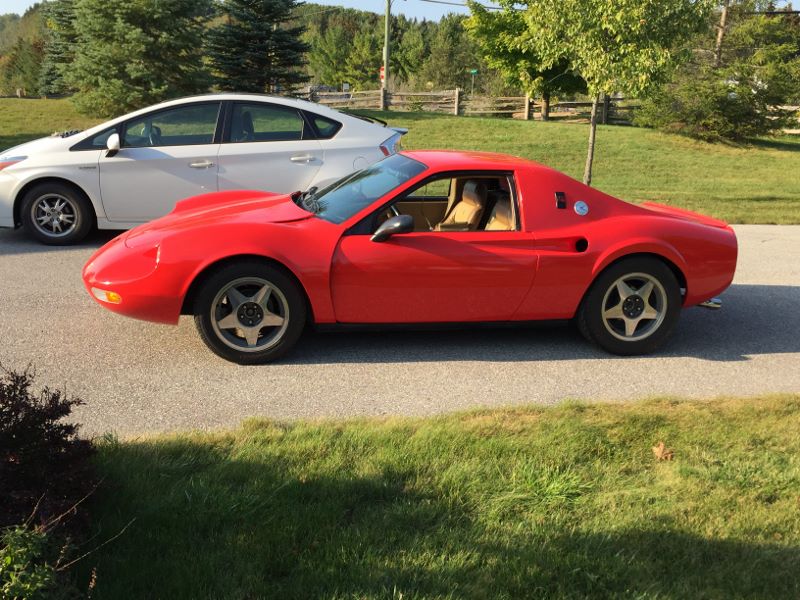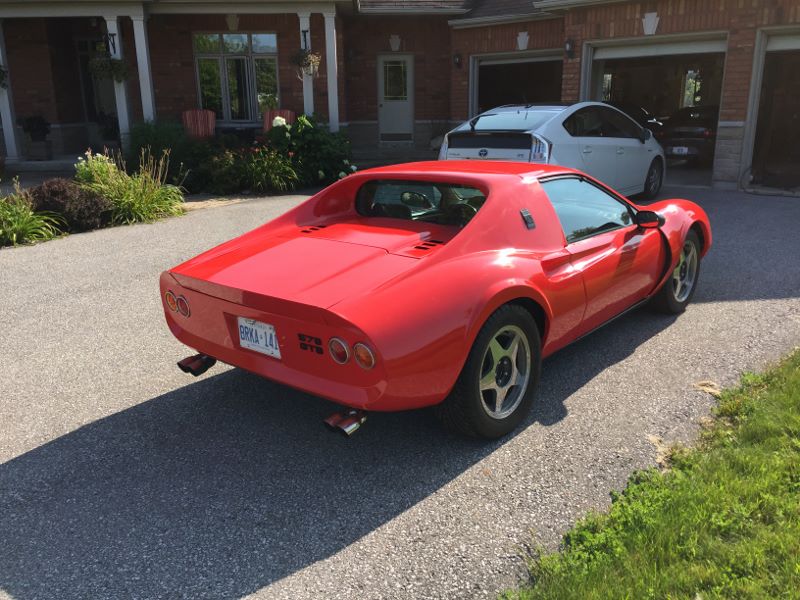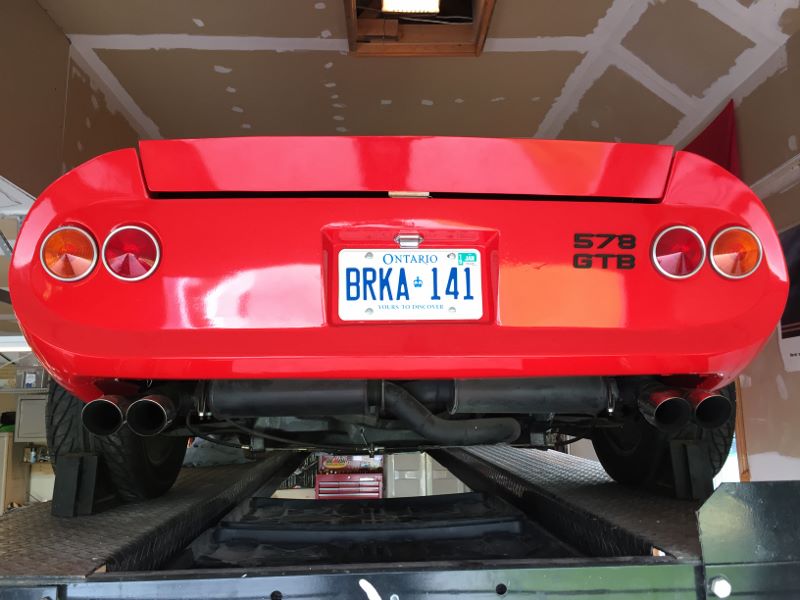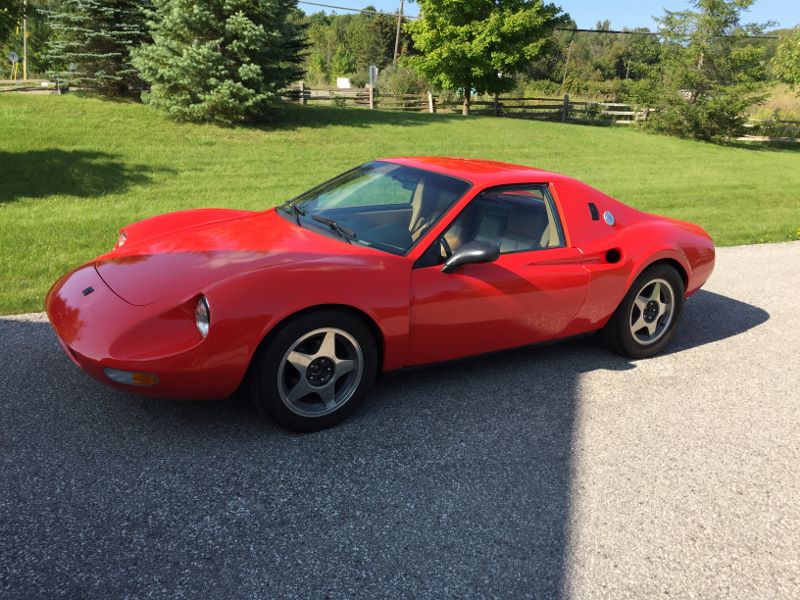 [This message has been edited by couldahadaV8 (edited 04-14-2018).]