1988 Fiero GT 149,000 miles never wrecked 1 owner.
The story
Prominent family from the Livermore/dublin area bought the car new. Apparently they were big into the car community and local racing scene.
They died,left it to their daughter and it didn nothing as she had no interest in it.
The families mechanic ended up with it and he had a mind to not sell it to just anyone.Rather to find "Fiero people".
He did just that. He posted it on the Facebook Fiero page and also I think to a couple Members of Golden Gate Fiero Club.
Fiero people were found.
Unfortunately I am Fiero people. I have seen so many 88 GTs get sold for someones first car or to someone that just wants a cheap car to bash around in
until it breaks and they grab another.
I personally do not want or need any more Fieros. I have to be up over 40 owned now and presently have 5. 3 running good cars,1 parts car and one race/mod/experiment car.
Here she sits waiting at the Mechanics shop lot for someone to care for her.Lonely/sad and probably still grieving for her original stewards.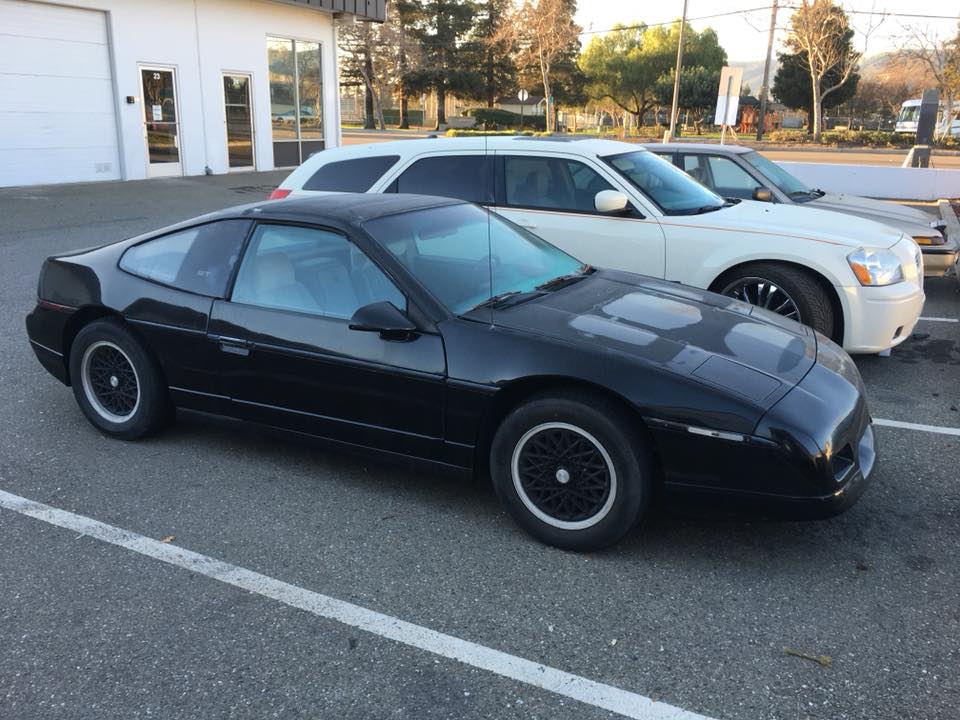 Martin Wilbert had seen it first hand so he gave the scoop of his first assessment of her. Shabby and dirty were some of the descriptions
When I first seen her was inside dimly lit shop on a Rainy Sunday morning. I put my hand on her and said everything is going to be alright.
I knew I would buy her even when I first seen her online. She was rough but she has all the right curves and still sat straight.
Nothing money and our Fiero Vendors can't make into a beautiful proud vibrant GT again.
Parts suppliers on this job so far to the tune of $2000 bucks are
Fiero Store Sail Panels-plugs/wires/cap/rotor/pcv air/oil/fuel filter. trunk boot weather strip. inner/outer dew wipes
Rodney's Power window upgrade.upper/lower ball joints . big brake booster upgrade kit. tie rod ends
Sluppy123 Corvette Brakes
Summit shocks/struts.Pyle front and rear speakers.
Suspension.com Poly Control Arm Bushings, Front, Upper/Lower,Control Arm Bushings, Rear
Maryland auto mats Black full floor FIERO GT floor mats
O'Reilly Auto all hoses and belts.Brake pads,all the fluids
Ned's paint ?? undetermined what will be done. It will be done though.
My Storage Barn,parts car and likely FieroBears huge assortment of Fiero stuff. headlight pucks.Seats.S10 style Brake booster and master cylinder. trim pieces.headliner.lowering springs
Our own shop will be do all the work. No need to send any work out.
Resident Professional Mechanic Louie Mcnally will be doing the heavy load of the mechanical.
There's no time for this project but I can't help myself. Love me an 88 GT and always have.
Car will be for sale after it is all purdied up and running better than new. Will only be sold to a Fiero enthusiast or it can just sit here with the rest of the stable looking pretty.
I'll keep posting pics of everything done as it gets done or thereabouts.