[ EDIT: There was access w/o removing door panel,
do not remove door panel
]
My drivers side inner door handle broke today, have been searching the forum for hints how to replace it. I've copied the various postings from the past few years. Wondering if anyone has any more hints how to do this repair. Thank you in advanced.
Following are the postings members have posted..
It is rather simple. Two screws on the cover of the handle, pry off the cover at the end of the lock rod. Remove armrest then the interior door panel--try not to rip out the clips. Drill out rivet attaching the handle to the door frame. Replace the handle, put new rivit in and then put everything back togther.
There's a pin that holds it in.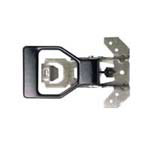 Heh.....this just happened to me too. The alignment shop busted my inside drivers door handle.....nice guys!
Anyway, it isn't too difficult to fix, but is involved. You need to do the following:
-Remove the armrest
-Remove the shroud around the handle (2 small screws)
-Carefully remove the inner door panel (those plastic push pins are a pain)
(if this is for the drivers door and you have a manual outside mirror, remove the cable from the holder with a small allen wrench)
-The door handle is held in place with one rivet.....remove that rivet and it will come free from the door
-Remove the rod from the backside and you're done.
-Re-install the new one and you're good to go.
Once you remove the rivet that holds the handle to the door it will pull out enough that you can get to the rod on the back side.
There is a clip you have to release and the rod should come off.
If it's a Z bend then you just take it off.
You should be able to put the handle back on with a small bolt if I remember correctly.
Here's a link to purchace a replacement.
http://www.dormanproducts.c....aspx?origin=keyword
[This message has been edited by CoolBlue87GT (edited 01-30-2017).]