2005 Monte Carlo SS 3800 stock shortblock
2001 GTP heads
ZZP oversize valves
Cometic HG
ST1 cam
ARP headstuds & rocker bolts
PAC 130# springs
Double roller
ZZP oil mod
Custom shorty headers & ypipe
GT4067s from Precision Turbo
60# Delphi injectors
340lph stealth pump
ZZP fuel rails & FPR
ZZP Fullstack IC
ZZP Phenolic spacer (LIM to FS)
Custom upper intake
Snow Performance water injection #4 nozzle. (not really used since it made so little difference at low boost)
W2A intercooling
HPTuners tuned by DarkHorizon (my mentor on this build) and dyno tuned by MASE Engineering
F23 w/ modded Fbody FW
*Note the flywheel bolts backed out AGAIN!* I left Mase with a great daily driver low boost tune. Once I fix the stupid car, I will start upping the boost. There is an easy 100-150whp left in this ol girl.
On the Dyno

460whp/475lbft @ 17psi (low boost) Damn it sounds MEAN!!!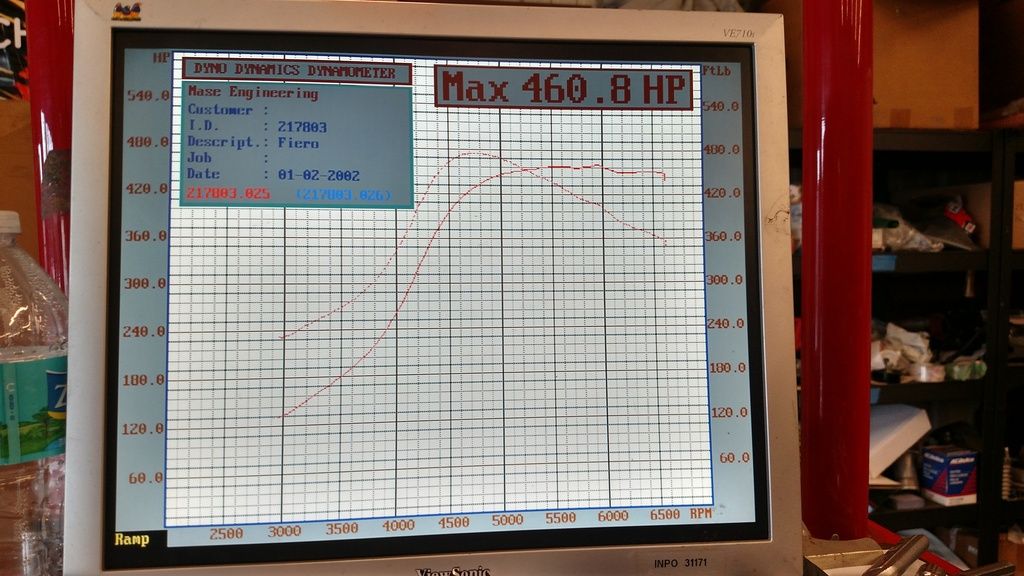 Vid1 460whp
https://www.youtube.com/watch?v=ZfeqDRahA2M
Vid2 435whp
https://www.youtube.com/watch?v=hKdzbBw_1xg
------------------
2009 G8 GT
Kook's 1 3/4 LT's, Kooks catted Xpipe, Magnaflow axleback, Vararam CAI, HSRK, HPTuners, Atari gauges
1988 Fiero GT
L67, GT4067S, w2a, F23, & more
1987 Fiero GT
3.4TDC Road Racer.
ƒ13r0'$ rµ£3
[This message has been edited by BV MotorSports (edited 08-05-2015).]