Bob and Lyn Englert developed a Fiero specific car show name badge back in the 1990's and I have always worn one at car shows and events. They are a little known source in the Fiero world but since I just ordered three more badges thought that I would share this source with everyone. Their badges are machine cut engraved acrylic and are only $8.00 ea. plus shipping in all colors except silver and gold that are $9.50 ea. Its a quality product at a good price and it makes it easy meeting up with folks at cars shows.
Bob and Lyns company is CG Engraving:
http://www.cgengrave.com/signs-badges/
The badges look like this but they can do other layouts: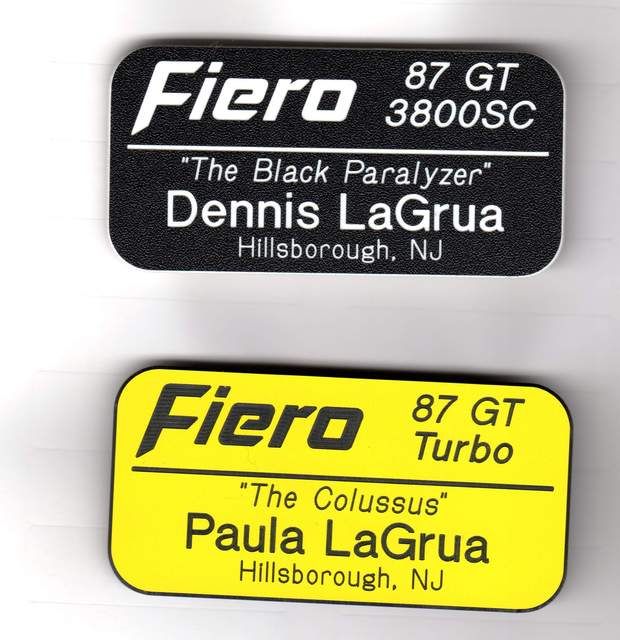 This is just a plug to share a good vendor as I have no relation to this business. Some people at the shows asked me where I buy my badges and now you know! If you hve interest just email Lyn at
lyn@cgengrave.com
and she will promptly help with your needs.
------------------
" THE BLACK PARALYZER"
-87GT 3800SC Series III engine, custom ZZP /Frozen Boost Intercooler setup, 3.4" Pulley, Northstar TB, LS1 MAF, 3" Flotech Afterburner Exhaust, Autolite 104's, MSD wires, Custom CAI, 4T65eHD w. custom axles, HP Tuners VCM Suite.
"THE COLUSSUS"
87GT - ALL OUT 3.4L Turbocharged engine, Garrett Hybrid Turbo, MSD ign., modified TH125H
" ON THE LOOSE WITHOUT THE JUICE "
[This message has been edited by Dennis LaGrua (edited 05-29-2015).]