T bone Special has 63k miles on it. Time to take it on a trip.
The plan was head west to see as much of the cool stuff I wanted to see for a long time.. and use Denver as my first big destination and jumping off point.
I took a lot of time, got new tires and packed her tight for a week or a little more on the road. Put on new shocks and struts, new tie rod ends and changed my plugs and wires. Then I hit the road.
My Tach started doing a little jump here and there especially in 5th. I figured it was a loose drive belt and replaced it on the road.
First destination was my Dad's house for a family reunion. These people are hurting, we have lost many recently and unfortunately just found out 2 weeks ago my Dad has lung cancer.. which his mom died from. There is also hope and joy, my 2nd cousin Dale has a great new wife and a lovely daughter.. she was a real bright spot on what is turning into a smaller, sadder affair. Got there in about 5 hours on Friday.
Dad helped me bleed the clutch, hoping that or the belt would do the trick on the jumping tach. His wife took some pictures, and a sad thought passed that this would probably indeed be the last time we will be turning wrenches together.. maybe ever.
After the reunion I said my goodbyes and got on the road. I went from NW Indiana through Illinois and Iowas to mid Nebraska by about 1am. Stayed at the Days Inn, and got back on the road at 11. Took it all the way through to a little place called Silverton in Colorado at the end of day 3. Stayed the night at a transient flop run by people who barely spoke English. The place was a sty, and the bugs freaked me out. I got the hell out of there early and got back on the road. I hit downtown Denver at 1:30 local mountain time.
And at a red light, on the Speer bridge right downtown, the tbone special sputtered out in 90+ degree weather. No restart, and the guy behind me is honking like I had a magic wand that I wasn't using and he wanted to know why. A couple local construction guys helped me push it into a no-parking zone that at least let traffic flow while I got to work. Sweat began to flow and I began to panic. Then I looked up and saw a Marijuana dispensary.
An hour later, the car had cooled off and thankfully not been ticketed. It started right up and I backed it into a convenient parking lot for $10 and set about exploring downtown in earnest. Ate some Chipotle and drank some starbucks. Watched people. Then some rain clouds rolled in and I decided it was time to find a new hotel or motel. Car started right up, but was a bit sputtery in stop n go traffic. On the highway it generally gave me no issues. I headed north to Brighton and regathered my composure at a starbucks while looking for a hotel on line.
I settled on a motel 6 that was unfortunately 13 miles back towards Denver. Got in the car in a driving rain and got it to the Motel 6.. which sputtered out as soon as I got in a parking space. The rooms in this place were really nicely remodeled, it was the best value for rate I have found for all my stays.
Got the room and headed over to wal mart... did an oil change in the parking lot. While in there I noticed my aftermarket AC belt was rubbing against that magnetic probe tube by the timing marks. Well, now I know what has been shredding my AC belts. I went right back in Wal Mart, bought a dremmel (my 3rd one..) and went back outside. Plugged it into a DC converter I have with me, and it just reached. Cut it off (mostly) and the belt is no longer scraping anything. Then I am happy.
Went back to the motel, did some facebook updating then passed out trying to play WoW. Woke to nightmares of medical professionals complaining about my poor dental and ear hygiene.
I have a decent morning and get ready to move on. The car keep sputtering out and dying wherever I go until I get on the highway so I decide to just drive and watch/listen to what is happening. The watchword up here for old carbureated cars is "vapor lock".. stories of symptoms of boiling gas in fuel lines, etc. I even go so far as to buy some silver heat reflecting tape and wrap ALL my fuel lines that are exposed with it so it looks all space age. Just temporary until I can get out of this elevation.
I found at times that taking the gas cap off has helped. Also has removing the air filter or loosening the air cleaner lid. When it dumps on me, the best move is to open the deck and air cleaner assembly for 10 min and then it always starts back up. If I can rest it in the shade, I do.
It got a bit worse today. I decided to start making for home... I wanted to go to Wyoming and maybe even Montana, but she's starting to turn into a basket case. Today I took 34 East through Akron and Yuma.. the scenery was breathtaking. I also died four times on the road.. each time after more tach jumping again. Even died once at full speed and this idiot pulls the key. Good thing the brakes work and nobody was around. Each time I made little adjustments removing air filter, opening gas cap, etc... and each time it started right back up. I am now in a motel in a little town called Wray. I just ate a bad gas station burrito, no good restaurants were open by the time I got into town. I passed the motel on accident, had to turn around and sputtered bad. I hacked and sputtered all the way into the motel checkin.. then it died. I got it to start again and got it over to my room.
So here I am, on my own "Zen and the art of Fiero Maintenance" with a vengeance. Man versus the machine the whole dang trip, really. I hope man wins. Tomorrow I walk over to the nearby NAPA and try a fuel filter, also gonna get a wix air filter.. I already threw that crappy FRAM one out. Hope the filter works.. it is unfortunate that almost all gasoline out here is Ethanol blend... the Special has never had corn before. I believe that is not helping matters, even if it was not completely causing it. I get better results when air is getting into the box... altitude is likely helping choke me out too. I am sitting at 4000 feet, and it was 5200 feet in Denver for a car that usually hangs out in the Miami Valley.
Only other things I can think of are unfortunately fuel pump which I have no ability to change on the road. I believe all my heat shielding is in place EXCEPT the little one that covers the trans mount.. I replaced with a dickman poly mount I bought second hand at a good price.. and couldn't get the shield back on.
A few questions.. would header wrap help on my manifold snake pipe and converter? Would it HURT?
I have two spare ICMs with me, but I will see how the fuel filter works first. Reporting from the road..
Tbone
------------------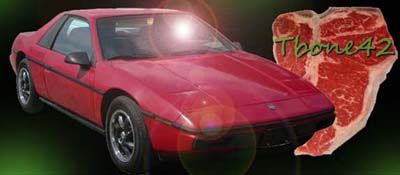 [This message has been edited by tbone42 (edited 06-25-2014).]