I've been meaning to post a write up on my 24 hours of LeMons Fiero project for quite some time now. As with most things, life in general, family and work get in the way and I just don't find the time. What spare time I did have I spent either working on this car or on my 1986 Fiero GT and just never got around to sitting behind the computer and doing it. Now that my first race is over I guess that it is as good a time as any.
For those unfamiliar with the 24 hours of LeMons, it is an endurance racing series for $500 dollar cars. It is a play on words for the 24 Hours of Le Mans race in France. The cars on the track aren't highly engineered factory prototypes or production cars, but neglected and discarded junkers with a preferably shady history of reliability. Also, $500 dollar figure is misleading. While it based off the actual chassis, suspension and engine there are a large number of other high dollar 'cost exempt' upgrades you need to put into the car in order to make it safe for hard wheel to wheel road racing. A recent article in one car magazine stated that the average team spends about $8000 dollars getting their car to the track for their first race. Having done this, I would have to say that is a fairly accurate number.
I first heard about this series in the fall of 2011. Having been a long time fan of what was then the ALMS and Grand Am series (Now merged together by NASCAR into the United Sports Car Championship) my wife thought I should give it a try. It looked like a lot of fun and even with the price tag, something I could afford. In the spring I got together with a couple of good friends and they thought it sounded like a great idea. It was soon after that I learned first hand the biggest hurdle of making it to a LeMons race; finding committed teammates.
In my situation my teammates talked big and had checkered flags in their eyes. They spoke of small block V8 Mustangs and tuning them up to dominate. Unfortunately that doesn't work. The organizers have seen it all and if they see you've sunk 5 grand into the motor, you're going to get penalty laps until you die. I settled on a car that I could legitimately obtain for $500 dollars and truly did have a shady history of reliability. It was a 1985 Pontiac Fiero Sport with a 2.5 liter Tech IV engine. It was a real hooptie but unlike most LeMons cars, it ran and passed safety and emissions the first time around. My two friends suddenly became disinterested and when asked to contribute, they promptly began ignoring my calls. I would be on my own for most of this journey.
I introduce to you the 'Yack.
To be accurate, the total build time of this car was exactly 22 months. I purchased the car at 7:30pm on July 30th, 2012. This photo was taken the next day. I was going over the final tech sheet items and signed the sheet at 1:30am on May 30th, 2014 and brought the car to the track at 7:30am that same morning. I was cutting it close.
It shouldn't take a team 22 months to get into a race, but again I was on my own. My job sends me out of town frequently for a week at a time and having a family with kids really cuts into the shop time. In addition to that, race prepping any car is really expensive and I ate the entire budget in its entirety. With all the other obligations in life, my time was somewhat limited and at times getting this car to the track was extremely frustrating. My initial goal was to make a race in 2013. Well that became pretty unrealistic almost immediately so I backed off and made it my goal to have the car ready in 2014. In the fall of 2013 the next year's schedule was released and it showed Miller Motorsports Park as one of the venues. This is my home track and 25 minutes from my home. The ticking clock was set.
My wife and 8 year old son were the biggest help through the whole build. They helped me many times when I rebuilt the suspension, and rebuilt the motor. They helped pull it and they helped install it. My wife turned the key after the install and we all got to hear it rumble back to life again. They WERE my team. If it wasn't for them and their support I would have thrown in the towel.
I will only focus on the highlights of what I did to build the car up. I don't want to get into detail of every little thing I did and how I did it. There are plenty of build threads for that. But if you are interested in doing this to any car, this should give you an idea of the work you'll need to have done. Keep in mind there was a lot of trial and error and testing involved with each of these steps. Every build is different and this by no means should be the blueprint for anybodies car, but something to reference.
The first thing that I tore apart was the suspension and brakes. The car I purchased tended to wobble and rattle uncontrollably above 70mph. I decided to go and replace all the budget exempt items and make this car safe. These items included balljoints, and tierod ends. While I was in there I snuck in some Eibach Springs The springs are not budget exempt, but I was told that if I was running an Iron Duke Fiero, I could put a complete racing suspension in there and they wouldn't bat an eyelash. I didn't want to press my luck so I just did the springs. The shocks looked iffy so I replaced them all with OEM Monroe shocks and painted them accordingly with a graphic that read "BULLSTEIN".
While I was in there did the Grand Am brake upgrade on the front end and replaced both front and rear rotors with new slotted ones.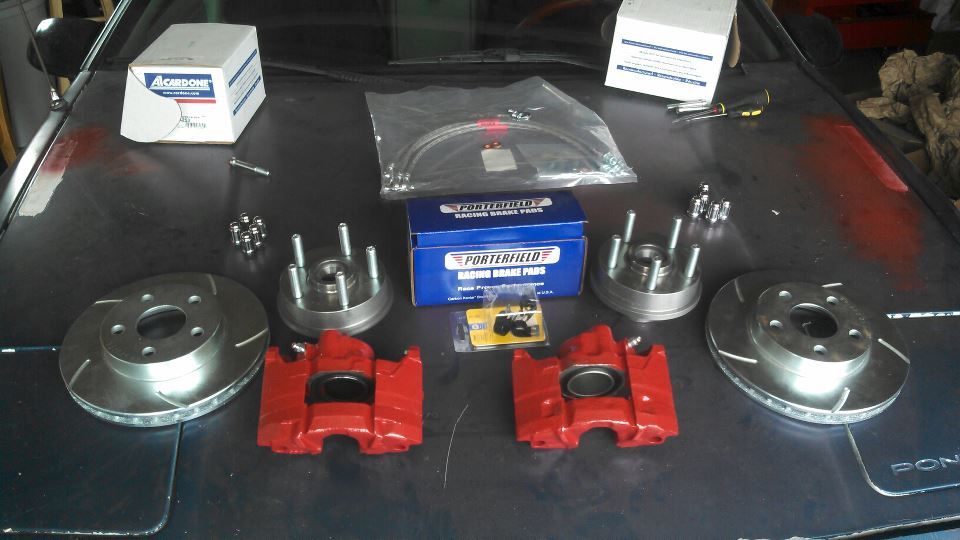 Brakes are budget exempt so I went all out with new calipers, stainless steel brake hoses and Porterfield R4-S street/racing brake pads. The fluid was replaced with good DOT 4 with a dry boiling point of 520 degrees. I had boiled brake fluid before and I didn't want to experience this again.
The next thing I went over was the engine. I had shot valve seals and was all around a crappy motor.
You're pretty much screwed if you go strictly by the budget. I'll admit, I used cheaty parts. You're allowed to contribute any of your own labor budget free to the car but if you pay anyone to build you an engine you're breaking the rules. But I was going to rebuild an iron duke so I figured a better cam, performance valvesprings and new rings and bearings wouldn't hurt. In all honesty I didn't spend all that much on the motor rebuild, and it was an iron duke.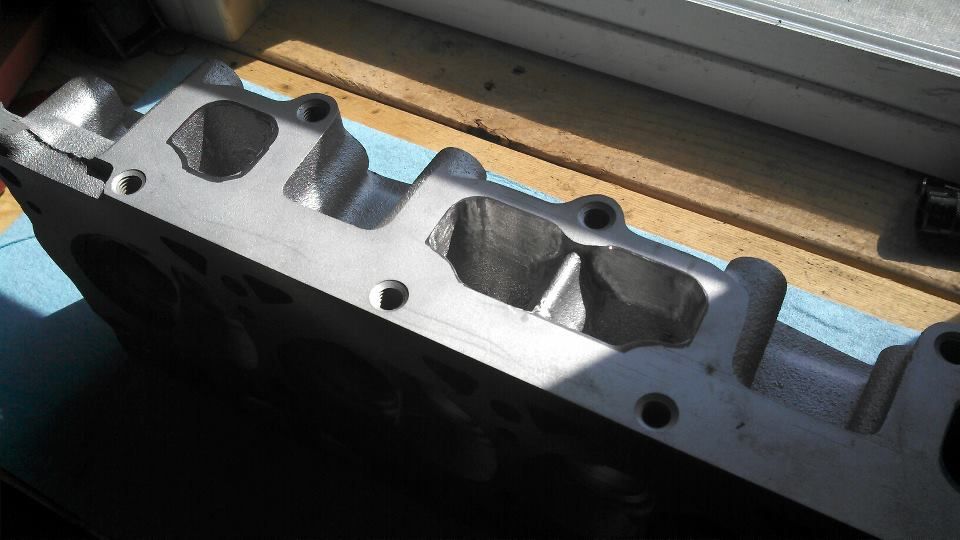 While I was in there I decided to gasket match and port the head. It turned out nicely and would give the cam a little more air to work with. I also added an MSD coil. This was not budget exempt but again, it was an Iron Duke engine. I wasn't going to win anything but I'd at least give this car a fighting chance.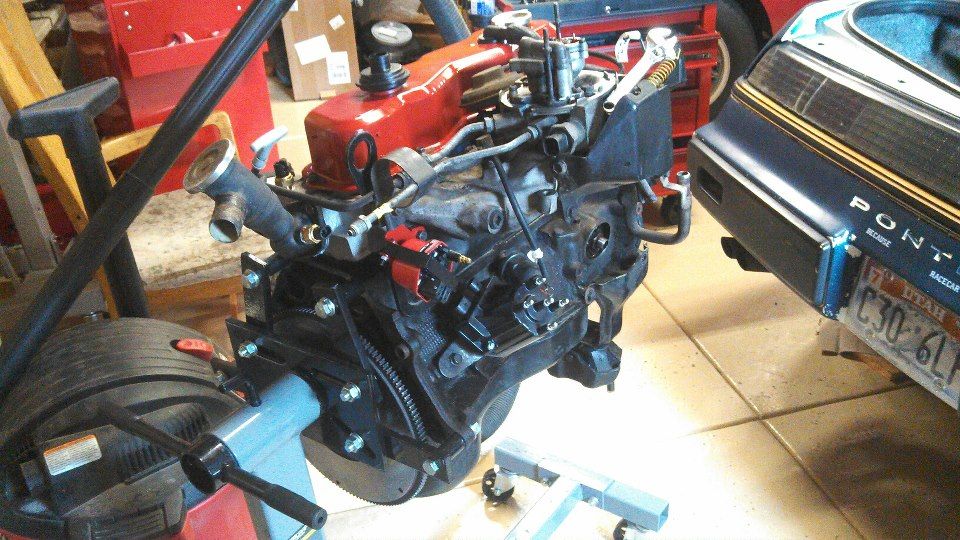 The motor after reassembly was at least nicer to look at and it fired right up.
To help airflow through the radiator and just to make the car look more race-car-ish, I decided to cut some hood vents. It took a while to decide how to do it but I found the side hood louvers from an 87 Trans Am worked perfectly.
They fit very nicely and looked OEM.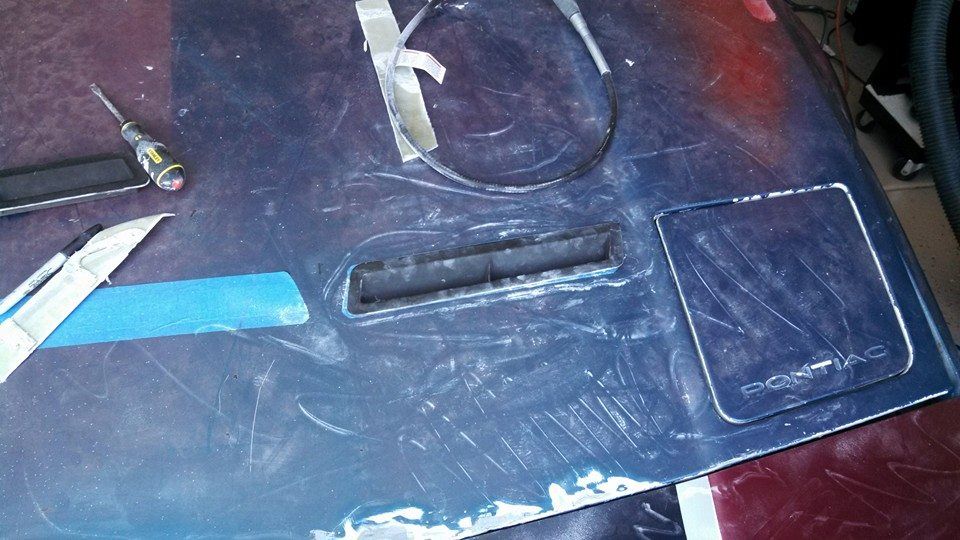 I also removed all the AC components. All in all, cooling issues were a thing of the past. This motor would run nicely with a water temperature of about 200 degrees, rarely climbing above it.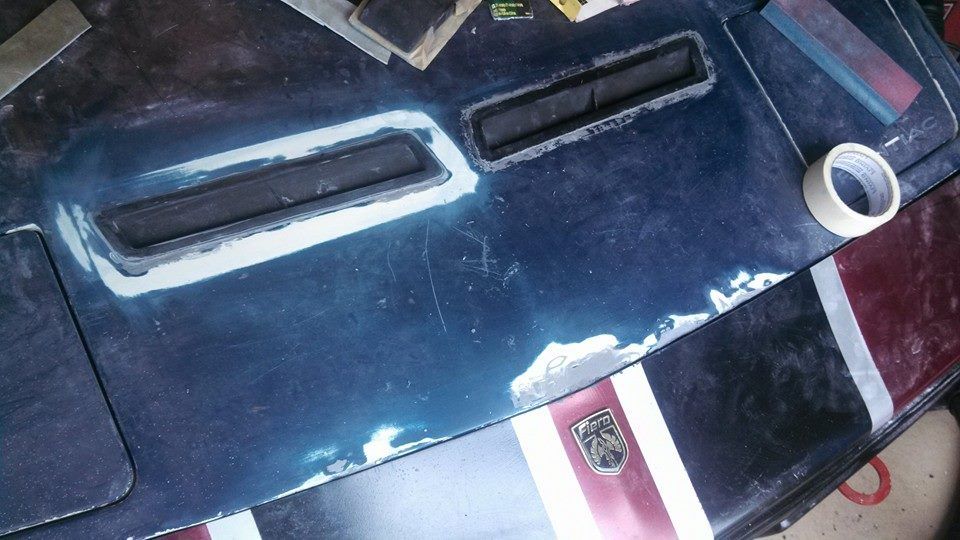 Driving the car normally, with lowered springs, I had no problems with the car hitting the bumpstops. But driving on a track is far from normal and with the understeer as bad as it was, hitting the bumpstops on a hard corner just exacerbated the problem. It was time for more suspension work.
First of all was dremeling the ball joint slots to allow for more upper balljoint travel and second of all was cutting back the bumpstops. Most people say 3/4 of an inch is safe enough, but I was a rebel and went 7/8's of a inch back.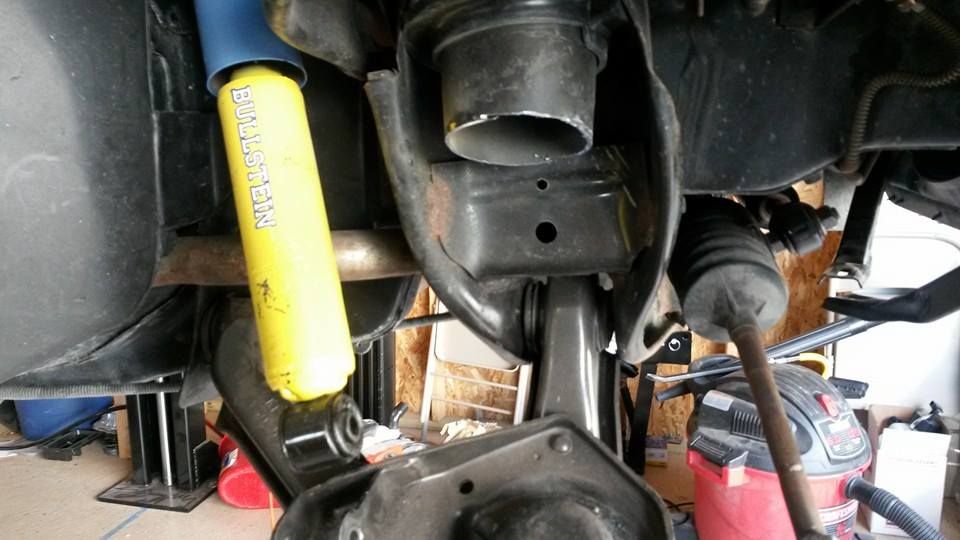 In the end I was able to get the front end to a -1.5 degree negative camber, the rear to a -1 degree camber and the bumpstop problem was history...
So now it was time for the safety stuff.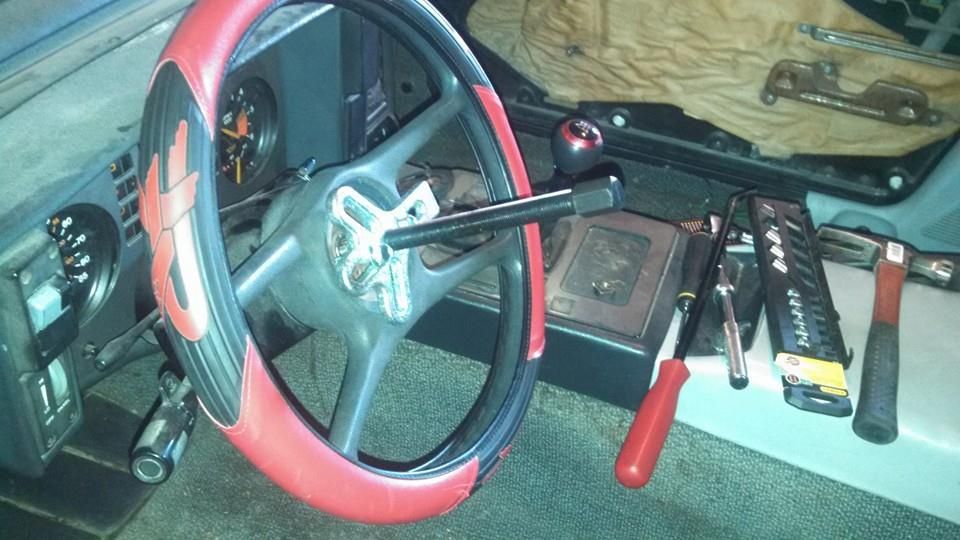 I pulled the steering wheel and replaced it with a Grant quick release type. It wasn't too difficult to do and thinking at the time I'd keep the car street legal, I relocated the horn to a rocker switch on the instrument bezel.
The new quick release hub was great and gave me a more comfortable steering wheel...
The new Grant Wheel installed...
[IMG]http://i603.photobucket.com/albums/tt114/fractionalflyer/The%20making%20of%20the%20Ponti-Yack/SteeringWheelreplacement.j pg[/IMG]
I was beginning to see the race car emerge.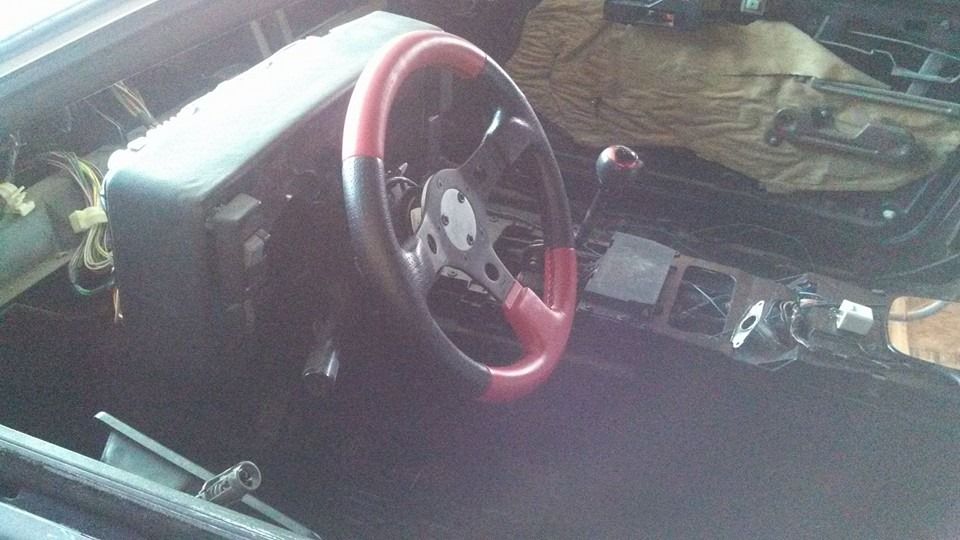 [/UR L]

Next was gutting the car completely for the roll cage.
[URL=http://s603.photobucket.com/user/fractionalflyer/media/The%20making%20of%20the%20Ponti-Yack/GuttingYack.jpg.html]
It's amazing what you find under the carpet of a 28 year old vehicle when everything is removed...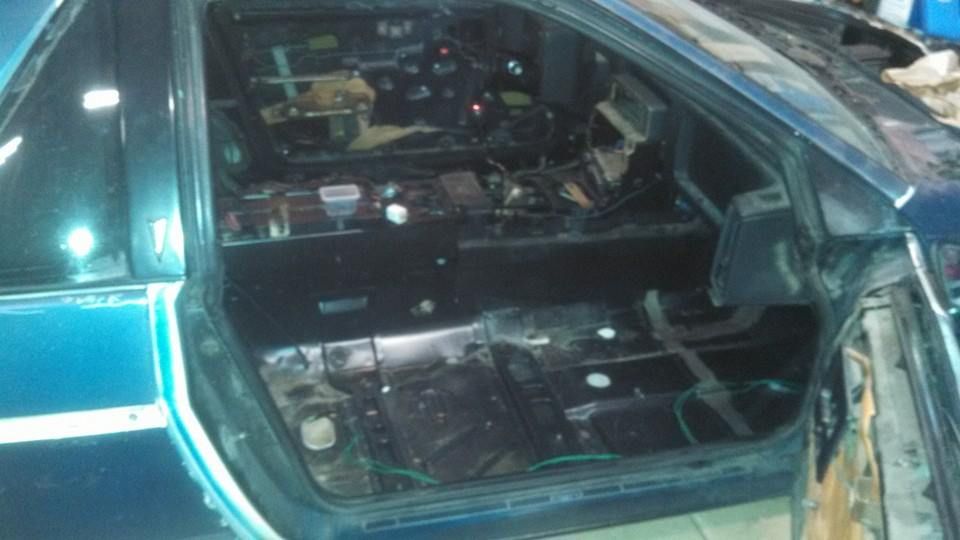 I found $1.08 in change and about a packs worth of cigarette butts...
This was an ideal time to weld in the front tow attachment bracket and paint it...
As for the cage... I attempted to do it myself with a kit. I DON'T recommend this. I wasted about a month trying to fit this poorly fitted pile of junk into the car and finally swallowed my pride and paid $3500 for a professional install. The good news was I recruited an excellent teammate (the cage builder) in the process and finally had a build partner for the remaining build. We were now just over a month to the green flag and there was still a LOT to do.
He owned a Dyno at his shop and insisted we dyno the car. I couldn't help but laugh...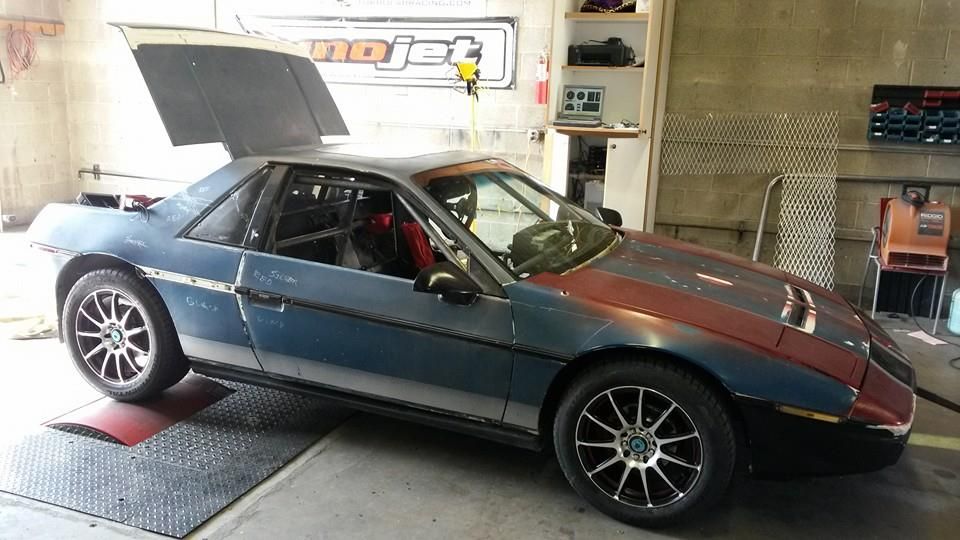 We were able to achieve 85 RWHP and 120 foot pounds of torque. This may sound paltry but remember that we're located at 4500 feet above sea level and this is at the rear wheels. Doing the math in my head, this car should have been producing far less than this had it been stock. Still, it's an Iron Duke Fiero.
The stock Fiero intake for the does not allow for much airflow. In order to achieve that 85 RWHP I needed to modify the intake to get more power. The most we got with the stock intake was 77 RWHP. I took a hole saw to it and my welder with a pair of exhaust pipe ends. So the Duke Performance Intake was born.
With just 2 weeks until green flag I needed to get a roll on it. We got the car back to my house and my family and I set to painting it.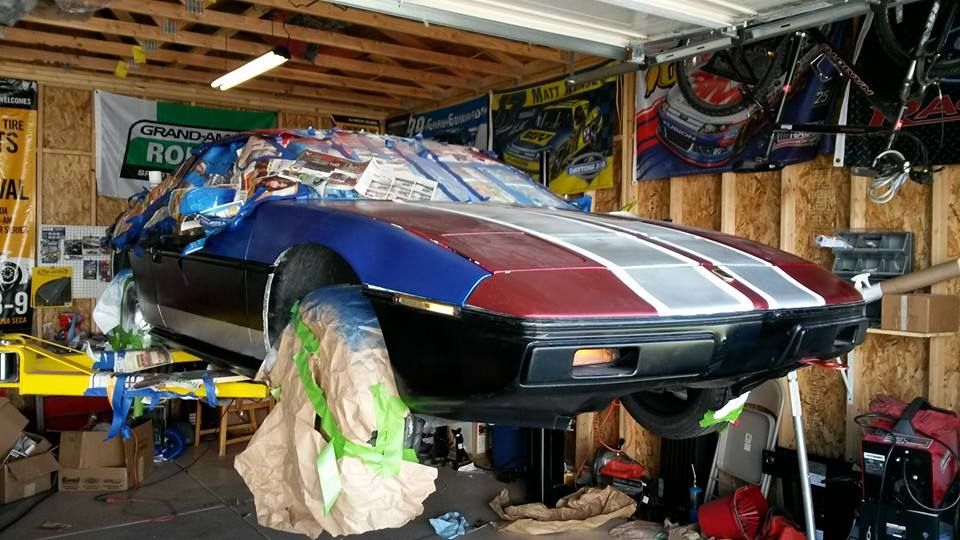 While I had it on the lift, I welded the rear tow attachment bracket...
I welded rear stabilizer bar mounts onto the cradle...
[IMG]http://i603.photobucket.com/albums/tt114/fractionalflyer/The%20making%20of%20the%20Ponti-Yack/WeldedRearStabBarmount.jpg[/ IMG]
And then added a rear stabilizer bar (moved the front to the rear) and installed a 25mm bar on the front end...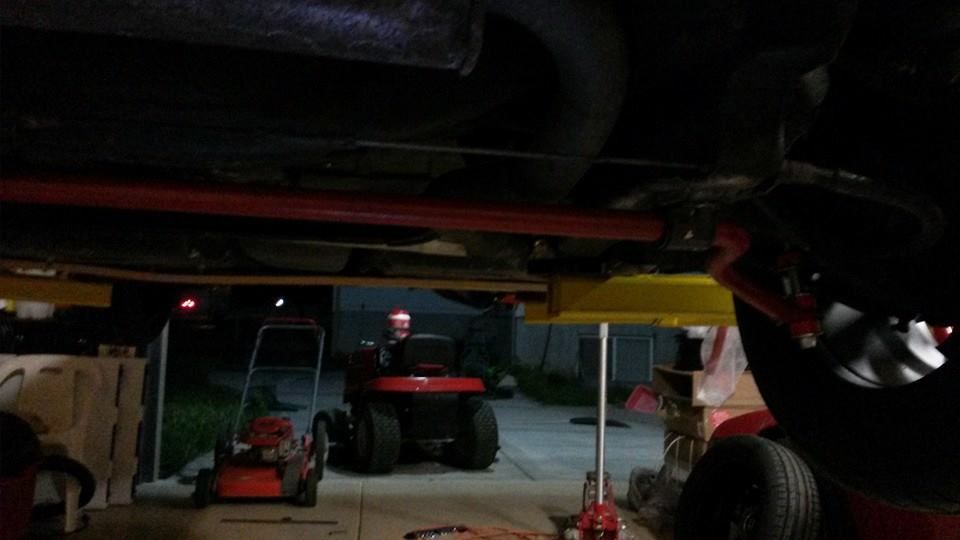 [/ URL]
After it was all was said and done, this is what we had. The car had changed a lot in 22 months...
[URL=http://s603.photobucket.com/user/fractionalflyer/media/The%20making%20of%20the%20Ponti-Yack/YackDayofandNow.jpg.html]

TEST DAY: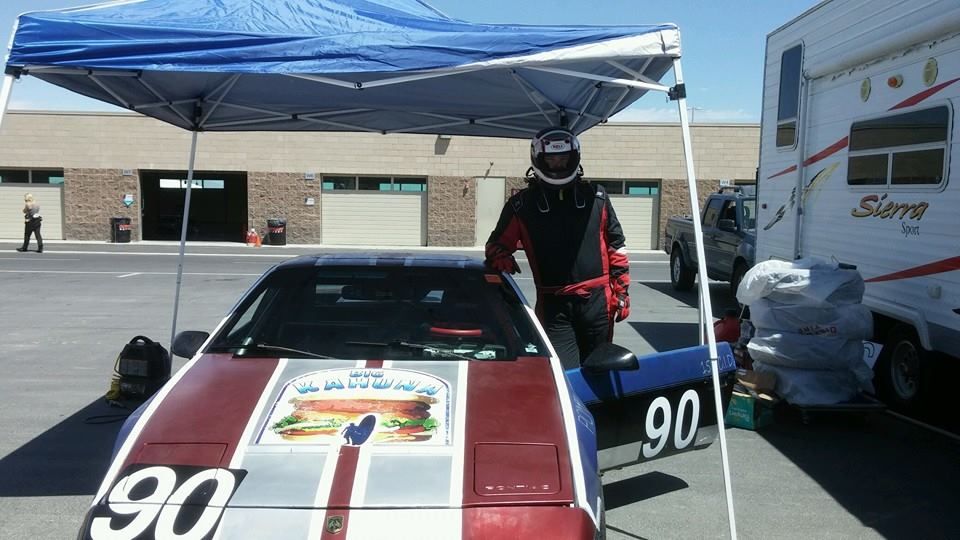 The car breezed through tech and even with me fudging the budget, they gave us Class C (slowest most desirable class) and zero penalty laps. We managed to turn some okay laps on Miller's east course and started the race with relatively few issues. We lost an alternator bolt in testing so we had to fix that and other than a slight valvetrain tick at idle, the car ran well.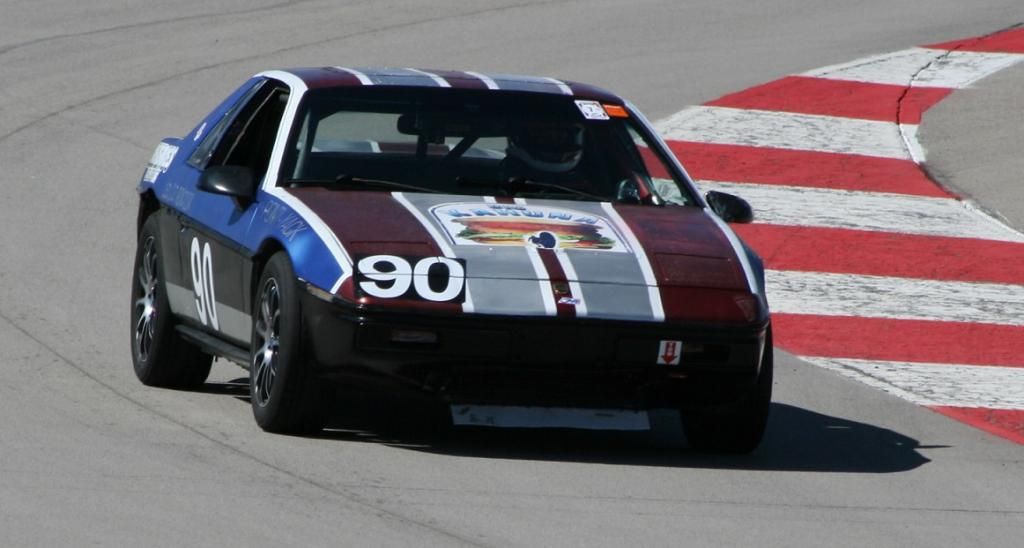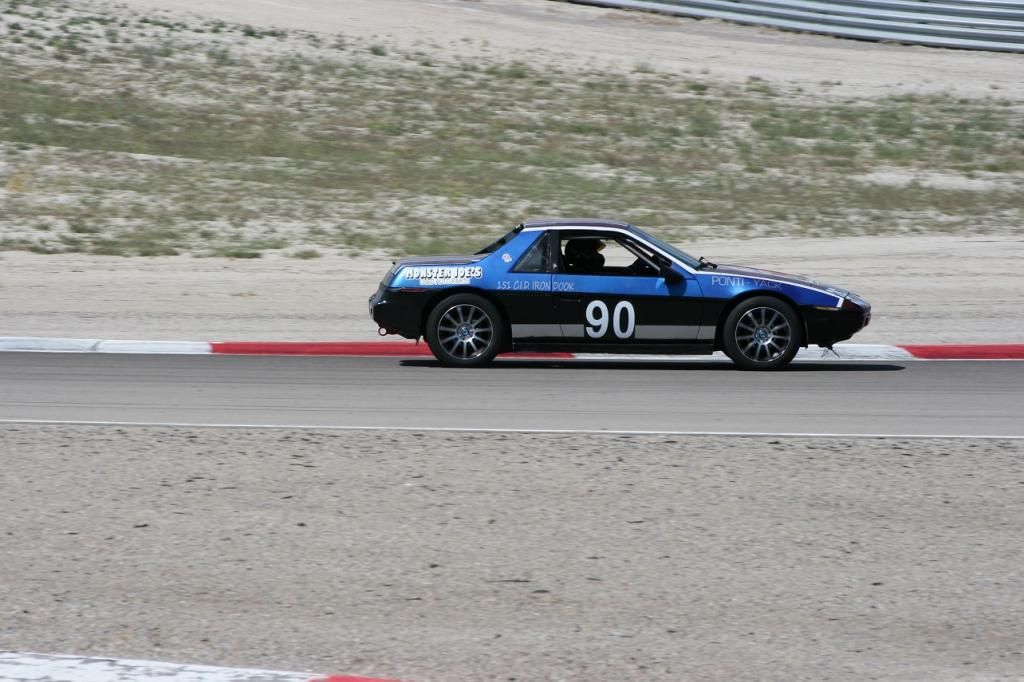 We even finished race day 1 running 2nd in class and 34th overall. That's exactly right smack dab in the middle of a 68 car field. Yes.. My team is called Salty Thunder.
But... on day two we had issues. The valvetrain tick got worse and we lost a distributor rotor which took us an hour to get the car back on track. We ran another hour and the car died. Motor seized.
The truth is this engine is fragile. Even though I briefed the drivers to keep the RPMs below 4500 and shift to fourth on the straights, I found that a couple of them didn't listen (one really didn't listen to anything). I reviewed the footage from the GoPro camera and saw constant over revs of the motor on one particular drivers stints and occasional over revs on another's. I can't really fault them too much for this, but in the end I think this destroyed our motor. Lesson learned.
Was it all worth it? I say most definitely. In spite of all the frustration and roadblocks I've found myself thinking about doing it again constantly. I had dreams about racing my car for days after the event. It was an epic experience and I'll most definitely be doing it again. I've already begun to gather the parts for a 2.8 V6 swap. Next time around I want to run a more forgiving motor and still stay relatively close to budget.
It is said that nobody has ever spoken the words "I enjoy driving my slow car". Well, maybe so, but here is me enjoying the hell out of driving mine.
https://www.youtube.com/watch?v=IHl6dGexXT8
[This message has been edited by Canyonflyer (edited 06-11-2014).]