The 05/06 years are Gen 3 (24x) and the 07+ years are Gen 4 (58x). All are DBW with DoD/AFM. Mechanically, they are the exact same (MAP sensor location did change positions), but the Gen 4 ECMs will require the BCM to be installed to retain the electronic cruise and have the A/C request signal go to the ECM (you can still run A/C with a Gen 4). The Gen 3 ECM still have a VE table, so it is much easier and more precise to tune VE. The Gen 4 ECM does not have a VE table and instead uses coefficient equations and requires the use of conversion software to generate a virtual VE table and some accuracy is lost in the conversion to and from the Virtual VE table (1-4%).
Your challenge with the wanting to keep the stock manual transmission is going to be the starter. The LS4 does not have a starter mount on the engine, and doesn't have room for one without major work to the oil pan to fit one under there. If you try to keep the starter in the stock LS4 location on the transmission side, it will interfere with the clutch release lever on the 4 speed, Getrag 5 speed, and Isuzu. The HTOB transmissions (92-94 HTOB Getrag, F23, F40) are better suited for a bolt on starter mount.
Here is a bolt on starter mount for the F40. This places the starter in the stock LS4 position.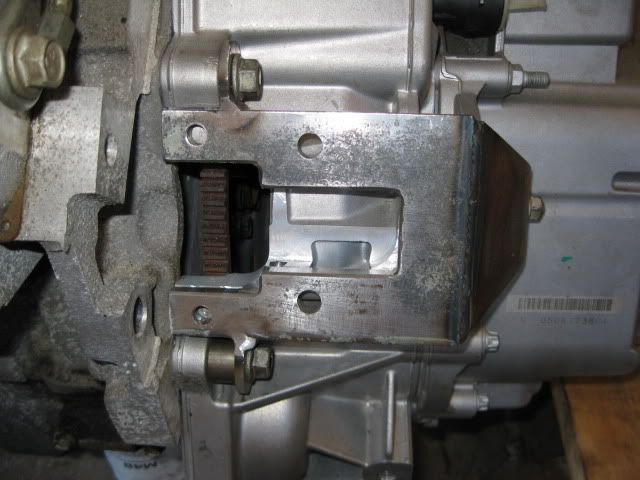 I made a fixture of the stock LS4 starter mount off the 4T65e-hd and then used it to make that mount. The mount pad is 3/8" thick and rests under this fixture. In the following pictures I slide the fixture onto an Isuzu case and you can see the cross shaft is right where the starter needs to be: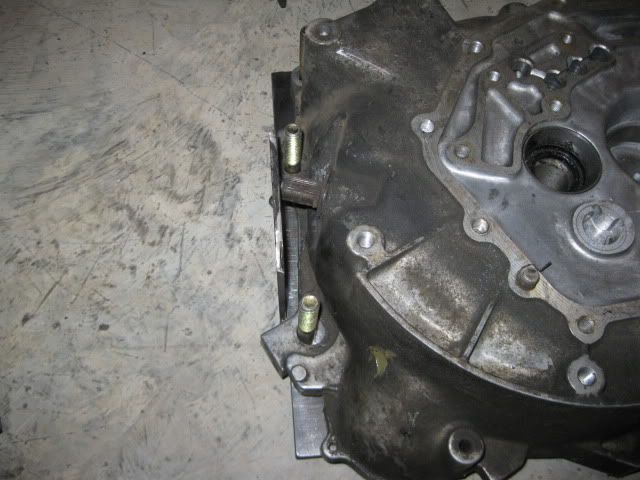 Here I slid it in place on a 92-94 HTOB getrag - plenty of room for the starter mount plate: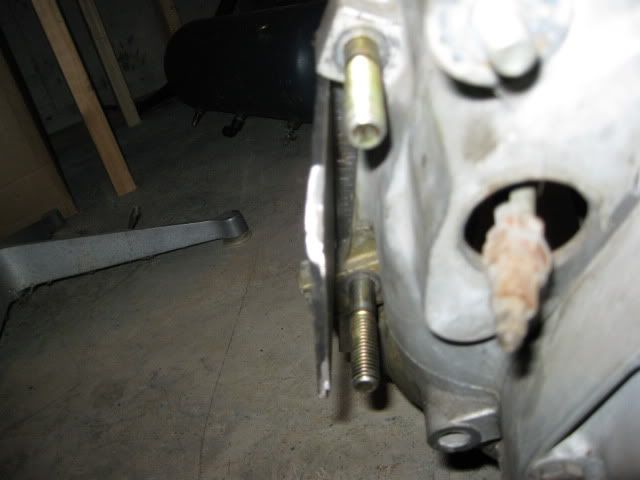 Every transmission will have to be clearanced to slide the starter plate into place, and the amount depends on the transmission used (the F40 has 2 large transmission mount bolt bosses that must be removed) and all will have to have this pocket cut out as well: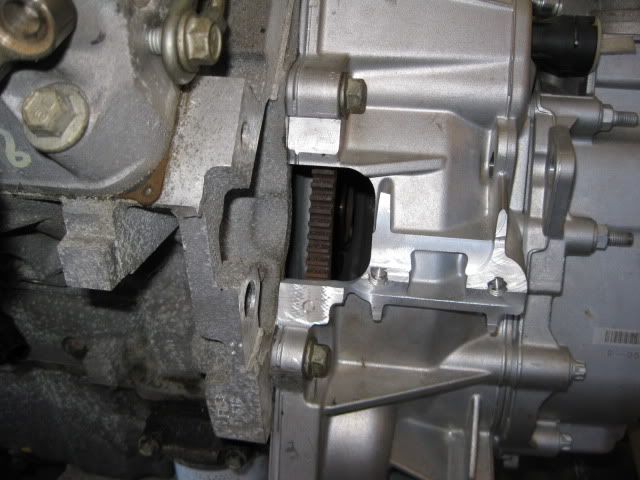 You can also mount the starter down low in the stock fiero position (but on the transmission), but then the starter starts to interfere with the transmission mount.
------------------
fieroguruperformance.com
[This message has been edited by fieroguru (edited 04-05-2014).]