Sorry this is going to be long...
HISTORY:
I'm a fairly new Fiero owner, but not really new to fieros. I got my first taste when I was 18 and I found a nice GT on craigslist for a very low price (a couple hundred dollars IIRC). I did some research and I fell in love with the Fiero! I went to look at this car and it wasn't what I was expecting. It was in a very sad state of disrepair and the guy didn't have a title for it. Sadly I had to pass it up. I always still wanted one and finally, 4 years later, I got my first one. It's a low-option 88 with a duke and a auto. It had 95k miles when I got it making it the lowest mileage vehicle I've ever owned. When I got it, it was needing some work. The PO said that the "carburetor probably needs cleaning" lol and "sometimes it won't start for days". When i checked it out, it was running, but very poorly. I got it home and changed oil and plugged back in the MAP sensor and it started running much better. I replaced the two worst dry rotted tires that the PO said were in "great shape with plenty of tread" with the OEM 195/70r14 instead of the low profile 60 series that was on the car (more on that later), and I drove the car to work. It ran great to work, but when i got in it and tried to leave it wouldn't crank. It turns out that the PO had just replaced the battery, and he broke the battery hold down clamp, but just left it sitting there. The battery managed to wiggle it's way into the engine pulley, and that's what wasn't a bad idler pulley i thought i heard on the way to work. A new battery later and the car worked pretty good for another two weeks. Then on one of the few really cold days in South Texas it decided to not start. I had no spark on any of the plugs. After much reading and looking I was pretty sure it was either the ECM, ICM or the CPS. I started with the cheapest part and it worked! The car ran better than ever. Somewhere in this time I rebuilt one of the headlight motors that had stopped working and replaced the 3rd brake light that had fallen off. Then one day I pulled into my driveway and it stalled and just wouldn't start. This time I had spark, but no fuel. After much checking I figured out that I wasn't getting an injector ground pulse. I replaced the ECM with the used one I had ordered off of ebay when I had the spark problem, and it worked! So far no more starting problems.
The fiero is my fun daily driver and future project. Right now my project is a 69 K20 pickup that I have had since I was 15. It started out as a stock 1970 C10. that I put 3 engines and countless transmissions in. It ended up having a nice 11:1 compression 383 and a 700r4 (that never lasted). It would run about a 14.0 in the quarter mile. Not bad for a 4500lb truck. Two years ago I purchased a 69 K20 frame with a C30 cab on it, and sometime later I purchased a 84 K10 for more parts. So now my hodgepodge of parts is a detuned 383, SM465, NP208, K20 frame, 84 K10 springs with 5" lift, and K10 axles.
Back to the fiero.. Once the 4x4 is done this one will be getting an engine swap of some sort. I really want a manual. Since the days of my 700r4 lessons, I vowed to never buy another automatic, but I really dont' see how there is room in the tiny fiero pedal box for 3 pedals. I also want to keep the engine swap with no more than about 200hp to start out with. Back when I was young and dumb I did some street racing. I have vowed to never go back to that. My ideas for engines right now range from a NA 3.8/auto to a 4.3v6/5spd to a 3.1/4t60e that I can get for free out of a 97 lumina. It will be a while before the 4x4 is done, and right now I'll be working on fixing all the little problems with the fiero. the door panel hangs up when I open the drivers side door, the front right caliper is making a noise. It needs at least one front ball joint, the drivers side door lock is messed up.... etc.
My friend just got a 2009 Pontiac Solstice (2.4/5spd) and last sunday we went for test drive. We tried out each others cars. While we agreed that the solstice was a much better head turner and chick getter, we both agreed that the fiero was much more fun to drive and more responsive. We also talked about trying some autocross events just for fun. They hold weekend events in Corpus Christi and we are going to go one weekend and watch. If that all goes good we may enter our cars just to see how they do against each other.
Now if you aren't tired of reading.. A couple of questions:
The fiero runs rough anytime it is started for a few minutes. I have replaced plugs, wires, CPS, ECM, MAP sensor and MAT sensor. still the problem persists. It goes away completely after a few minutes or at full throttle. only on part throttle when the engine is first started. Is this normal? Anything I'm missing?
The engine uses/leaks oil. a couple of quarts per oil change. are there any common leaky areas on the duke that are easy to fix? around the valve cover seems a little moist, but not that bad.
Aside from making sure the suspension is in good shape with good parts and aligned properly, What is the best bang for my buck on the handling/grip department? I've already replaced two of the tires with the factory 195/70r14 size. wider and lower profile tires are almost impossible to find for the 14" rims, but I found some 16x6 grand AM wheels on ebay for $225 shipped. they should be able to fit a wider, lower sidewall tire. Or am I better off replacing the shocks/struts (they look like newish parts store cheapies) or rubbber bushings with poly??
PICTURES:
the fiero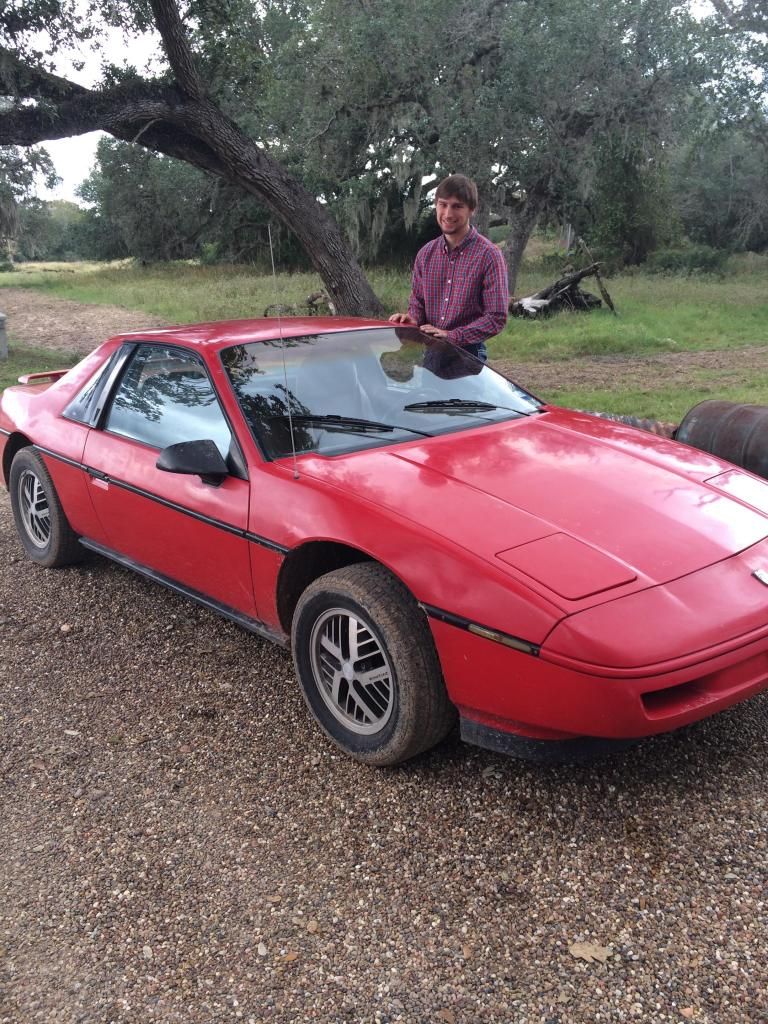 the 4x4 project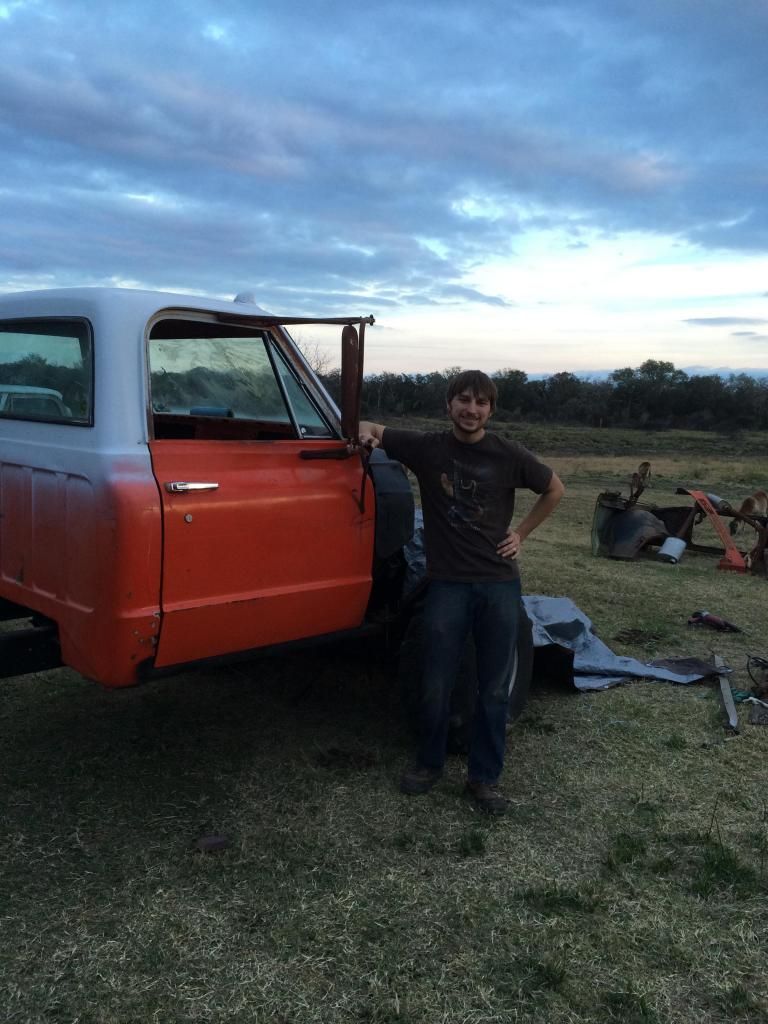 the fiero and the solstice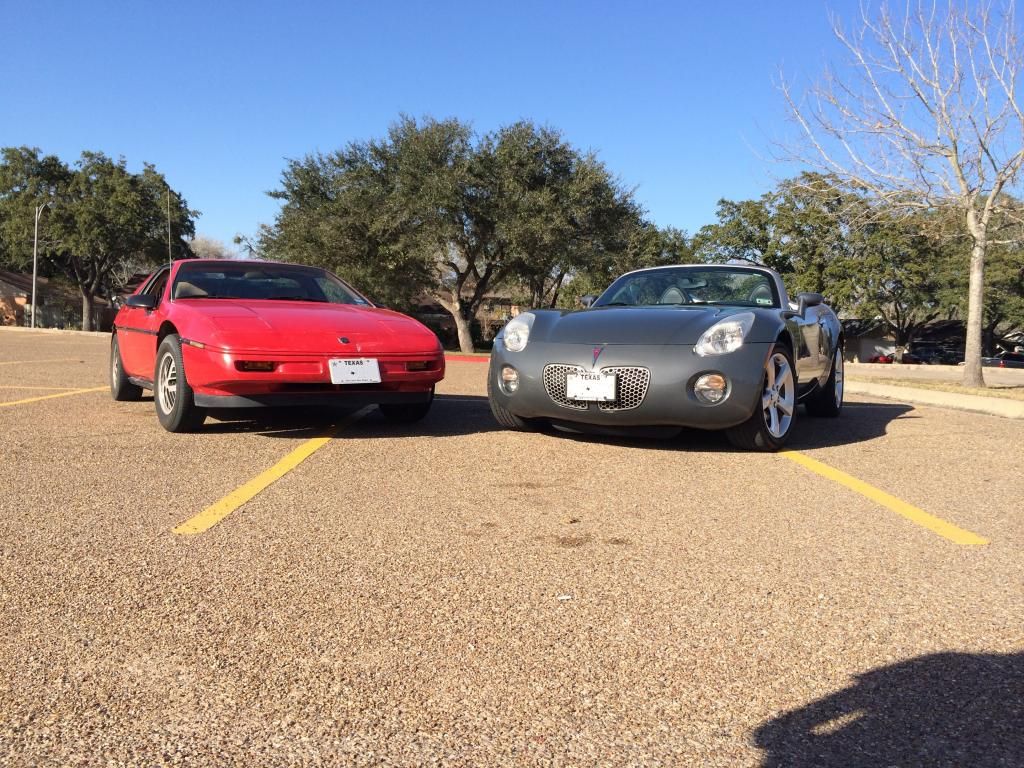 the 1970 C10 back when it was stock and freshly painted