Hey everyone, I just wanted to re-introduce myself into the Fiero world after a 20 year hiatus from the cars. An '85 2M4 was my first car when I was 16, which we bought for $800. Keep in mind, I didn't know how to work on cars whatsoever, but I had a heavy passion for them. It turns out that that particular Fiero taught me about everything I ever needed to know in regards to auto repair. It broke down all the time and it was a constant trial by fire for me in the garage. I am not kidding you, but the tow company that we frequently used gave us a free tow one time, for being such "great customers". It was a pain back then...and I loved every frustrating minute of it.
The car was the base 2M4, complete with the 13" wheels that had the chrome rings around the perimeter. Every interior piece was in awful shape, the paint was wretched, etc... Before the internet was big, I spent my days traveling and searching through parts yards, slowly restoring the thing. I remember the Pontiac symbols on the sail panels were the most difficult things to get, and I had to find them twice, since someone stole the ones I finally found. I repainted it with a $400 Maaco paint job (hey, I was making $100 every two weeks at my job, at $4.25 an hour. I couldn't afford much!). Anyhow, here is a pic I dug up. It is laughable, as I thought those wheels were so great back then (I loved the '93 Dodge Viper wheels, so they were my inspiration). A close eye will note the V6 dual exhaust I put on the 2M4: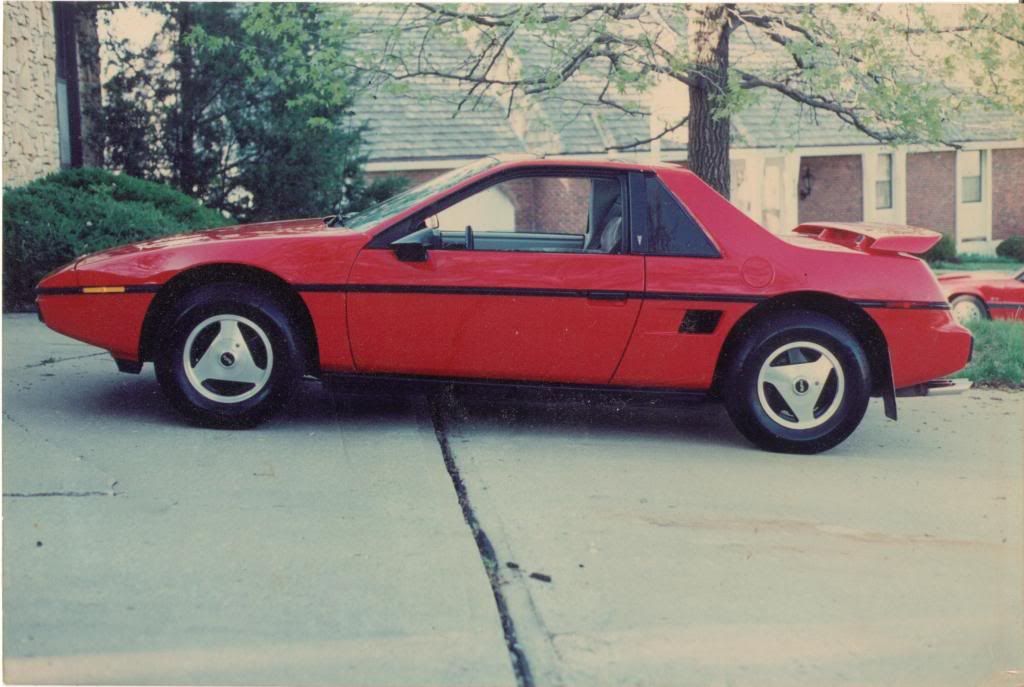 (some older members in Kansas City may remember this car. I did win a 1st place trophy for it at a St. Louis meet for "custom 4 cylinder class"...but I was the only one in that class at the time

)
The 5-speed transmission finally went out and my dad had enough of the car. We replaced it with a parts yard tranny and sold it for $3,500 to a gentleman in his 80's. I will never forget...he said he always wanted one and came with money out of his freezer. I had blue neon lights under at the time (oh, the shame!) and he just loved those as much as the car. It was the greatest moment seeing him with so much joy in buying it. I would like to think it ended up in a good place after all these years, but probably not.
So, fast forward 20 years. Since my dad wouldn't let me have the GT model back then, I always wanted to pick one up. I have been waiting for a red 5-speed '88 t-top with very low miles, but I can't quite pull the trigger for the amount of money some people are asking for them. So, I found an '86 GT auto with 70,000 miles here in Kansas City. The seller was asking $4,200 for it a few months ago, but couldn't unload it. I ended up getting it for $2,000.
I fixed some very easy engine problems that were keeping him from selling it (vac lines, one wire was melted) and it runs like a top. I also re-installed the temp gauge needle and did the wire swap for the bulb test, also assuring the needle never falls off again. Also, got rid of the minor oxidation on the spoiler and trunk lid. Here are some pics. Keep in mind, I can't stand the 14" wheels and the very unsafe Coker Classic 195/70 series tires: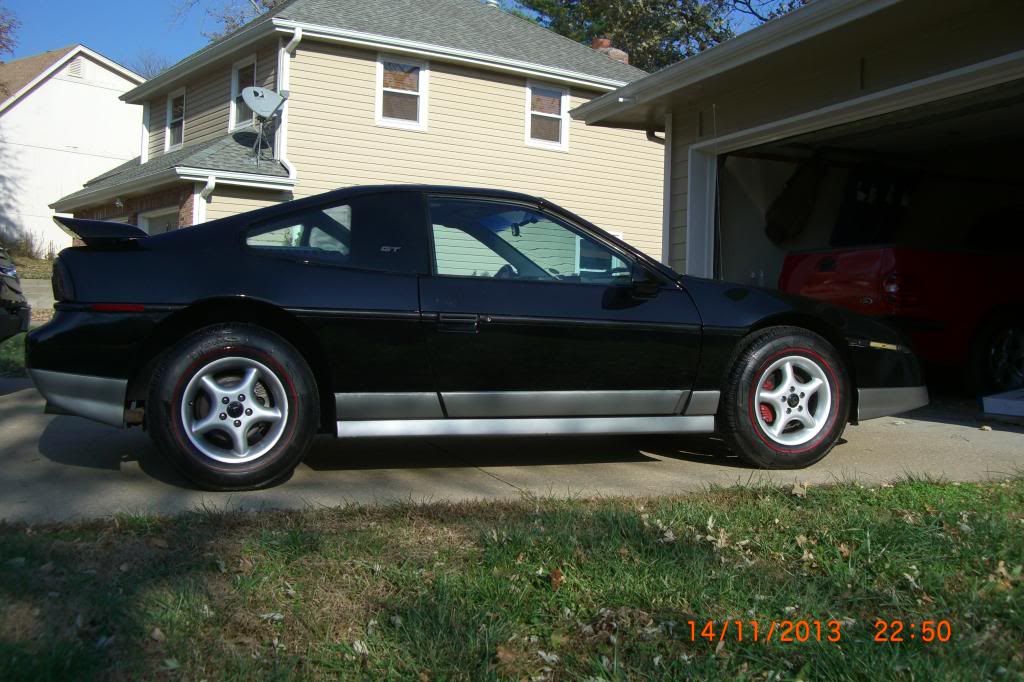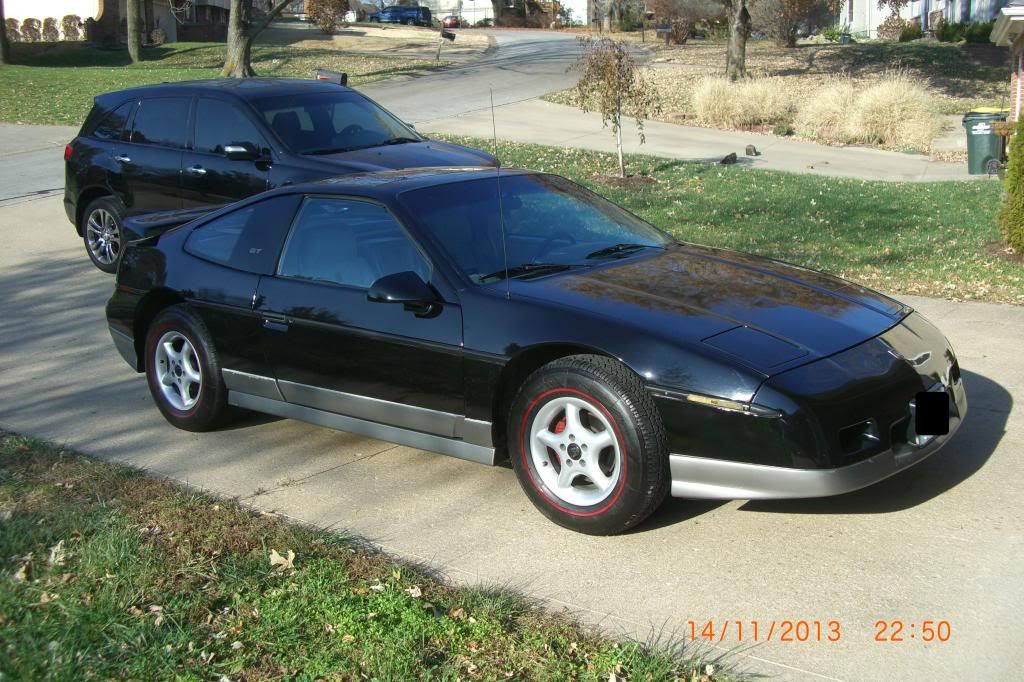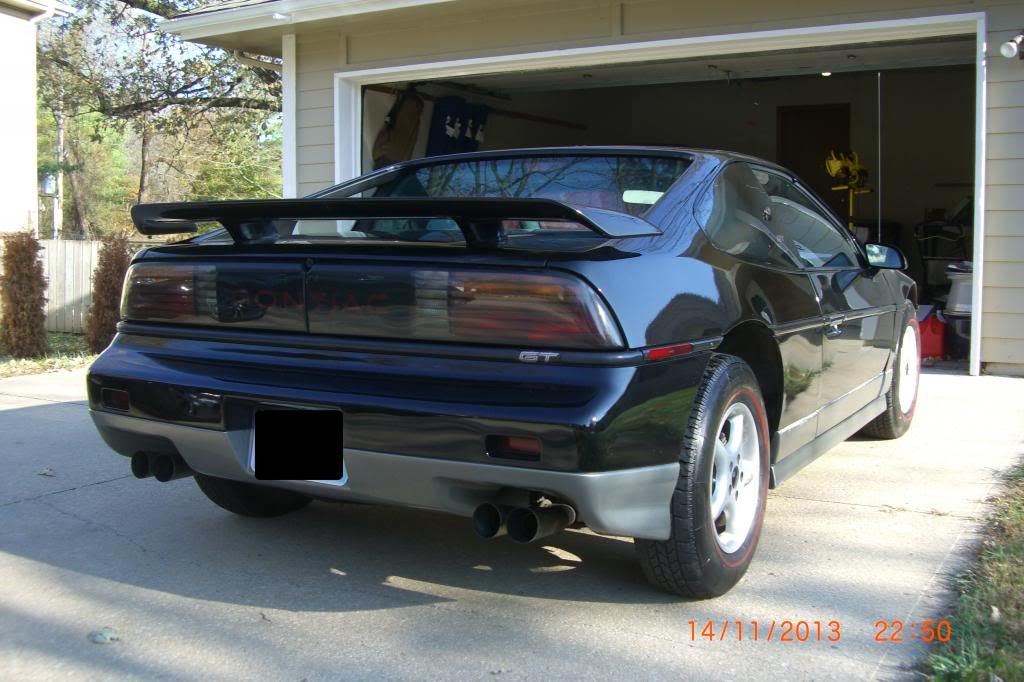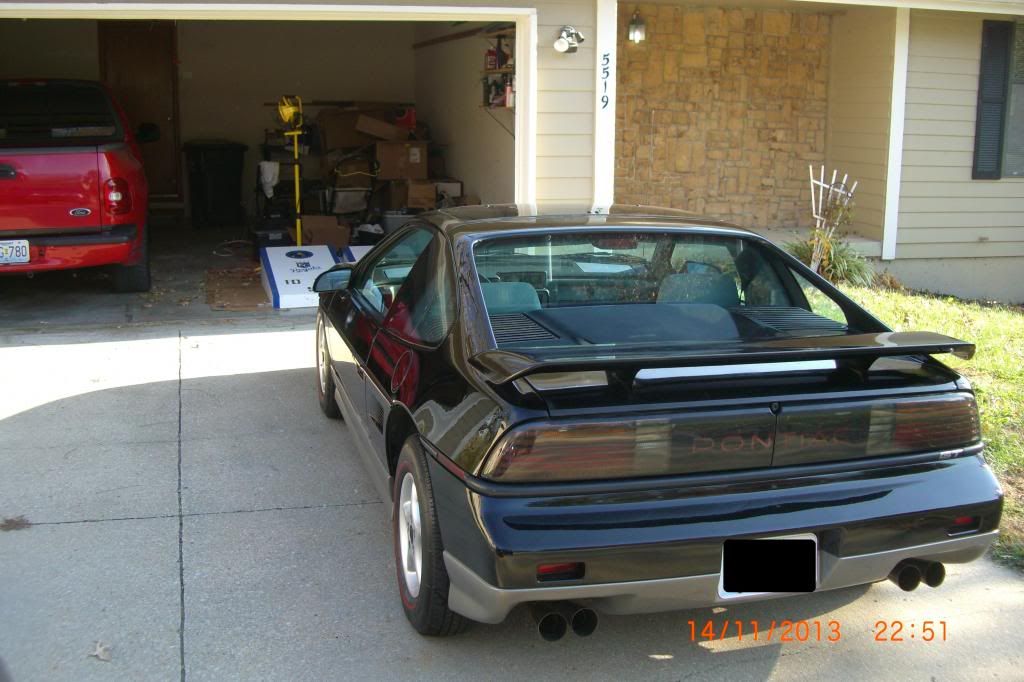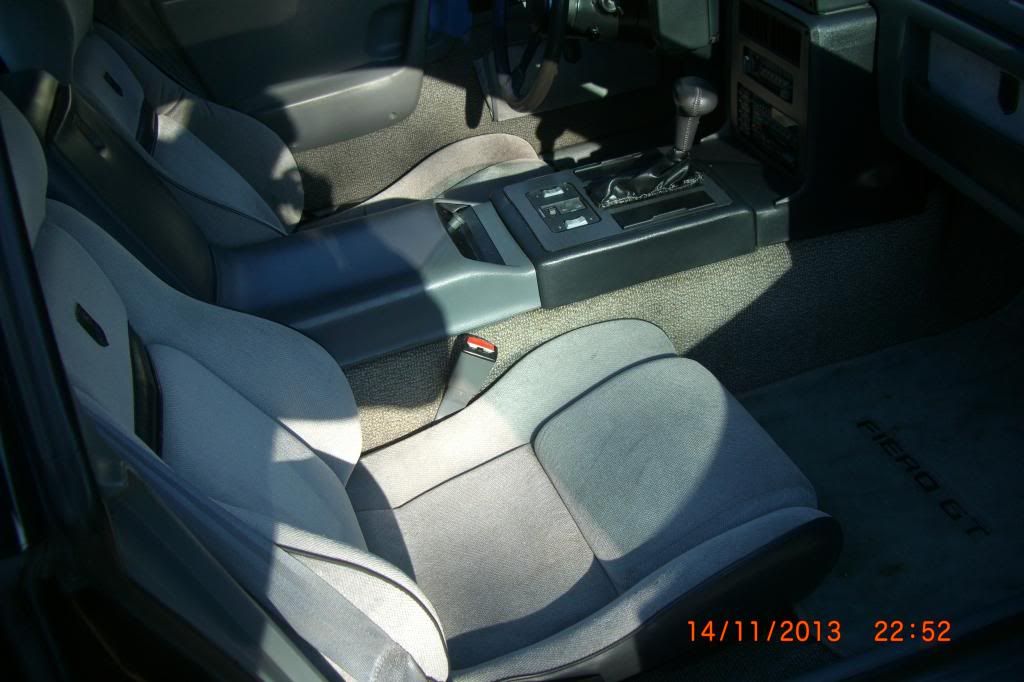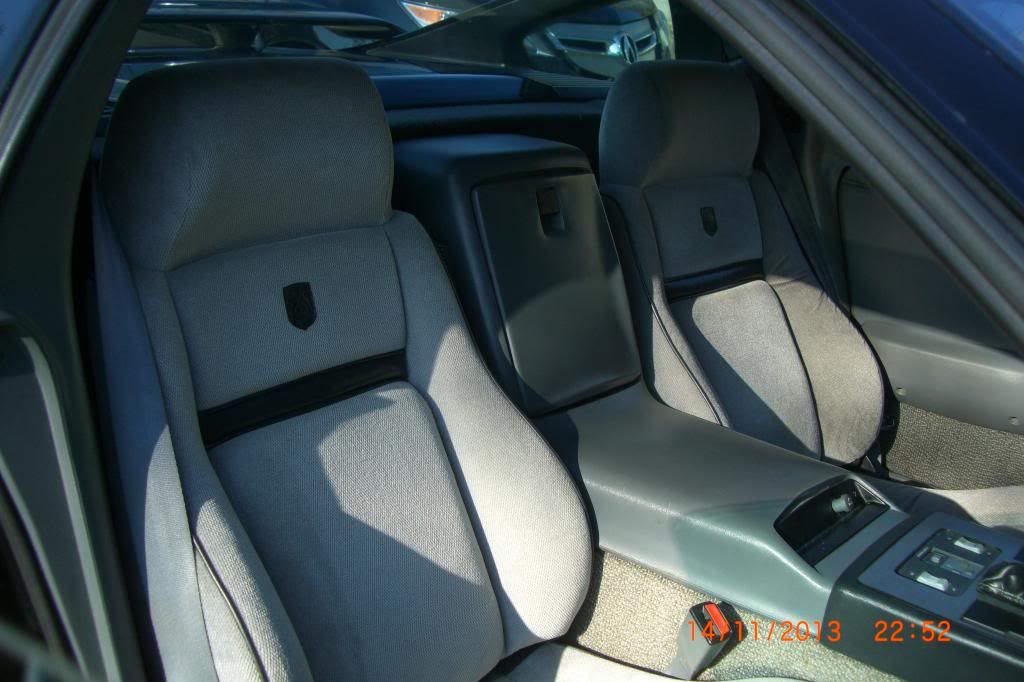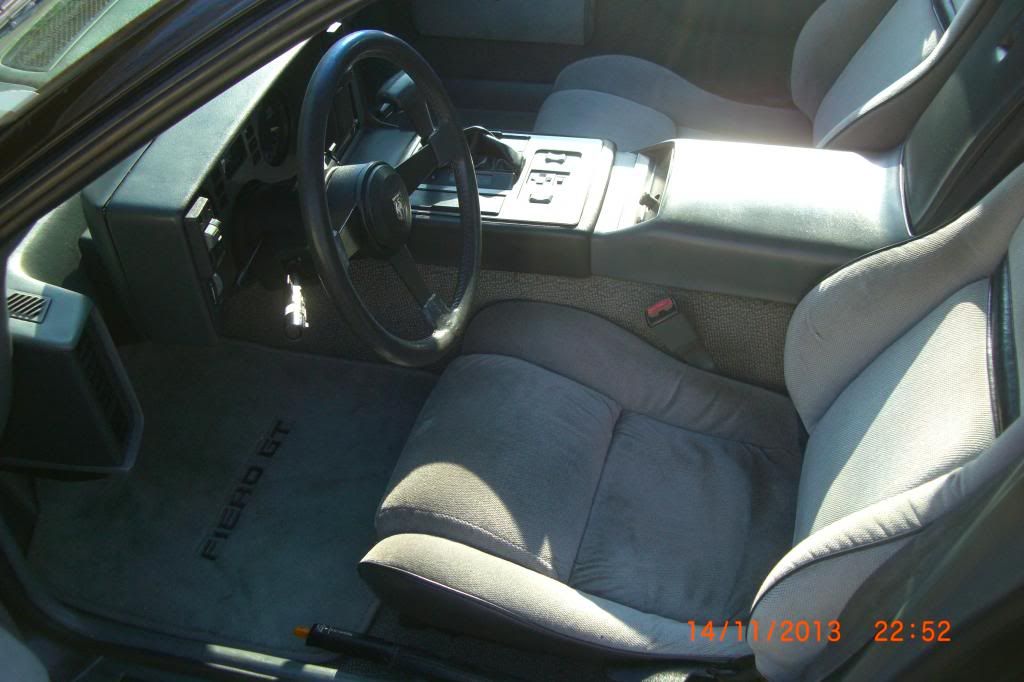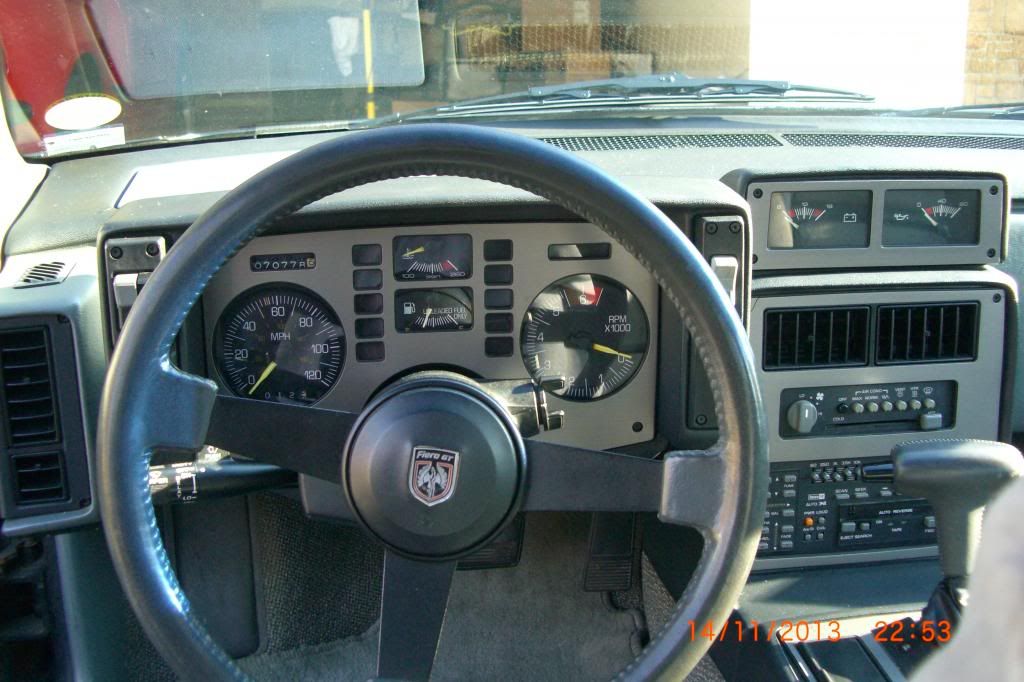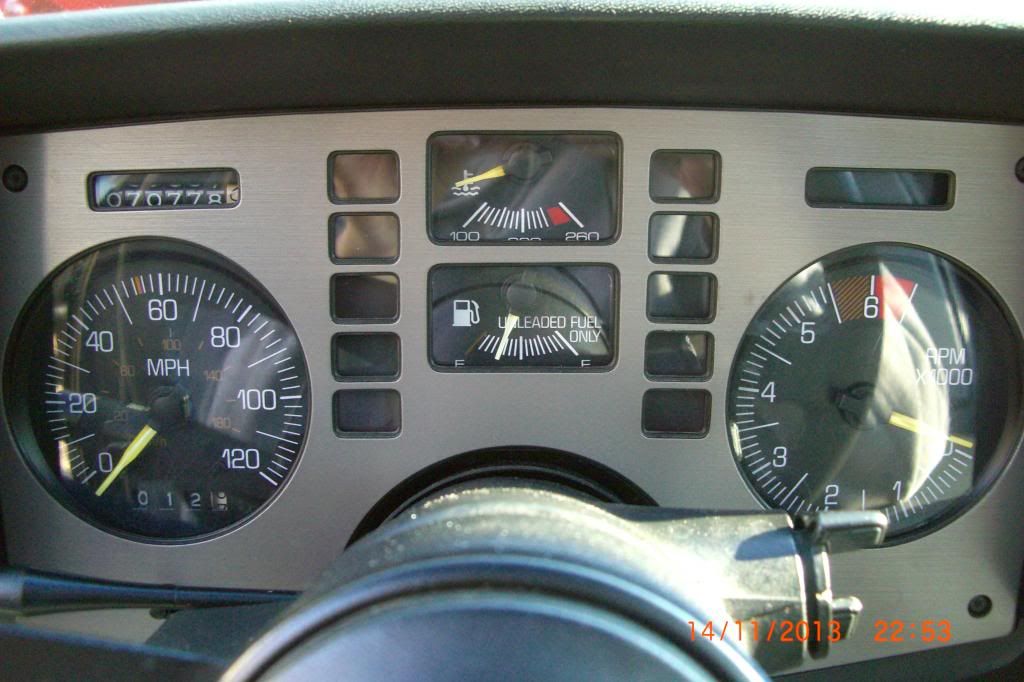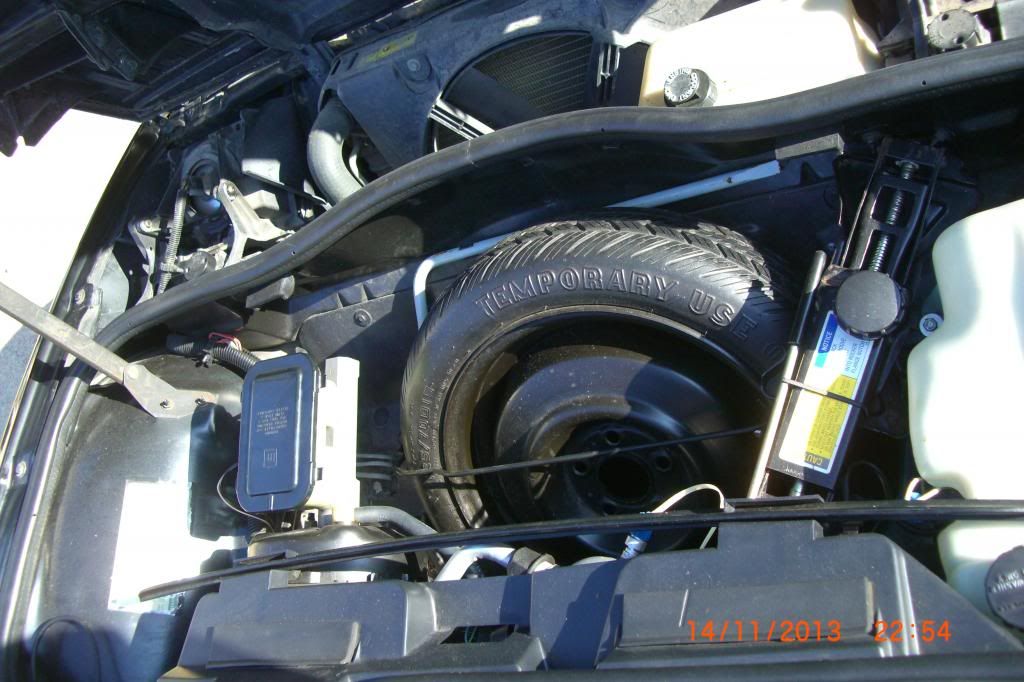 I can tell it had some paint re-fresh work at some point, but it is a 30 year old Fiero that cost me $2K. Can't expect a flawless car in that world.
So, here is my dilemma....I thought it was a worthy purchase for the price and I fixed some extremely minor problems to get it back to normal. The problem is that it needs some brake work, it has the "yaw-sway" on the highway and the front wheels shake at highway speeds. Oh, I have the classic #32 check engine light for the EGR solenoid, but that is an easy repair, thanks to this forum and the how-to of fixing that part.
I have no problem in fixing the brake and suspension parts myself. The trouble is that if I replace some ball joints, wheel bearings, a couple of brake calipers, etc...then I will be replacing everything, since I may as well while I am there. I know the terrible single-ply Coker Classic tires are not helping in the car being very nervous on the highway, with the yaw-sway. The Coker tires belong on a car that is not driven, only shown off. And the yaw-sway could be 50 things...
Do I sell the car right now for maybe $2,500-3,000 and make some money from the general public....or spend around $1,100+ for new brakes, suspension components and new 16" wheels and 225/50 tires? At that point the car "may" be worth around the $3,500-4,000 mark, I would think. At least to the right buyer. Or I could spend all that money and be in the car for around $3,200 and wind up selling it less for that if the market is terrible.
I have been out of the Fiero market for so long that I am unsure if I made a decent purchase (I think I did!) or if this car would be worth around $4K with the repairs and nice wheels/tires I put into it. I see garbage Fieros for sale all the time around $3,000-$4,000 with 50,000 more miles. What do you all think, about its current worth and "fully repaired" worth?
Do I hold onto this baby or make a few hundred and keep the money for another one down the road?
Either way, I can't wipe the smile off my face in owning a GT after all these years! I have owned many great cars, but these cars have their weird and undeniable charm that can't be matched.