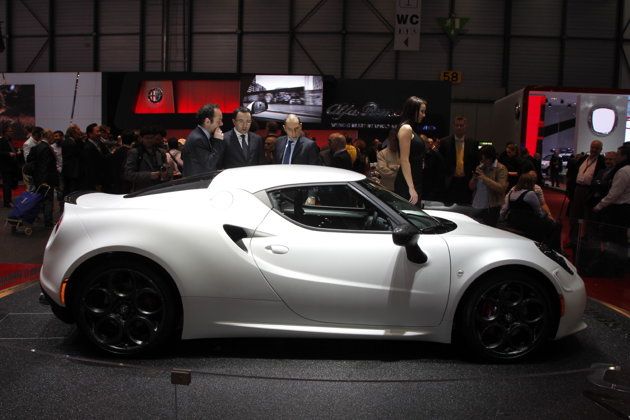 Two of the saddest, and most sudden, American automotive casualties took place in rapid succession in the late 20th century: the demise of the Pontiac Fiero, and the disappearance of Alfa Romeo brand from the U.S. Their absence not only left a hole in our hearts, they left a hole in the nimble mid-priced sports car market — one large enough for Mazda, Toyota, and Porsche to drive a few hundred thousand Miatas, MR2s, and Boxster/Caymans through.
Pontiac is gone for good, but the good folks at the snake and cross brand have finally realized the error of their ways, and have uncovered the recipe for success in the American market: build and sell an Italian Fiero. That car is this, the Alfa Romeo 4C.
Alfa claims we will be able to buy one in 2013. And to prove it, they just unveiled the production version of the car here at Geneva. The salient details:
Engine: This ain't no Iron Duke. It's a 1.75 liter, turbocharged, direct injected four-cylinder, mounted in the tail, that puts out 240 hp/259 ft.-lb. and will propel the car from 0-60 mph in under 4.5 seconds.
Transmission: A Turbo-Hydramatic, twin dry clutch, automated manual, with paddle shifters, featuring four shift modes (dynamic, natural, all-weather, race) and six speeds.
Weight: Nearly 800 lbs. lighter than a 1988 Fiero GT, the 4C will weigh about 1,969 lbs. Weight savings ate achieved through the use of a carbon fiber tub and seat frames, as well as an aluminum-intensive suspension and front and rear substructures. Also, skinny passengers only, per piacere.
Interior Highlights Peek in and note the squared-off steering wheel, push-button transmission, configurable digital dashboard display, exposed carbon fiber, retro ribbed seats, leather door straps and mechanical hand brake. Sadly, no speakers in the headrests.
Exterior Highlights: We love the phone dial wheels, shrunken 8C styling, round tail lights, handsomely hollow hips, compact size (exactly as long as a Miata), and the constellation of LED running lights hovering above the marginally reptilian headlamps. But our favorite exterior feature is the presence of a real Italian manufacturer's badge. This ain't no mere Mera.
When Can We Have It: Much sooner than the Fiero successor. The 4C will first be shown our shores at the Los Angeles Auto Show in late 2013, which, in case you've forgotten, is the exact year in which we are currently living. First customer deliveries will happen before the end of the year. Sadly, only 1,200 will be arriving in North America each annum, which is significantly less than the 370,000 Fieros sold from 1984-1988. The first 500 of these will be premium-priced "Launch Editions," which come with special instruction from a professional driver.
Price: American pricing has not yet been set, and will be announced at the L.A. show, but European "Launch Editions" will cost a heady 60,000 euros, which is $75,000. We hope ours won't cost that much.