Hi all!

I made some new pics frm my car last week, and just thought I would share them with you!
Before, a short history of my car!
I first purchased it when I was about 20, in 2001! (now I'm 31)
I live in France and the car had german papers, so I had to homologate it!
A professional US CARS seller, asked me about $3000 to make papers for me, but I refused, and took the time to restore the car and homologate it by myself!
It took me about 6 years (2001-2007), but finally had my papers for about $900 and during this time, I completely redone the car!
New paint, new brakes, reconditioned the engine, new clutch, completely restored the interior!
I just wanted to make it original, and just add a custom center console!
My car was even published in a french car magazine in 2011 (pics below!)

I definitely love this car and I'm not about to get rid of it!!
Next step will be some new shocks and Eibach springs!!
Hope you'll enjoy pics!

Chris
BEFORE: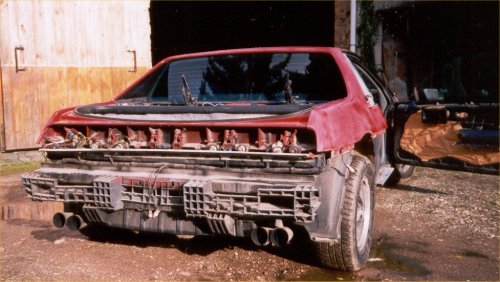 NOW:
FRENCH MAGAZINE
------------------
Christophe **1986 PONTIAC FIERO - V6/2,8L**
[This message has been edited by DJWINNI (edited 08-25-2013).]