I must say after owning this car for a year this has been the best car I have owned. I have daily driven my 86 GT from the time I bought it last year until now and man what a great car its been to me. Aside from the over heating issues its been a good car. I highly recommend anyone finding a good running low mileaged car to add to their own collection.
It was purchased from an elderly man in southern Los Angeles in the same neighborhood that Training day was filmed in. It hates the hot and humid days and nights but it still run's like a champ at 95k.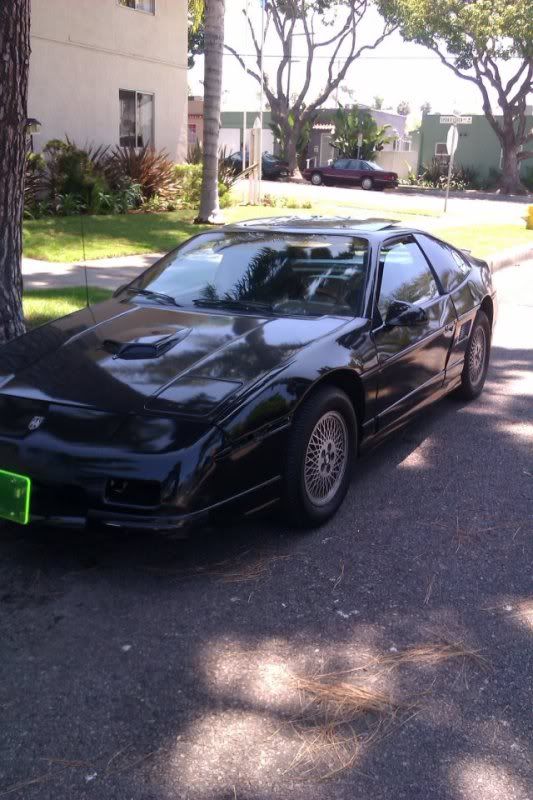 Since I got it I have deleted that silly hoodscoop and put the Grand Am wing on Craigslist but nobody had jumped on it yet.
Now it currently needs
-Spark plugs
-A new belt
-new rear tires
-some interior work
-Paint
Keep in mind I have no other car at the moment. I have driven it almost daily. I have also driven it as far away as downtown San Diego, Los Angeles, Riverside. it has been raced a couple of times to. The car has not let me down like my 96 Camaro did while I owned it. There's nothing more than a taking this car up Palomar mountain in San Marcos and seeing how great the suspension handles up there and how well it keeps pace with cars that are not only newer but 100 times more expensive! I have out cornered my buddies 01 Mustang GT quite easily and have held my own against a 94 Supra in the curves to. 0-30 mph this car is boss however it hits the glass ceiling at 70mph due to the crappy 3 speed automatic. I have raced everything from a Toyota Prius to a Ferrari Testarossa for fun with it. I wish i could have a 5 speed put in it. It's a great conversation starter because nobody hardly knows what this car is. I work on Camp Pendleton. A lot of the Marines think its a Ferrari or a Lotus. They love it though. The ladies love it but hate it once they ride in it or drive it.
But other than that its. I would like to build an LP640 Replica like my buddies car.
http://www.youtube.com/watch?v=eshkQ0mKXhc
Using the 3800 engine however I may not go forward with it. I may end up just doing the $50 dollar paint job. doing the interior myself. slapping on a set of aftermarket rims on it and reselling it in the Spring when its time to smog it. It's just cheaper to buy a project off Ebay with all the stuff done to it already rather than start at ground zero.
Anyone who says these cars are junk obviously doesn't know jack about **** . I abused and driven the hell out of mine and its still driving better than most new cars. After passing a 84 Corvette, 90 300ZX, 92 MR2 NA that wouldn't pass CA smog and many hondas I don't regret passing up on those other choices one bit...
[This message has been edited by VF1Skullangel (edited 07-19-2013).]