I'm listing this not because I Need to sell my 3800s/c fiero or that I even want to, I would just prefer to perfect my Black 1985 GT and i can't afford both. So if someone I interested in a turnkey ready to drive (but still needs some love) and you have about $6,000 shoot me a PM and maybe we can work something out.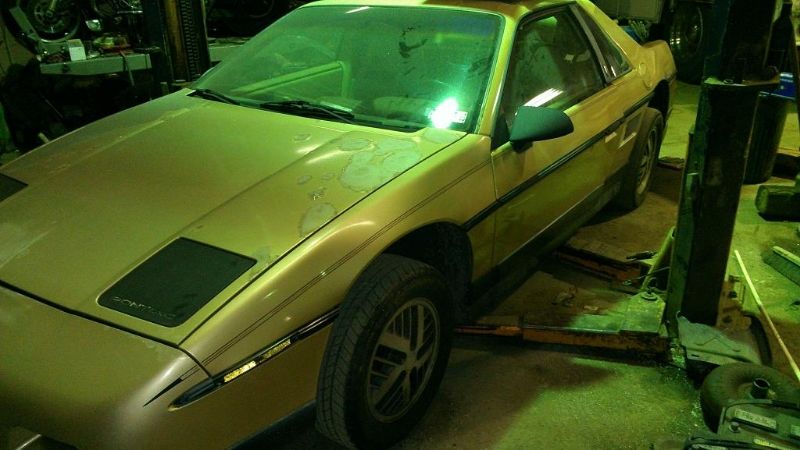 Key features
-3800 supercharged V6
- 4t65e-HD Automatic
-3" exhaust
-ZZP tune with performance shift
-3.4" Quick change pulley
-NKG TR-55 plugs
-ZZP drilled 160* thermostat
- Aeromotive 340lph In tank fuel pump (Very HIGH FLOW & QUIET)
- Autometer Oil pressure, Boost & water temp gauges
- WCF 3800 mounts & polly bushings
- Reddevilriver / Phonedawgs 3800 swap Harness
- A/C compressor installed I wired up (no lines from Fiero to Compressor)
- New Chinese axles
- Oversize trans cooler (repurposed from a larger car)
- Nearly new Grand Am front brakes
- ONLY rust on the car is OE Battery tray chassis is solid
The not so good
-the interior is "Good" the dash has cracks & the headliner is missing, no major rips in either seat
- Working CD player (even if it is the cheapest one EVER made)
- There is play in the front right wheel (rack bushing or inner tierod)
- Very "loose" suspension (really gets to swaying above highway speeds)
- The paint is rough & chiped up around the sunroof
- The rear of the car seems to have been resprayed, and the trunk area shows sings of a decent impact on the right rear, also shows signs being on a chassis/frame machine and seems to have been repaired properly.
The Most recent pics and info about the car can be found in my build thread located in my signature. It is a work in progress.
$6,000.00
Thanks for looking please only PM me if you are interested, and I'm really not pressed to sell it so please no crazy lowball offers, and I don't need a snowblower. But I would be interested in a incomplete 3800 Swap or similar Fiero related project cars.
------------------
1986 SE 3800SC/4t65eHD (12.871@104.96)
1985 GT 3800SC (swap in progress)