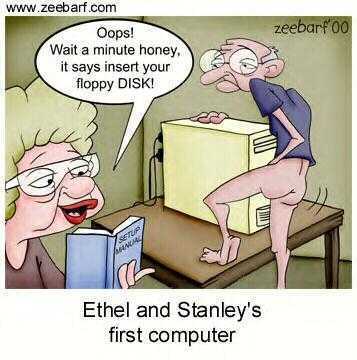 This picture reminds me of an old joke: What is sex like when you're 80 years old??
It's like trying to shoot pool with a rope.


My philosophy......
Too often, we lose sight of life's simple
pleasures. Remember, when someone annoys you it takes 42 muscles in your face to frown BUT, it only takes 4 muscles to extend your arm and slap the S.O.B. upside the head...

Some things you shouldn't say during sex....
1) is it in?
>
>2) that's it?
>
>3) you've got to be kidding me.
>
>4) (phone rings) hello? oh nothing and you?
>
>5) do I have to pay for this?
>
>6) do I have to call you tomorrow?
>
>7) oh momma, momma!
>
>8) oh daddy, daddy!
>
>9) you look better in the dark.
>
>10) this is much better than my last girl/boyfriend.
>
>11) I thought that goes in the other hole....
>
>12) don't tell my husband/wife.
>
>13) you have the same bra my mom does (worse if the girl says it).
>
>14) this sucks.
>
>15) can you finish now? I have a meeting...
>
>16) I hope you don't expect a raise for this...
>
>17) I think you might get the job for this.
>
>18) damn! is that all you know what to do.
>
>19) did I tell you, I have herpes?
>
>20) now we must get married.
>
>21) hurry up, the games about to start.
>
>22) I'm hungry.
>
>23) I'm thirsty.
>
>24) zzzzzzzzzzzz.
>
>25) are you trying to be funny?
>
>26) can I have a ride home after this?
>
>27) are those real?
>
>28) by the way, I want to break up.
>
>29) is that smell coming from you?
>
>30) haven't you ever done this before?
>
>31) wow!! I've never seen those before (then grope wildly).
>
>32) do you know what some female spiders do after sex?
>
>33) you're so much like your sister....
>
>34) your mom's cute.
>
>35) what's your name again?
>
>36) do I have to be here in the morning?
>
>37) a second time? I barely stayed awake the first time!
>
>38) but you just started!!
>
>40) don't touch that!!
>
>41) can we order a pizza?
>
>42) I think my dad is listening at the door.
>
>43) smile for the camera, honey!!!
>
>44) take off that damn monkey glove!!
>
>45) get your hand out of there!!
>
>46) I think the condom broke 10 minutes ago.
>
>47) I knew you wore a padded bra!!
>
>48) cover me boys, I'm going in!!!
>
>49) DIVE! DIVE! DIVE!
>
>50) Fire one!
>
>51) God, that is small!!
>
>52) hold on, let me change the channel...
>
>53) who smells like fish?
>
>54) is it o.k. if my mom (and/or dad) joins in?
>
>55) your best-friend does it much better.
>
>56) hope you don't mind I left my boots on.
>
>57) hurry up, the motor's runnin'.
>
>58) you're fogging up the wind-shield.
>
>59) can I borrow 5 bucks?
>
>60) what the hell noise was that?!
>
>61) stop moaning, you sound so stupid.
>
>62) shut up, b****! (worse if the girl says it)
>
>63) you know, you're not really attractive.
>
>64) I'm sorry, I was not listening.
>
>65) what, oh yea, I love you too, now let me concentrate!!
>
>66) stop interrupting me!!
>
>68) did I leave the iron on?
>
>69) your breath is funky.
>
>70) (start singing Green Day).
>
>71) is it o.k. if I call someone, its o.k. though, keep going....
>
>72) its ok honey, I can imagine that its bigger.
>
>73) god I wish you were a real woman.
>
>74) why can't you ever shave your legs?
>
>75) by the way, when I drove over here, I ran over your dog....
>
>76) oh Susan, Susan... I mean donna....
>
>77) your breast milk is like my mom's....
>
>78) you're hairy!!
>
>79) your "happy trail" led me to a dead end.
>
>80) is it o.k. if I never see you again?
>
>81) did I forget to tell you I got worms from my cat?
>
>82) don't make that face at me!
>
>83) all of a sudden I have a headache.
>
>84) you're boring.
>
>87) how much do I owe you?
>
>88) How come we each have a penis?
>
>89) of course you can't be on top, you're too fat, you'll kill me!
>
>90) your ass is hairy (the guy says this).
>
>91) just use your finger, its bigger.
>
>92) does your family have to watch?
>
>93) we'll try again later when you can satisfy me too.
>
>94) get off me, I'll do it myself!!!!
>
>95) can you hold this sandwich for me?
>
>96) you're as soft as a sheep, inside and out.
>
>97) the only reason I'm doing this is because I'm drunk.
>
>98) my mom taught me this.....
>
>99) how cute... peach fuzz!
>
>100) Damn girl! my breasts are bigger than your's!
>
>101) should I ask why you're bleeding?
>
>102) this is my pet rat, Larry....
>
>103) if you can't do it, I'll find someone else who can!
>
>104) I haven't had this much sex since I was a hooker!
>
>105) I was once a woman...
>
>106) wanna see me take out my glass eye?
>
>107) no I don't love your mind, I can't grab that!!
>
>108) is it o.k. if I tell my friends about this?
>
>109) I'm sobering up and you're getting ugly!
>
>110) you wanted me to use a condom?
>
>111) you're no better than my brother!!
>
>112) mooooo!!
>
>113) Fire in the hole!!!
>
>114) I wanna see how many quarters I can fit in there.
>
>115) hurry up, I'm late for a date.
>
>116) o.k. start...oh! that feels so... YOU'RE DONE??!!
>
>117) you ever see basic instinct?
>
>118) I'm out of condoms, can I use a sock?
>
>119) don't squirm, you'll spill my beer.
>
>120) Did I tell you where my cold sore came from?
>
>121) you got boogies showing.
>
>122) (start reciting the 10 commandments).
>
>124) of course I don't love you.
>
>125) let me spell it out for you, b-r-e-a-t-h m-i-n-t
[This message has been edited by olympic (edited 03-04-2000).]