quote

Originally posted by TopNotch:

Last week, my 88 t-top coupe daily driver went over 200,000 miles. The old duke still runs fine.
Who else drives a 200,000+ mile Fiero?
Edit: That's the 321,868.8 kilometer club for non-milers.

1987 SE, 4 cyl, 5-spd - 206XXX miles on original motor. It, too, is my daily driver...
------------------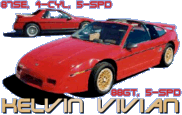 88 GT T-Top 5-spd #338 of 1252
87 SE 4-cyl 5-spd sunroof, spoiler, performance sound
85 2M4 base coupe T-Top 5-spd, rackless decklid, 15-in 88 GT rims, aero-conversion
[This message has been edited by Kelvin Vivian (edited 05-03-2010).]