I got mine by buying the entire motor. $500 for a 60K motor ( I pickled the donor after getting the parts off ).
As long as it's an '89 or later, chances are you will have the same part # cylinder heads, and the steel rocker bridges, as well. Allways nice to have an extra set in reserve.
If your buying just parts, the upper/lower manifolds, water neck, fuel rails & fuel line stubs, entire throttlebody w/brackets & stepmotor, and the alternator bracket....are the type-specific parts you will just have to have, or else set around a long time.
David Breeze
------------------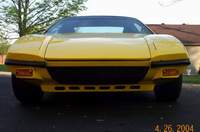 Pantera Rebody Kits