Hope this helps. Your just offsetting to another bolt on the alt. but keeping the shield in as same position on the Alt.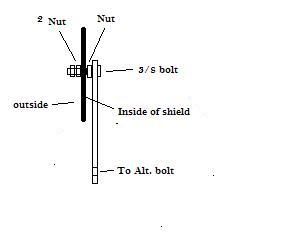 You mount the strap to an existing bolt on the Alt. with the 3/8 bolt in place and then put the shield on and nut it.
You will have to figure out the distance between the holes on the strap, was not to far as I remember. Maybe 1.5" or something like that.
It all fit under the shield so all you see different in the 2 nuts on the outside.
[This message has been edited by Dodgerunner (edited 11-14-2007).]