To directly answer you question, the 3800 is by far the easiest engine swap out there (although the 3.4 TDC is about the same, but not quite as robust a motor as the 3800).
To put a 3800 in a fiero, you most likely will be doing a transmission upgrade, as no fiero transmission will handle the 3800 power and torque. With most 3800 swaps, limited welding is required, but their are ways around it. The welding required is also very simple and easy.
My signature will serve as a good starting point for your research. Feel free to make posts regarding specific questions, but we urge you to look around a bit before you do.
------------------
Losing site of our roots in the cathode rays.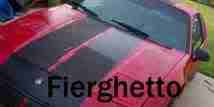 Ultimate 3800 swap thread