When my car started winking I had to do something about it. I hate to see Fiero's with permanently raised headlights.
If you have an 84-86 go here. Your lights are different and these directions will not apply.
Owners of 87 or 88 Fieros you are in luck, these are the easier of the two systems. Although it is not all that hard to do, I thought I would post my build project.
This build is based upon removing the electric motor from the gear assembly during the project. I found it to be much easier than trying to slot one of the gears and pulling the end off of the axel shaft. (Don't worry if you did not understand the last sentence. It won't matter using this method).
After ordering Rodney Dickman's rebuild kit I thought I had received the wrong parts but I got everything that was needed. Buy the gaskets, you will need them during reassembly. (Go to the Electrical Tab and then scroll down to the headlights section). I bought kits for both sides even though I will not install the driver's side until it fails. You can't beat $9/per side shipped when you order both at the same time. For pop-up headlights these are a bargain.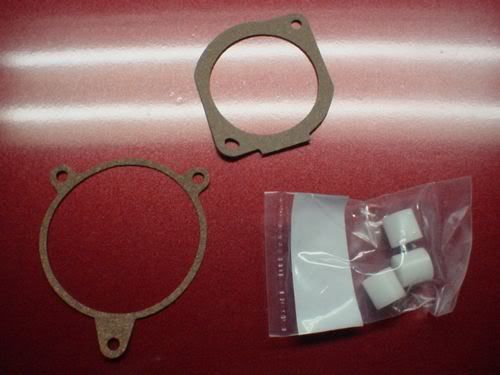 Step 1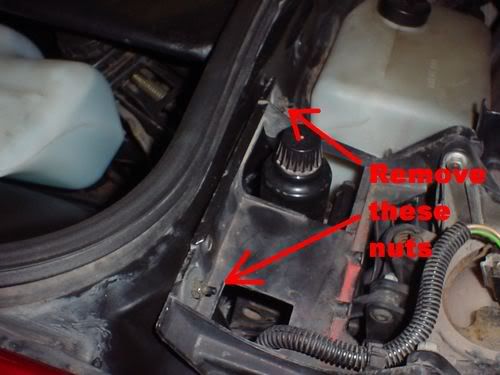 Crank the headlights up using the knob by the top arrowhead in the photo because you will need room to loosen the bottom two bolts. They do not need to be completely removed like the top ones. The assembly has slots for the bottom two bolts instead of holes so that the assembly can slide onto the studs.
Step 2 Remove the wire from the back of the headlight and disconnect the wire for the headlight motor. I did not find it necessary to disconnect the battery cable.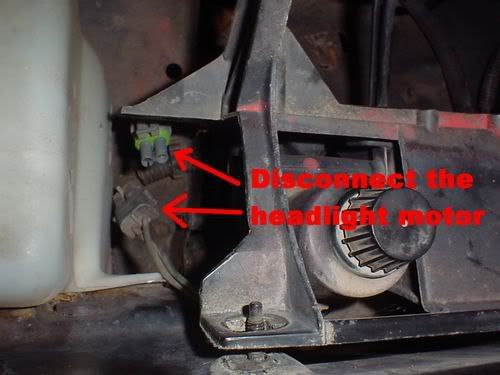 Step 3 Remove the assembly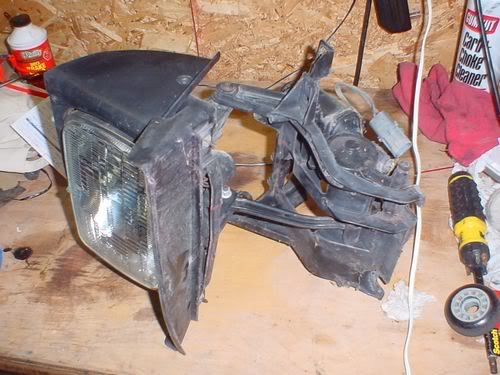 Step 4 Remove the clip. Do not remove the nut. It is not necessary when the electric motor will be removed. (There is also no threat of bending or scratching the axel shaft). Once the bolts are out this will allow you to separate the motor assembly from the actuator arm that actually moves the headlight up and down.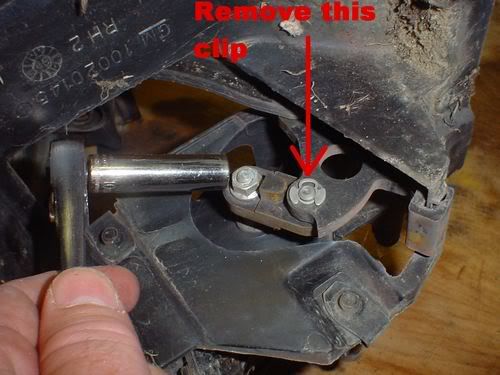 v CONTINUED v
[This message has been edited by RACE (edited 01-20-2006).]