In my opinion I feel that it is more economical to buy a 3.1L crankshaft, than to buy a stroker kit for the 2.8L, especially if you already have a 1988 2.8L Fiero.
1990 Pontiac 6000 3.1L with cast iron heads and distributor or a 1990 camaro 3.1L with cast iron heads and distributor are good reference vehicles.
Crankshafts CAST # 981, 186, 268. WITH DISTRIBUTOR IGNITION
Below is a comparison of the 2.8L crankshaft from a 1988GT and the #981 cast 3.1L crankshaft.
What you need for a conversion are:
1. 3.1L crankshaft CAST # 981, 186, 268. WITH DISTRIBUTOR IGNITION The #981 is suppose to be stronger. However, I've used a #981 and a #268 and saw no real difference. The #268 is in block and crankshaft picture below; left hand side you can see the cast number even though it is fuzzy.
2. Neutrally balanced flexplate/flywheel. Have yours balanced or buy one for a 1988 Fiero 2.8L
3. 3.1L pistons Sealed Power H562CP Teflon coated.
4. New 1988 Fiero 2.8L harmonic blancer - which is neutrally balanced.
Buy rings to go with the pistons, i.e., buy 3.1L pistons. For reference and part warranties I specified parts for a 1990 Pontiac 6000 3.1L with cast iron heads and distributor.
2.8L/3.1L/3.4L use the same cylinder heads and connecting rods as well as the same stock camshaft.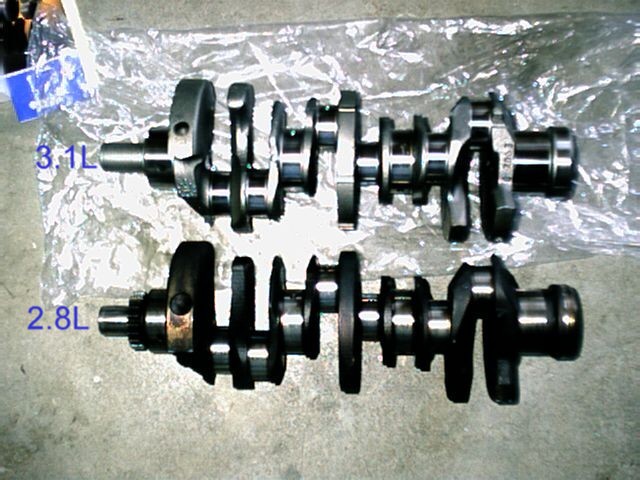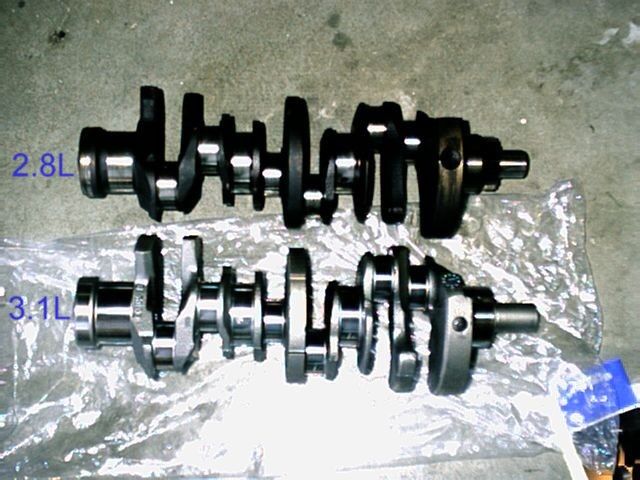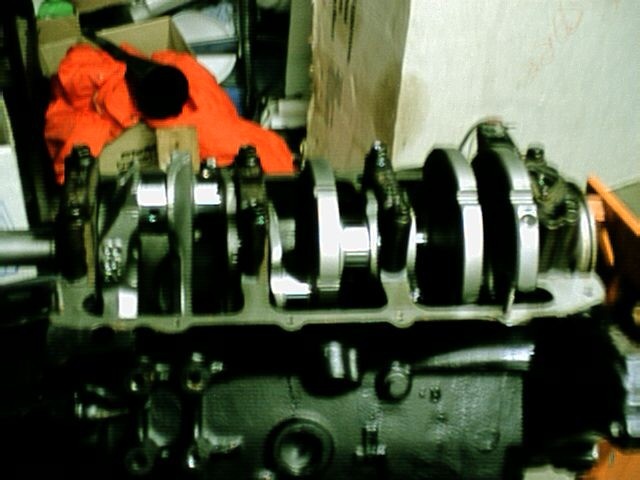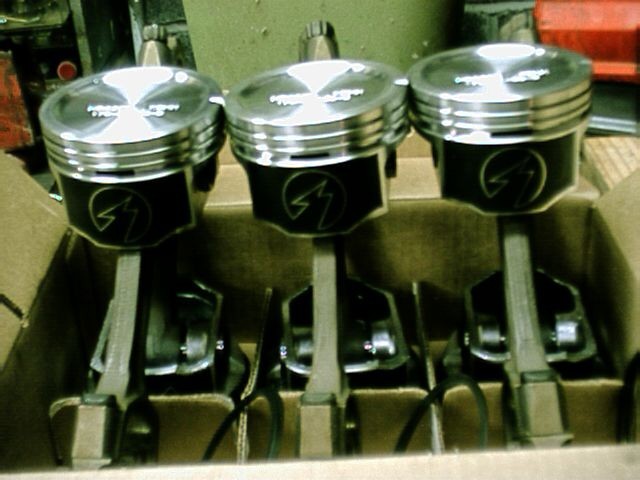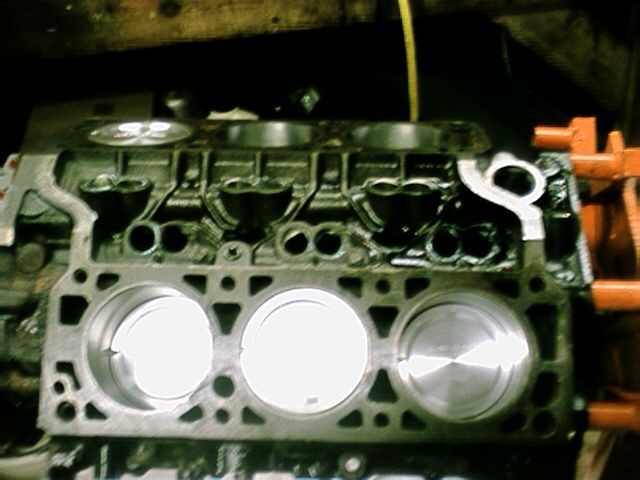 Now, since you have gone to the effort to stroke the 2.8L to a 3.1L then go the whole mile. Rework the cylinder heads and use new valve springs, such as Melling VS-380. Roller-tip rocker arms are good too, such as Comp Cams 1413-12 1.52 ratio, or spend just a little more and go with full roller rockers. A Melling MTC-5 performance camshaft is good, similiar to the GM performance camshaft 12363220, and with the 1.52 rockers results in .427" intake valve lift and .450" exhaust valve lift, or the GM 12364059 Crane Kit or CompuCam 2030 are also good choices. A higher lift cam will affect the idle quality - too much and it won't idle at sane RPMs. A high-volume oil pump is also recommended, such as the Melling M-95HV.
IF YOU PLAN on racing or running the engine hard, THEN have a machine shop cross-drill the center two main jounals. This is what GM recommends for racing - helps keep the connecting rods from losing lubrication at high RPM.
Flat-Top Pistons?
Are flat-top pistons available? I don't think so, I've looked, but didn't find any. There was a reference to Speed Pro pistons recently, but I didn't see any listed for the GM 60 degree engine family. I think the fellow may have been considering using flat-tops specified for a V8 application as this is what I saw in the their piston list; don't know.
If money isn't an issue I say use Total-Seal gapless piston rings.
If you bore the block 0.030" over you get a 3.16L engine.
If you bore the block 0.040" over you get a 3.2L engine.

Extra Issues To Consider
FUEL PRESSURE
If you have the block bored, an adjustable fuel pressure regulator is a good idea; helps deal with the increased cylinder volume and resulting fuel demands. BUT, a 0.65mm (0.5mm to 0.7mm) thick washer can be installed in the stock regulator between the cover and spring to up the pressure slightly for bored engines. This works well for my engine, and I don't claim it will work well for yours. Alternatively you can modify your fuel pressure regulator to make it adjustable.

EXHAUST MANIFOLDS
Since your engine is out. It is recommended that all the flanges on the exhaust manifolds be welded around the outside of the flange. After they are welded have them run across a surface-plainer; this makes them flat and will create a better seal they are bolted to the heads. Now is the time to have them ported or port them yourself. Also, I recommend that the welds on the cross-over pipe, oxygen sensor fitting and cross-over pipe to down-pipe flange be welded as well. On my 88GT all of the welds were cracked.

Heat management - thinking about this I wrapped the exhaust manifolds and the cross-over pipe with Thermo-Tec insulating exhaust wrap. I liked the results and wrapped the exhaust to the muffler and wrapped the catalytic converter.
--------------------------------------------
Also, do a search as there is plenty of information, and some disinformation floating around in Tech on PFF about the 2.8L to 3.1L. Go and talk to some fellows at your local machine shop. Most likely, they have seen it, heard about it and/or done it.
Advice, before you build your engine, KNOW all the details of what is going to be done.
----
Why write this? I'm bookmarking this for all the 2.8L to 3.1L how to post.

I'll leave it up to everyone else to fill in missing details.