It was a great day! See below for pics of the run!
-------------------------------------------------------------------------------------------------
ONLY ONE DAY TO GO before the first "Vine Run!" on March 31st.
It's not too late to get involved! At this time we have 7 cars lined up and room for more. Give me a shout here or email me at VineRunFun@gmail.com. Lets have a great ride!
----------------------------------------------------------------------------------
You're invited to the Wine Country "Vine Run!"
We are currently organizing what we hope will be the first of many Northern California Wine Country Fiero rallies.
The Vine Run!
The inaugural event will take place on
Saturday, March 31, 2018.
Details are still in the planning stages but the route is coming together and the date is set! I anticipate a 110 mile, 3 hour run through the wine country including some scenic countryside driving out near the southwestern shore of Lake Berryessa. The run will begin and end in Napa, CA. with a 2 hour lunch stop in Calistoga, CA. during which time you may wish to wander the historic downtown area for window shopping or wine tasting along Lincoln Ave.
Currently I am considering the Black Bear Diner on Soscal Road in Napa as our meet up and end point as there appears to be ample parking in the area. At this time I am planning an 11AM departure from the Black Bear Diner and an approximate 12:30 arrival in Calistoga for lunch.
The route as it is currently planned will begin in Napa and proceed through Sonoma and along Hwy 12 north to Calistoga Road near Santa Rosa. Then on to Petrified Forest Road which will take us into Calistoga. This is where we will we will have a leisurely two hours for lunch (tentatively planned) at the Palisades Deli & Cafe in downtown Calistoga. This is the only planned gas stop for those that wish to top off.
From Calistoga we will proceed southerly on Silverado Trail to join up with Hwy 128 towards Lake Berryessa. At this time I am planning to continue on to the Oak Shores Day Use Area north of Spanish Flat for a possible photo stop. We will then return to Hwy 128 and Hwy 121 returning to Napa where our journey will end at at our starting point at approximately 4:30pm.
Additional details will be provided as they become available. The exact route, times and stops may change as planning progresses.
Please save the date and mark your calendars for what we hope will become a fun gathering to visit with old friends and new in the Fiero community while enjoying a scenic drive through the world famous Napa-Sonoma wine country.
Please indicate your interest as soon as practical. An approximate head count will be helpful in planning, and a final tally may be necessary for lunch reservations depending on the size of the group.
(This is a free gathering of Fiero enthusiasts. All expenses including, but not limited to, fuel, meals, wine tasting, insurance or any other expenses are on you)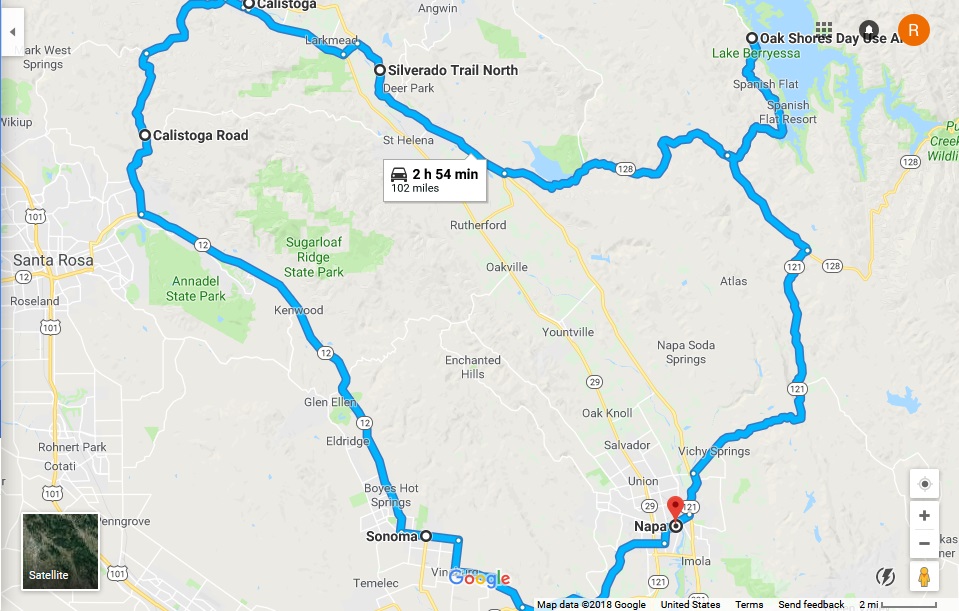 ------------------
John Wayne as John Bernard Books in The Shootist...
" I won't be wronged. I won't be insulted. I won't be laid a-hand on. I don't do these things to other people, and I require the same from them."
My rides...
1988 GT with a 3.4L V6 automatic
1987 GT stock (with added stripes)
2006 Harley Sportster
'cause I love the twisties on two wheels or four.
[This message has been edited by Rsvl-Rider (edited 04-03-2018).]