http://www.virginiamotorsportspk.com/drag/PYP.aspx
Come out and join your Pontiac Brothers and Sisters. Pontiacs in the Park is going down at the end of May this year. See the links in this post for more info
http://www.pontiacsinthepark.com/
Tickets- We would like to be able to buy single or two day tickets instead of having to pay for full 3 day event if we couldn't come every day. He said he would work on that.
Car Show- Agreed to have it all in 1 day (hopefully saturday) with classes for modified as well as stock classes. He was unsure about someone to head up judging and of course I strongly recommended Chris.
Vendors- Bryan was very positive about late gen GTO vendors being invited. I have already talked with Brandon at Maryland Speed. Also I'm gonna ask Mark Mizelle, the new Pedders dealer in Va. Beach about coming with perhaps help from Justice Pete to showcase their stuff.
I have a Vendor's form I can make copies of if you want to contact others . Vendor's fee is $150 for a 20/2O foot space. Bryan said if the vendor actively promoted PITP, he would negotiate a discount on the fee.
Pontiac Dealers- Brian would like for us to contact him with names and contact info for enthusiasts friendly Pontiac dealers in our areas who would join in a mass mailing about PITP. Post them here.
Possible Autocross - They are looking into at least a demonstration autocross course for us, Solistices. Fiero's whoever. I'll pass along info when available.
Hope this helps.
http://blogs.highperformanc...-park-vmp/index.html
hope to see you all there.
Rob
------------------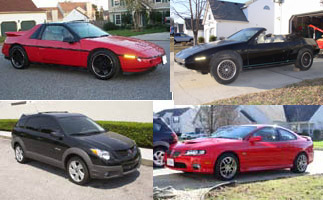 88 TTop coupe (96 3.4DOHC/5 speed "almost done)"
03 Vibe GT. 6spd (stock)
05 GTO, LS2, 6spd (not stock)
84 SE "Vert" (oh boy, what did I do now)