[copied from another post - hope it's helpful]
Some of the tension will be relieved if you prop the deck lid as far up as you can with a broom handle too. For some reason it's easy to forget that the rods are holding up the decklid... The only time my tie-down down slipped, it slid off of the bottom of the torsion bar and popped over to the side. The strap stayed attached and nothing flew anywhere. I was VERY glad my fingers weren't anywhere around the torsion bar when it snapped back against the retaining pin. But I had the strap's metal hook on the spring. So this is how I do it now.
Pull the trunk carpet and rubber seal up to reveal the metal of the trunk wall.
Hook the tie down strap to the lip on the wall, through the bottom of the torsion rod and back to the trunk wall.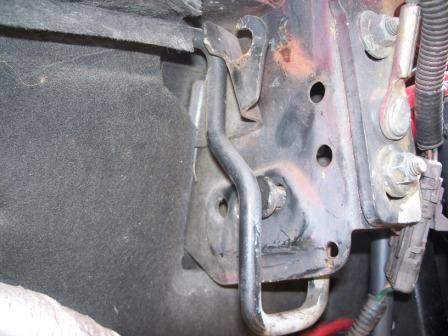 Some people just hook to the spring and the wall. If you do it that way watch for an unstable hook on the torsion bar.
Putting both hooks on the firewall makes it a little easier to crank the tie-down strap too. Compound pulley... physics...
No matter which method you use, MAKE SURE THAT THE HOOKS ARE SECURE on the trunk wall. If they come loose the torsion spring WILL send them zinging toward the torsion bar.
There are threads with more pictures that show you how most people do the job. These pictures were from a thread that didn't talk about this topic so I didn't link it.
[This message has been edited by 2002z28ssconv (edited 06-09-2014).]