Tytehead...

He is very handsome, isn't he??

(Doting parent




) I know many here think of him as PFF's resident pooch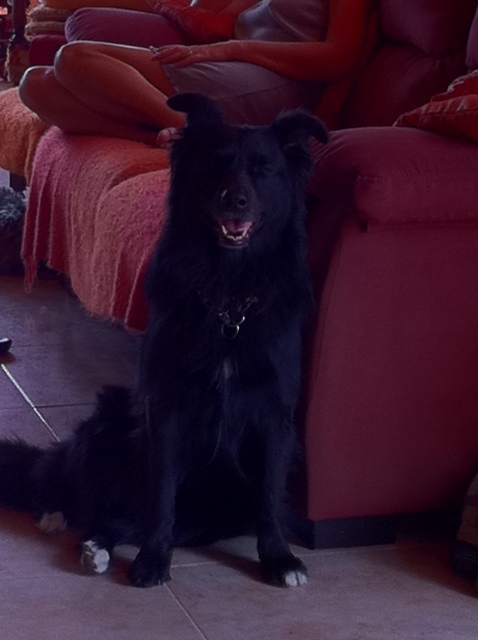 Perry, thanks for that..I'm ashamed to say I missed it

until now.
The problem with ticks and fleas is addressed all the time, using the potent Scalibur collar, and also the pipette system to administer drops on his skin behind his ears. The ticks and fleas simply die or drop off. Unfortunately, the female dog which keeps escaping and flaunting herself at Zwerver has a flea collar, but I guess it is a year or more old. Just a few minutes ago, she as outside again, and I stroked her and talked to her. I have very sensitive fingers, and noticed immediately that she is infested with fleas, and several large ticks under her fur.
Of course, the ticks and fleas will jump from one to the other when they are 'embracing'

for want of a better word, and although the collar doesn't make them drop off imediately, they do as soon as they try to bite.
No, Zwerver NEVER gets a bath or shower, except when he has rolled in something particularly unpleasant ( the immigrant builders around here just go and dump in the grass

), and then he gets a short sharp blast from the garden hose

I don't believe in shampoos etc, for the very reason you said: the skin and fur has NATURAL oils/defences against many things, and shampoos just remove them.
The vet did take some scrapings fronm the rashes etc, and phoned me to say it was the cutaneous leishmania coming back mildly. This is typical of the disease, and is stimulated by the hot and humid weather. However the medication cut it short in its tracks, and he is fine now. Sadly, it WILL kill him one day, it is that pernicious, and untreatable. Looked after carefully, many dogs carrying the virus can live a long and happy life whilst carrying the disease. Zwerver is doing great, and we intend to ensure he will continue to do so

[This message has been edited by fierofetish (edited 08-13-2011).]