The Second Annual Tyler Shipman Memorial Car Show
Donations and Door Prizes
Last year's Tyler Memorial Show was a huge success, with a total of 102 vehicles, 47 of those Fieros, and another three Fieros around town that did not enter.
We raised $1,600 for the Roger Maris Cancer Center Research Division, a very worthy cause.
This year, all entry fees from the show will be benefiting the Tyler Shipman Memorial Scolarship, another very worthy cause. Meant to help college bound Frazee Seniors, it benefits the community directly.
There is a $10.00 entry fee per vehicle at the show, with no limit to how many vehicles you'd like to enter.
For many Fiero owners, making the trip is not feasible, thus, this post…
There has never been anything quite like the Tyler Project in Fiero history, and it will go down in lore in many car communities around the globe as one of the greatest things to happen in automotive history.
Everyone wants to be a part of it, everyone wants to do what they can to help...
Announcing the non-participant car show entry fee!
Your $10.00 buys you a virtual spot at the Tyler Shipman Memorial Car Show!
That's right! Be a participant at the show without actually participating!
Your virtual participation entitles you to a chance at one of the fabulous door prizes available (listed below) and the privilege of saying that you helped a great cause.
Note: The non-participant entry does not entitle you to a vehicle spot if you do show up at the show. You must purchase a participant entry, sold separately.
Every $10.00 you donate entitles you to another non-participant entry, and another name in the bucket for the door prizes at the show. (Names will be drawn and awarded after the show at the Shipman's home..)
Need not be present to win a door prize, you only need to be a non-participant on record for the show.
Door Prizes:
All prizes are Fiero specific (with exception of the quilt), and the list is subject to minor changes.
Photos of the prizes will be listed as they are taken.
Grand Prize
Complete Hella 90MM low profile upgrade kit for your Fiero. Total Retail Value: $620 dollars
Includes: Fiero1Fan low profile all steel construction replacement buckets, Hella 90MM Projector low beams (x2), Hella 90MM Reflector high beams (x2), all bulbs and installation hardware, Synthesis' own Tier 3 Hella headlight harness.
First Prize:
Nellie's Own Hand Made Fiero Quilt. Total Retail Value: Priceless
Made entirely by Nellie Shipman, this quilt features a black and white checker pattern with red and yellow accents, and a Pegasus in the middle. A beautiful design.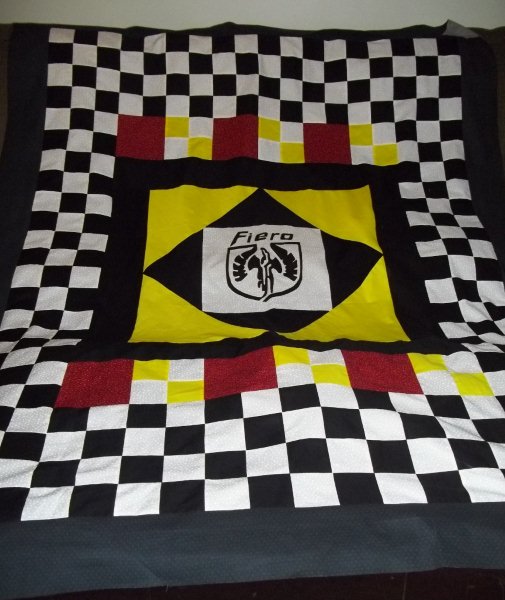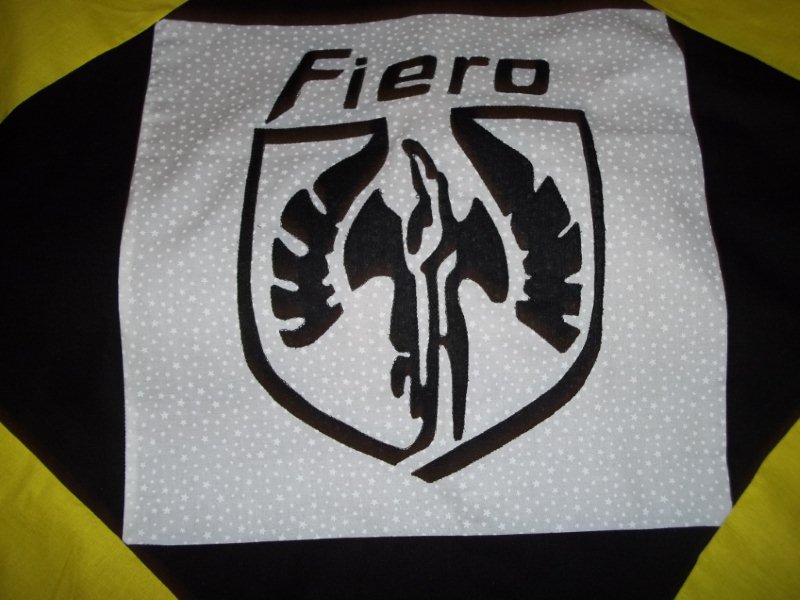 Second Prize:
DIY-Stu's Inner and Outer Dew Wipe Kit for all year Fieros: Total Retail Value: $220 dollars
Better than OEM quality, these replacement inner and outer dew wipes replace your hardened and cracked 20+ year old wipes. Includes inner wipes, outer wipes, and felt covered window guide tabs.
Third Prize:
Battery Relocation Kit. Total Retail Value $190 dollars
Includes: V8 Archie Fiberglass front mount battery tray, Synthesis' own 4 Gauge sidepost front mount battery cables. Move your battery in style, everything you need to mount and wire in your front mount battery is included in this kit.
Fourth Prize:
Fiero STS custom built Lamp! No Retail Price, these are always in high demand when Tim makes them. Priceless!
Fiero STS has stepped up to the plate with one of his hand made custom lamps. Made from various car parts with a valve cover as the light shield, these are attention grabbers and conversation pieces, and they work beautifully!
I have always wanted one of these pieces of art, but never had the money on hand to win one during the club auctions... Photos incoming as soon as they are available!
I have higher res images, but these will give you a good idea...
Fifth Prize:
LED Side Marker Kit, both front and rear, either smooth molding or ribbed molding! Winner's Choice!
Danyel has donated a full set of side markers, retail value of $175 dollars to the cause.
These are ready to bolt in and really enhance the looks of any Fiero! Instead of a tiny dot of light in the middle, the entire marker lights up!
A photo of the rounded molding markers: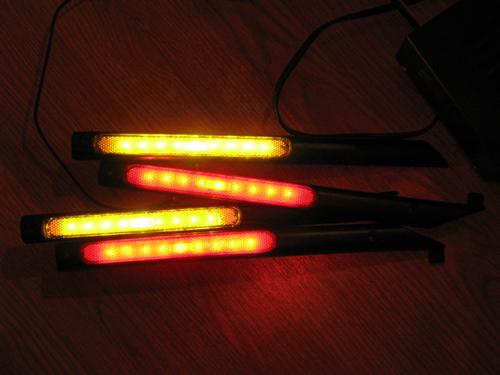 Sixth Prize:
Full LED Interior Upgrade for all years Fiero from TLG Auto (Oslo on the forum here). Retail value: 178 dollars.
Level 2 Dome Light LED Kit
Level 2 Floor Light LED Kit
Level 2 Trunk Light LED Upgrade
Ash Tray and Auto-Shifter Light LED Upgrade
Third Brake Light LED Upgrade
Under-Hood Light LED Upgrade
License Plate Lights LED Upgrade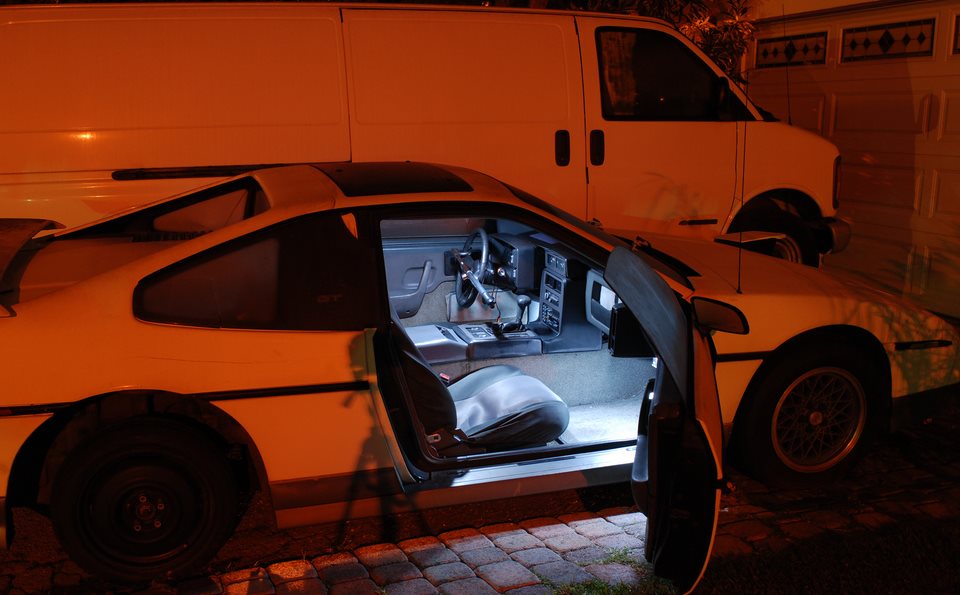 Seventh Prize:
InfiniteWill has donated one of his Gen3 GT Trunk gaskets to the cause! Better than OE quality.
3M Corporation has donated a gift box filled with many of their fine products. This is a single prize that includes everything from personal health care items to adhesives to automotive products.
2.5 has donated one of his Fiero Geocoins to the prize bin. Featuring blue with a grey secondary color, and all of the models of the Fiero imprinted on the edge of the coin, this particular coin is special in that it has Tyler's name emblazoned on the front.
2.5 has agreed to donate this as a special prize in the hopes that every year, when the show comes around, the winner of this prize consider donating it again... This particular coin could literally be passed for many many years and have a storied history to it...
Photos incoming.
Rodney Dickman has donated two of his new Aluminum Slave Cylinders, one for the Getrag and one for the Isuzu. Sadly, I can not award these based on your particular needs, but the winners will be posted here, so you can negotiate with someone for it if you'd like.
Various other prizes, including Fiero Store gift certificates, and waiting for input from another vendor or three.
To donate to the show and earn your Non-Participant entry:
Donations are accepted in three forms:
Paypal, Check/Money Order, and Cash
To donate via Paypal, please follow the instructions below:
Send a "Gift" payment to
synssins@yahoo.com
with the following subject line:
Donation to the Tyler Shipman Memorial Car Show Charity Event
Include your Full Name in the Notes of the payment, your mailing address, phone number, and your Pennock's Fiero Forum Username. If you do not have a Username on the forum, state how you found out about the donation fund.
Check and Money Order donations can be mailed to:Tyler Shipman Memorial Car Show
C/O Christopher Kliewer
3021 Schabacker Court
Apt #1
Menomonie, WI 54751
Please make all checks/money orders payable to Christopher Kliewer. In the Memo field, put down "Tyler Shipman Memorial Car Show"
Include a letter in the envelope with the following information:
Your full name, your mailing address, phone number, and your Pennock's Fiero Forum Username. If you do not have a Username on the forum, state how you found out about the donation fund.
Cash donations can be made in person at any car show that I attend, or if you happen to see me somewhere:
Please do NOT send cash via US Mail.
Again, every $10.00 non-participant entry fee and donation gains you another slip in the bucket.
The drawing will be held after the Second Annual Tyler Shipman Memorial Car Show, on July 30th, 2011. Drawing will be held at the Shipman's Home after the show.
Please post any questions you have, and I will do my best to answer them.
Chris Kliewer
Synthesis
Ongoing Donation tracking:
This IS a competition folks!
Minnesota Law allows door prizes if everyone has a chance to win...
The competition is building... Increase your odds by sending in your donations! Reserve your virtual spot!
$20.00 - Revin
$20.00 - qwikgta
$20.00 - hinesb1890
$10.00 - Robert 2
$20.00 - donnie072003
$150.00 - JohnWPB (He wants that quilt!)
$20.00 - RCR
$40.00 - craigsfiero2007
$25.00 - Falcon_ca (two entries to the show plus five for the cause)
$50.00 - JimmyS
$50.00 - Bill-Cotter
$100.00 - DIY-Stu
$20.00 - klomeomy
$10.00 - pete2m4
$50.00 - Sabooo
$50.00 - cheapindy
$250.00 - doug.s
$100.00 - BlackThunderGT
$50.00 - marc-alan
$100.00 - GrandmaC
$25.00 - stumpkin
$20.00 - TLG Auto c/o Oslo
$40.00 - Wam3
$25.00 - DL10
$20.00 - woodrow50 - Donated by TLG-Auto
$250.00 - 2.5
$120.00 - Vernon8360
$20.00 - njcwgrl
$10.00 - Matt's Mom
$50.00 - Sadie Goad
$20.00 - JFrost
$20.00 - Cash donation at Dells (Need to get name from notebook)
$10.00 - Dave F (cash at Dells)
$40.00 - 2.5's Wife
$20.00 - DLCLK87GT
Total Raised: $1845.00
183 total slips in the bucket!
KEEP IT COMING GUYS/GALS!
[This message has been edited by Synthesis (edited 07-27-2011).]